Last Updated on July 24, 2020
This post was originally posted in 2017, we updated it in 2020. Thanks for visiting.
Casseroles are the epitome of an easy dinner. Put a bunch of food in a dish, pop it in the oven, and out comes a delicious dinner that everyone loves.
The Perfect Keto Casserole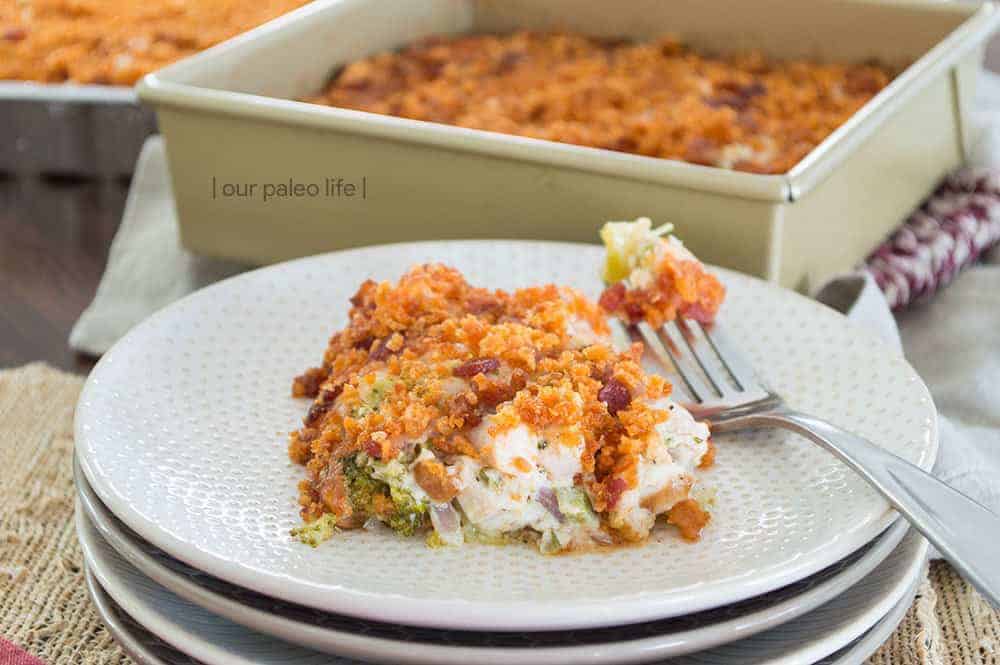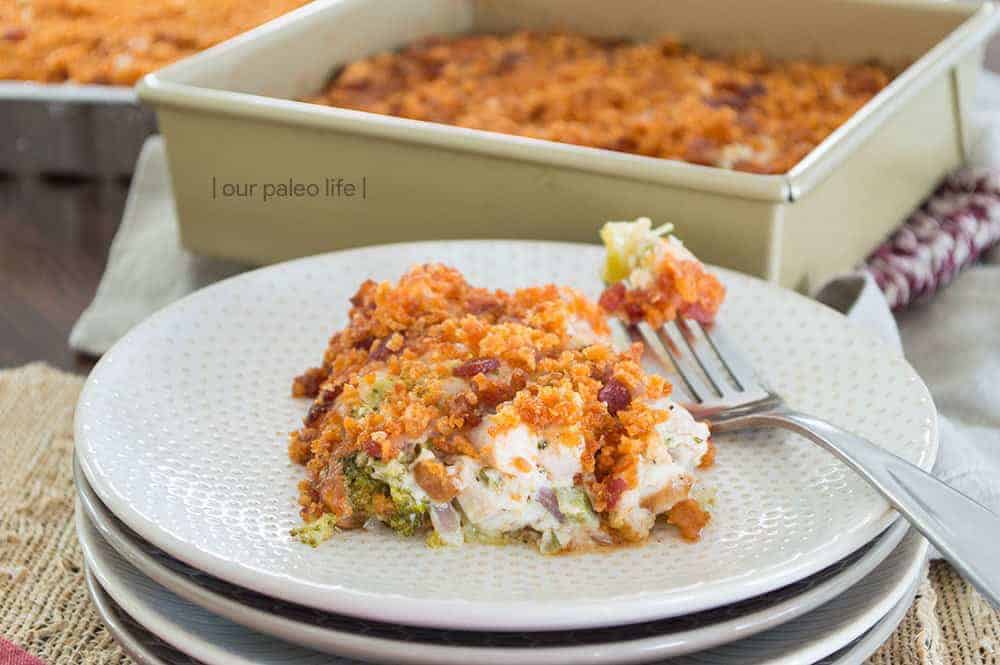 Although this may look like a regular casserole, it has a couple surprise ingredients that keep it low carb and high in fat, making it perfect for your keto family.
Keto Family Food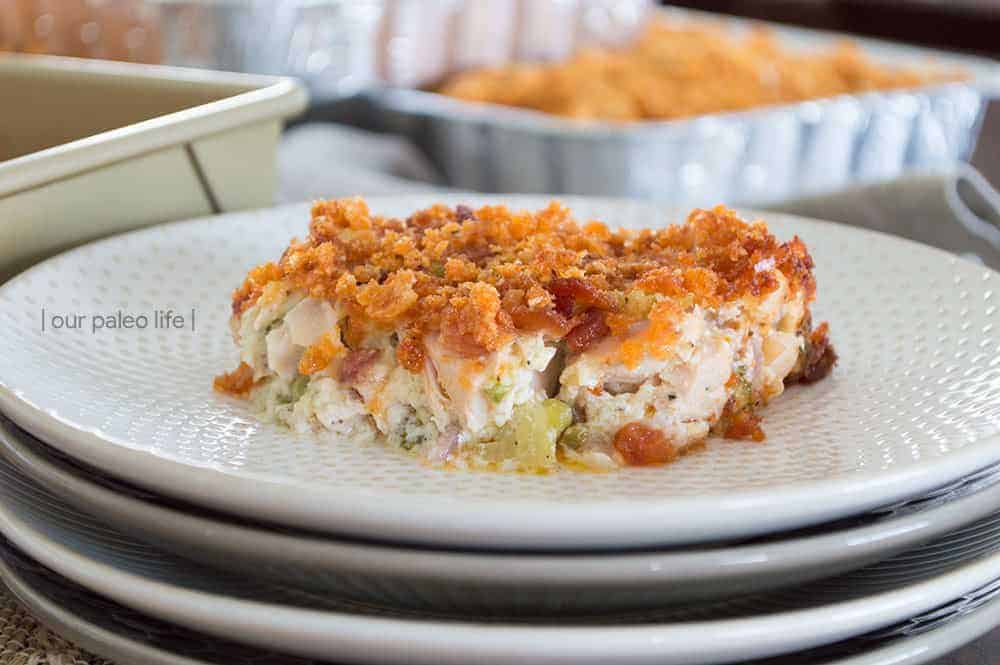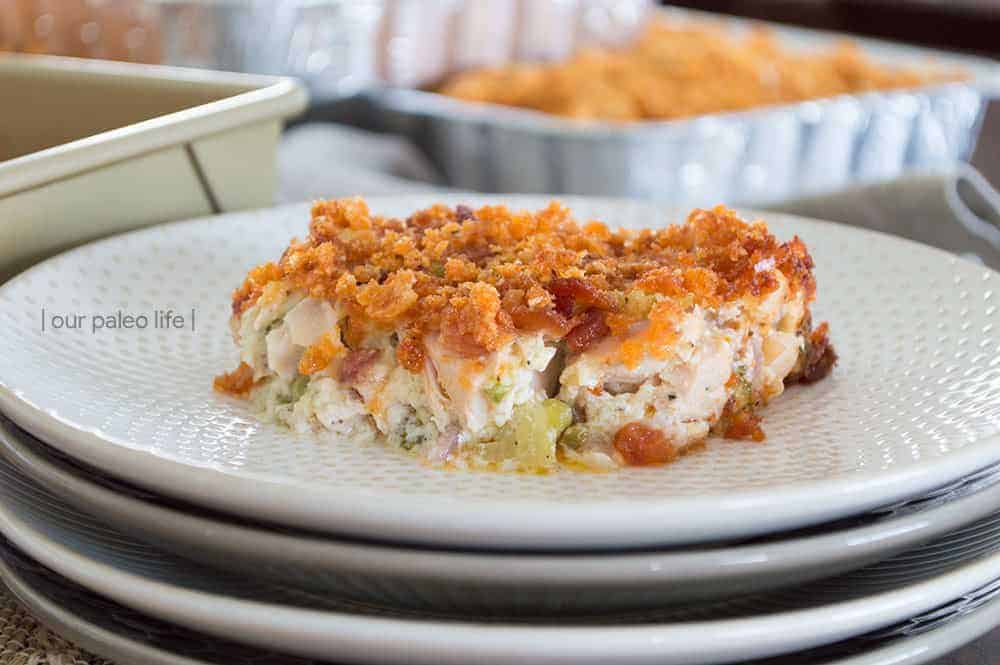 So what are those surprise ingredients? MCT Oil and Pork Rinds! No butter crackers or flour-based products to give it that crispy topping, just tasty chicharrónes crushed up with melted butter. We love using spicy flavored pork rinds to give this dinner an extra boost of flavor.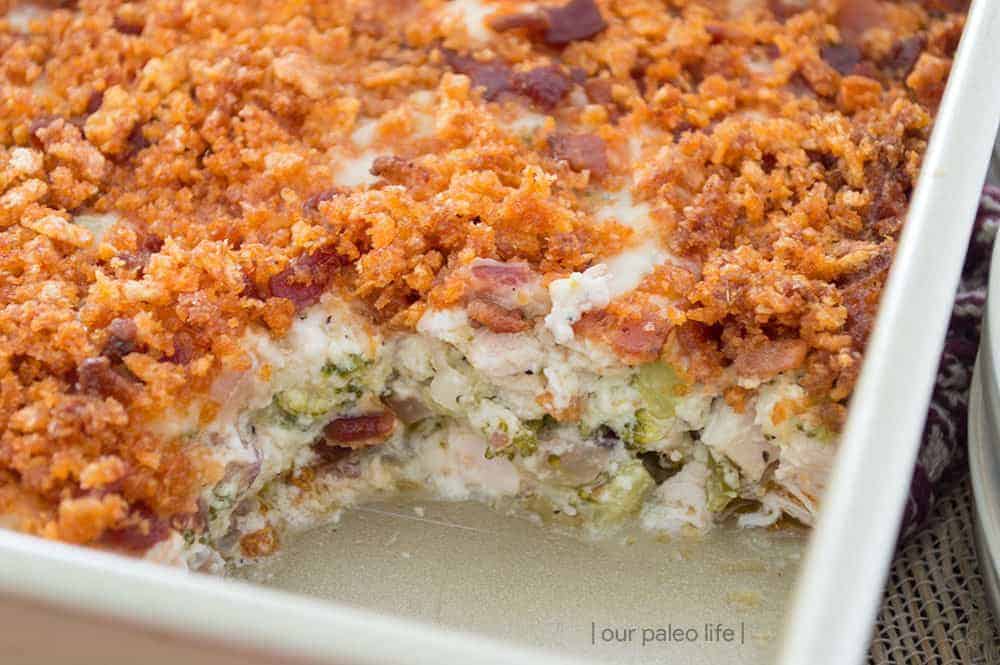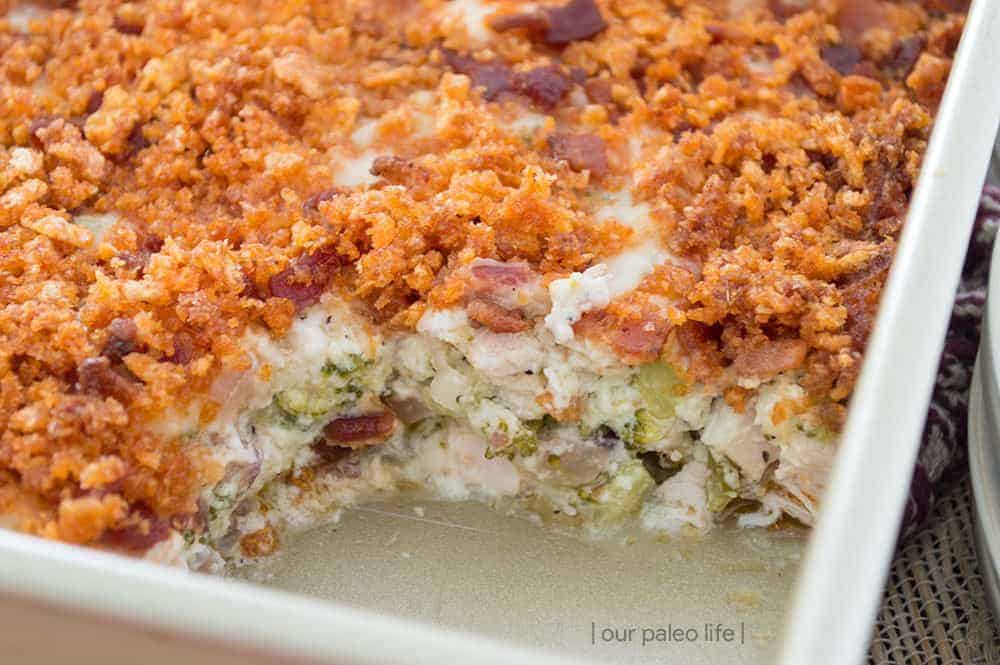 This is also the perfect dish to serve when you have company because everyone loves it (kids and adults alike) and you don't have to compromise your keto standards to appeal to the tastes of your carb-eating family and friends.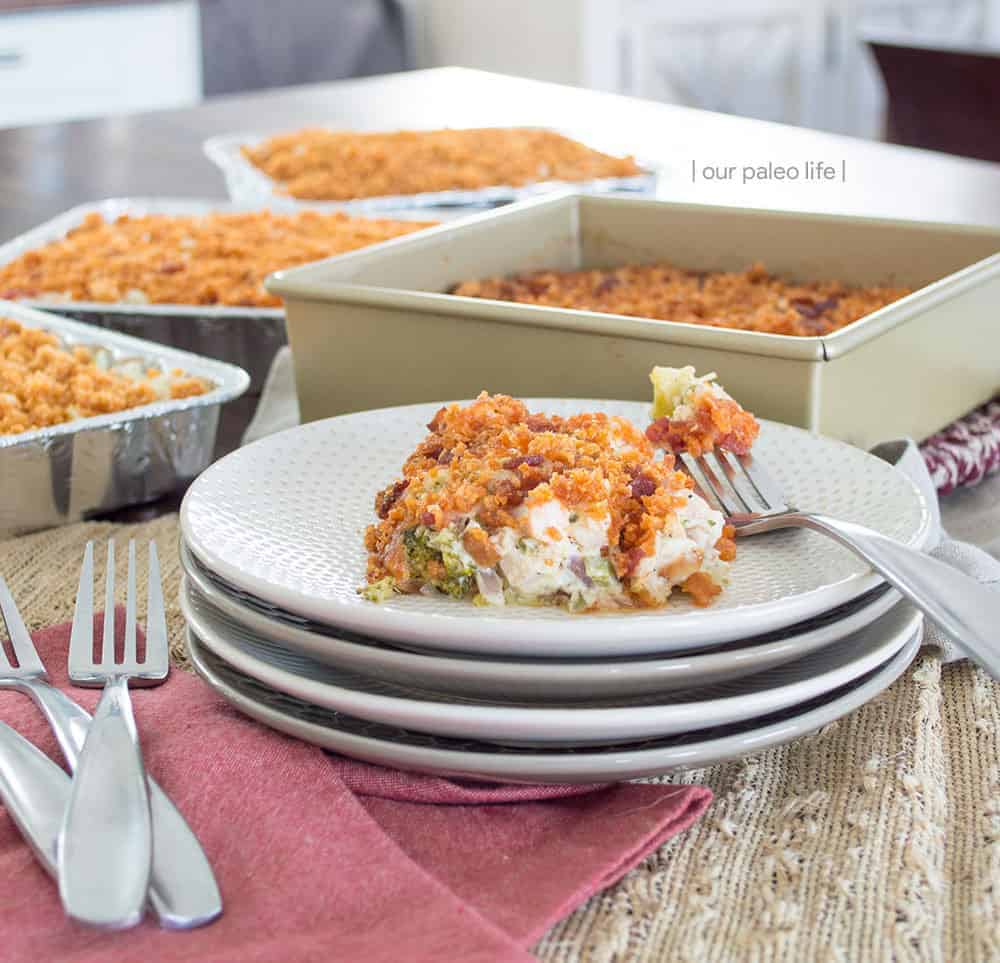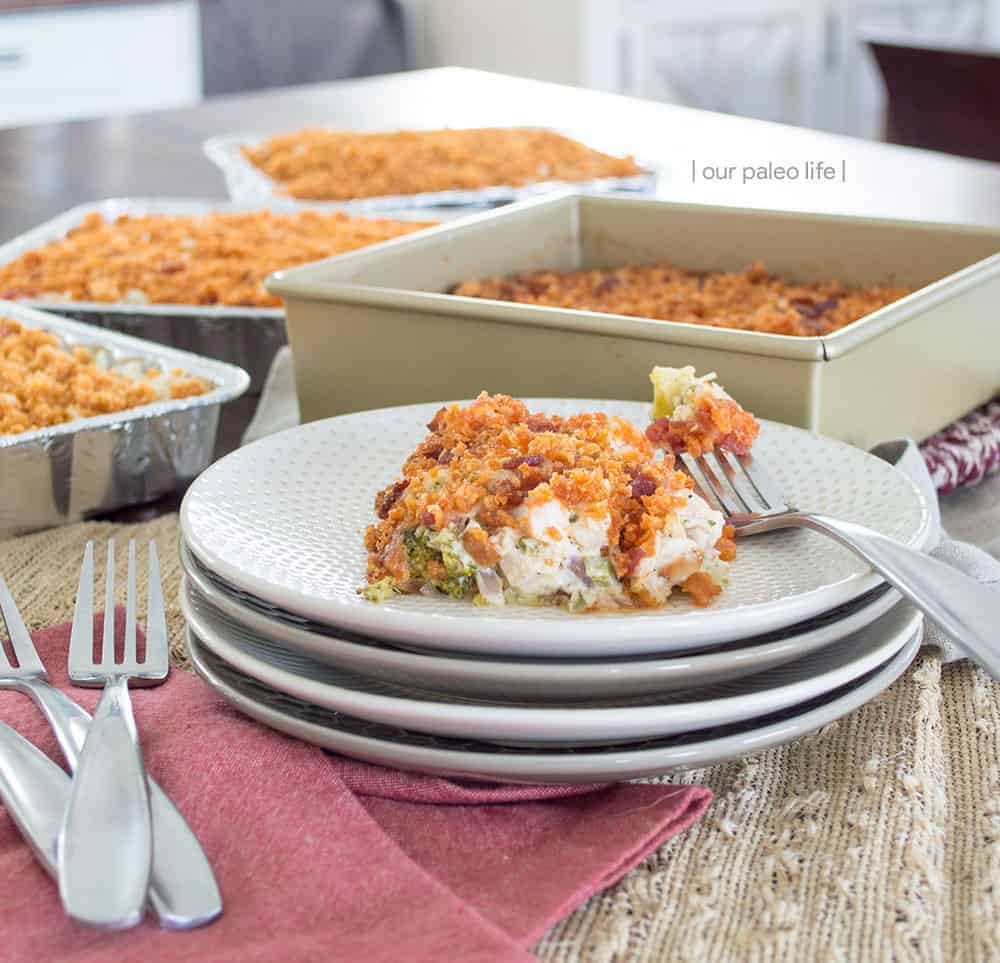 Freezer Ready Keto Casseroles
Because it's so delicious and loved in our home, I usually make 3-4 casseroles at a time, wrapping up the extras and keeping them in the freezer for an extra easy dinner on one of those busy nights when there's no time for anything but putting a pan in the oven.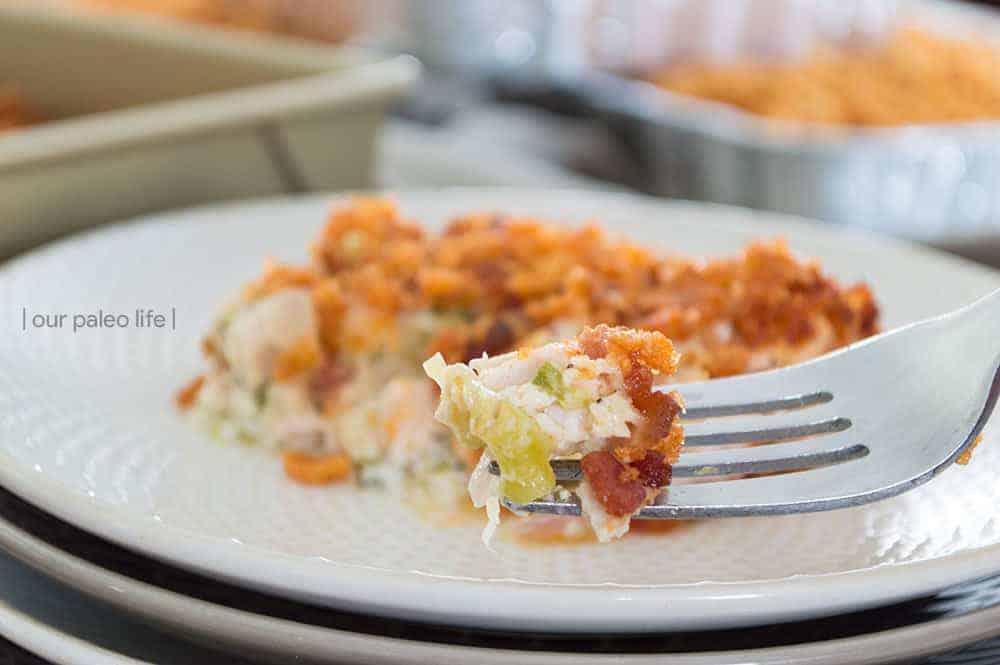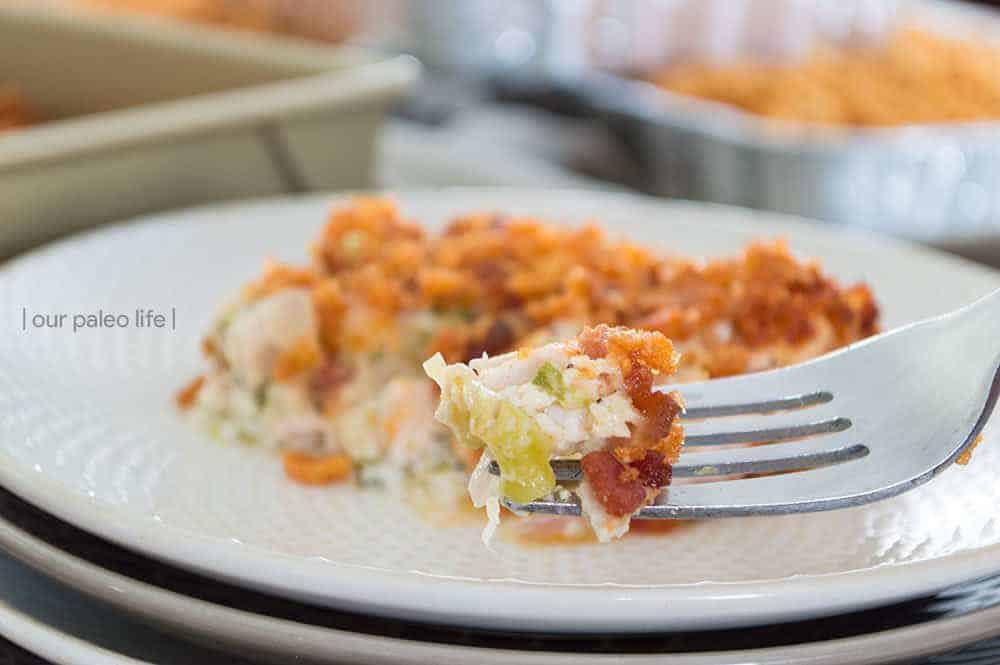 The best part about these freezer casseroles is that the entire thing can be assembled and frozen, no extra work when it comes time to use it. Although it's best to thaw in the fridge overnight, you can take it directly from the freezer to the oven and it will still turn out great (it just takes longer to bake it when it's frozen).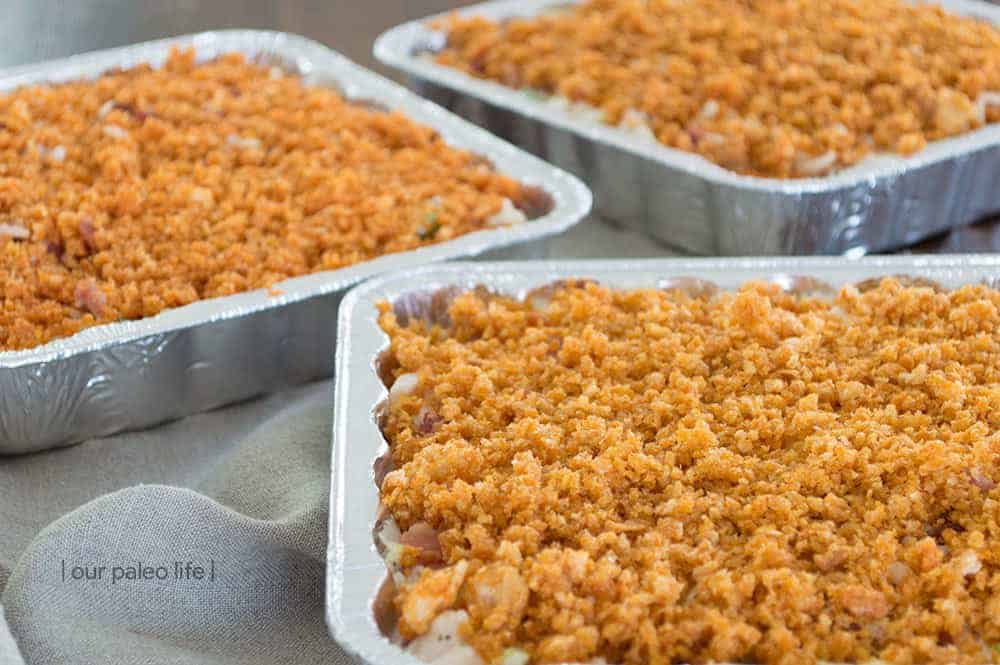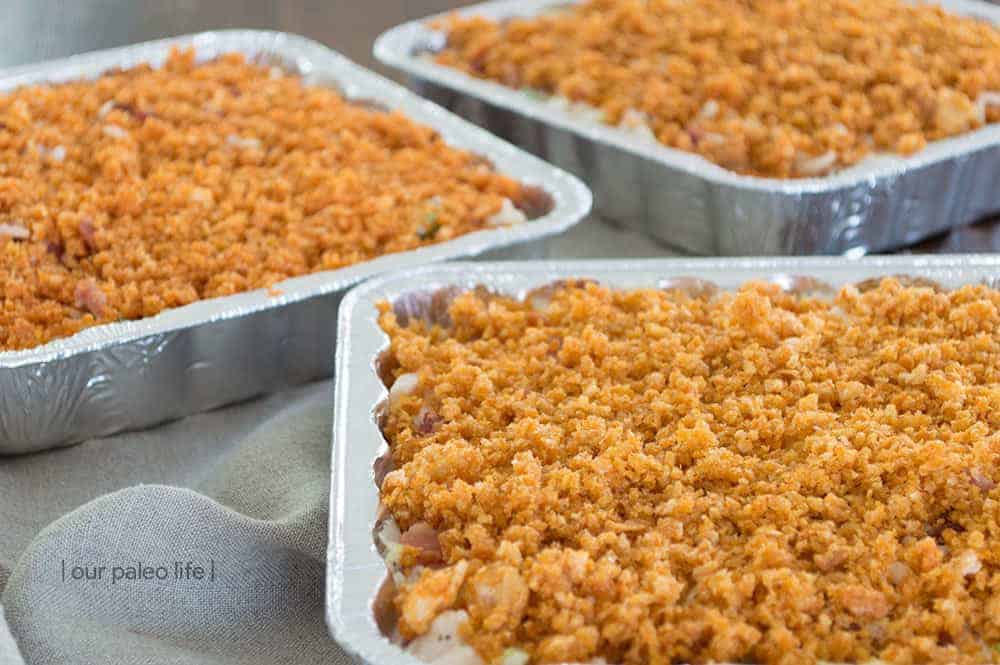 Also, if you've got extras in the freezer, that makes for a super easy meal to bring to a friend in need, because we all know someone that could use an extra hand after an illness, surgery, new baby, or any other reason that gives us the opportunity to serve in our neighborhoods and communities.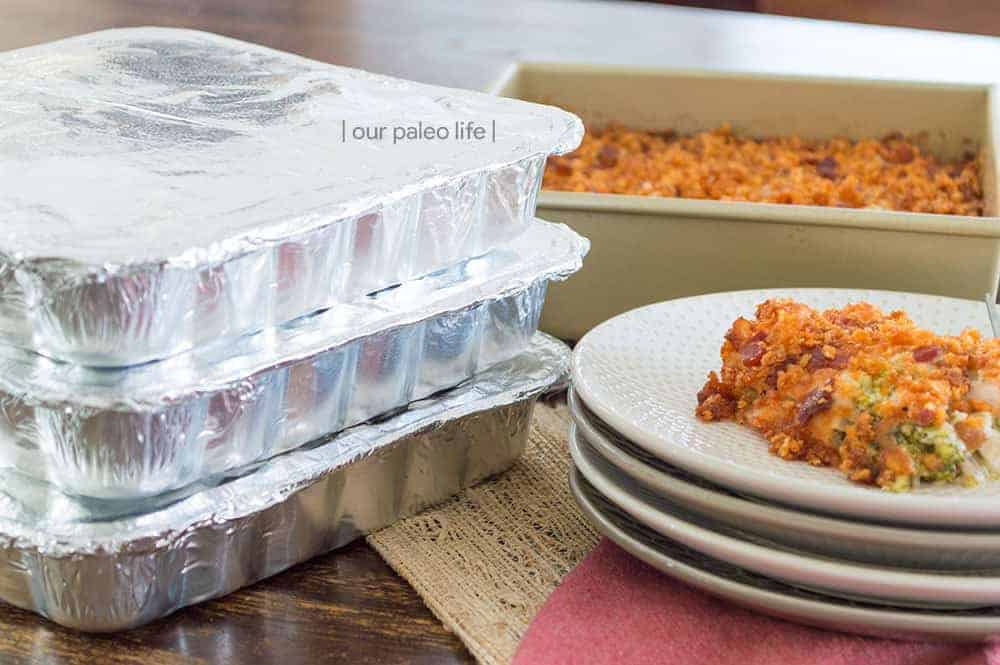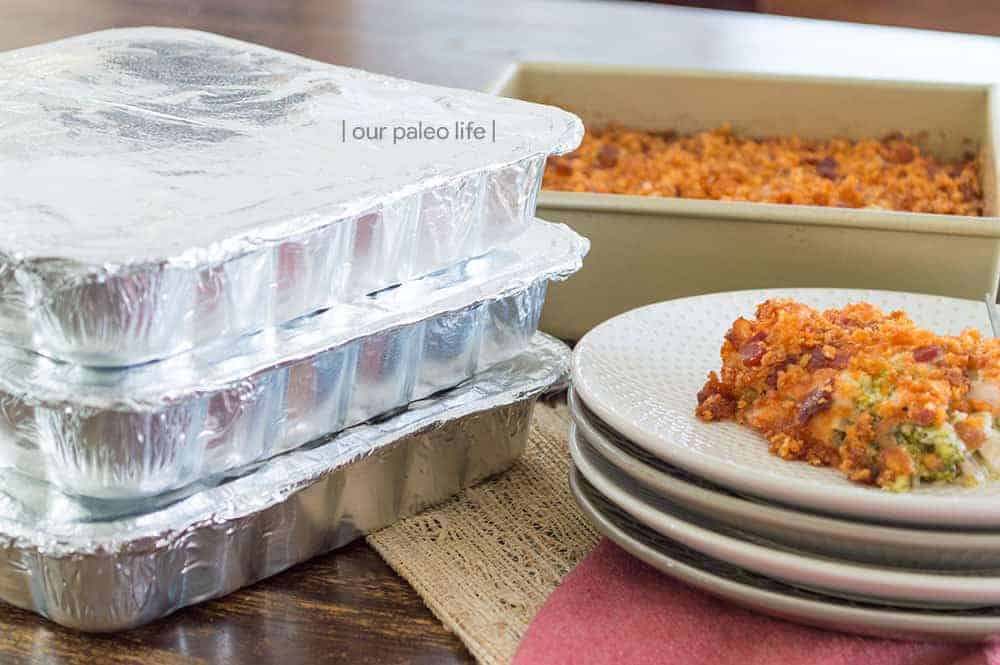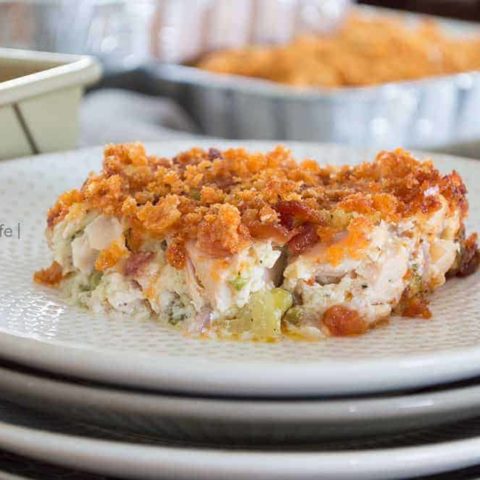 Cheesy Chicken Broccoli Casserole
Ingredients
4 slices Bacon, uncooked, diced small
1/2 Red Onion, diced small
1 clove Garlic, peeled and minced
4 oz Cream Cheese, softened
1 cup Paleo Lime Mayo
2 Tbsp MCT Oil
1/2 Jalapeño, seeded and finely diced (adds flavor, this isn't a spicy dish)
4-5 oz Sharp Cheedar Cheese, shredded, divided
1 tsp Salt
1/2 tsp Ground Black Pepper
2 Chicken Breasts, cooked and diced
2 cups Broccoli Florets, cut smallish
1/2 cup Macadamia Nuts, roughly chopped
2 oz Pork Rinds, crushed (about 1 1/2 cups crushed)
2 Tbsp Grass-Fed Butter, melted
Instructions
Preheat the oven to 350°F. Have an 8x8" baking dish ready (no need to grease or oil it).
Add the diced bacon to a cold skillet. Turn the heat up to medium and cook, stirring occasionally, until mostly cooked through and crispy. Remove bacon with a slotted spoon and drain on paper towels.
If there is a lot of bacon grease leftover, drain some, but leave enough to cook the onions. Add the diced onions and minced garlic to the pan and saute until translucent, fragrant, and slightly browned. Remove from heat and set aside.
In a large mixing bowl, add the cream cheese, mayo, MCT oil, cooked onions, jalapeño, half of the shredded cheese, salt, and pepper. Using a firm silicone spatula or a wooden spoon, evenly mix everything together.
Add in the cooked chicken pieces, broccoli, and macadamia nuts. Stir to coat everything and pour into the 8x8" baking dish. Sprinkle the cooked bacon over the casserole evenly. Evenly spread the remaining shredded cheese on top of the bacon.
In a small bowl, combine the crushed pork rinds and melted butter with a fork until everything is evenly combined. Pour over the casserole and spread evenly across the entire surface.
Bake in the preheated oven for 30 minutes, or until the edges are bubbly and browned.
Make-Ahead Option
Prepare the entire casserole as directed above but place it in a disposable 8x8" tin. We make at least 4 at a time so we always have some on hand. Cover the casserole with foil (or lid if the disposable tin came with one) and label it with the contents, date, and cooking directions.
Store the casseroles in the freezer for up to 6 months. It's best to thaw it in the fridge overnight before baking, though not required.
• Cook when THAWED: Bake at 350°F for 35-40 minutes, or until the edges are bubbly and browned.
• Cook when FROZEN: Bake at 350°F for 35-40 minutes (covered in foil). Remove foil and bake for another 15-20 minutes, or until the edges are bubbly and browned.
Notes
Macadamia nuts can be replaced with any nuts that is crunchy (adds texture, not taste). We've substituted Sacha Inchi with great results.
You can use any preferred cheese as well. We use mozzarella in a pinch.
Flavor of the pork rinds makes a difference. Our family prefers spicy pork rinds, but plain can be used for a less spicy flavor.
ALWAYS use gloves when cutting jalapeños (or any spicy pepper). The hot oils will still be on your hands even after washing them and you'll know it when you rub your eyes later.
Nutrition Information
Yield

9
Amount Per Serving
Calories

484
Total Fat

45g
Saturated Fat

16g
Unsaturated Fat

0g
Cholesterol

72mg
Sodium

774mg
Carbohydrates

4g
Fiber

1g
Sugar

1g
Protein

15g
Nutrition is calculated by a third party and may not be 100% accurate