Hey, look, another Bites recipe. You know you love it. I really don't see any reason to stop making these, the flavor combinations are never-ending. The only limits are my time, which is for real limited.
I debated putting chocolate chips in these, like the Chocolate Chip Cookie Dough Larabars, but didn't, although I probably will in the future and I would suggest you give it a shot too. How could something with cherries and chocolate not taste good? It couldn't, so why bother even discussing it. Now I feel dumb for not adding them. Next time, I swear.
PS: Fresh cherries are the bomb! If they didn't cost a bazillion dollars a pound, I would eat them all day. All day.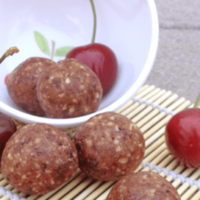 Cherry Pie Bites
These dried fruit bites are so easy to make and keep for a long time in the fridge. They are great after-school snacks, as well as something quick and easy to throw in your hiking or camping pack.
Ingredients
10 Medjool Dates, pitted
1 cup Almonds
1 cup Dried Cherries
Up to 1 Tbsp Water
Instructions
Combine all ingredients (except water), in the order listed, in the bowl of a food processor.
Process until mixture resembles coarse gravel.
While the processor is running, add a thin stream of water, about 1 Tbsp, maybe less depending on the moistness of your dates.
Stop the processor and check the mixture inside. If it sticks together when you smush it, then you've got the right consistency. If it's still crumbly, add more water. You don't want to add too much water because the bites will be too sticky.
When you've got the right consistency, roll mixture into tablespoon-size balls. Yield varies depending on how much you eat while you're rolling them.
Store in an airtight container in the refrigerator for a week or so, if they last that long.
Nutrition Information:
Yield:

24
Serving Size:

1 bite
Amount Per Serving:
Calories:

84
Total Fat:

3g
Saturated Fat:

0g
Trans Fat:

0g
Unsaturated Fat:

3g
Cholesterol:

0mg
Sodium:

30mg
Carbohydrates:

14g
Fiber:

1g
Sugar:

11g
Protein:

1g