I wish I had a garden. We are currently renting, so I'm not wanting to put in the effort needed to mess with the backyard and try to put in a temporary garden. I tried that last year and after a hailstorm that took out half of my tiny little plants, I just gave up and let it all go to waste. So here I am, gardenless.
But if I had a garden, I would grow tons of tomatoes, cucumbers (especially the little pickling cucumbers), herbs, garlic, onions, strawberries, raspberries, blackberries, any berry, salad greens, chives, oh the list goes on. We had a peach tree once, and that was amazing. We have an apple tree but it never flowers. There's a cherry tree down the street in someone's front yard and the only thing stopping me from picking every single one is my conscience. Because if my stomach had any say, I'd have buckets of cherries right now.
Luckily, we live near great farmer's markets, and I have access to all this from local farmers at a decent price. Soon, I'll be making my own pickles, one of my most favorite things to do. There is nothing like a homemade dill pickle.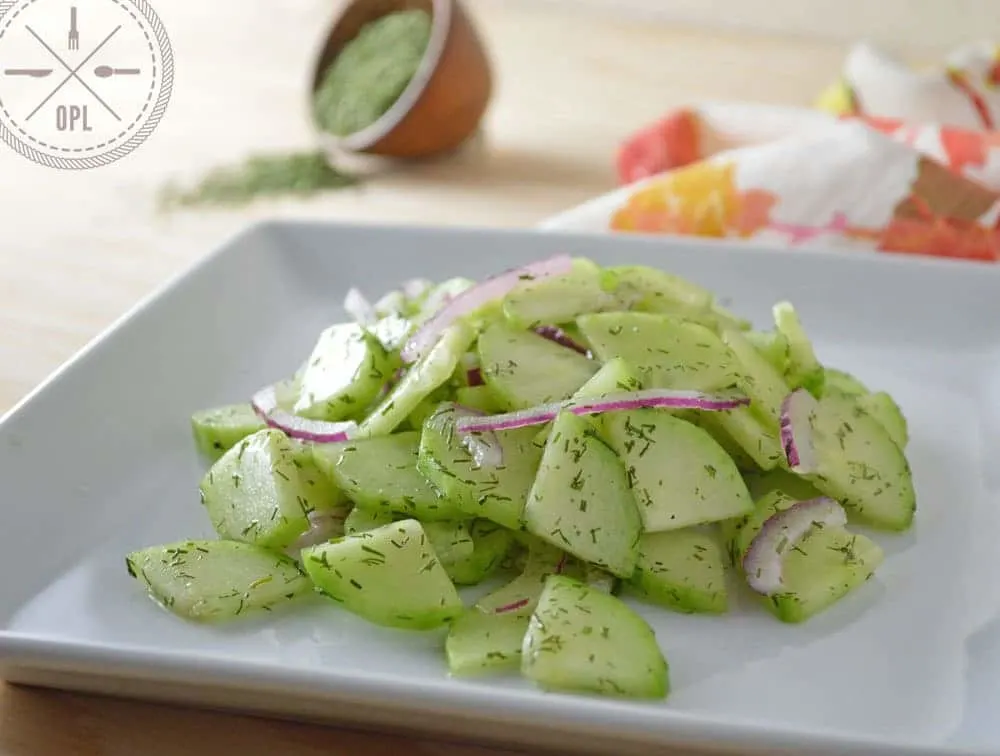 Another favorite is a cool cucumber salad. Oh hey, look, I just happen to have a recipe here for a cucumber salad. What a coincidence. You know what I didn't mention above that I'd grow in my garden? Dill. I forgot about dill. You need to dill to make pickles and cucumber salad. Since I don't have fresh dill, I buy the freeze-dried stuff in the produce department. I also use it to make Paleo Ranch Dressing, so I always have a couple bottles of it on hand. It's good stuff.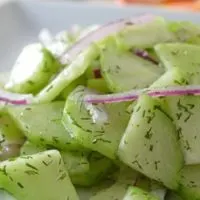 Cool As A Cucumber Salad
Total Time:
4 hours
5 minutes
What do you do with all the extra cucumbers from your garden or the local farmer's market? Make a refined-sugar-free cucumber salad, of course.
Ingredients
1 large English Cucumber, or enough to get 5 cups cut cucumbers
1 small Red Onion
3 Tbsp Distilled White Vinegar
1 1/2 tsp Freeze-Dried Dill
1/2 Tbsp Honey
Sea Salt, to taste
Fresh Ground Black Pepper, to taste
Instructions
Peel the cucumber(and slice them however you want (julienne, quartered, diced, cubed, etc).
Quarter the onion, and very thinly slice.
Combine all ingredients in a 4-cup capacity bowl and stir to combine evenly.
Cover and store in the refrigerator for 4 hours or overnight. You could eat this right away but the flavor is immensely better if you let it sit overnight.
Eat within a week.
Nutrition Information
Yield

4
Amount Per Serving
Calories

21
Unsaturated Fat

0g
Sodium

2mg
Carbohydrates

4g
Sugar

3g
Nutrition is calculated by a third party and may not be 100% accurate