You know what just hit us? The heat. The oppressive 100-degree heat. It's been raining and hailing out here in Colorado every afternoon like clockwork, but now the heat has arrived. This is going to be one of those weeks where I just sit inside, and hopefully work on more of those recipes that I have in the queue.
I have a confession to make: I created this recipe nearly a year ago (11 months to be exact) and never shared it. I feel pretty bad about that because it's really the best grain-free granola I've ever had. I made it, took some pictures, and stored it in my drafts, thinking I'd get around to posting it a few days later. Well, a few days turned into a few months that turned into a year. My bad.
But it's okay, because I do already have another granola recipe on the blog, but this one is pretty different. It's more like a typical granola, very crunchy. There's nothing to get soggy, so that's really the best part. The crunch is fantastic, but you do have to watch it like a hawk towards the end of the baking time to be sure you're not burning it.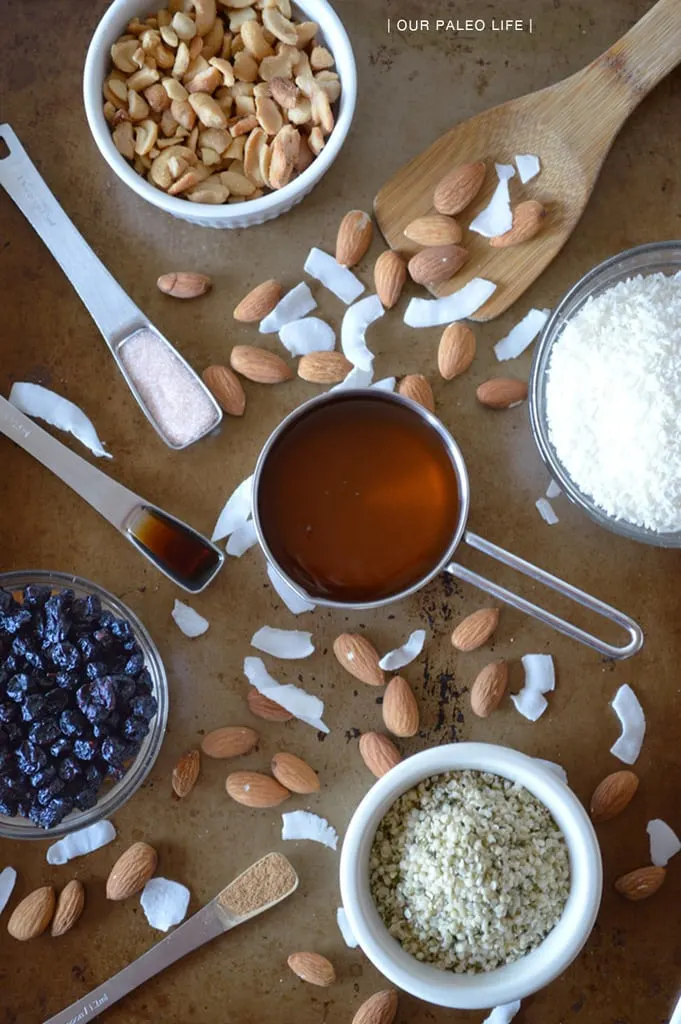 While you can douse this granola in either coconut milk or almond milk, chocolate almond milk is actually our family's preference. Also, a little note about dried fruit in this recipe: I've made it with both dried cranberries and dried blueberries. I most commonly make it with blueberries but my husband actually prefers it with no dried fruit baked into it at all and adds fresh berries to the bowl of finished granola.
So do what you like best, it's great no matter how you do it.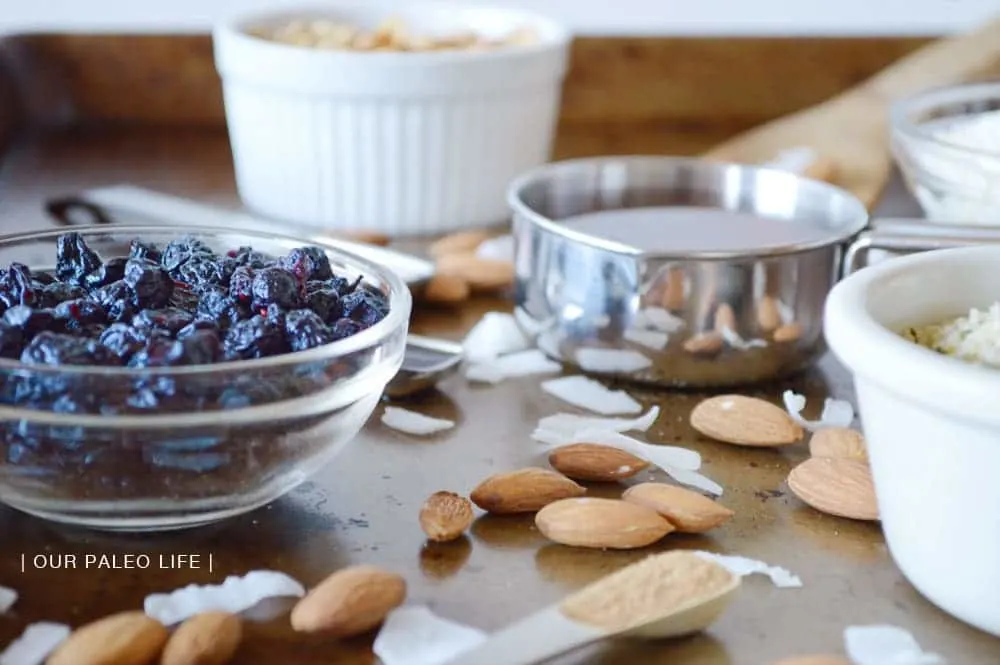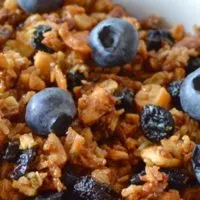 Paleo Granola Crunch
This is be crunchiest best grain-free granola I've had. While you can douse this granola in either coconut milk or almond milk, chocolate almond milk is actually our family's preference. Topped with fresh berries, this is my favorite non-egg breakfast. And maybe my favorite late-night snack.
Ingredients
1 cup Almonds, roughly chopped
1 cup Pecans, roughly chopped
1/2 cup Cashews, roughly chopped
1/2 cup Unsweetened Coconut Flakes
1/2 cup Unsweetened Shredded Coconut
1/3 cup Hemp Hearts
1/2 cup Dried Fruit, I use blueberries, optional
2 tsp Vanilla Extract
1/2 tsp Sea Salt
1 tsp Cinnamon
1/2 cup Raw Honey
Fresh berries, for serving
Non-Dairy Milk, coconut, almond, hemp, etc, for serving
Instructions
Preheat oven to 350°F. Line a rimmed 13x18 baking sheet with parchment paper or a properly-sized silicone mat. Set aside.
Combine all ingredients except honey in a large bowl. Stir to evenly combine everything.
Add the honey to the nut mixture. Evenly stir it all in, coating everything evenly.
Pour the mixture onto the prepared baking sheet. Make sure to scrape everything out, the hemp hearts tend to stick to the bowl and spoon and you don't want to waste those little guys.
Bake in the preheated oven for 10-20 minutes, stirring once or twice after 10 minutes. Check periodically after 10 minutes to make sure it's not burning. My oven's sweet spot is 16-17 minutes, stirring twice after the 10 minute mark. You'll notice the granola is an overall rich, golden color when it's done.
Remove from oven, stir, and let cool completely on a wire rack. It will harden as it cools. Break up into bite-size pieces and store in an airtight container for up to one week to preserve the crunchiness.
Serve with fresh berries and non-dairy milk. Chocolate almond milk is our favorite.
Nutrition Information
Yield

6
Serving Size

2/3 cup
Amount Per Serving
Calories

678
Total Fat

49g
Saturated Fat

12g
Trans Fat

0g
Unsaturated Fat

34g
Cholesterol

3mg
Sodium

411mg
Carbohydrates

55g
Fiber

10g
Sugar

39g
Protein

16g
Nutrition is calculated by a third party and may not be 100% accurate