Do you ever just go to the store and buy food, then get home and are like "So, what do I make with all this?". No? It's just me? Cool. Now that we have a Costco in town, this happens a lot more often. It goes a little like this:
Walk straight back to produce (pretty sure I don't need mass office supplies and bulk socks, but you never know). Ooooh, look how cheap that 20 lb bag of potatoes is. Gettin' it. Don't we need a 6-pack of pomegranates? Thought so. Four bags of bananas, check. Absolutely need this mega bag of lemons, even though I don't use lots of lemons. On to meat. Wow, only $20 for all these chickens? I think there's room in the freezer…. I think we're almost out of pork shoulder. Better get 4 more. We might not have enough freezer space, but whatever. Gotta have that pork.
Then I get home and attempt to put everything away (side-by-side fridge/freezers are of the devil, btw), then realize I've got no plan for all that meat. I do meal plan, and I do make a list when I go shopping, but darn if bulk foods don't get me every time. Sure I need all that. Maybe not right now, and who knows why, but I'm pretty sure it needs to be in my pantry.
So I've got these 4 whole chickens and I manage to fit 3 of them in the freezer. The one lonely chick is just sitting in the fridge, staring at me for a couple days while I debate it's destiny. Then it clicks: Chicken Noodle Soup. Duh.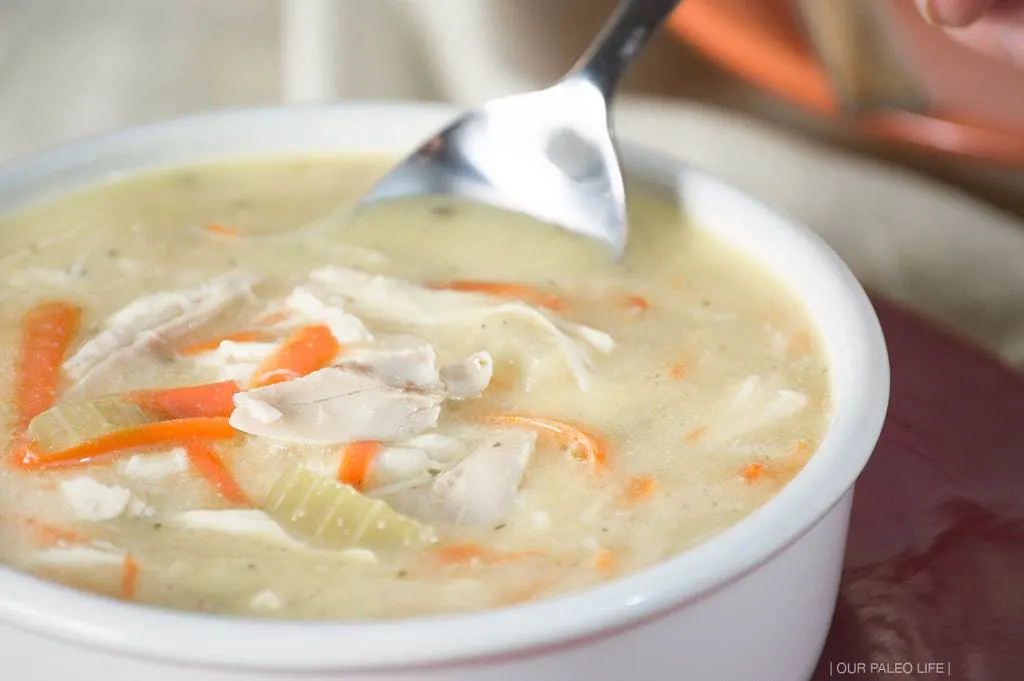 I'll let you in on a little something. 3 years ago, the year before we went paleo, I put together a little cookbook for my family. My family and close friends affectionately called me "Martha Stewart" because I had this problem of being a perfectionist cook/baker. Not that I don't now, but it's not as bad. And I don't use flour and sugar anymore. Anyway, the cookbook. It was just a tiny thing, 8″x8″, paperback, maybe 40 pages, printed from one of those online places. But it included all of the recipes that everyone requested I make at every holiday or recipes they were always asking me for. I thought "what better than to put all these recipes in one place" and so everyone got a custom Benson Cookbook for Christmas that year.
Every now and then, I pull that cookbook out and flip through the pages, looking for some inspiration. I can no longer make about 90% of the recipes because they're not paleo-friendly, but that doesn't mean I can't convert them. I've actually covered about 1/4 of the book so far, and this Creamy Chicken Noodle Soup is a spin on the Chicken Wild Rice Soup in that old cookbook.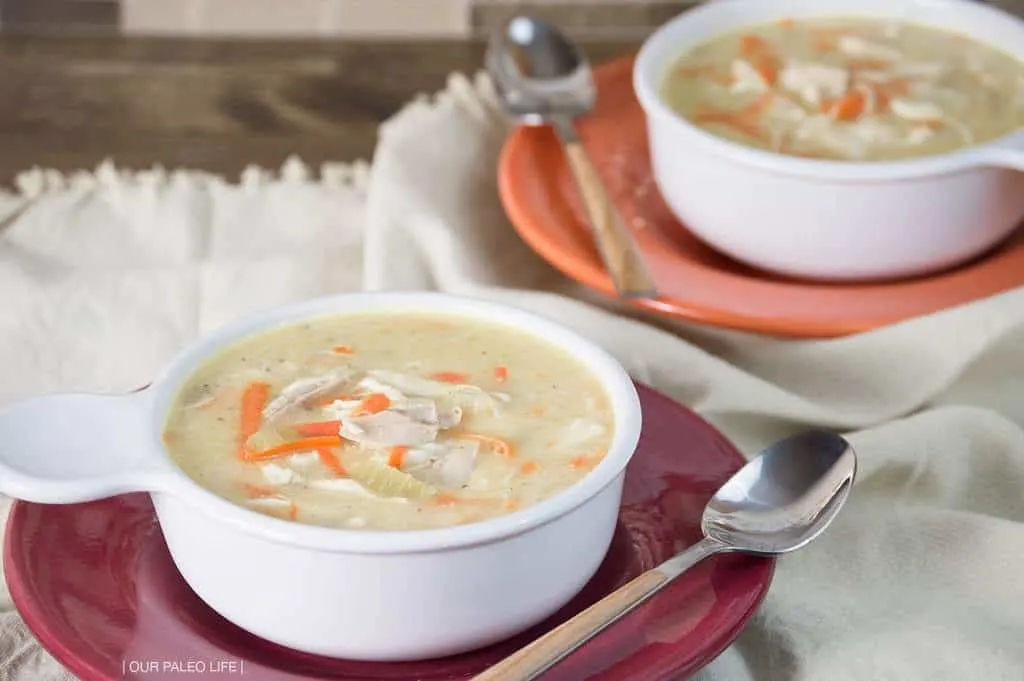 So now that I had my recipe inspiration, Miss Henny Penny* in my fridge could fulfill her life's goal. And I gotta say, carrots in place of noodles is pretty fun. Way better than slimy regular noodles. Way. Better.
*Henny Penny was the name of one of my in-law's chickens. She managed to last years longer than all the other hens and became a family pet. When it finally came time for her to meet her end, we made her into a soup. It was a deliciously sad day.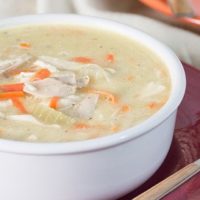 Creamy Chicken "Noodle" Soup
Total Time:
1 hour
45 minutes
Don't skip this classic comfort food because of dairy and grains. This dairy-free, grain-free, paleo-friendly chicken noodle soup is as good as the original.
Ingredients
Chicken Soup
7 cups Water
3 lb Whole Chicken, cut into pieces
1 cup Celery, diced
1 small Yellow Onion, diced
2 Tbsp Avocado or Olive Oil
3 large Carrots
3/4 tsp Ground Black Pepper, black or white
1/2 tsp Sea Salt, or more, to taste
2 Tbsp Bouillon Replacement, recipe below
1/4 cup Arrowroot, Potato, or Tapioca Starch
2 cans Full-Fat Coconut Milk
Bouillon Replacement (makes more than you need for this recipe)
2/3 cup Nutritional Yeast
1 1/2 Tbsp Onion Powder
1 1/4 t Garlic Powder
1/2 Tbsp Salt
1 heaping Tbsp Italian Seasoning
1 Tbsp Dried Parsley
Instructions
Bouillon Replacement
Combine all ingredients in a half-pint jar with a tight-fitting lid (I use a canning jar) and shake or stir to evenly combine. Store in the airtight jar in a cool location for up to 2 years. Use tablespoon-per-tablespoon for bouillon cubes in any recipe.
Chicken Soup
In a large stockpot over high heat, add the chicken pieces and water. Bring to a boil then reduce heat to low and simmer for 40 minutes.
While the broth is simmering, use a vegetable peeler to make paper thin "noodles". If the carrots are long, I usually do this in halves or thirds so I don't have crazy long noodles. Think "egg-noodle" length. Set aside.
When the broth is done, remove the chicken pieces from the pot and set aside to cool. When the chicken is cool enough to handle, separate the meat from the fat, skin, and bones. Shred or cut the chicken into bit-sized pieces and set aside. Discard the fat, skin, and bones.
Strain the broth through a fine-mesh sieve with a layer of cheese cloth to filter out any small chicken bits and set aside the broth in a large bowl while you prepare the veggies.
In that same stockpot, heat the oil over medium heat and add the diced onions and celery. Saute for about 5 minutes, then place the lid on the pot. Cook for an additional 10 minutes, stirring once.
Return broth to the stockpot and add the carrot noodles. Stir in the 2 tablespoons bouillon replacement, salt, and pepper. Simmer uncovered for 15 minutes.
Combine 1 can of coconut milk with the starch and whisk until combined and no lumps remain. Add all of the coconut milk to the soup, stirring constantly while adding it.
Add the reserved chicken meat to the soup and heat for an additional 15 minutes.
Serve hot.
Notes
We prefer this soup a little on the salty side, so I make this as written with the 1/2 tsp of salt for my family and then add more salt in my own bowl. If you find this isn't salty enough for you, add more to taste.
Nutrition Information
Yield

8
Amount Per Serving
Calories

670
Total Fat

46g
Saturated Fat

25g
Trans Fat

0g
Unsaturated Fat

17g
Cholesterol

150mg
Sodium

337mg
Carbohydrates

15g
Fiber

2g
Sugar

2g
Protein

50g
Nutrition is calculated by a third party and may not be 100% accurate