I love dried fruit. All dried fruit. My favorite is strawberries, I can't even explain how delicious and chewy they are. I can down a bag in no time. But coming up in a close second is dried apple rings. We're not talking about apple chips here. These are the spongy, chewy, soft rings.
I had always just assumed that when you dehydrate fruit, it turns crispy. Oh my, how wrong I was. It totally depends on the thickness of the fruit you're drying, which is why the strawberries turn out so chewy delicious. I know that dried fruit isn't one of those things that should be eaten in abundance, but man it's hard with these things. I usually make these apple rings about twice a month, because if I made them more often, I wouldn't be able to control myself.

They are really easy to make. When I first started making them, we would sprinkle on some cinnamon, but I actually prefer them plain, the flavor of the apple with just a hint of sour from the lemon is just perfect. But in order to make this recipe crazy easy, you'll need 2 extra tools. I'll be the first to admit that I have very strong feelings about single-use tools in the kitchen. I really don't like them. I'd prefer to have things that can be used for multiple purposes so I don't have to buy as many things, but when I'm peeling and coring 2 dozen apples, there's no way I want to hover over the trash can with a tiny veggie peeler.
Soooo, I bit the bullet and bought an apple peeler. I'm not talking about one of those things that does the peeling/coring/slicing all at one time. That would be cool and all, but I don't want my apples sliced that thin. I'm talking about just a peeler and it turns a major task into a 2-minute step (you can watch the peeler in action on my Instagram account). And of course, the kids LOVE to watch me peel apples. Then I use my little apple corer, and in no time at all, I have this perfectly peeled, hollowed out little fruit just ready to be chopped up.
And a bonus for this recipe, you can use your homemade dried apple rings to make some super delicious Apple Pie Bites. That is, if you don't eat them all first. I usually do.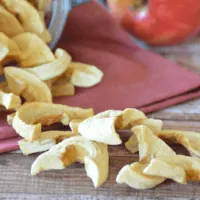 Dried Apple Rings
Total Time:
10 hours
15 minutes
Apple rings can be pretty expensive to buy in the store, and they often have more ingredients in them than just apples. Take control of your food and make it yourself. Dehydrated apple rings are probably the easiest snack to make.
Ingredients
Sweet Apples, Red Delicious has a strange texture when dried, they're not recommended
1-2 Lemons
Instructions
Fill a large bowl about half-full with cold water and and lemon juice. I usually just eyeball it, about 1 lemon per 5-6 cups of water should be fine.
Peel and core your apples. Slice them into very thick slices, about ½-inch. I like to cut my slices in half so they are half-moons, since I can fit more on a dehydrator tray.
Place the apples slices in the lemon water as you go to keep them from browning.
When all the apples are sliced, remove them from the water and place them evenly on the dehydrator trays, close but not touching.
Dehydrate at 135°F until they are spongy and dry to the touch, but not crispy. This usually takes between 10-14 hours, depending on how accurately you slice the apples and the type of dehydrator you have. Keep an eye on them after the 10-hour mark to make sure they don't dry out too much.
Once they are done, immediately place them in an airtight container or bag to keep them from drying out. This step is important, it will soften them up a bit more over the next few hours.
Nutrition Information
Serving Size

1 g
Amount Per Serving
Unsaturated Fat

0g