In my pre-paleo, sandwich-eating life, I was known to indulge in the genius concoction that is the Fluffernutter Sandwich. If you've never heard of it, it's marshmallow fluff and peanut butter between 2 pieces of bread. So stupidly good. I don't care who you are, you HAVE to love peanut butter and marshmallows. You have to!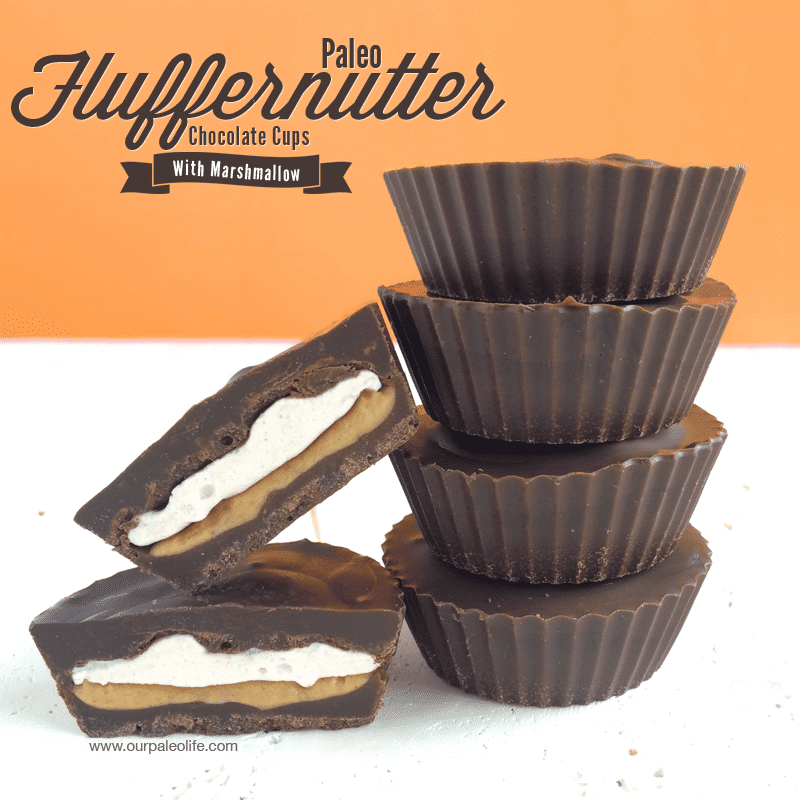 So one day, when I was making some Paleo Marshmallows, I licked the whisk (did I just say that out loud?) and I happened to come across a peanut butter spoon that a certain child left out on the counter, and took a lick of that too (did I just say that out loud, too?). Totally reignited my fluffernutter love.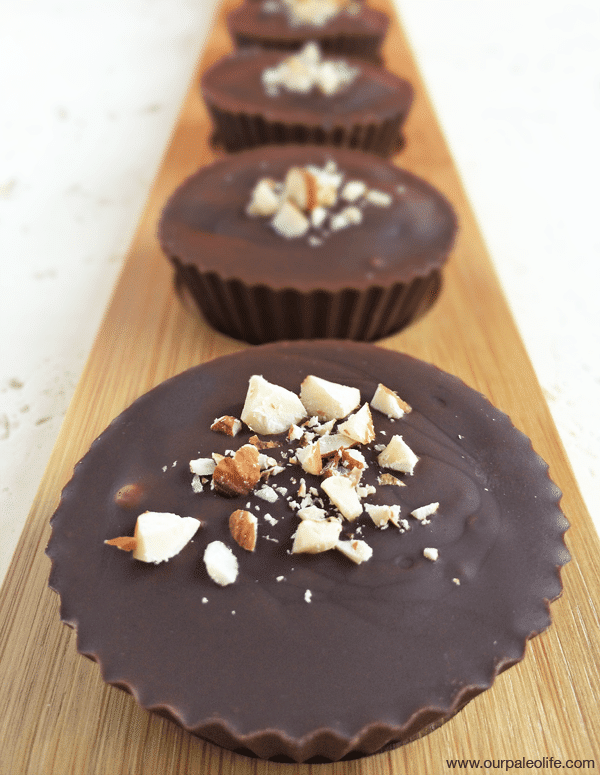 I've been meaning to make these things for 7 (yes, seven!) months, and just kept putting it off for other recipes. Then Halloween came and went, and Reese's cups were calling my name, and I decided I couldn't put it off any longer. I am so happy with the way these turned out. And if you're not a fan of almond butter, or maybe you're nut-free, you could always use another nut butter or even sunbutter. I'm thinking that hazelnut butter would be amazing but didn't have any to test my theory. If you do, you have to tell me and make me jealous.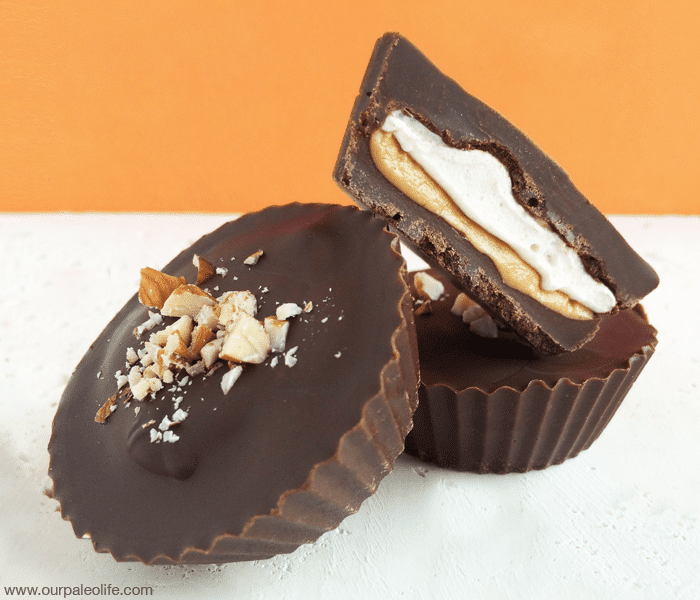 The recipe might look long and complicated, but it's really not. I wanted to explain the steps as in-depth as I could. Since we're no longer on Daylight Savings Time, the sun sets too freaking early around here and I lose the sunlight I need to take decent pictures, so I didn't get any good step-by-step pics of this recipe, which would have been helpful. So you'll have to make do with longer descriptions. But I promise it's worth it 🙂
Fluffernutter Chocolate Cups
Ingredients
1 bag Enjoy Life Chocolate Chips
1 batch Paleo Marshmallows, you will have leftovers
Almond Butter, or sunbutter or other nut butter of choice
Chopped Nuts, optional, for garnish
Instructions
Get 12 muffin cups ready, preferably silicone. Set on a cookie sheet.
Melt 1/2 of the chocolate chips. My favorite method (for ease and cleanup) is to add the chocolate to a ziplock bag and melt in the microwave on High in 30 second intervals, mushing around after each. Takes about 1 min 30 sec total to melt it.
If using the baggie method, clip a corn and squirt some chocolate into each of the muffin cups, a scant tablespoon each. Use the back of a small spoon to spread the chocolate evenly over the bottom and up the sides 1/3 of the way in the muffin cups.
Set chocolate-coated muffin cups in the refrigerator to harden.
While the cups are in the refrigerator, get started on the marshmallows.
While the honey/water mixture is boiling for the marshmallows, remove the cups from the fridge. Add about a teaspoon or so of your nut butter/sunbutter. Spread it to almost the edge of the cup. Continue until all 12 cups are filled.
Once the marshmallows are done with the mixer process, and are in the marshmallow fluff stage, grease your hands and a teaspoon with coconut oil. Take a teaspoon-full of marshmallow fluff and add on top of the nut butter in the cups. Use your greased fingertips to pat the marshmallow top flat and spread out to the edges. Continue until all cups are filled.
Take the leftover marshmallow fluff and make marshmallows using the rest of the directions in that recipe.
Melt the remaining chocolate chips. Pour evenly over the tops of all 12 cups. Hold each cup and tap it gently on the counter to evenly spread the chocolate on top. If you're adding chopped nuts on top, do it now.
Place the cups back in the refrigerator until hardened. Store at room temperature in an airtight container.
Nutrition Information
Yield

12
Amount Per Serving
Calories

339
Total Fat

18g
Saturated Fat

7g
Unsaturated Fat

0g
Sodium

54mg
Carbohydrates

42g
Fiber

4g
Sugar

34g
Protein

7g
Nutrition is calculated by a third party and may not be 100% accurate