Last Updated on July 24, 2020
The season of giving thanks is upon us and that means 2 things: people being grateful on Facebook and food. I'm partial to the latter. Not that I'm not grateful, but I love food. Obviously. So over the next 2 weeks I'll be posting some new recipes that are fit for a paleo Thanksgiving meal. The thing that is important to me in creating paleo recipes for such an extended-family-centered meal is that the food tastes great for everyone, regardless of whether they are following the paleo lifestyle or not.
The best part about creating all these recipes before Thanksgiving is that we get to eat two Thanksgiving meals. And I don't know about you, but that is one meal that I look forward to all. Year. Long. Even if there are only 5 of us eating, I will prepare enough for 2 or 3 times as many people and we live off the leftovers all week. That's good stuff man.
Usually, when we combine families for our holiday meals, everyone takes responsibility for a side dish. I'm always assigned to the sweet potato casserole, with the threat of being disowned (or worse) if I don't bring it. Yeah, it's that good. My old recipe used in previous years called for copious amounts of canned sweet potatoes, sugar, butter, and brown sugar. Oh, and an entire bag of mini marshmallows. I don't even know how something like that passes as a side dish and not a coma-inducing dessert, but it somehow squeaks by. I guess sweet potatoes = vegetable = side dish, right?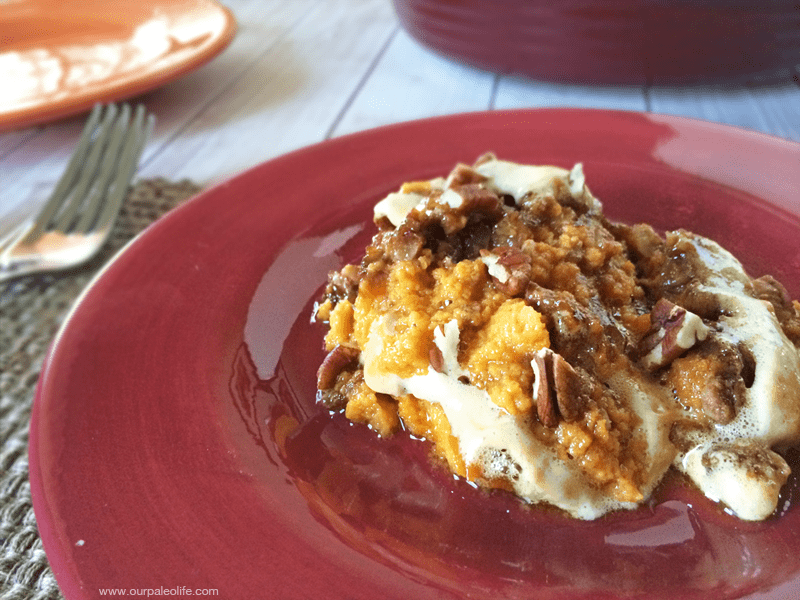 I was not even close to giving up that dish and figured it could easily be converted into a less-sweet paleo dish, and set out to do just that. I used Paleo Marshmallows on the top, but this could totally be made without them if you're in a pinch or simply prefer your sweet potates without marshmallows. I don't even remotely understand that, but whatever floats your boat.
I cut down the sweetness a lot from the non-paleo version of my recipe and it is still so delicious, that I doubt my non-paleo family would mind the switch. When I quizzed my kids on the difference, they said it was delicious and didn't even remember what the other stuff tasted like. I asked my 8-year-old if she thought it tasted like dessert or a veggie dish and she said "dessert!" so it still passes as the sweet dish we've always been used to. If you prefer your sweet potatoes less sweet, cut back on the maple syrup or leave it out altogether. The important note is to not skimp on the vanilla. Not even an option, people!
This picture below is what the casserole looked like after about 20 minutes. Keep in mind, there are only 4.5 people in this house (toddlers count as half people, right?) and they treated it like it was dinner. I kept hearing "can I have more?" and was honestly afraid I wouldn't get to try any. For real Thanksgiving, I always double the recipe (you'll need to double the baking dishes, too, to ensure even cooking), and then we're guaranteed enough for everyone plus a few leftovers.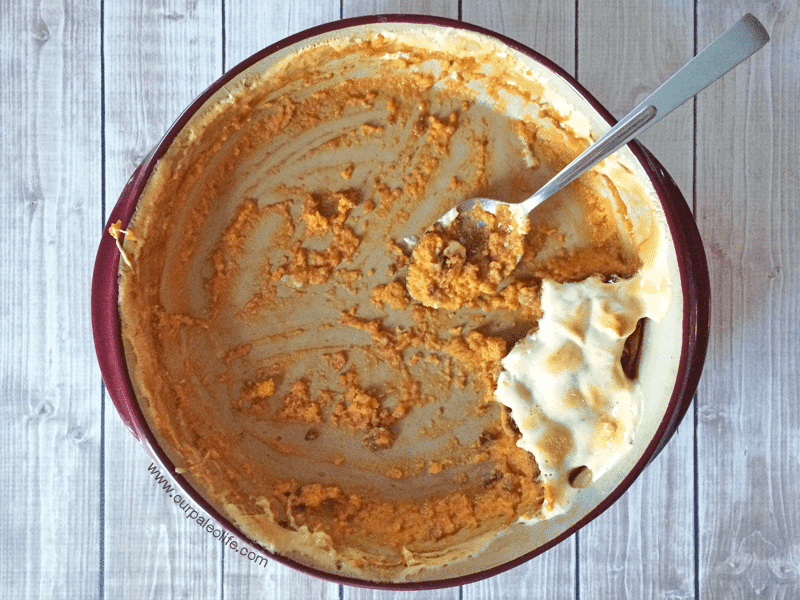 So go ahead, enjoy a guilty pleasure food on Thanksgiving without feeling terrible about eating 3 (or more) servings in one meal. Not that I have ever done that. Ever.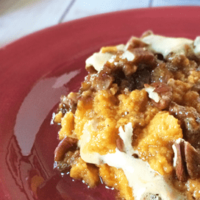 Sweet Potato Casserole
Total Time:
1 hour
10 minutes
This was the one Thanksgiving side dish that I could never get enough of. And now it's grain-free and dairy-free. It should really be classified as a dessert, but who am I to argue.
Ingredients
CASSEROLE
5 cups Sweet Potatoes, peeled and diced
1/4 cup Maple Syrup
1/2 cup Coconut Milk, full-fat canned
4 Tbsp Grass-Fed Butter or Ghee
1 pinch Sea Salt
2 tsp Pure Vanilla Extract
2 Large Eggs
TOPPING
1/4 cup Coconut Sugar
1 Tbsp Arrowroot Starch
2 Tbsp Grass-Fed Butter or Ghee
1/2 cup Coconut Milk, full-fat canned
1 cup Pecans, chopped
Instructions
Preheat the oven to 350°F. Lightly grease a 13x9 baking dish with ghee or coconut oil.
Add the diced sweet potatoes to a large pot and cover with water. Bring the potatoes to a boil and continue cooking until fork tender, about 10-12 minutes. And when I say "fork tender", I mean "falling apart". Like Jennifer's Jacket. Bonus points if you can tell me what that's from.
Drain the sweet potatoes when they are done, and add all casserole ingredients to a blender (like the Blendtec) or a food processor. Pulse until combined, but not a smooth puree.
Pour casserole mixture into the prepared baking dish. set aside.
Combine all topping ingredients except marshmallows in a medium saucepan over medium heat, stirring until smooth. Do not bring to a boil
Once all the topping ingredients are combined and the coconut sugar is dissolved, remove from heat and stir in the chopped pecans.
Pour the topping over the sweet potatoes in the casserole dish.
Bake for 35-40 minutes, or until center is set and not jiggly.
In the last 3-5 minutes, remove from oven and top with the marshmallows, then put back in (uncovered) to brown.
Nutrition Information
Yield

8
Amount Per Serving
Calories

439
Total Fat

29g
Saturated Fat

14g
Trans Fat

0g
Unsaturated Fat

13g
Cholesterol

78mg
Sodium

155mg
Carbohydrates

43g
Fiber

5g
Sugar

22g
Protein

6g
Nutrition is calculated by a third party and may not be 100% accurate