Last Updated on July 14, 2020
Do you have any idea how long I have been contemplating this Green Bean Casserole recipe? It's been on my mind for a month, at least. You all kept telling me on Facebook that you wanted, needed, a recipe for green beans in time for Thanksgiving, but it was a feat I just didn't want to tackle.
The first big hurdle for me was french-fried onions. I mean, you can't have green bean casserole without them, so how would I do it? I don't even know what french-fried onions are. I'm guessing the French don't eat them, and I don't even know how they're made, so that should probably be a clue that it's not a food I should be eating anyway. But I wanted onions in this so I worked it out.
The second issue I had was cream of mushroom soup. That's like the glue that holds the casserole together. I played around with different combos of ingredients in my head for a while and thought I had my plan. Then, at the last minute, I switched it up just a tiny bit and I think it made all the difference in the world.
And finally, I didn't know what I wanted to do for a topping. I used to just throw more french-fried onions on top, because that extra crispy crunch is just the perfect compliment. But how would I accomplish it without that fake food? Luckily, someone brought a delicious rosemary bread to our Meetup group last week, and it was just the inspiration I needed. I'm telling you, everything just fell into place for me to put this recipe together in time for Thanksgiving. I'm not sure if the bread recipe I used was the same as what I ate last week at the Meetup, and I modified it a bit anyway, but it worked perfectly for this casserole.
So, you can probably see why I didn't really want to try this recipe, but I'm so glad I was pushed to do it. Oh, and I added bacon in it because I love bacon. You don't have to add it, but I think you'd be a little crazy not to…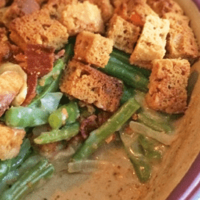 Green Bean & Artichoke Casserole
Cook Time:
1 hour
20 minutes
Total Time:
1 hour
35 minutes
No canned green beans or condensed soups with weird ingredients in them. Just real, fresh food for your holiday table. The way it should be.
Ingredients
Green Bean Casserole
2 lb Green Beans, end trimmed and cut into 2" pieces
1 Yellow Onion, quartered and thinly sliced
1 jar Artichoke Hearts, drained & quartered
5 slices Bacon, optional, cooked and chopped
4 Tbsp Fat of Choice, Bacon Fat, Ghee, or Grass-Fed Butter are best, melted
1 1/2 cups Unsweetened Almond Milk
3 Tbsp Arrowroot Starch
1 Tbsp Chia Powder
Sea Salt, to taste
Fresh Ground Black Pepper, to taste
Paleo Bread for topping, recipe below
Paleo Bread
Coconut Oil, for the loaf pan
2 Tbsp Almond Flour
2 Tbsp Arrowroot Flour
6 Tbsp Almond Butter, no salt or sweetener added
1/4 tsp Baking Soda
1/4 tsp Sea Salt
1 large Egg
1 Egg Yolk
1 1/2 Tbsp Light Olive Oil
Instructions
Bread
Preheat oven to 325°F.
Coat a loaf pan with coconut oil and set aside.
In a bowl mix the almond flour, arrowroot powder, baking soda, and sea salt together.
In a high-speed blender (I use the Blendtec with the Twister Jar) or food processor, combine the almond butter, olive oil, and eggs until smooth.
Add the wet ingredients to the dry ingredients and mix until evenly combined.
Add the batter to to the loaf pan and spread evenly to the sides and corners. Smooth out the top.
Bake in the preheated oven for 40-45 minutes. Remove and let cool on a wire rack.
Casserole
Prepare the bread a few hours or days in advance. Slice half the loaf into ½" cubes and set aside.
Preheat the oven to 400°F.
In a large pot, bring salted water to a boil and add the green beans. Return to a boil and cook the beans for 4-6 minutes. Drain and set aside.
Melt 2 Tbsp fat in a skillet and add onions. Saute until translucent.
Combine green beans, onions, and artichokes in a 9x13 (or equivalent) baking dish.
In the same pot you used to boil the green beans, add the milk, arrowroot starch, chia powder, salt, and pepper. Whisk to combine and simmer over medium for just a few minutes until it thickens slightly.
Pour milk mixture over everything in the baking dish.
Mix the remaining 2 tablespoons melted fat with the bread cubes until evenly combined. spread them evenly on top of the casserole, and add bacon on top of that.
Lightly cover with foil and cook in the preheated oven for 40 minutes. Remove foil in the last 5 minutes to crisp up the topping.
Notes
*Leave out the bread topping to make this Whole30 compliant.
Nutrition Information
Yield

8
Amount Per Serving
Calories

325
Total Fat

26g
Saturated Fat

8g
Trans Fat

0g
Unsaturated Fat

16g
Cholesterol

67mg
Sodium

415mg
Carbohydrates

17g
Fiber

6g
Sugar

5g
Protein

9g
Nutrition is calculated by a third party and may not be 100% accurate