Last Updated on July 31, 2021
For the longest time, I was very intimidated by cheesecakes. These dense, tall, amazingly delicious creations, it must be difficult to get just right. And truthfully, there are some precautions to take when baking the perfect cheesecake. Anything involving a water bath makes me a tad nervous, but I've still made my fair share of custard, cheesecake, and crème brûlée (though not all were a smashing success).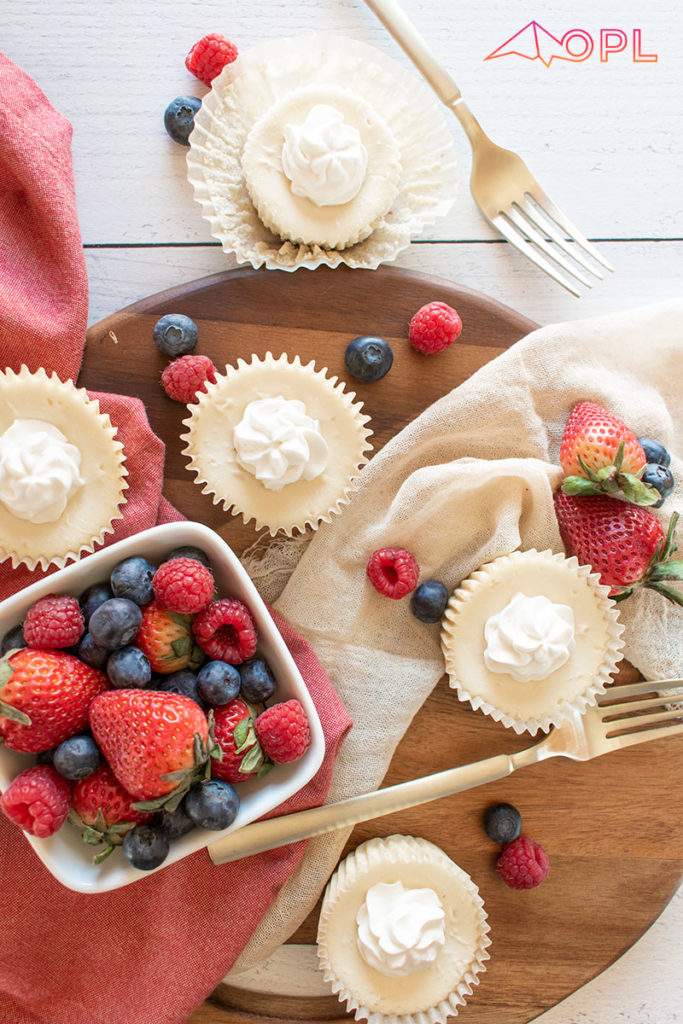 No Water Bath Cheesecake Recipe
To avoid the whole water bath thing, and really, because mini things are just so much more fun, I much prefer baking these adorable little cupcake-sized cheesecakes. I mean, just look! So cute, you just want to pinch their cheeks (if they had cheeks…).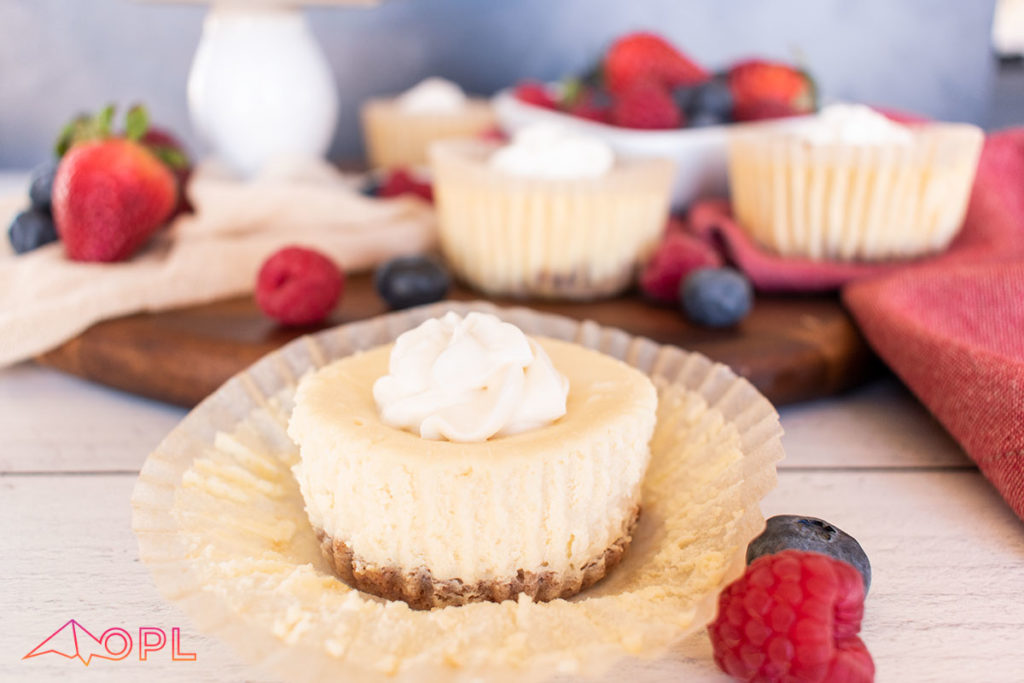 cardnl Cheesecake Recipe
At our keto bakery here in Colorado, we bake single serving-size cheesecakes. Though slightly larger than the cupcake-sized version here, this is actually the exact same recipe, just scaled down to about half the size. So not only do you not have to water-bath these cheesecakes, you get the recipe for one of the top sellers at our bakery.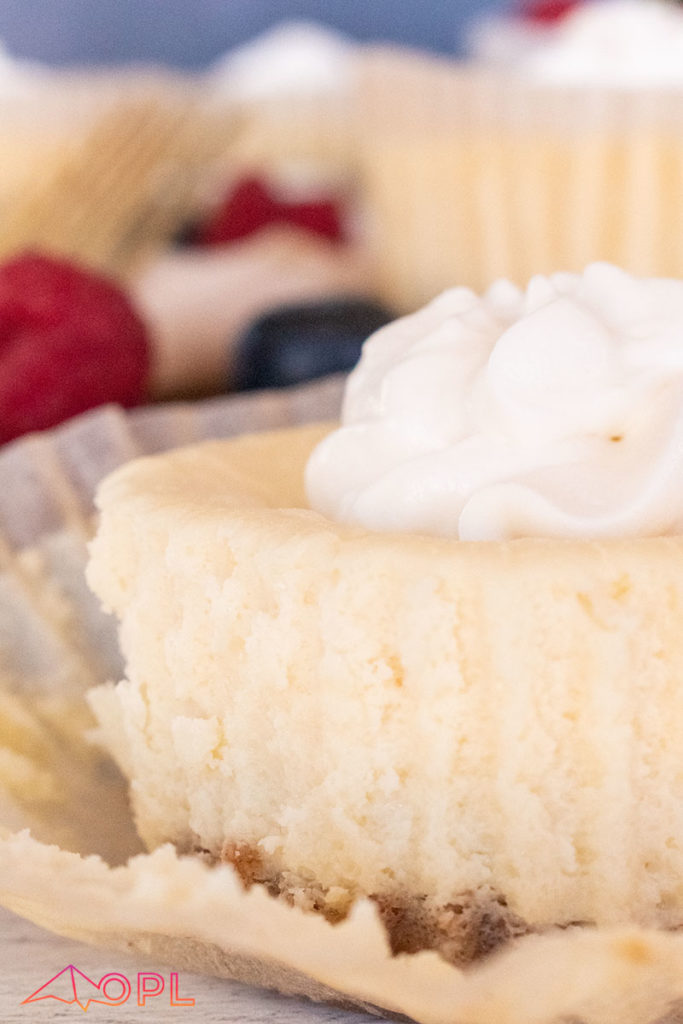 Classic Cheesecake
While the Classic (no topping) cheesecake is always delicious, I'd have to say that the top sellers at cardnl are probably the Lemon Curd and Pecan Pie. You can find the holiday-season favorite Cranberry Curd recipe here, and I'll be adding the Lemon Curd and Pecan Pie topping recipes soon. So much excite!!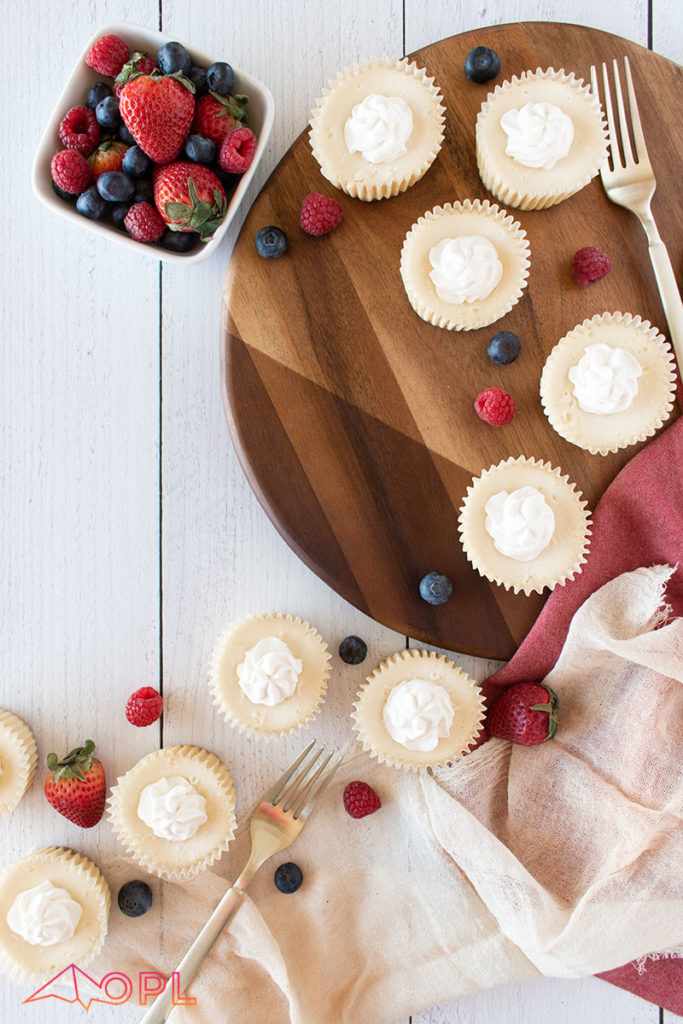 While this recipes looks like it has a lot of steps, it's actually quite simple. As easy as mixing the crust, baking it, mixing the cheesecake (in the right order), and baking that. Chill and done.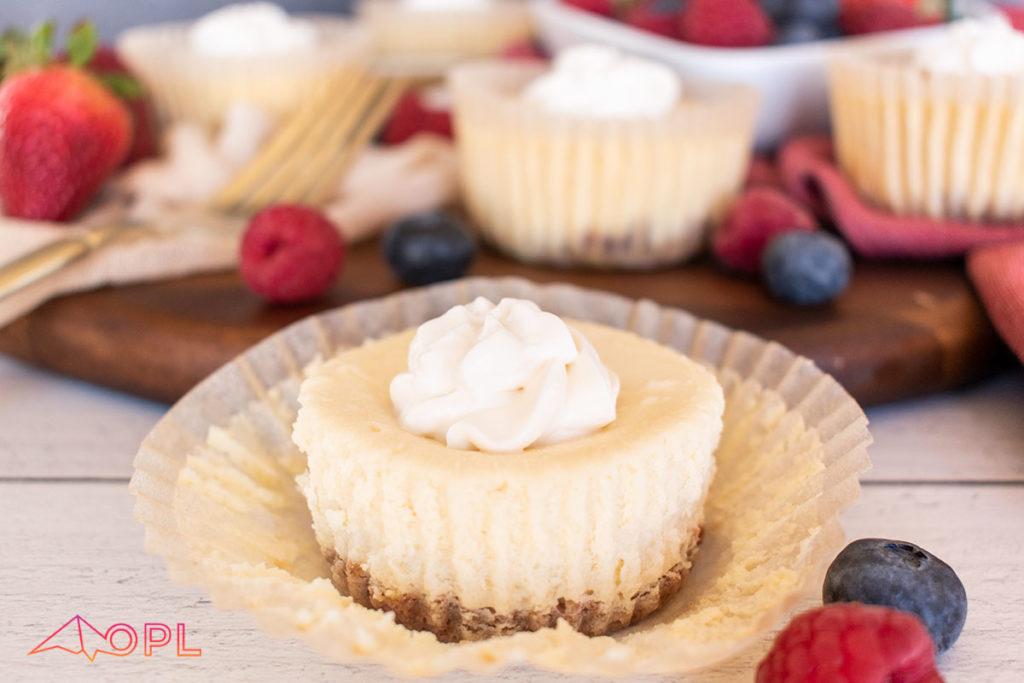 What cheesecake toppings or flavors would you like to see me share next?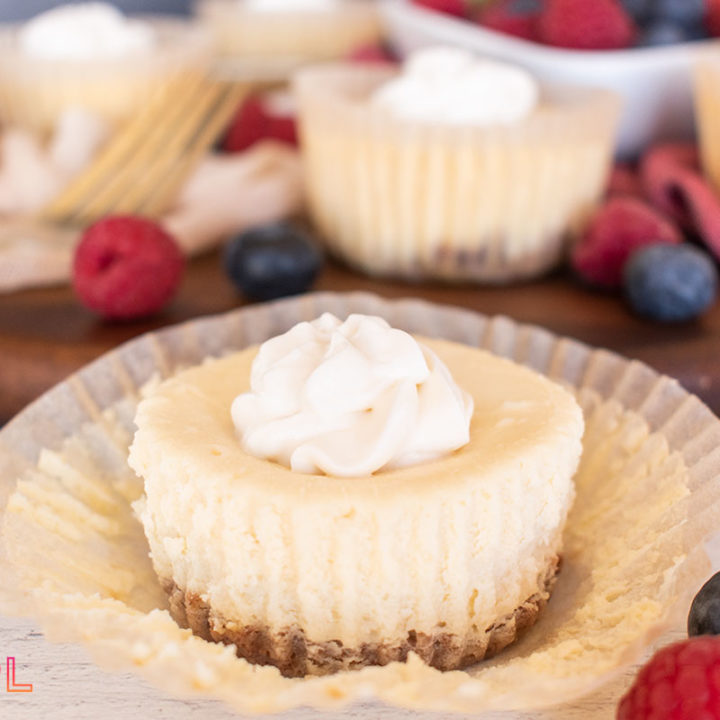 Mini Keto Cheesecakes
Total Time:
4 hours
35 minutes
These mini cheesecakes are keto-friendly (only 2g net carbs) and so easy to make. And we guarantee that even your sugar-loving friends and family won't be able to tell these are sugar-free!
Ingredients
Crust
1 tsp Ground Cinnamon
2 Tbsp Butter, melted
Filling
12 oz Cream Cheese, softened
1/4 cup Sour Cream
2 1/2 Tbsp Heavy Cream
2 tsp Vanilla
Topping Suggestions
Lemon Curd
Chocolate Ganache
Fresh Berries
Berry Compote
Instructions
Preheat the oven to 325°F. Line 12 muffin cup with cupcakes liners. PaperChef parchment liners are THE best for nonstick, and we highly suggest you use those.
Combine all of the CRUST ingredients in a small bowl. Using your hands or a fork, combine until crumbly. Divide evenly between the cupcake liners (about 1 tablespoon each). Press down in the bottom of each cup and bake for 5-7 minutes.
To make the filling, combine the softened cream cheese and Lakanto in the bowl of a stand mixer (see notes). Beat on medium speed with the paddle attachment until smooth and creamy.
Add in the sour cream, heavy cream, and vanilla and beat on low speed until combined and smooth.
Add in the eggs last and beat on low speed just until combined. Do not overmix the eggs, your cheesecake may turn out lumpy.
Divide evenly over the par-baked crusts (about 1 large cookie scoop each). Gently tap the muffin pan on the countertop to remove any air bubbles and to even out the tops.
Bake in the preheated oven for 10-12 minutes. No need for a water bath. The center will be slightly jiggly (not too much) and will set completely to a creamy consistency once cooled.
Remove from oven and let cool at room temp until the pan is cool to the touch. Cover lightly with plastic wrap and continue cooling in the fridge for at least 4 hours.
When completely cooled and set, top as desired. If you used parchment cupcake liners, they should peel off easily now.
Serve chilled, and store leftovers in the fridge for up to 2 weeks.
Notes
If you don't have a stand mixer, use a hand mixer. Doing this by hand won't result in a smooth, creamy cheesecake and is not recommended.
Nutrition Info does not include any toppings.
Nutrition Information
Yield

12
Serving Size

1 mini cheesecake
Amount Per Serving
Calories

170
Total Fat

16g
Carbohydrates

8g
Net Carbohydrates

2g
Fiber

1g
Sugar

3g
Sugar Alcohols

5g
Protein

4g