Keto no bake cookies are the best. One dish to clean, they're low carb, and they're the perfect keto dessert. Nothing like an easy Keto recipe to make life a little better. And you don't need a lot of tools or utensils. Simple and easy. Yay! And it's dark chocolate, come one… benefits!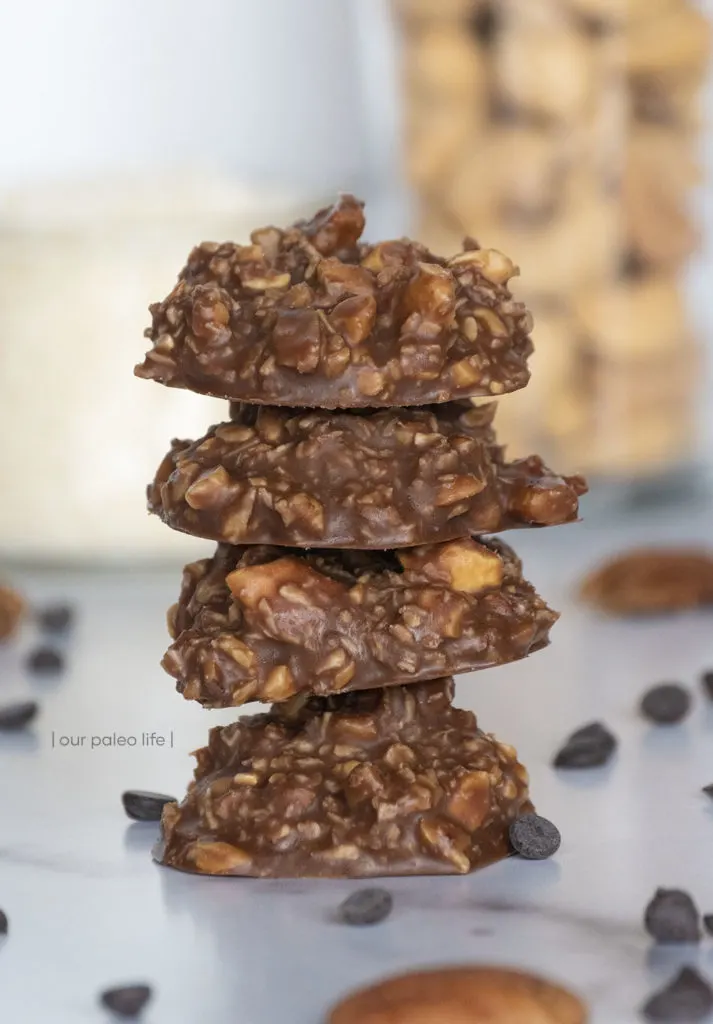 Not only are these Keto no Bake Cookies a one-bowl recipe, but they only have 5 ingredients. AND they take 10 minutes to put together. Who needs cookie dough anyway? Well… maybe. :/
To be honest, any keto dessert is okay with me, as long as it's tasty and has none of that nasty cooling taste. Yuck. Did you know that cooling taste comes from the use of too much (or the wrong amount of erythritol). If you don't know what you're doing, it could turn out pretty nasty.
Sugar Free (of course) + no additional sweeteners
Let's take a look at ingredients for a moment:
This low carb peanut butter based keto dessert uses just the right amount of chopped nuts. The chocolate chips add the sweetness needed without: a keto sweetener, a powdered sweetener, sugar (which is obviously not approved anyway), powdered erythritol, monk fruit, maple syrup (again, this is a great sweetener, just not approved for this type of recipe), swerve sweetener, stevia, or any other granulated sweetener BUT still provides the right taste for any sweet tooth.
The ingredient list is simple:
Butter (or Coconut Oil for dairy-free) – Mmmm melted butter
Crunchy Peanut Butter / Almond Butter or any Nut Butter
Chocolate Chips (adds the right amount of sweet)
Chopped Nuts (we prefer pecans & cashews)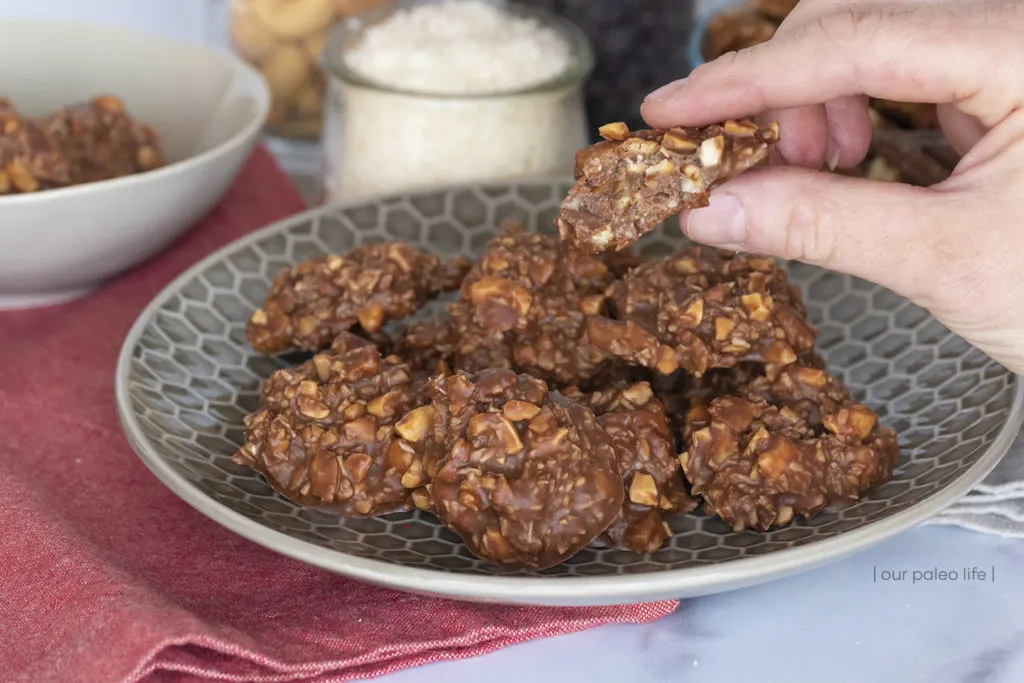 Keto No Bake Cookies with Peanut Butter
Here's the deal with Paleo, peanut butter is technically off the table. BUT other nut butter options are perfectly okay. We really love the cardnl almond butter. It's blanched and roasted. So good. There's also an almond flour available too, it's really great for baking (however, you don't need almond flour with this cookie recipe).
Low Carb Cookie Recipe
With very few ingredients, it's just that good. I wanted to quick review a few very important Keto ingredients that are NOT in use in this recipe but we believe they're solid staples to have on hand. They include: cocoa powder, coconut flake, a powdered sweetener (or any keto sweetener in fact), sliced almonds (however, you might want to try adding some sliced almonds, yum), hemp seed, unsweetened cocoa powder, vanilla extract (great for baking), cream cheese, and coconut milk. Like I said, these are great options to have on hand but they're just not needed for this Keto No Bake Cookies recipe.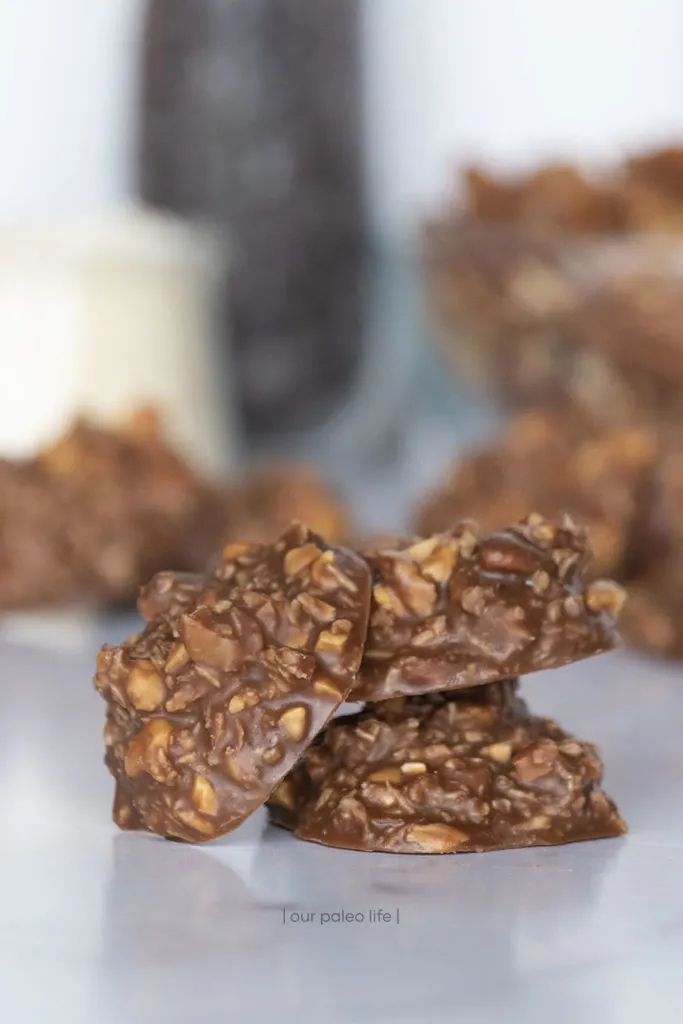 Vegan Approved Keto Coconut Cookie Ball
You COULD make it in to a ball and get that cookie dough ball vibe… maybe?
Anyway, this is a Vegan cookie option! If you decide to use coconut oil, a natural peanut butter, cardnl chocolate chips, any variety of nuts or almonds, and coconut, you're all set to make this perfectly Vegan.
Low Carb Kitchen
Here's the situation on eating low carb and stocking the kitchen right, always have a nut butter option on hand, our preferred is almond butter, you just can't go wrong. Shredded coconut is nice to have on hand too. Bake it with a sweetener and make a granola or another type of treat.
Keto Friendly NO BAKE Cookie Recipe
These keto no bake cookies only have 2g net carbs per cookie and they definitely don't taste sugar-free at all. This recipe uses chocolate chips rather than cocoa powder and additional sweeteners. Simplicity makes the process a little better and also lets you use a variety of different chocolate chips that completely alter the taste of the cookie.
We like these the most with cardnl Dark Chocolate Chips , but they're also super tasty with Lily's White Chocolate or Salted Caramel Chocolate Chips as well. See, a variety of flavors all in one simple recipe.
If you don't tolerate dairy at all, swap out the butter for coconut oil (like mentioned earlier). Note: the cookies might melt a little quicker since coconut oil has a lower melting point than butter. They're best stored in the fridge to keep the melting from happening.
If you think these don't end up being sweet enough, you could try adding some Erythritol or Allulose (both safe granulated sweetener options). Note: we don't recommend using the swerve sweetener, not a big fan of oligosaccharides. There are better sugar free options, even Monk Fruit is a viable option when paired with erythritol (or powdered erythritol).
Have fun and let us know in the comments if you did anything different to change it up.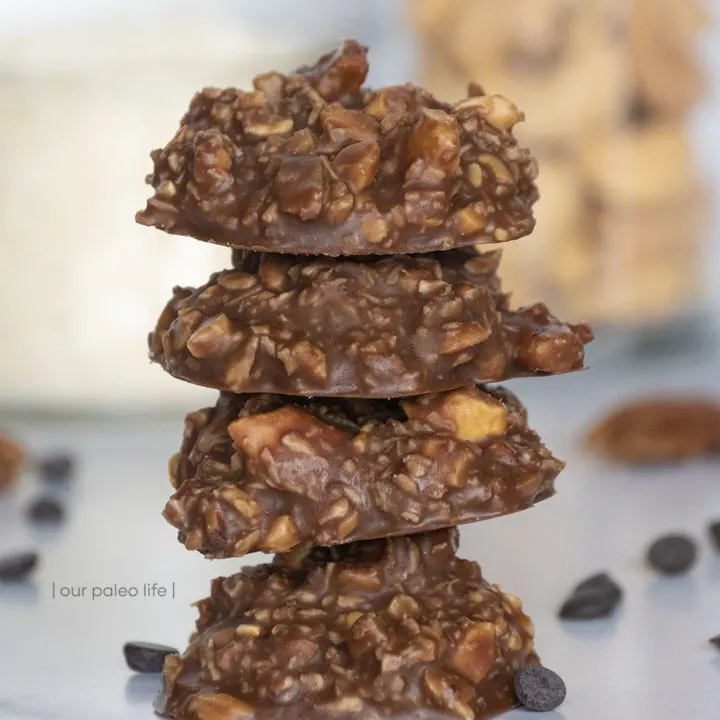 Keto No-Bake Chocolate Cookies
Only 5 ingredients and 10 minutes of hands on work and you've got some tasty cookies that have only 2g Net Carbs per serving!
Ingredients
1/2 cup Butter (or Coconut Oil for dairy-free)
1/2 cup Crunchy Peanut Butter (see notes)
1 1/2 cups Chopped Nuts (we prefer pecans & cashews)
Instructions
Line a baking sheet with parchment paper. Set aside.
In a small saucepan, heat the butter, peanut butter, and chocolate chips together over medium-low heat until almost completely metled, stirring ocassionally. Remove from heat and continue stirring until fully melted.
Add the chopped nuts and coconut into the saucepan and stir until everything is well combined and coated.
Using a small cookie scoop or two spoons, scoop small amounts of the mixture onto the prepared baking sheet and refrigerate or freeze until firm.
Notes
* If you don't do peanut butter, use your preferred nut butter. We like crunchy nut butters, but use smooth if that's your preference.
* The type of chocolate chips that you use will change the macros and taste. We like to use either Explorado Market Dark Chocolate Chips, Lily's White Chocolate Chips, or Lily's Salted Caramel Chocolate Chips.
* Nutrition Facts are calculated using Explorado Market Chocolate Chips.
Nutrition Information
Yield

30
Serving Size

1 cookie
Amount Per Serving
Calories

110
Total Fat

11g
Saturated Fat

4g
Trans Fat

0g
Unsaturated Fat

6g
Cholesterol

8mg
Sodium

46mg
Carbohydrates

3g
Net Carbohydrates

2g
Fiber

1g
Sugar

2g
Protein

2g
Nutrition is calculated by a third party and may not be 100% accurate