Last Updated on July 31, 2021
I've always thought it's a silly thing to have "guilty pleasures". Something you enjoy or like but are almost too embarrassed to admit to other people. That said, cake batter anything is definitely high on my list of guilty pleasures.
One of my not-so-guilty pleasures is cheesecake. Put them together, and yeah, that's kinda my thing. cardnl Sprinkees and Sweet Keto Baking Mix are the perfect combo to help me get that cake batter fix.
I created this recipe to combine two of my favorite desserts in one guiltless little sweet cup. The Sweet Keto Baking Mix just needs to be mixed with a few basic ingredients, toss in some Sprinkees, and bake. The cheesecake filling is no-bake, so all you have to do is mix and pipe. Done!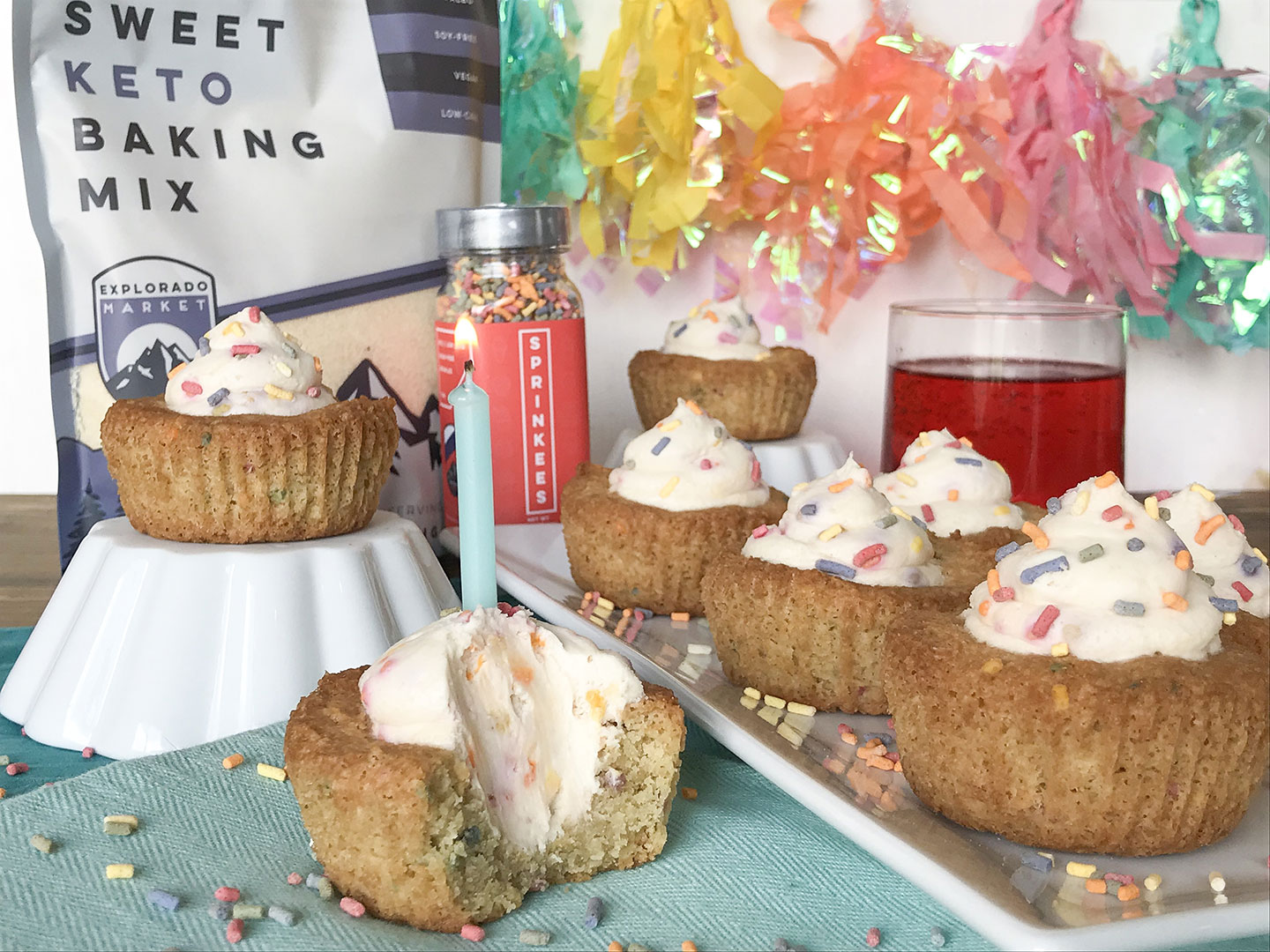 I actually prefer to eat these the next day, once the cheesecake mixture has time to really become one with the cookie cup and it gets a bit softer and tastier as well. The benefit to that is you can make them a day or two before you need them, which is always a great time-saver.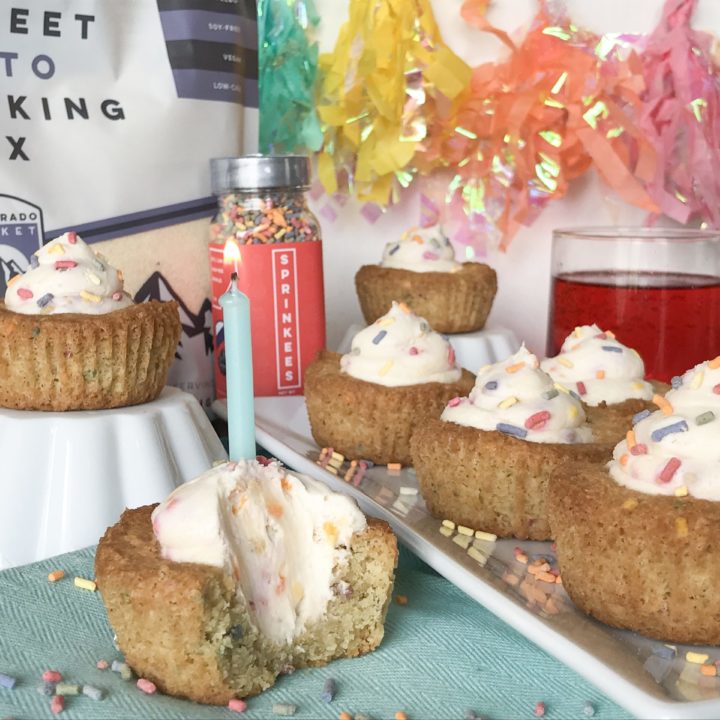 Keto Funfetti Cookie Cups (gluten free)
Total Time:
1 hour
30 minutes
Ingredients
Funfetti Cookie Cups
1 bag Explorado Market Sweet Keto Baking Mix
2 lg Eggs
1/3 cup Salted Butter, melted
1 1/2 tsp Vanilla Extract
1/4 cup Explorado Market Sprinkees
No-Bake Cream Cheese Filling
1/2 cup Heavy Cream
8 oz Cream Cheese, softened
1/4 cup + 1 Tbsp Lakanto Gold
1 tsp Vanilla Extract
3 Tbsp Explorado Market Sprinkees
Instructions
Funfetti Cookie Cups
Preheat the oven to 350°F. Line a 12-cup cupcake pan with Paper Chef Parchment Baking Cups. Set aside.
Combine all ingredients except Sprinkees. Mix until smooth (a spoon or spatula is just fine for this step).
Add in the Sprinkees and gently mix in just until combined.
Using a large cookie scoop, place one scoop of prepared cookie batter in each cupcake liner.
Dampen your fingers with a little water (to prevent them from sticking) and lightly press the cookie dough down in each cup.
Bake in the preheated oven for 20 minutes.
While cookie cups are still hot, lightly press the center down with a tart tamper or other small object to create the "cup" shape. Gently remove cookie cups from pan and set aside to cool completely.
No-Bake Cheesecake Filling
Place cream in a medium mixing bowl but itself. Using a hand mixer (or stand mixer, if you prefer), beat until slightly stiff peaks form and whipped cream is a piping consistency. Set aside.
Combine the softened cream cheese, Lakanto Gold, and vanilla in a medium mixing bowl. Mix together (a hand mixer is best for this job) until smooth. Add the whipped cream and beat with hand mixer until completely combined. Gently fold in the Sprinkees.
Preparation Instructions
Pipe or spoon No-Bake Cheesecake Filling into completely cooled cookie cups.
Top each filled cookie cup with a sprinkle of Sprinkees just before serving.
Store prepared cookie cups (before adding extra Sprinkees) in the fridge up to 48 hours in an airtight container.
Nutrition Information
Yield

12 cookie cup
Serving Size

1 cookie cup
Amount Per Serving
Calories

310
Total Fat

29g
Carbohydrates

26g
Net Carbohydrates

4g
Fiber

4g
Sugar

2g
Sugar Alcohols

18g
Protein

8g
Nutrition is calculated by a third party and may not be 100% accurate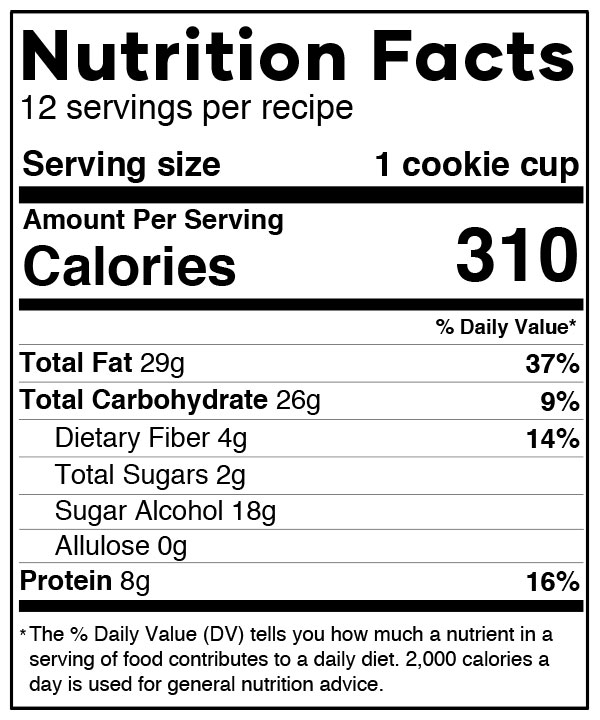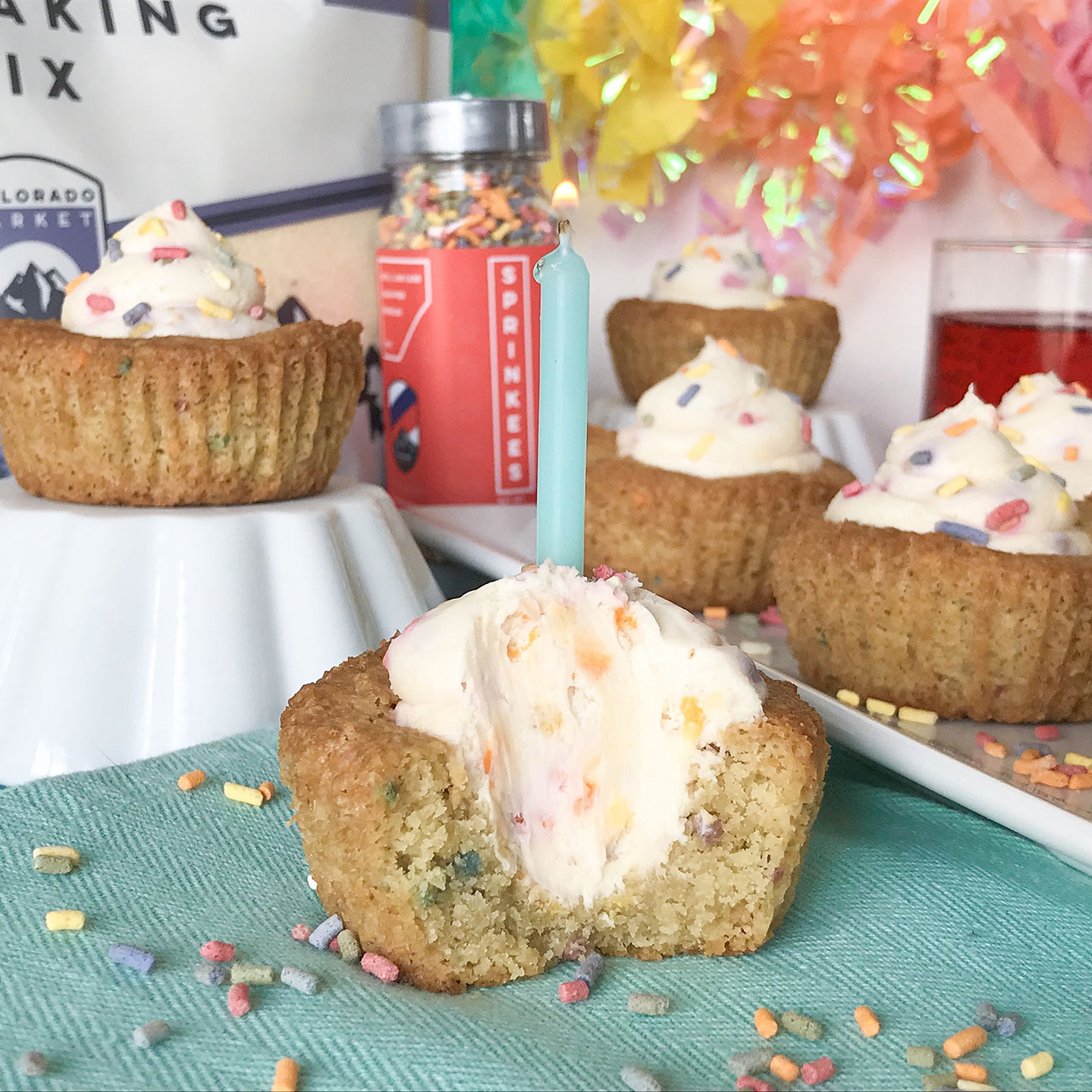 cardnl offers a 100% guarantee on all products – will NOT raise blood sugar and will NOT take you out of Ketosis. Everything is also 100% gluten free.