Last Updated on January 6, 2021
Originally posted in 2018 and updated in 2020.
Growing up, I always thought that Red Lobster was this fancy, exclusive restaurant and I always wanted to go. When I finally walked through the doors and saw the huge tank of live lobsters, I just knew I was in for a treat.
Keto Coconut Shrimp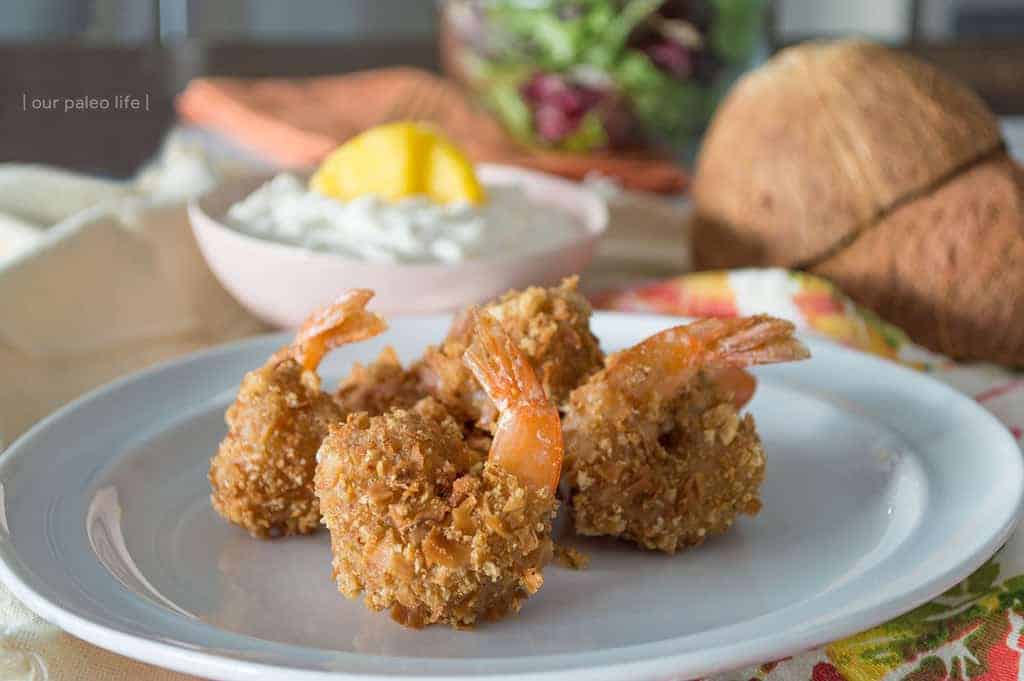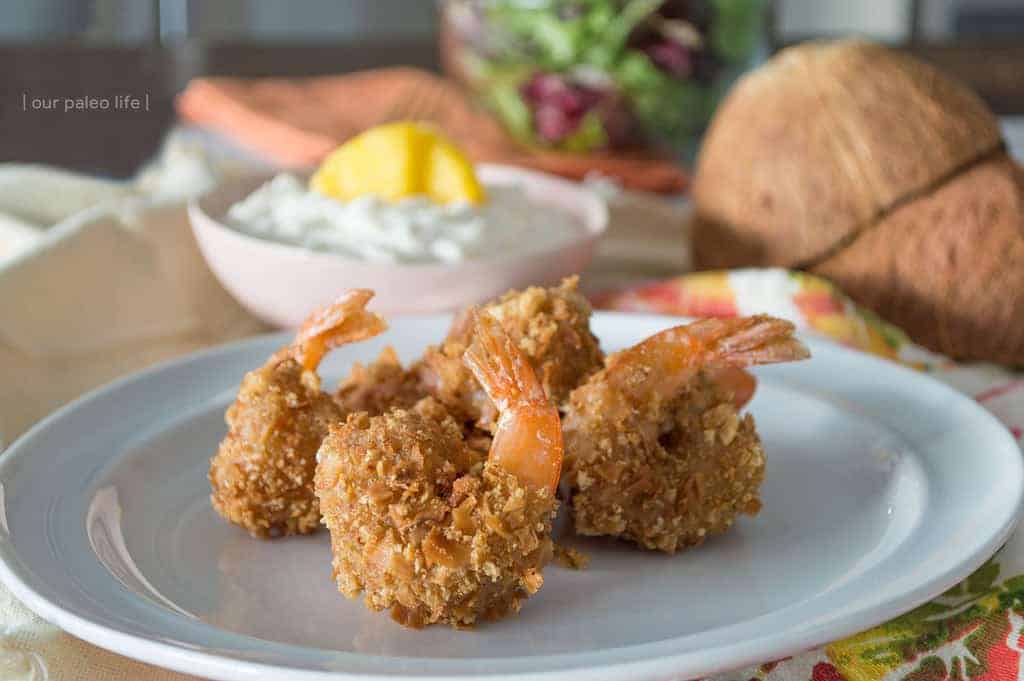 Naturally, I had my fair share of their Cheddar Bay Biscuits (and have since made my own keto version to enjoy at home), followed by copious amounts of coconut shrimp. It was basically the only thing I ever ordered there, with shrimp scampi as a close second.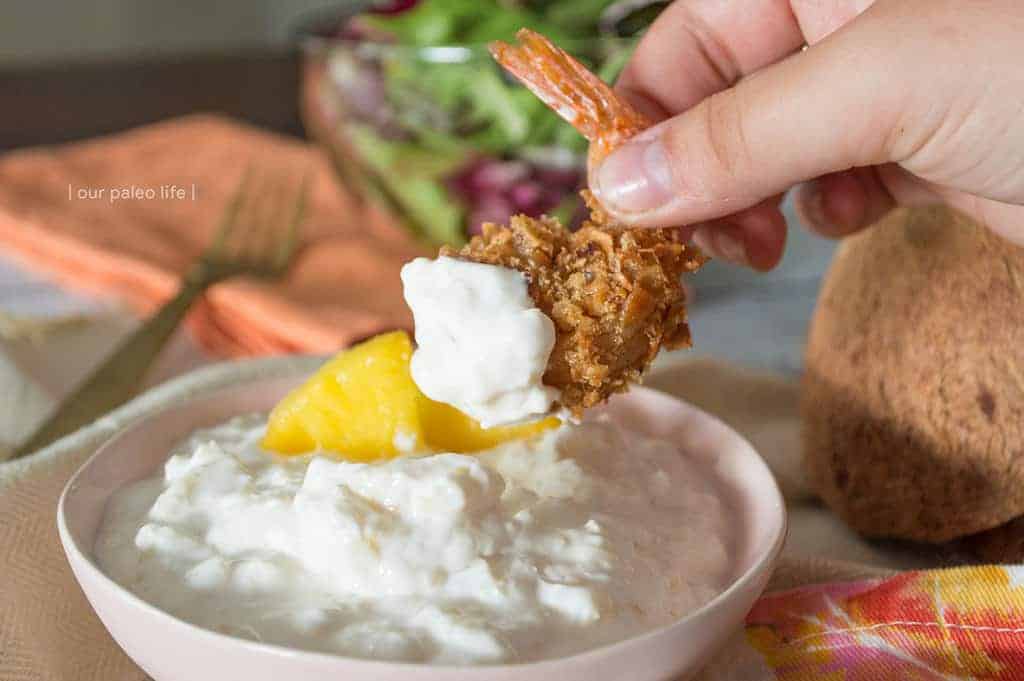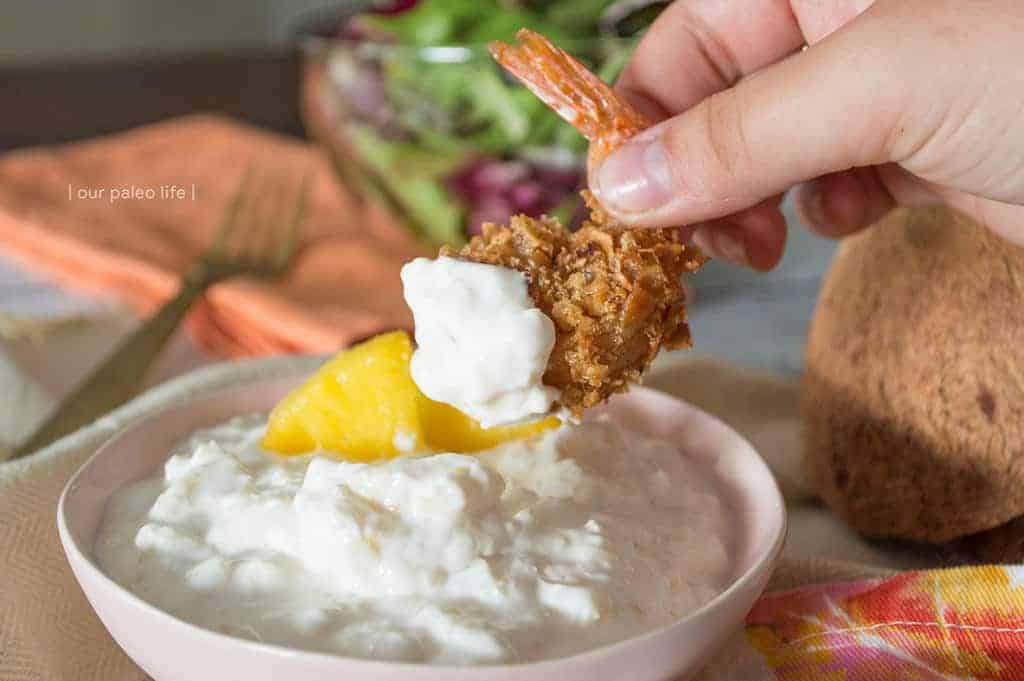 Healthy Deep Fried Keto Shrimp
My oldest daughter has inherited my love of coconut shrimp and requests it on a regular basis. With the realization that deep frying foods is an excellent way of infusing healthy coconut oil into our foods and increasing our fat intake, I decided to revisit an old favorite.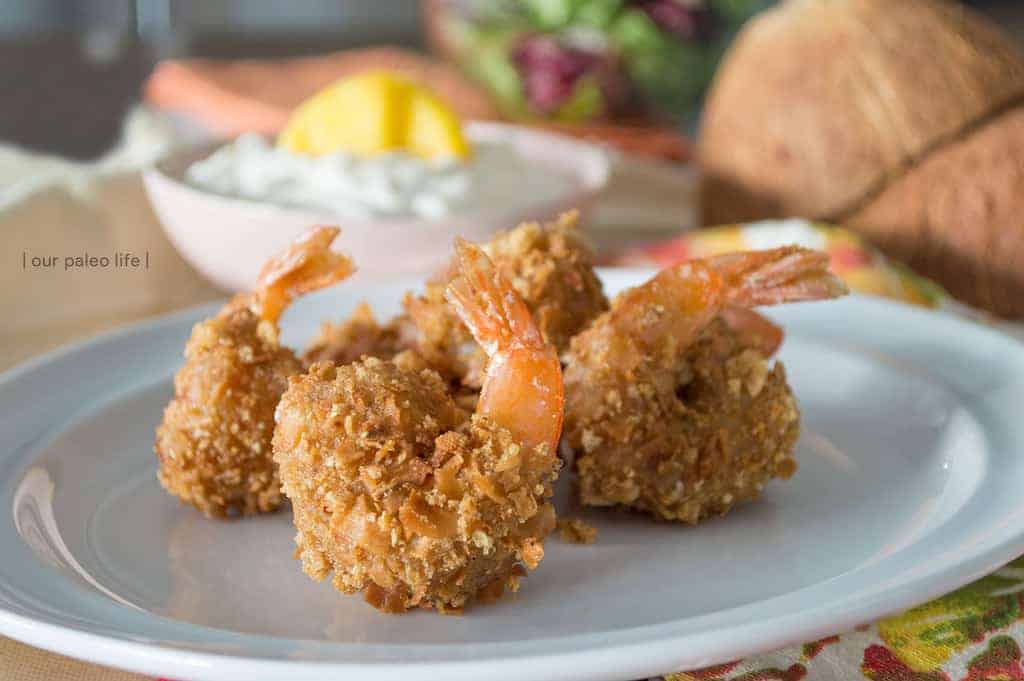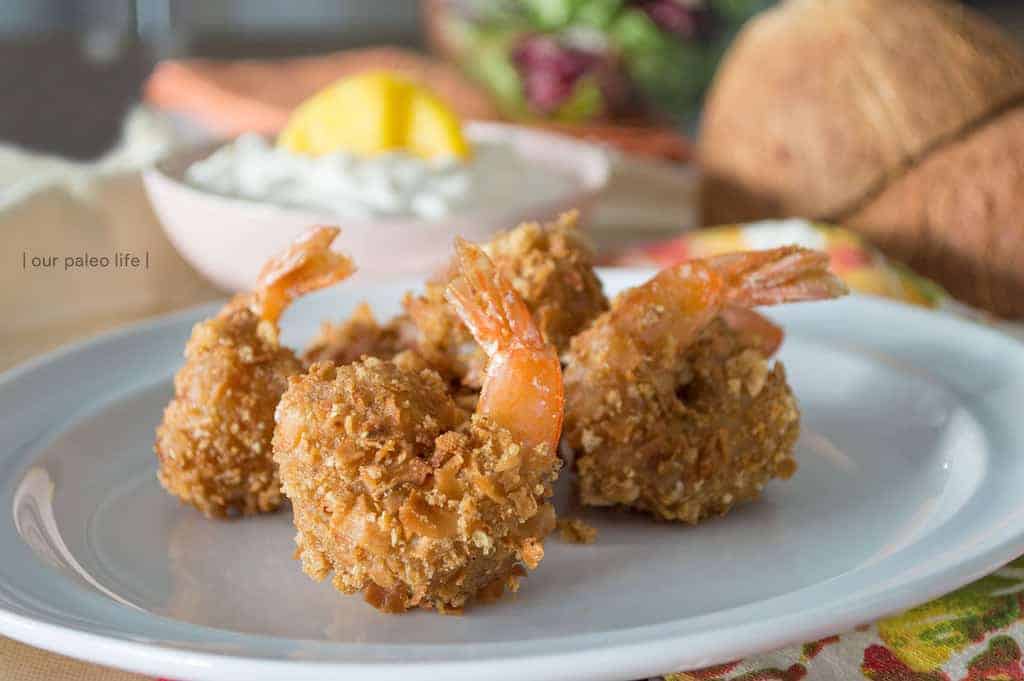 Pork Rinds Panko Replacement
This low-carb version of coconut shrimp uses crushed up pork rinds as a panko replacement. You can crush your own, or buy them in panko-form to save yourself a step. I use either, depending on what I have on hand, and both work just perfectly.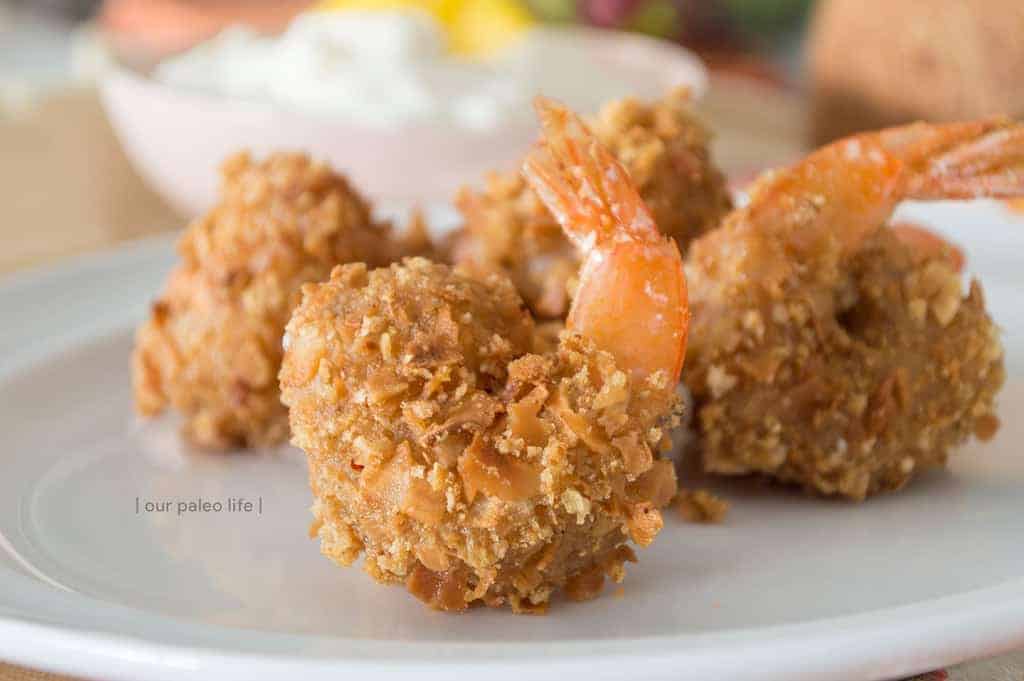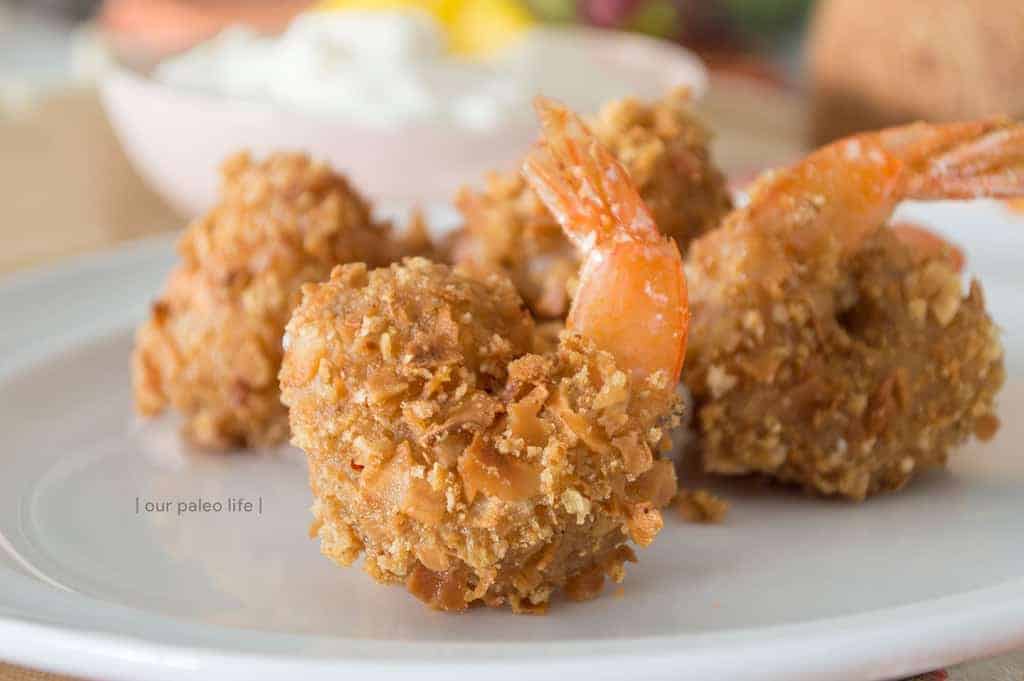 And although the Sweet Pineapple Sauce does have some added carbs from the fresh pineapple, it's not enough for us to say "no" to this absolutely delicious restaurant-quality meal. We use a zero-carb sweetener (like Lakanto) to give some added sweetness without having to rely on refined sugars or additional pineapple juice.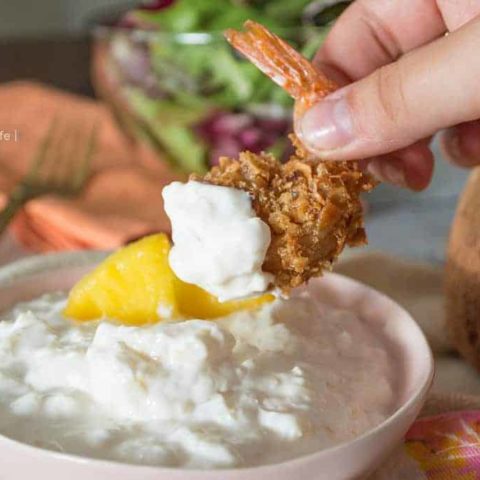 Low-Carb Coconut Shrimp w/ Sweet Pineapple Sauce
Ingredients
Pineapple Dipping Sauce
3 Tbsp Full-Fat Coconut Cream
1 cup Sour Cream
2/3 cup Crushed Pineapple, we prefer fresh, not canned
1-2 Tbsp Fresh-Squeezed Lime Juice
Coconut Shrimp
2 lb (approx 60) Raw Shrimp, peeled, deveined, tail-on
1/2 tsp Ground Black Pepper
1/2 tsp Allspice
1 Tbsp Full-Fat Coconut Cream
Coconut or Avocado Oil for frying
Instructions
Pineapple Dipping Sauce
Combine all sauce ingredients in a mixing bowl, cover, and place in the fridge until ready to use. This is best prepared at least 1 hour in advance.
Coconut Shrimp
Combine the almond flour, salt, and pepper and stir to combine. In a second shallow bowl, add the eggs and coconut milk and whisk until smooth. In a third shallow bowl, combine the pork panko and shredded coconut in a shallow bowl and stir to combine. Set all three bowls aside.
In a deep fryer (we use a small Fry Daddy), add about 2-3 inches of coconut oil (no more than the max fill line on your deep fryer). Turn on the fryer and let the oil come to heat (between 350°F - 375°F).
While the oil is heating up, hold a shrimp by the tail and dip in the almond flour mixture to coat all sides (not including the tail). Then dip the flour-coated shrimp in the egg mixture, tapping off the excess. Finally, dredge the shrimp in the pork panko/coconut mixture, pressing to ensure an even coating around the entire shrimp (not including the tail). Repeat on all the shrimp.
Once the oil is hot and all the shrimp are all coated, place 3-4 shrimp in the deep fryer at a time (add more or less depending on the size of your fryer). Fry for about 2 minutes, or until they are golden brown and crispy. Remove from oil with a slotted spoon and cool on a paper towel (to preserve as much oil as possible, cool directly on a plate instead to keep the oil from soaking into the paper towel). Repeat until all shrimp have been cooked.
Serve right away with the Pineapple Dipping Sauce. Leftovers can be stored in an airtight container in the fridge for up to a week on in the freezer for up to 6 months. Reheat in the oven at 375°F until crispy (about 10 minutes or so).
Nutrition Information
Yield

8
Serving Size

8 shrimp + 1/4 cup sauce
Amount Per Serving
Calories

607
Total Fat

44g
Saturated Fat

28g
Unsaturated Fat

0g
Cholesterol

358mg
Sodium

1542mg
Carbohydrates

14g
Net Carbohydrates

5g
Fiber

4g
Sugar

9g
Sugar Alcohols

5g
Protein

39g
Nutrition is calculated by a third party and may not be 100% accurate