I found this recipe floating around Pinterest (what don't I find on Pinterest?!) and thought I'd give it a shot. Sometimes we get in a chicken-rut around here. You know what I'm talking about. So we needed to break out and eat some different meat. Shrimp sounded delicious and it had been a while since I made it. I always forget about shrimp when I meal plan. I need to add it to the rotation more often.
I made this recipe a little less spicy since I was feeding it to the kids as well, and I didn't put any sauce on the baby's shrimp (she LOVES them plain, anyway). I have also split the sauce in half and made some more spicy than the other so we could have adult-sauce and kid-sauce at the same time. If I feel like getting fancy, I'll make some Zucchini Noodles and serve it with those.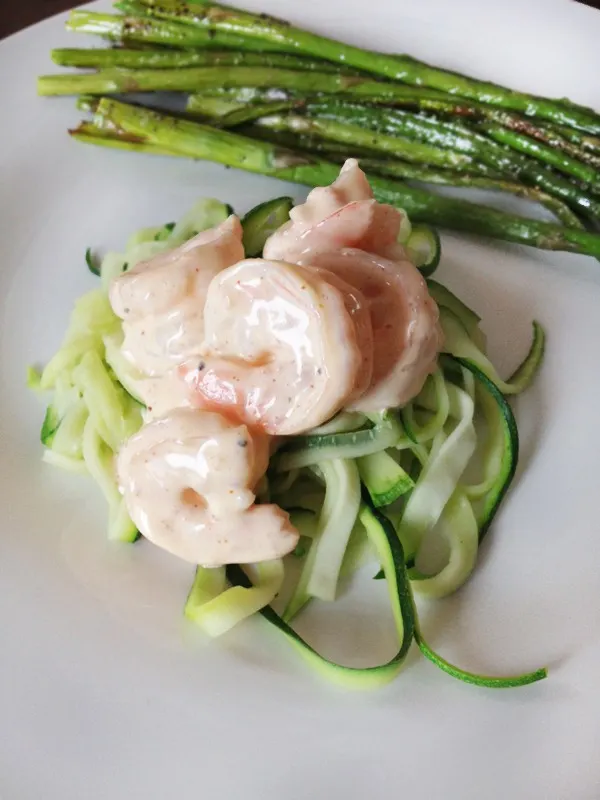 Also, I always double this for our family of 5 and Rob barely has enough leftover for a small lunch the next day. What can I say, we really like food.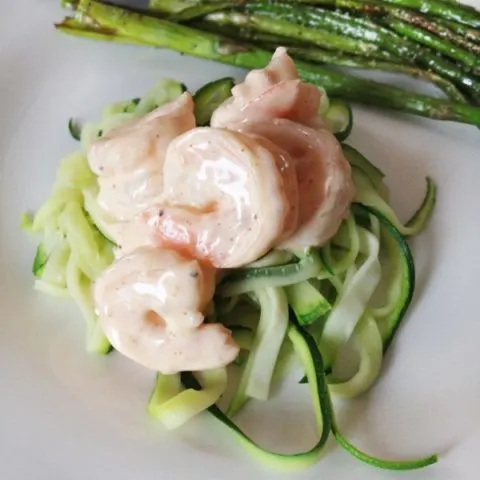 Paleo Bang Bang Shrimp
Ingredients
1 lb frozen Shrimp, thawed, peeled, deveined
3/4 cup Paleo Lime Mayo
3 Tbsp Tapatio Hot Sauce
1/4 tsp Red Pepper Flakes
2 Tbsp Coconut Oil
1/2 tsp Garlic Powder
Sea Salt, to taste
Fresh Ground Black Pepper, to taste
Instructions
Put the shrimp in a bowl and add garlic powder, salt, and pepper. Mix around to evenly coat the shrimp.
Heat the coconut oil in a large skillet over medium heat.
While you're waiting for the oil to heat up, combine the mayo, hot sauce, and red pepper flakes in a medium sized bowl.
Once the oil is hot, add the shrimp, stirring frequently.
When the shrimp are opaque and done (about 3-5 minutes) add them to the sauce in the bowl bowl and stir until coated.
Serve over some Zucchini Noodles (recipe on this site) and enjoy!
Nutrition Information
Yield

2
Serving Size

1/2 lb
Amount Per Serving
Calories

472
Total Fat

23g
Saturated Fat

13g
Trans Fat

0g
Unsaturated Fat

8g
Cholesterol

481mg
Sodium

3050mg
Carbohydrates

14g
Fiber

3g
Sugar

2g
Protein

53g
Nutrition is calculated by a third party and may not be 100% accurate