What?! Cookies? And you say they have no dairy, no eggs, no sugar, no grains? Yeah, right.
No seriously, these are amazing! Let me tell you, I'm kind of a chocolate chip cookie snob. In my pre-paleo, gluten-loving days, I had perfected the chocolate chip cookie. Crispy outside, chewy inside, perfect blend of sweet and salty. Seriously, they were the best. So naturally, I had to find the best paleo-fied version of one.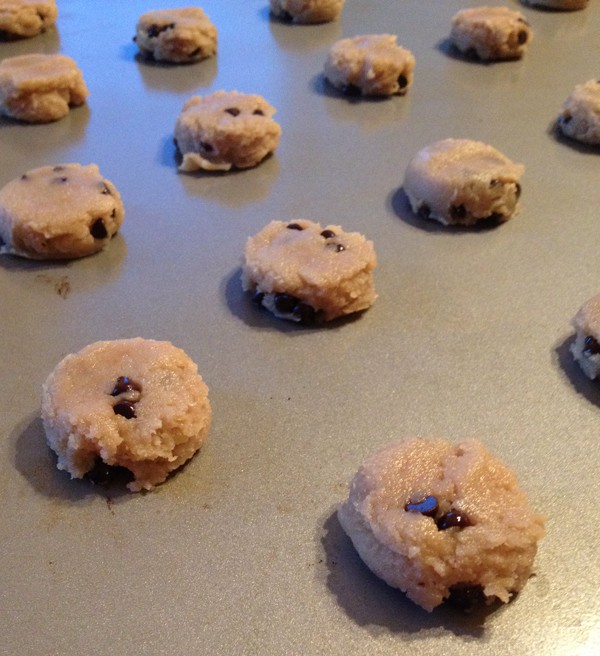 After a long search, I found a recipe that looked like it would be perfect. The first time I tried this recipe, I failed miserably. I don't think it was the recipe, but more or an ingredient-related issue. They tasted fine, but the texture totally sucked and they were a flat, non-puffy mess. I had some ideas on the cause of my failure and set out to repair them. Totally worked! And now my kids love these chewy, sweet, salty little bites of deliciousness as much as they liked the "real thing". Score!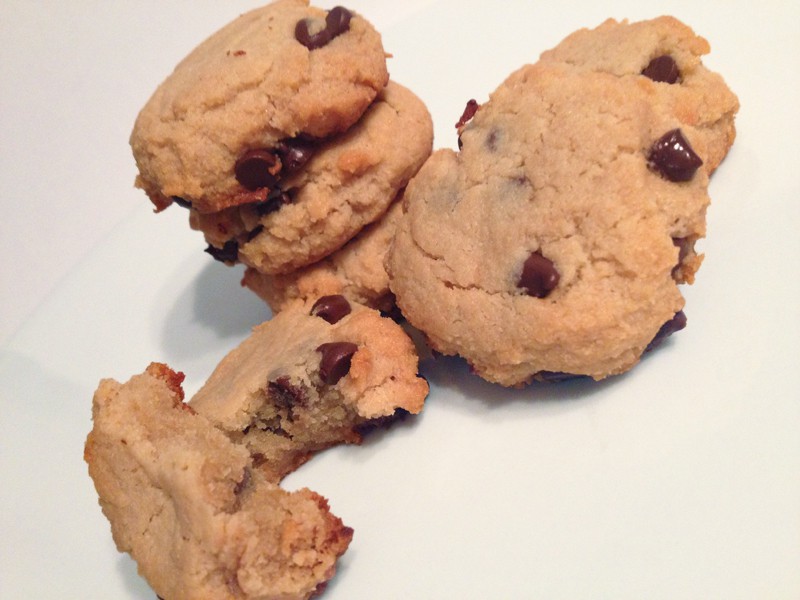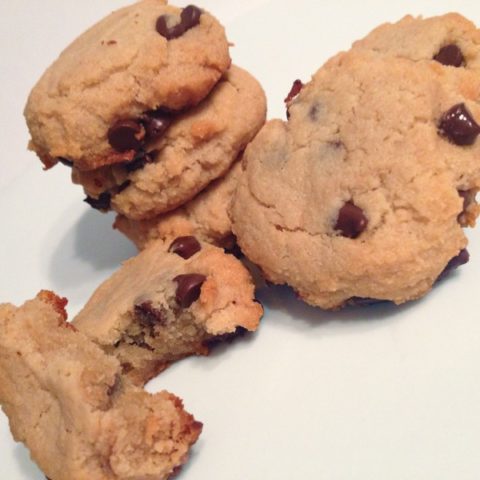 Paleo Chocolate Chip Cookies
Ingredients
2 cups Almond Flour, very finely ground like Honeyville brand, no almond meal, no Bob's Red Mill, seriously
1/4 tsp Baking Soda
1/2 tsp Salt
1/3 cup melted Palm Shortening or mild Coconut oil, you don't want this hot, trust me, slightly cooled
1/4 cup Honey
1 Tbsp Vanilla
1 Tbsp Full-Fat Canned Coconut Milk
1/4 cup Enjoy Life Chocolate Chips
Instructions
Preheat oven to 350°F.
In a large bowl, mix together the almond flour, baking soda, and salt. Set aside.
In another bowl, melt the palm shortening or coconut oil in the microwave. Just barely melt it, maybe halfway, and then stir together to melt the rest so it's not too warm.
Add the honey, vanilla, and coconut milk and stir to combine.
Add the wet ingredients to the dry ingredients and stir just until combine.
Add the chocolate chips and mix in.
Using a small cookie scoop (I use the smallest one from Pampered Chef, I think it's only a tablespoon and I get about 2 dozen cookies), scoop the dough onto an ungreased cookie sheet, spaced 2" apart. Slightly press the top of each cookie with you hand so it's not so round. They won't spread so they need a little help.
Bake in the center of the oven for 8-10 minutes, or until the edges are very lightly browned and the top looks a bit dry.
Remove from oven and let cool on cookies sheet 1-2 minutes.
Remove to a wire rack to cool. Try not to eat them right out of the oven, they'll be more breakable.
Enjoy with a tall glass of chocolate almond milk 😉