Raise your hand if you love the lettuce wraps at P.F. Chang's. You should have both hands up right now, otherwise we can't be friends. Ok, good. Moving on…
We don't have a P.F. Chang's in town. It's actually been about 5 years since I lived in the same city as one. Not that the one in the next town is super far from us, but I would still prefer to be able to make my own lettuce wraps at home for a few reasons: 1) I can control what goes in them; 2) I can have them whenever I want without having to wait for a table; 3) I can make a ton so if I must share, I can still have as much as I want.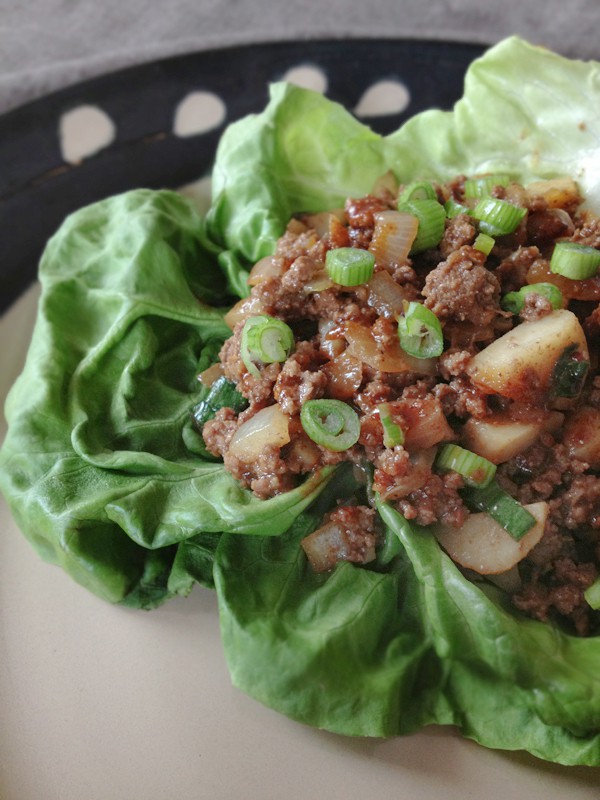 This is actually a pretty easy recipe, and it's all in one pan, so minimal cleanup as well. That's a big deal for me, since I'm the cooker and cleaner in the kitchen. Rob is banned because I'm a control freak. I know, I brought this on myself. Moving on…
Some grocery stores don't carry the right lettuce, and if yours doesn't, you could certainly use romaine, or no lettuce at all and just eat this stuff with a fork, it's totally fine and I won't judge you, because I've done that before. And if you need a paleo hoisin sauce, give this one a try, it's really good.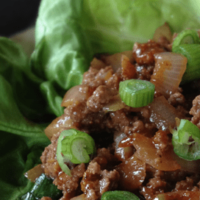 Paleo Lettuce Wraps
Ingredients
Boston Bibb or Butter Lettuce Leaves
2 Tbsp Olive Oil, divided
1 lb Lean Ground Beef, grass-fed if possible
1 large Yellow Onion, chopped
2 cloves Garlic, minced
1 Tbsp Coconut Aminos
1/4 cup + 2 Tbsp Paleo Hoisin Sauce
1 Tbsp Rice Wine Vinegar
1 can Water Chestnuts, drained and chopped
1 bunch Green Onions, chopped
2 tsp Dark Sesame Oil
Instructions
Rinse the lettuce leaves, taking care not to tear them as you separate them. Pat dry and set aside.
In a large skillet over medium-high heat, brown the ground beef in 1 tablespoon of the olive oil, breaking up with the back of a wooden spoon. Drain and set aside.
In the same pan add the remaining 1 tablespoon of olive oil. Add the onions and saute, stirring frequently. Cook until translucent.
Add the garlic, coconut aminos, hoisin sauce, and vinegar to the onions. Stir to combine and cook for 1 minute.
Add the water chestnuts, green onions, sesame oil, and browned beef. Stir to combine and cook just until the green onions begin to wilt, about 2 minutes.
Remove from heat and transfer to a serving bowl.
To serve, spoon beef mixture into the well of the lettuce leaves, fold up like a taco and eat.
Nutrition Information
Yield

6
Amount Per Serving
Calories

200
Total Fat

11g
Saturated Fat

3g
Trans Fat

0g
Unsaturated Fat

7g
Cholesterol

37mg
Sodium

193mg
Carbohydrates

8g
Net Carbohydrates

7g
Fiber

1g
Sugar

4g
Protein

17g
Nutrition is calculated by a third party and may not be 100% accurate