Friends, I'd like to make a confession. I. Love. Peaches! I didn't know I even liked peaches, but as I've mentioned here and here, we had a peach tree last summer and thus began my love affair. And now that we live in Colorado, we get uh-mazingly delicious peaches. I just tried a donut peach for the first time a couple weeks ago. It was like eating candy. And the Palisades Peaches (from Palisade, CO of course) are so much better than any Georgia peach could ever dream of (don't hate me for saying that).
Last weekend, I spent the Saturday morning with my oldest daughter, leaving the two younger kids with dad. So he did what any sane parent would do: took them to the Peach Festival (sans stroller, oops) to battle the crowds. However, he did come home with a box of 30 Palisade peaches, and that makes up for it all. Or maybe not, but I wasn't there so I'm going with it. But I didn't know what to do with all those peaches. I asked him to get some, but I wasn't expecting 30. I didn't want to be a pig and just eat them all, though I could have and would have if I lived alone and didn't fear the judging eyes of other people. I remembered that last year, in pre-paleo times, I made some peach cobbler with all the peaches from the backyard. I knew that particular cobbler was not really an option this year, given that it has insane quantities of sugar (both brown and white), white flour, and cornstarch. Um, no thanks. But I really wanted cobbler, people. So naturally, I set out to convert the recipe to be more paleo-friendly.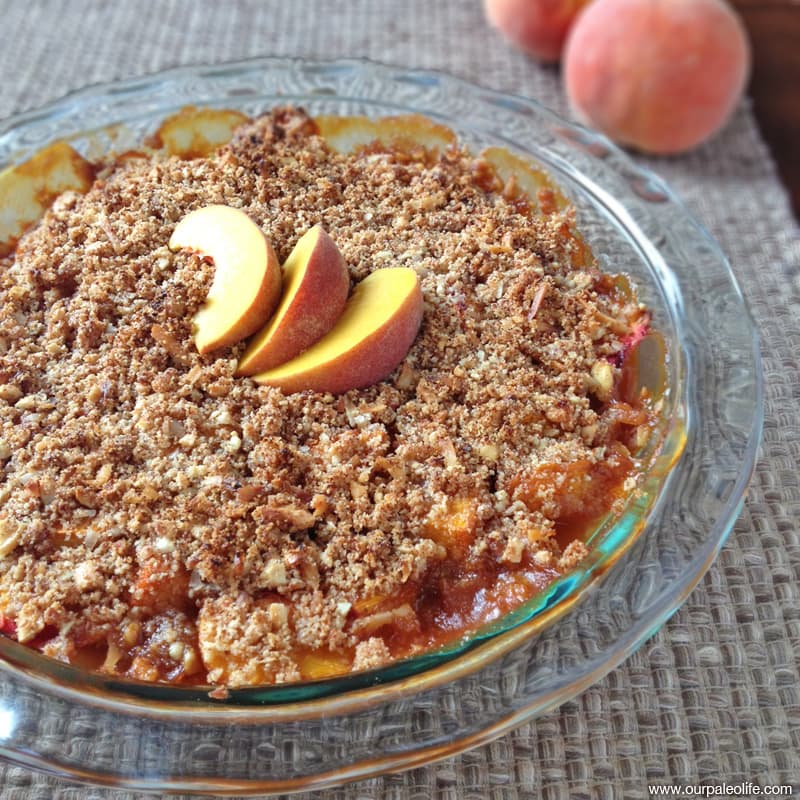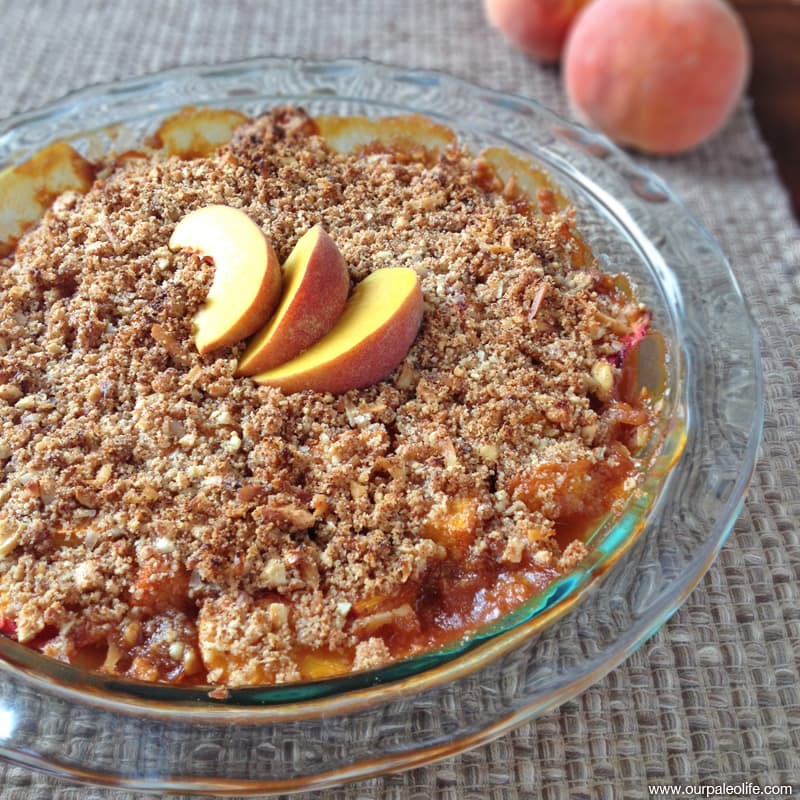 People, this stuff is awesome! It's not overly sweet and biscuity like the non-paleo one. The peach flavor really shines, so make sure you have great-tasting, perfectly ripe peaches. The topping has a nice crunch to it, not all soggy. I'm not a super big fan of paleo whipped cream made with coconut milk, but if you are, I'm guessing this would be the perfect occasion to whip some up and dollop it on. Or get some store-bought almond milk vanilla ice cream, I bet that would be the best! I like ice cream.
I'm not sure the purists would call this paleo. There is coconut sugar and arrowroot starch in it. It's a paleoized treat that really shouldn't be something you eat all that often. But if I could choose between paleo cobbler, non-paleo cobbler, and no cobbler, I'd choose paleo cobbler every time. I think I may be overusing the word cobbler. It's starting to sound strange. Cobbler, cobbler, cobbler. Like a turkey, right?
A tedious task turned into an easy one.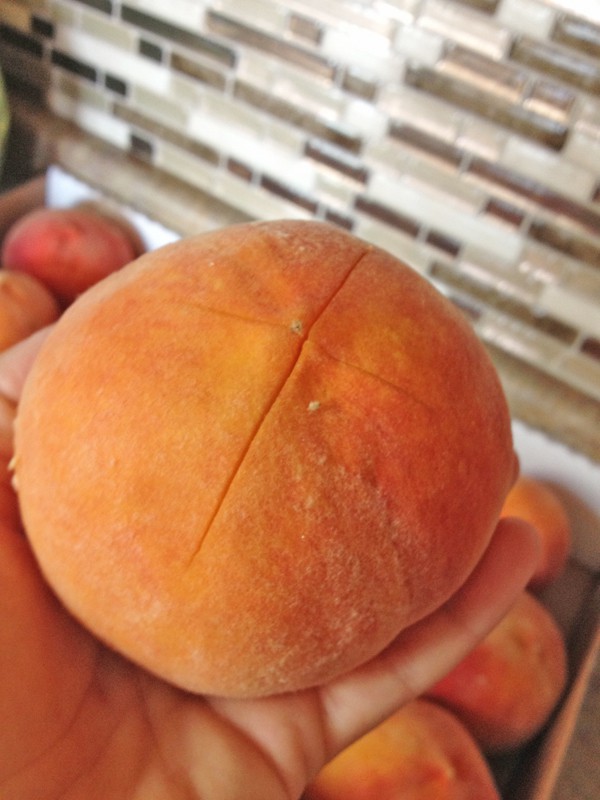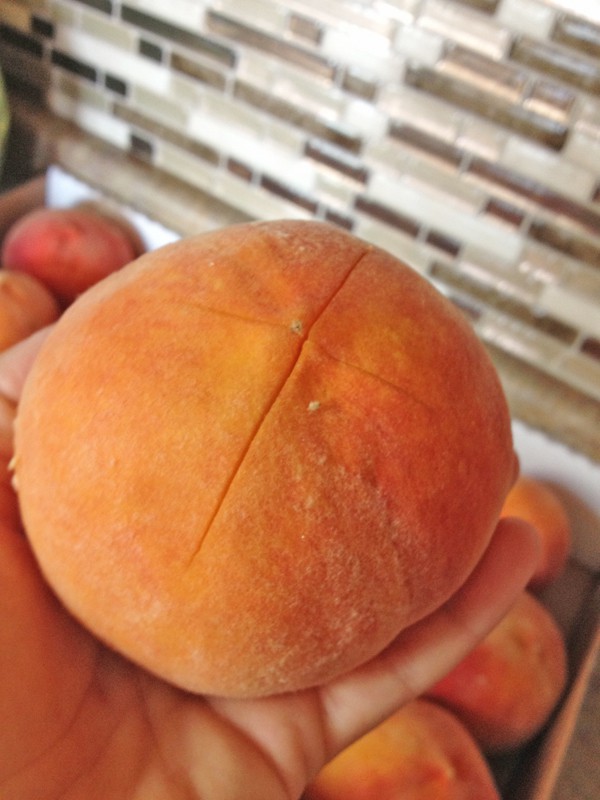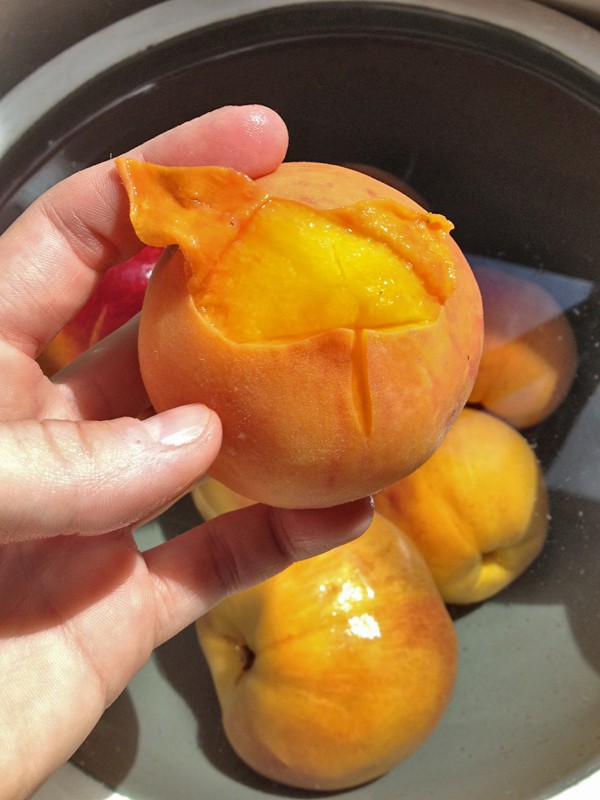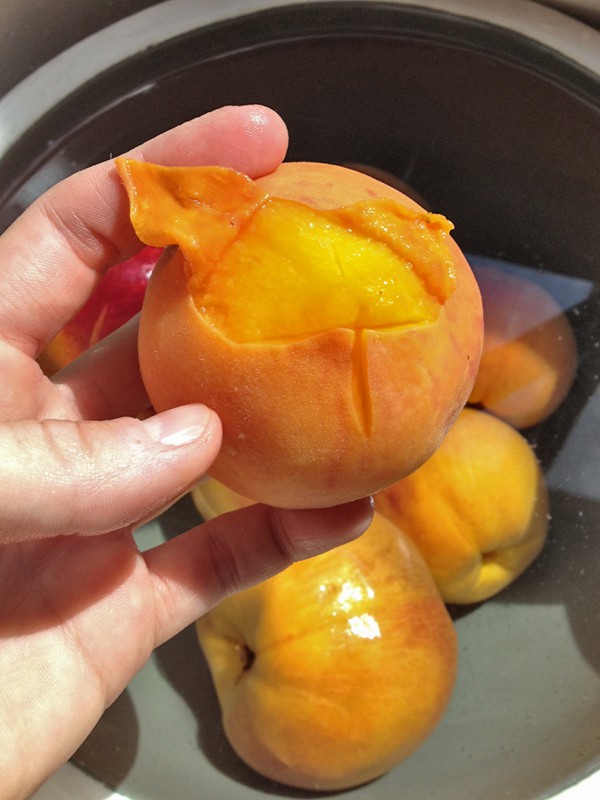 Make sure your peaches are ripe. If they are even a little bit under ripe, they won't peel easily.
Bring a large pot of water to a boil. Don't fill it too high, you'll be putting your peaches in there.
While the water is boiling, cut a little "x" in the bottom of the peach (shown above-left).
Fill a large bowl with ice water.
When the water boils, add the peaches and boil for 30 seconds.
Remove with a slotted spoon to the ice water.
When the peaches are cool enough to handle (shouldn't take long), simply slid the skin off, starting at the "x" (shown above-right).
Easy as (peach) pie, right?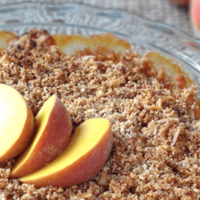 Paleo Peach Cobbler
Ingredients
Filling:
8 Peaches, peeled & pitted
1/4 cup Granulated Coconut Sugar
1/4 tsp Ground Cinnamon
1/8 tsp Ground Nutmeg
2 tsp Arrowroot Starch
Topping:
1 cup Almond Flour
1/4 cup Granulated Coconut Sugar
1/2 cup Unsweetened Shredded Coconut
1/2 cup Cashews, chopped
1/2 tsp Sea Salt
1/2 tsp Cinnamon
4 Tbsp Ghee, not melted, Grass-Fed Butter, or Coconut oil, softened
Instructions
Preheat oven to 425°F.
Slice the peach quarters into 2-3 thin slices, then cut those in half to make chunks.
Combine all filling ingredients together in a large bowl and gently stir to combine.
Pour the peaches into a 13x9 baking dish. Alternately, you could use a deep-dish pie plate.
Bake in the preheated oven for 10 minutes.
Reduce oven heat to 375F.
While the peaches are cooking, combine all of the topping ingredients except the ghee/coconut oil. Mix together with a fork until evenly combined.
Add the ghee/coconut oil into the topping mixture and mix in with the fork, pressing the mixture down and around to evenly incorporate the ghee/coconut oil. The mixture should resemble coarse crumbs but won't stick together.
Sprinkle the topping on top of the peaches and bake in the 375F oven for 20-25 minutes, or until the peaches are soft and bubbly and the topping is browned (don't let it burn).
Try not to eat it straight out of the oven. It will taste amazing but you will regret it. Let it cool first.
Nutrition Information
Yield

10
Serving Size

1 g
Amount Per Serving
Calories

258
Total Fat

17g
Saturated Fat

7g
Unsaturated Fat

0g
Cholesterol

15mg
Sodium

134mg
Carbohydrates

24g
Fiber

4g
Sugar

16g
Protein

4g
Nutrition is calculated by a third party and may not be 100% accurate