Yesterday, I went to the gym. I do that a lot, so it wasn't really a big deal. But usually Rob comes with me. This time he didn't because it was a rest day for him, so I went alone. Even though the workout was hard (wall balls are my nemesis) I actually really enjoyed it. I kind of have a secret love for rope climbs (don't tell the coaches) so I was a little excited to do them. When I got home, Rob said he wanted to go and do that workout today and I was all "I'll do it again with you, I liked it!".
So yeah, I woke up this morning and can't lift my arms over my head. My arms and back are so stupid sore from my beloved rope climbs that it was hard to roll out of bed. So today, I stay home, and will probably cook up some tasty recipes that involve peaches. Yeah, I think that's a better option. Also, the dinner I made last night, the one you're about to see the recipe for, it made a ton, so I don't have to cook tonight, and my arms are going to be thankful for that. The less movement the better. But I'll move them for peaches for sure.
For a long time, I would just buy the same cuts of meat: chicken breasts and thighs; pork chops; ground beef/bison/lamb. I knew if I had those in the fridge of freezer, I'd be able to figure out something for dinner. Recently, when I was wondering around the meat section at Sprouts, I found this big hunk of meat and it had a super cheap price on it. $1.49/lb for a pork shoulder, but how would I cook it? But it was so cheap that I just couldn't turn it away. That would for sure feed the family for dinner and possibly lunch, so I figured if I slow cooked it, I couldn't really screw it up. So that's what I did.
I've actually made this a couple times: once in the crock pot and once in the oven. My original plans were to make it in the oven all along, but we made last minute plans to head up to the mountains so I stuck it in the crock pot the first time (though I did still finish it in the oven). It was okay, but when I made it in the oven the second time, it was much better. So the oven wins the battle this time.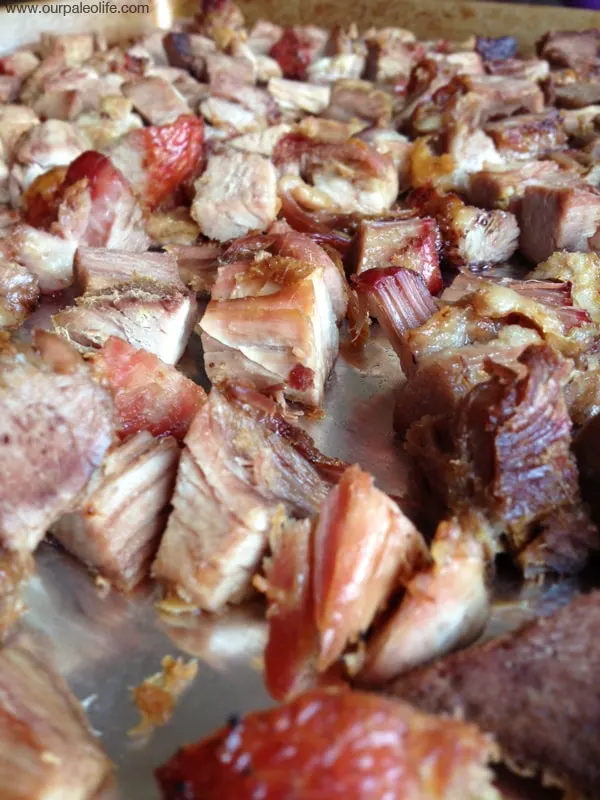 Made Enough for Leftovers?
Here's an easy way to reheat all that extra pork to make a just-as-tasty dinner or lunch the next day.
Preheat the oven to 375°F.
Line a rimmed baking sheet with tin foil or parchment paper.
Cut up the leftover pork shoulder into bite-size pieces.
Spread all the little pieces onto the prepared baking sheet.
Bake in the preheated oven for 15-20 minutes.
Remove and serve hot with any leftover Garlic Mayo Dip. If you don't have any leftover dip, make some more (because it's so good!)
Enjoy!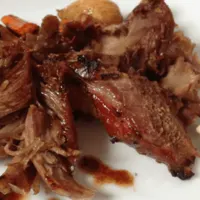 Slow Roasted Pork Shoulder
Cook Time:
5 hours
20 minutes
Total Time:
1 day
6 hours
20 minutes
Two versions of this perfect pork shoulder recipe (one of which is Whole30-compliant) ensure that your entire family can (and will) love this simple meal. And with all the leftovers, you'll be able to enjoy it for lunch the next day as well.
Ingredients
1 6-7 lb Pork Shoulder, either bone-in or bone-out
2 Yellow Onions, quartered and sliced
6-8 Carrots, sliced into ½" x 2" sticks
10 Whole Cloves Garlic, peeled
1 cup Red Wine, exclude for Whole30, see below
1/2 cup Water
Sea Salt, to taste
Fresh Ground Black Pepper, to taste
Whole30 Modifications (to replace red wine)
3/4 cup Chicken Stock, if store bought, make sure no added sugar
1/4 cup Balsamic Vinegar, make sure no added sugar
Garlic Mayo Dip
1/2 cup Paleo Lime Mayo
1/2 tsp Dry Parsley
1/4 tsp Garlic Powder
1/4 tsp Onion Powder
1/8 tsp Cayenne Pepper
Instructions
In a dish large enough to hold the pork shoulder, but small enough to fit in your fridge, season the pork with salt and pepper on all side, cover, and refrigerate for 24 hours, or at least overnight.
Remove from the refrigerator and let sit out for 1 hour.
Preheat the oven to 300°F.
Place the pork shoulder in a large roasting pan, fatty side up. Place in the oven and cook for 4 hours.
Add the onion, carrots, garlic, red wine, water to the roasting pan and cook for an additional hour, occasionally stirring the veggies.
Remove the pan from the oven and turn up the heat to 375°F. Tear (or cut, if you have to) the meat into large chunks and place back in the roasting pan. If there is no more liquid in the pan with the veggies, add a little more water, just enough to keep them from burning or drying out.
Place back in the 375°F oven and cook for an additional 20 minutes.
Remove from oven and let the pork rest for 15-20 minutes before serving.
Garlic Mayo Dip
While pork shoulder is roasting, combine all ingredients in a small bowl.
Cover and refrigerate for 30 minutes before serving.
Notes
Nutrition Facts do not include Garlic Mayo Dip.
Nutrition Information
Yield

16
Amount Per Serving
Calories

493
Total Fat

32g
Saturated Fat

12g
Unsaturated Fat

17g
Cholesterol

146mg
Sodium

148mg
Carbohydrates

5g
Sugar

2g
Protein

40g
Nutrition is calculated by a third party and may not be 100% accurate
Save