If you are one of our awesome followers on Facebook, you may have noticed that we recently acquired a freaking awesome new food dehydrator. In the last 4 days since we got it, I have made the following things: dried apple rings; beef jerky; dried basil; dried ginger; strawberry blueberry, and mango fruit leathers. The hum of the dehydrator is becoming a constant sound in our kitchen, so thank goodness it's not loud an obnoxious. We also got a new mandoline that cuts paper-thin slices, so apple and sweet potatoes chips are in our near future as well. I plan on using the dehydrator for the chips since I'm really good at burning that stuff in the oven.
I've always wanted to make fruit leather. The little packages of the real stuff at the store just seem overpriced and loaded with unnecessary stuff. If I want a strawberry fruit leather, please don't add apple and pear juice to it because it's cheaper for you and dilutes the flavor for me. Once we got the Excalibur dehydrator, I knew the trays were perfect for fruit leather, so I went out and bought some fruit. I never buy mangos, I'm not super fond of their taste, but grabbed a few anyway since they were on sale for $0.89 and figured I could like them for that price.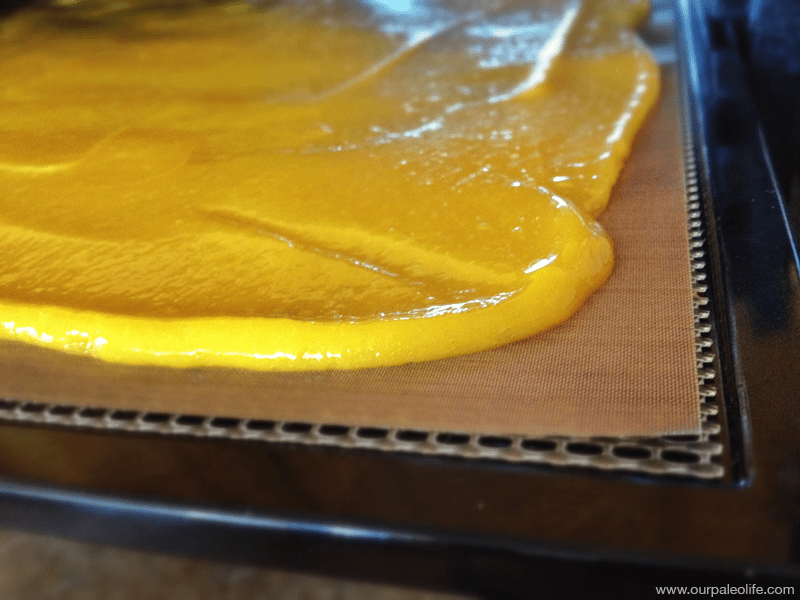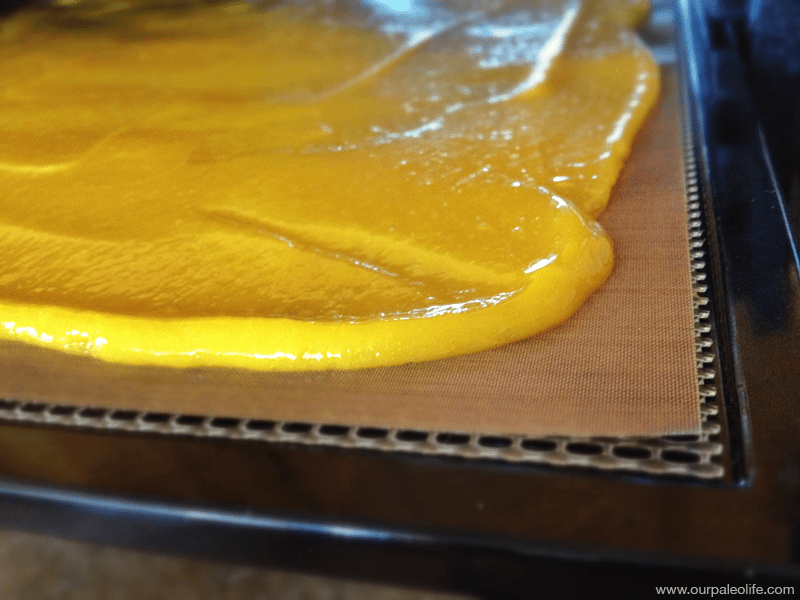 I made the strawberry and blueberry fruit leathers first. The blueberry was my least favorite, it had too much texture. I probably didn't puree it enough but I'm also not a fan of store-bought blueberries, they always taste fake or bland. Fresh-from-the-garden blueberries, on the other hand, are amazing. Anyway, the strawberry leathers were too thin, so I learned my lesson on that one and made the mango ones thicker. Definitely made a huge difference, so make sure you spread the puree thick, thicker than you think you'll need it. I didn't get out a ruler or anything, but I think 1/4″ is good, although it will definitely increase the drying time.
And I'd really recommend not doing this in the oven, because you probably can't get the temp low enough and can really dry out or cook the edges. But regardless of which method you use (dehydrator or oven), make the edges a little thicker since they'll dry first and you don't want them to become brittle.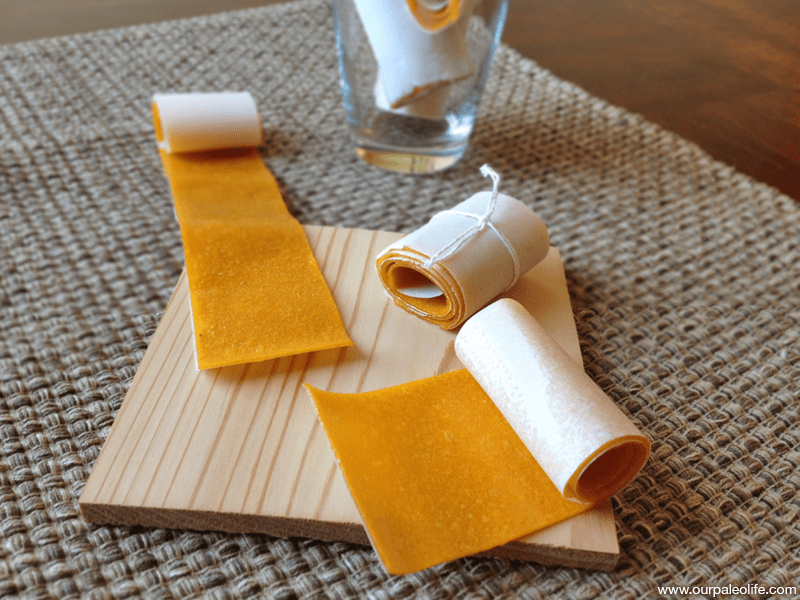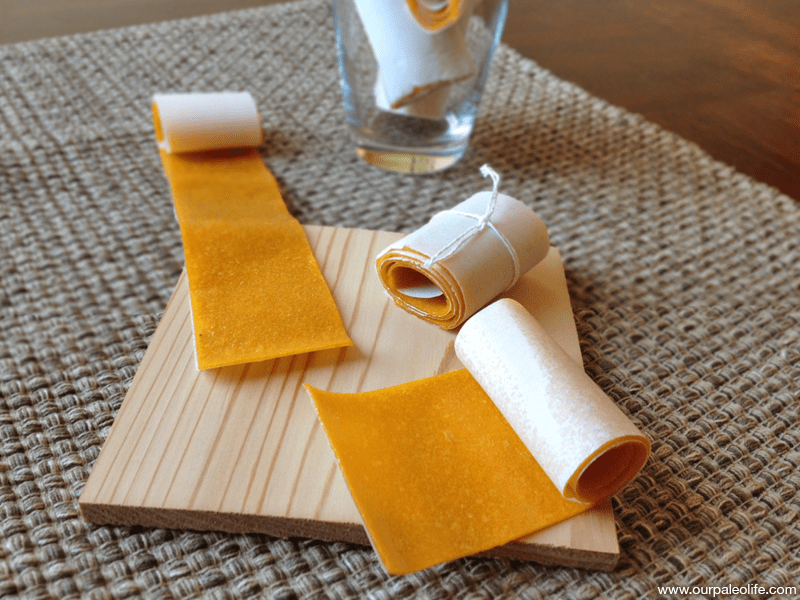 These adorable little fruit leather rolls are the perfect snack to throw in your kid's paleo lunch, or to just munch on by yourself (recommended, duh). I cut mine about 2″ wide, they're reminiscent of the fruit-by-the-foot snacks, but a bajillion times healthier. Not even exaggerating.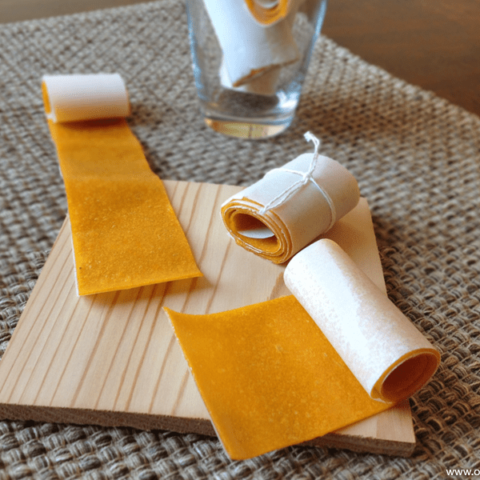 Fruit Roll-Ups
Total Time:
8 hours
5 minutes
Ingredients
Mango Fruit Leather
4 Mangos, peeled & cubed
2 Tbsp Raw Honey, optional
Strawberry Fruit Leather
3 cups Strawberries, hulled
2 Tbsp Raw Honey, optional
Instructions
For either variation, add the prepared fruit and honey to a high-powered blender (I use the Blendtec) or food processor. Puree until smooth (I use the Whole Juice cycle on the Belndtec for an extra smooth puree).
Spread the puree 1/4" thick onto any of the following: Food Dehydrator Tray; Parchment paper lined baking sheet; Silpat lined baking sheet
If using the dehydrator, dry at 135*F for approximately 4-8 hours, depending on how thick you spread the puree.
If using the oven, dry at 140*F or however low you can get the oven, for approximately 4-8 hours, depending on how thick you spread the puree.
When the leather is dry and not sticky to the touch, and can peel away from the sheets easily, remove from the dehydrator (or oven).
Place the leather sheet on a parchment sheet and cut into long strips, approximately 2" wide. Roll up and store in an airtight container for up to one week.