Last week, as I was trying to figure out what to make for dinner, chili crossed my mind. Then I thought "I don't want to deal with trying to figure out chili without beans, not now. Besides, it's not 'chili season' yet." So I didn't make chili. Then this week, there was a sale at Sprouts on everything frozen, including meat. We decided it was the perfect time to stock up on some bison and while we were there, we also found some wild boar sausage and ground kangaroo. What? Kangaroo? Heck yes, I'm trying that! So we get home, I thaw the 'roo meat, and then realize I have no idea what to do with it. Then I realized "Oh, chili".
So it was on. Time to make some chili, before chili season. You know what I'm talking about. People don't make chili in the summer. And here in Colorado, it's still plenty hot during the day, although I guess I'll admit that chili season might be right around the corner. Anyway, kangaroo chili. I make this stuff and it's really good, and I'm pretty dang impressed with the taste, considering my old, pre-paleo chili "recipe" came from a can of Bush's Chili Starter, no lie. I was not about to win any chili cook-offs, so when this stuff actually tasted good, and with just the right amount of fire, I was doing a little happy dance in my head. In my head because I can't dance for real, two left feet over here.
However, there was a downside to this yum chili: the kangaroo. Bummer, right? I was kind of excited to love kangaroo meat, but I just couldn't. It was a sort of grainy, gritty texture, and a little too mushy. The meat in chili should be more substantial which is why I won't be using 'roo again, bison is the only way to go. So if you find kangaroo meat, maybe try it just for fun, and maybe you'll like it. Maybe kangaroo steaks are better than the ground version of the meat, but I'll have to wait until I can find some of that, which I'm guessing won't be anytime soon.
Oh, and I haven't really mentioned the fact that there's bacon in this, so, bacon!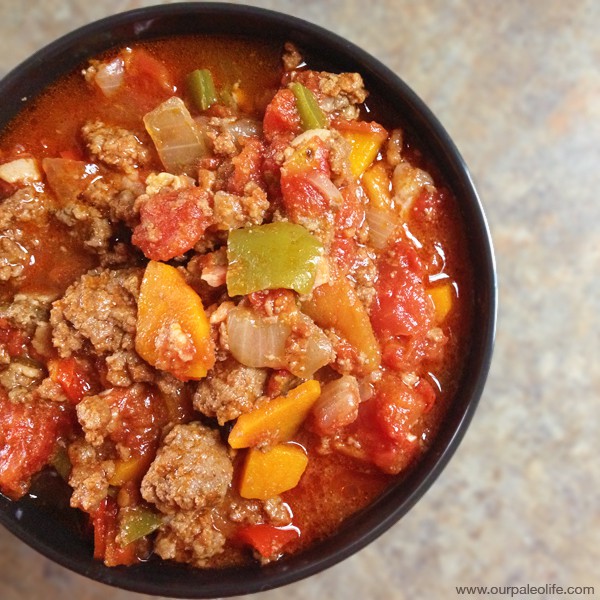 Bacon Bison Chili
Cook Time:
2 hours
30 minutes
Total Time:
2 hours
40 minutes
Ingredients
1 lb Ground Bison
6 oz Uncured Smoked Bacon, diced
1 Yellow Onion, diced
2 Bell Peppers, red or yellow, diced
1 Jalapeno Pepper, seeded and diced
1 large Carrot, diced
2 Cloves Garlic, minced
2 14.5 oz cans Diced Tomatoes
1 Tbsp Cumin
1 tsp Smoked Paprika
3/4 tsp Chipotle Pepper
Sea Salt, to taste
Ground Black Pepper, to taste
Instructions
In a large cast iron skillet (or non-stick skillet), add the bacon pieces. Turn the heat up to medium and cook the bacon for about 5 minutes, stirring frequently.
Add the onion, bell peppers, jalapeno, carrots, and garlic to the skillet with the bacon. Saute, stirring frequently, for about 10 minutes, until the veggies are crisp tender.
While the veggies are cooking, heat a large stockpot over medium heat and add the ground bison. Cook until it is browned all the way through, breaking it up with a wooden spoon as it cooks.
When the bison is completely cooked, add all the veggies to the stockpot.
Add the tomatoes and all the spices. Stir to combine everything in the pot.
Bring to a boil and then reduce heat to low. Cover and let simmer for 2 hours.
Serve hot.
Nutrition Information:
Yield:

6
Amount Per Serving:
Calories:

341
Total Fat:

23g
Saturated Fat:

8g
Unsaturated Fat:

0g
Cholesterol:

71mg
Sodium:

456mg
Carbohydrates:

12g
Fiber:

3g
Sugar:

6g
Protein:

19g
Nutrition is calculated by a third party and may not be 100% accurate