I'm still swimming in peaches over here. Not literally, that would be gross and sticky and I'm a little too OCD for sticky messes. Luckily, the peaches are ripening just a few at a time, so at least I'm not bombarded by all of them all at once, which reminds me of this GIF I once saw: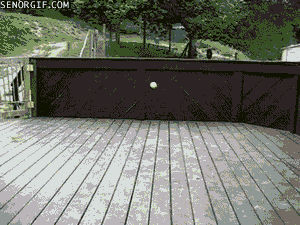 So yeah, I can handle a few peaches at a time. And that means I'm bombarding you with peach recipes, yay! If you don't like peaches, I promise I'm running out, and will actually eat some of them plain, but I do have a couple more recipes I'd like to try out so bear with me here. Besides, how can you not like peaches? You cray, that's how.
Usually, when I make a smoothie (or milkshake-like smoothie in this case), I'll go full out and do it in the Blendtec Wildside Jar, which is mammoth-sized. It makes enough for all 5 of us. But today, the selfish me came out of hiding and I really wanted to get more use out of my new little Twister Jar, and a single-serving smoothie was just what the selfish-doctor-me ordered.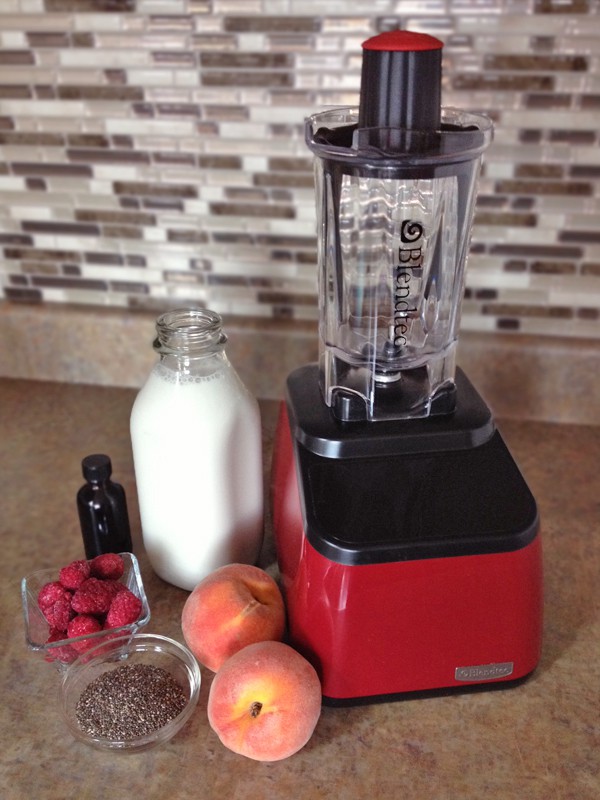 I recently got a coupon in the mail for a free bag of frozen fruit. I was like "What?! Coupons for non-processed foods that aren't full of addicting wheat products?". I had no idea such things existed. But I was happy to have it and happier that my grocery store cares enough to track my purchases to see what I would really appreciate a coupon for. I know, that sounds weird, but if it benefits my bank account, thumbs up, right? So anyway, I got this bag of raspberries, and then this big box of peaches, so you do the math. You put those two together of course.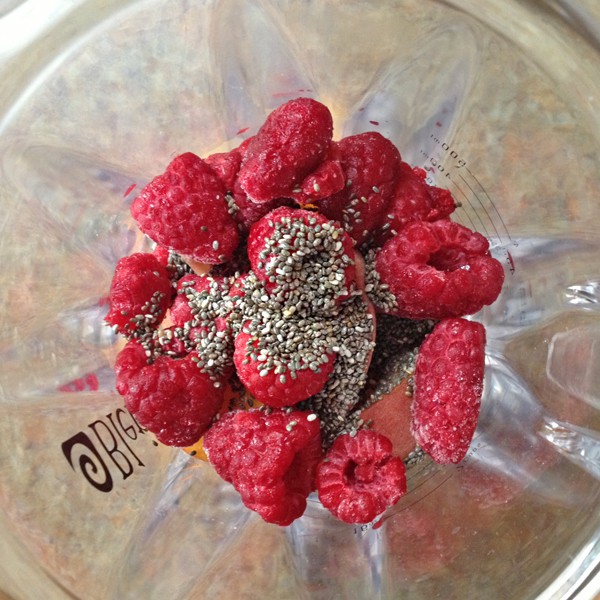 Oh, I also just realized that I could use chia seeds way more often than I do. They're packed with so much good stuff and there are so many benefits to eating them. Don't believe me? Here's a list (I really like lists):
Chia Seeds are packed with:
Omega-3 Fatty Acids = good for your brain
Fiber = good for your tummy
Manganese = good for your bones
Calcium = good for your pearly whites
Tryptophan = good for your appetite
Chia Seeds can help with:
Diabetes = slows digestion & prevents sugar spikes
Belly Fat = fights insulin resistance
Heart Health = improves blood pressure & lowers LDL
Mental Health = the Omega-3 decreases depression
Inflammation = the Omega-3 is a pain-reliever
So now that you're edumacated, you can feel really good about making this deliciously healthy milkshake that can improve your health. And maybe when you're done, you can make some Chocolate Chia Pudding.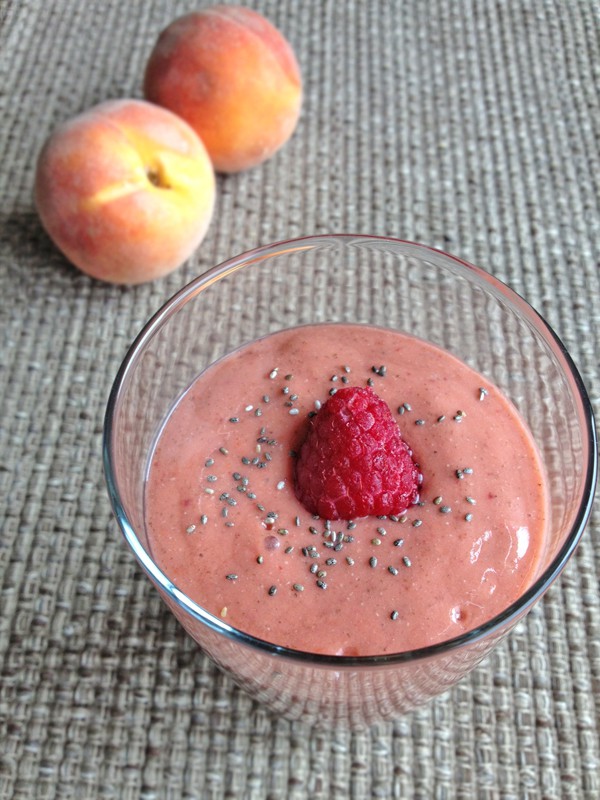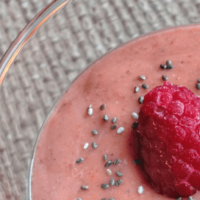 Paleo Raspberry Peach Milkshake
Ingredients
1 Peach, pitted and sliced
1/2 cup Frozen Raspberries
1/2 Frozen Banana, sliced
1 Tbsp Chia Seeds
1 Tbsp Pure Vanilla Extract
1 Tbsp Honey, optional, for added sweetness - more tart without it
1/2 cup Almond Milk
Instructions
Add all ingredients, in the order listed, the the Blentec Twister Jar (or other high-powered blender).
Run the smoothie cycle. If using another blender, blend on high until smooth.
Sprinkle extra chia seeds on top and enjoy your Omega-3 boost.
Nutrition Information
Yield

1
Serving Size

1 smoothie
Amount Per Serving
Calories

771
Total Fat

24g
Saturated Fat

12g
Trans Fat

1g
Unsaturated Fat

10g
Cholesterol

46mg
Sodium

149mg
Carbohydrates

132g
Fiber

17g
Sugar

86g
Protein

9g
Nutrition is calculated by a third party and may not be 100% accurate