I am absolutely terrible at naming recipes. I can't even tell you how many times I changed the name of this one. I can cook, bake, and code a great website, but my creativity ends when it comes to words. I stutter over adjectives like the most unpopular boy in school talking to the head cheerleader. So you get 'Honey Nut Bars', because these are made with, well, honey and nuts.
I am the grocery shopper in the house. I mean, obviously, since I'm the one who cooks and I know exactly what I need. On occasion, Rob will get some stuff for me if he's out, and when he comes to the store with me, he's the kid-wrangler/cart-pusher (which is awesome, by the way). But when he does shop, he usually gets treats. In the past year, the treats he picks up have shifted from Oreos and chips to Larabars and GT's Kombucha, so I'm not complaining.
Let's take the other day, for instance. He ran out to go to the bank and grab the mail. He came back with a box of Kombucha and some nutty bar from the health food store. He refused to let me look at the package and demanded that I try a bite (but not too big because it was his). It was good, really good. It had a subtle ginger flavor, not overpowering, and the nuts were chopped small. I don't like big nuts, you can quote me on that after you're done giggling. Then, after I had my little taste, he showed me the wrapper with the ingredients and demanded (in a nice-husband kind of way) that I duplicate it. Like, right then.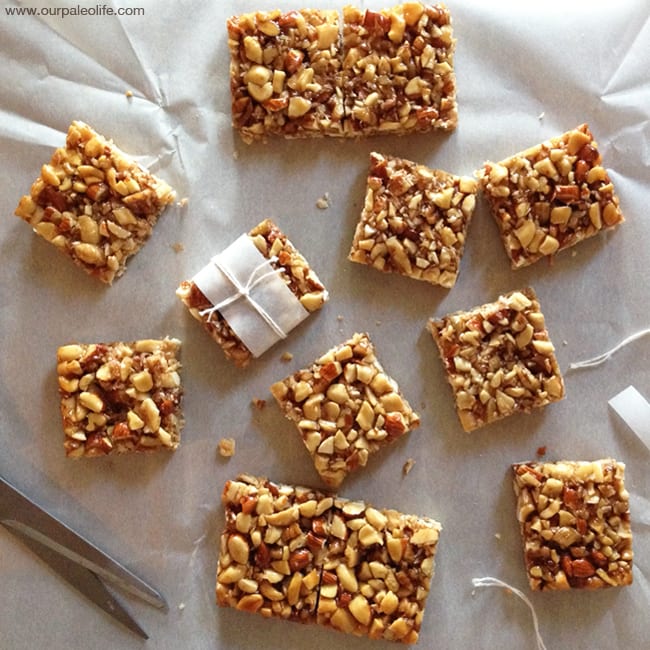 Problem was, I already had something in the oven that he had requested I try to create, so it had to wait. And yeah, that other thing I'm making is thisclose to being perfect, so you're just going to have to wait but it is going to be so good. But these nut bar things, I didn't exactly duplicate them from the package. I wanted a more citrusy flavor, and I had just gotten some navel oranges that I was planning on using for something else and these bars just begged for orange. I also happened to have some orange honey that tastes a-freaking-mazing that I knew would be perfect. I'm not even kidding. I have never been one to think that clover, wildflower, blah blah blah honey all had different tastes, but this orange honey is fantastic. I got it from Sprouts and it came in a little bulk container with a deli-type label (from a local beekeeper, I think). But if you can get your hands on some local orange honey, do it.
I also made Cinnamon and Cacao versions that are equally delicious. Make them all and then tell me what you're favorite flavor is.
And, since I'm all about giving advice and (apparently) embarrassing myself, do NOT try to use a metal spatula to press the bars down when the come out of the oven and then proceed to lick the honey off the spatula. You will burn your tongue and feel incredibly stupid. Don't say you didn't learn something new today. You're welcome.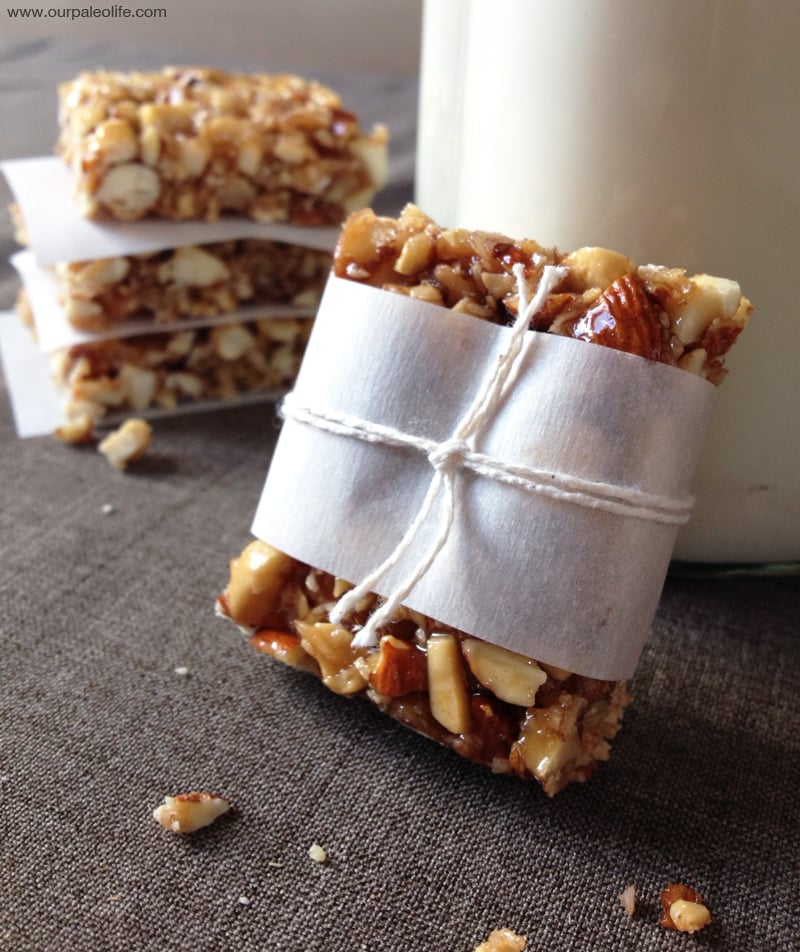 FYI: my cost to make this recipe is roughly $6 (and that's rounding up). Even if you cut the bars larger, more like the store-bought bars, we're still talking about $0.65 per bar. Compare that to $2.50/bar at the store, and I'd say that it's totally worth it to make these at home. As if you needed another reason, right?
Honey Nut Bars
Print
Ingredients
Cacao Bars
1

cup

Cashews

1/2

cup

Almonds

1/2

cup

Pecans

1/2

cup

Unsweetened Shredded Coconut

1/2

cup

Cacao Nibs

chocolate chips might get too melty

1

tsp

Pure Vanilla Extract

1/2

tsp

Sea Salt

1/2

cup

+ 1 Tbsp Raw Honey

total of 9 Tbsp
Instructions
Preheat oven to 350F.

Line an 8x8 baking pan with parchment paper, leaving flaps on all 4 sides.

Roughly chop the almonds and cashews by hand, in a hand chopper, in a blender, or in a food processor. Pieces should be about 1/4" at the largest.

Combine all ingredients except honey in a large bowl and stir until combined.

Pour in the honey and mix with a fork until everything is evenly coated.

Spread mixture into the prepared baking dish, pressing down to pack it in and reach all edges and corners of the pan. I use coconut-oiled hands to do this.

Bake in the preheated oven for 20 minutes.

Remove to a wire rack. Use the parchment flaps to press the bars down and compact them before they cool all the way.

After the bars have cooled about 30 minutes, lift the bars out of the pan by the parchment paper flaps and flip over onto a piece of parchment so the bottom is now the top.

Reshape back into a square and press down a little if the flipping moved things around a little. Peel off the parchment paper.

Allow to cool completely and cut into (16) 2" x 2" bars.

Wrap individually for a quick snack. Eat within 1 week.
Food and Tools Used In This Recipe
Click the images below to purchase any of these items.
*Affiliate links are included in this post. I receive a small commission from any purchase made by clicking these links. The commissions paid help to cover the costs associated with maintaining this website. Thank you!*