Oh my gosh, what the heck is my problem with snacks lately? I swear I have some real food recipes lined up for you guys, but my gosh, I just can't quit with the snacky stuff lately. Maybe it's time for another Whole30, since I failed miserably at my last attempt. Seriously, day 2, I broke a tooth and just gave up. I'm so weak. Hence all the snacks. At least I'm admitting it and not putting up a fake front about my super perfect paleo diet, because goodness knows, I am flawed.
So, back to these freaking delicious coconut flakes (which are quite the opposite from the Savory Coconut Flakes, in case you were wondering), which are the result of yet another one of my husband's snacky grocery trips. I swear, he finds the most delicious (but expensive) stuff. He found these bags of coconut candy that had maybe a cup worth of stuff in them, and they were being sold for nearly $8. I am only slightly ashamed to say that we have purchased quite a few of those bags in my attempts to duplicate them. I mean, we needed them for comparison and it's hard to compare them when they keep getting eaten (cough, cough, Rob).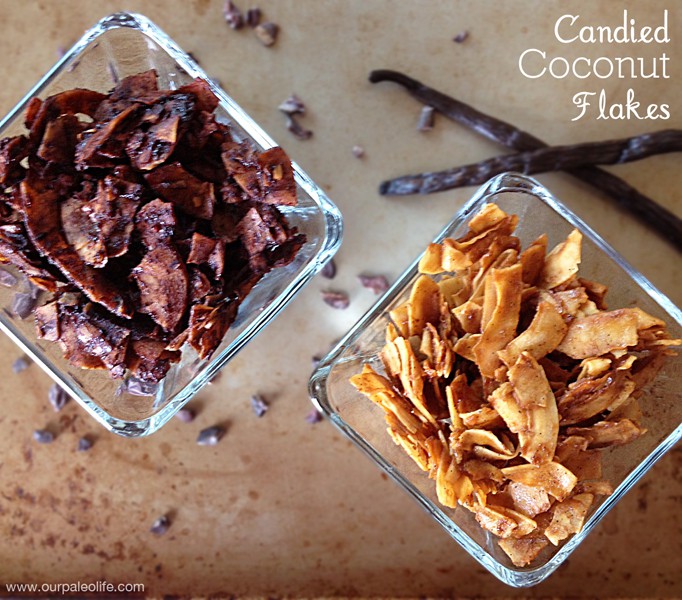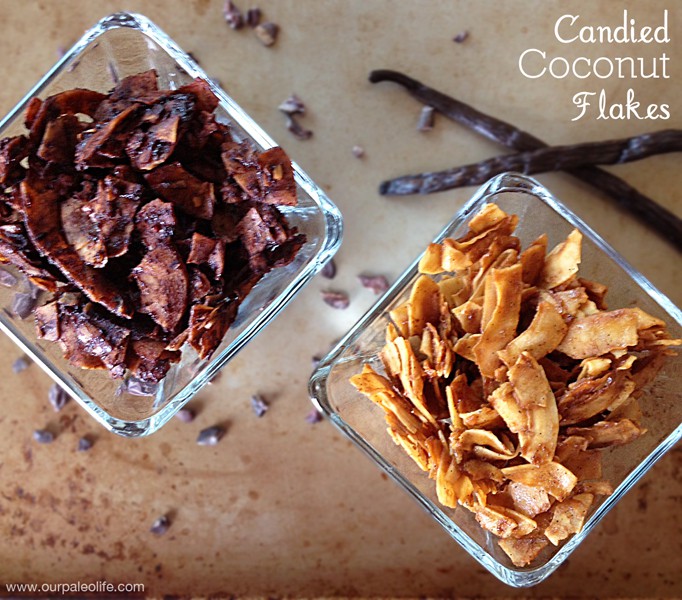 I made a lot of batches of this stuff, trying to perfect it. I tried a few different methods, and then I discovered that Trader Joe's sells something that might be similar, though I wouldn't know since I haven't tasted them, but they were soaked in the coconut milk. I abandoned my first failed method and moved onto the soaking method. Success! Then it was just perfecting the flavor and getting the right quantity to fit on my baking pan. In the end, I wound up making 4 different flavors. The Cinnamon and Chocolate were the first two required by Rob, and then I had a Pumpkin Pie epiphany (hello, Fall) and also wanted to try a more simple version with just vanilla.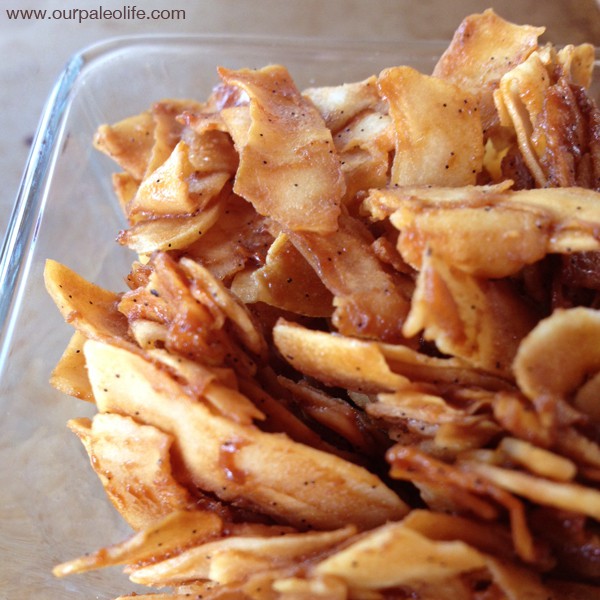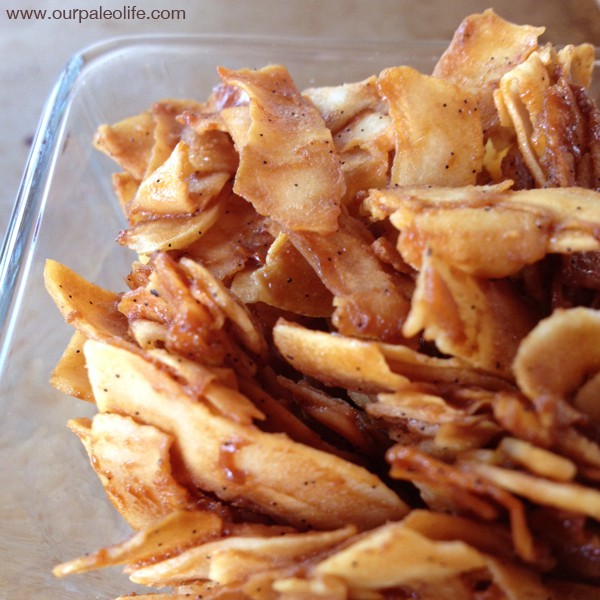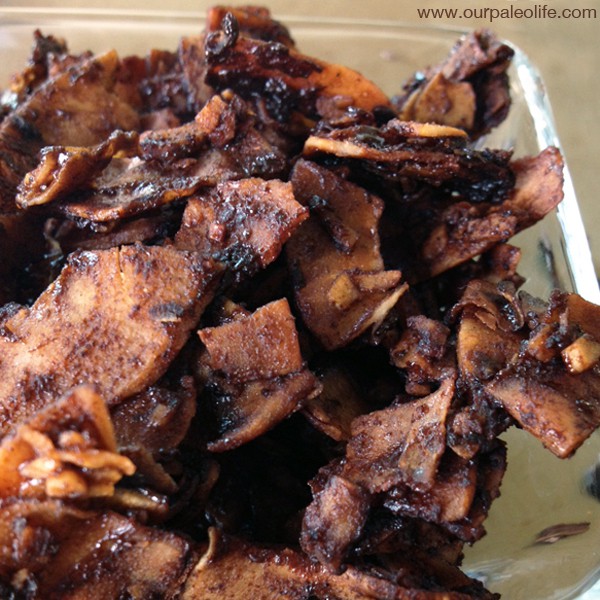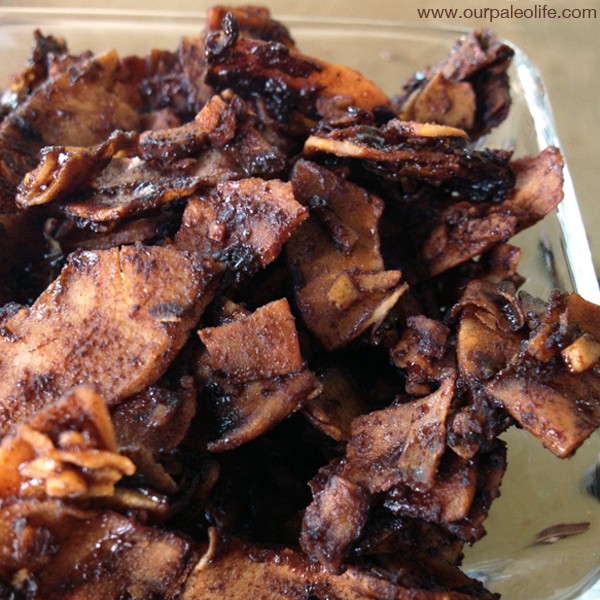 As delicious as this stuff is, I have really got to take a break from making them. I will eat them if they're here. At least I peeled and cut my weight in carrots last week so I would say it's time to raid the fridge and redeem myself with some orange veggies.
Oh, and you have to tell me what your favorite flavor is, after you make them, of course. While they're all delicious, Chocolate is Rob's favorite and mine is a tie between Cinnamon and Pumpkin Pie. I seriously can't decide.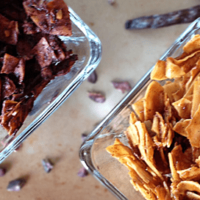 Candied Coconut Flakes
Cook Time:
2 hours
10 minutes
Total Time:
4 hours
10 minutes
Ingredients
Cinnamon Coconut Candy
3/4 cup Coconut Milk
1/2 cup Coconut sugar
1/2 tsp Sea Salt
2 tsp Ground Cinnamon
3 cups Coconut Flakes
Chocolate Coconut Candy
3/4 cup Coconut Milk
1/2 cup Coconut sugar
1/2 tsp Sea Salt
2 Tbsp Cocoa Powder
3 cups Coconut Flakes
Vanilla Coconut Candy
3/4 cup Coconut Milk
1/2 cup Coconut sugar
1/2 tsp Sea Salt
2 Vanilla Beans, split lengthwise and seeds scraped
3 cups Coconut Flakes
Pumpkin Pie Coconut Candy
3/4 cup Coconut Milk
1/2 cup Coconut sugar
1/2 tsp Sea Salt
2 tsp Pumpkin Pie Spice
3 cups Coconut Flakes
Instructions
Decide what flavor you want to make. It's recommended you only bake one batch at a time, otherwise baking times can greatly vary and leave you with chewy or burned coconut.
In a large bowl, mix all the ingredients for the flavor you choose.
Stir in coconut chips and soak 2 hours.
Preheat oven to 200°F. Spread soaked chips into a thin layer on a parchment or Silpat lined baking sheet.
Bake for 2 hours, stirring once at the 1 hour mark.
Remove chips from oven and increase heat to 350°F. Return chips to oven and keep an eye on them. Cook for 5-10 minutes or until golden in color. Do not let them burn, you will be sad.
Remove from oven and cool. They might not feel crispy yet, this is fine. The coconut flakes will get crunchier as they cool.
Nutrition Information
Amount Per Serving
Unsaturated Fat

0g