Last summer, we had an amazing peach tree. While the wasps and birds got to some of the peaches, and some fell off the tree, we still got at least 500 peaches from it. There was no way we could eat or store all those peaches, so I gave plenty away to the neighbors and made lots of treats with them. With the rest, I peeled, quartered, and froze them. And thank goodness I did, because shortly after I picked the last of the peaches at the end of the season, we got a few really bad storms that included a LOT of wind that ripped the tree in half, and it had to be removed.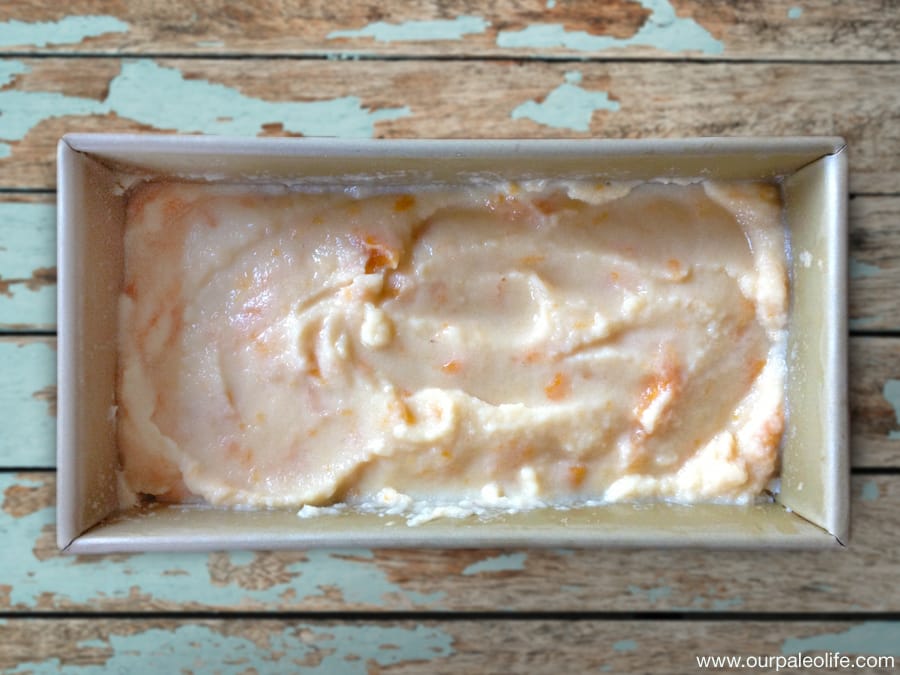 So no new peaches this year, but since I had frozen so much last summer, I still had enough left to make more ice cream. Now, I'll readily admit that last summer, when I was not of the paleo persuasion, that I made an amazing peach ice cream. I found the copycat recipe for the Ben & Jerry's Georgia Peach ice cream, and people, it was good. But loaded with milk, cream, and sugar. That just wasn't going to fly this year. But dangit, I really wanted that ice cream. The ingredients are very basic and simple, and I felt confident that I would be able to paleoize their recipe and still be able to enjoy my favorite ice cream treat with far less guilt.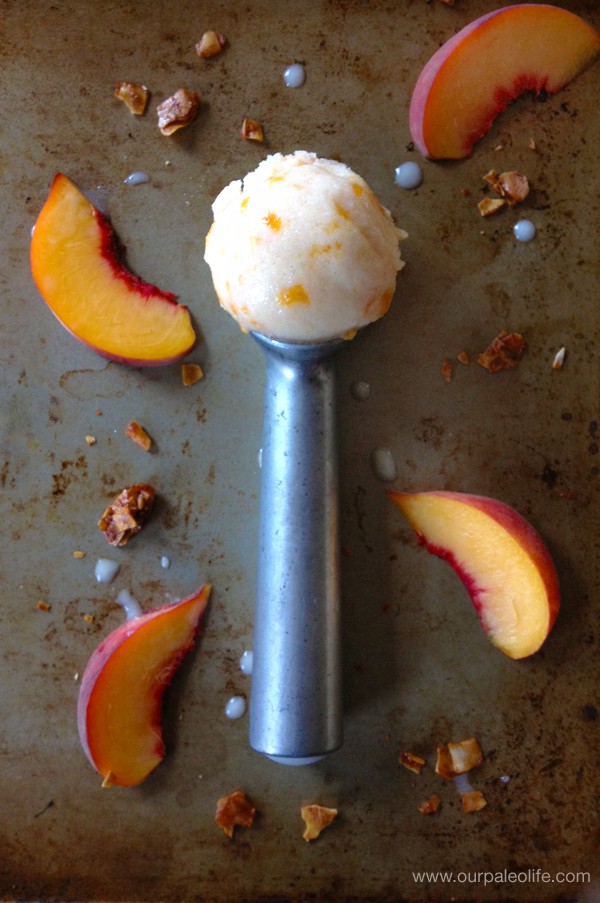 I want to tell you that this does include raw eggs. I am not uncomfortable at all with this. I have eaten this ice cream, and even raw cookie dough (gasp!) and have never once gotten sick. I know, knock on wood. But to be on the safe side, I would recommend using pasteurized eggs to reduce the risk of getting a foodborne illness.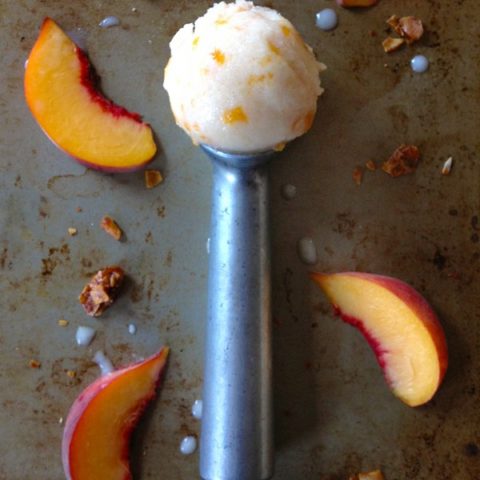 Dairy-Free Peach Ice Cream
Ingredients
2 cups Peaches, finely chopped
1 cup Raw Honey, mild-flavored; if your honey has a strong flavor, use 3/4 cup
1/2 Lemon, juiced
2 Eggs
3 cups Unsweetened Almond Milk
1 Tbsp Grass-Fed Beef Gelatin
Instructions
Add the chopped peaches and honey to a medium saucepan. Simmer on low just until the honey easily incorporates into the peaches and peach juices. Remove from heat.
Add the lemon juice and stir until combined. Strain the juice out of the peaches into a bowl and set aside. Put the peaches in a small bowl and store in the refrigerator for later.
In a large bowl, whisk the eggs until light-colored and fluffy, about 1-2 minutes. Add the almond milk and gelatin and whisk until well combined.
Add the reserved peach juice and stir until combined.
Freeze ice cream: - If you have an ice cream maker, add the almond milk mixture to it and freeze according to manufacturer instructions. - If you do not have an ice cream maker (like me), pour the mixture into a standard loaf pan and place in the freezer. Remove and stir around every hour, breaking up icy chunks. This is in place of the churning from the ice cream maker.
When the ice cream has stiffened, but not quite done yet, add the reserved peaches from the refrigerator. - If using the freezer method, do not add the peaches yet. Wait until the ice cream is pretty much done, then transfer it to the bowl of a high-powered blender or food processor. Process until the ice cream is nice and creamy, then mix in the peaches and follow the steps below. Put back in the freezer to firm back up before serving.
When the ice cream is ready, transfer to an airtight container and store in the freezer or eat right away (right away is best).
Try to eat within 1 week, same day, if possible. If stored too long, it will get too hard and start to crystallize.
Notes
This ice cream is not thick and creamy like store bought, but is still delicious. After a day or so in the freezer, it can start to get more like an ice, instead of a cream. This might be avoided by making it in an ice cream maker, but I can't say for sure since I don't have one (yet).
Nutrition Information
Yield

12
Serving Size

1/2 cup
Amount Per Serving
Calories

126
Total Fat

2g
Saturated Fat

0g
Trans Fat

0g
Unsaturated Fat

1g
Cholesterol

32mg
Sodium

16mg
Carbohydrates

28g
Fiber

1g
Sugar

27g
Protein

2g
Nutrition is calculated by a third party and may not be 100% accurate