A few nights ago, we had company over for dinner. This company was very aware of our paleo lifestyle, so it was no surprise to her that we would be serving her a paleo dinner. The menu was simple: Crockpot Paleo Minestrone Soup, Paleo Dinner Rolls, and Paleo Brownies (sans frosting) for dessert. Easy for me, and I have never had anyone not like it so I knew it would go over well, which it did.

I had debated making a double batch of the brownies so I could send some home with our guest, and got started by soaking double the amount of dates. In the end, I decided to only make the one batch (which was plenty), but I still had these soaked dates that I needed to use. I had heard about 'date caramel' before, but had never had any. I have currently been on a mission to make a great paleo caramel for a recipe I've got brewing around in my head. While this isn't the caramel I need for that recipe, it works perfectly as a dip or spread.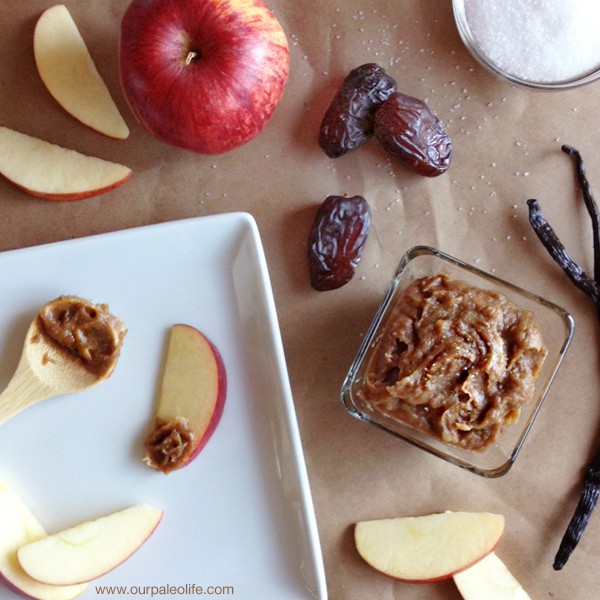 Of course, my favorite thing is that there are only 4 ingredients. I am a huge fan of minimal ingredient recipes. Well, my favorite thing might actually be that it tastes great and my kids like it and think it's a naughty treat. My 7-year-old described the taste as "maple syrup you can chew". Um, I'm not so sure I agree with that, since it's not really "chewable", but it's definitely a sweet taste. While my favorite way to eat this is by dipping apples in it (a better alternative than the peanut butter habit I have yet to kick), there are so many other options:
Dip apples, strawberries, pineapple, and bananas in it

Spread on Paleo Brownies instead of a nut butter frosting
Sandwich between 2 Paleo Chocolate Chip Cookies
Dip pecans in it (tastes like pecan pie, so good!)
Eat by the spoonful (did I say that out loud?!)
Use as a caramel-flavored sweetener in your smoothies or paleo shakes
I'm pretty sure I'll be including this as an extra special treat in my kids lunch boxes this school year. I know there are plenty of other uses, so if you make this, please let me know in the comments how you eat your Paleo Caramel Dip.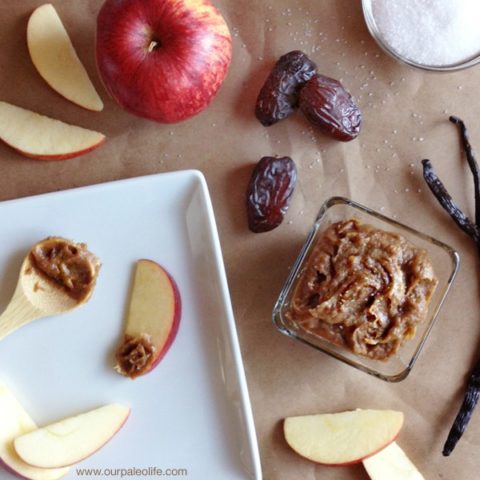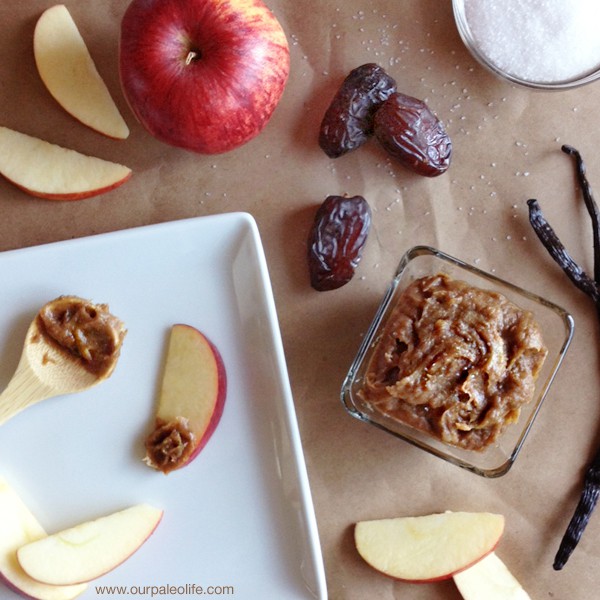 Caramel Apple Dip
Ingredients
1 cup Medjool Dates, about 8-10, pitted
2 Tbsp Full-Fat Coconut Milk, canned
1/4 tsp Sea Salt
1/2 tsp Pure Vanilla Extract
Instructions
Combine all ingredients in the bowl of a food processor and process until smooth.
You may need to occasionally scrap down the sides.
If you double the recipe, it will be easier to process if you have a larger capacity food processor.
Store in an airtight container in the refrigerator for up to 2 weeks.
Nutrition Information
Yield

2
Amount Per Serving
Calories

347
Total Fat

3g
Saturated Fat

3g
Trans Fat

0g
Unsaturated Fat

0g
Cholesterol

0mg
Sodium

294mg
Carbohydrates

86g
Fiber

8g
Sugar

76g
Protein

2g
Nutrition is calculated by a third party and may not be 100% accurate