Well, it's time for my monthly seafood post. But seriously, why can't I eat fish more often? It's like I completely forget that seafood even exists. I've had this Mahi Mahi in my freezer for well over a month now. I keep thinking "I'll make that this week" and of course I don't.
Well, Sunday night rolls around this week and all of a sudden, I realized that all the meat was in the freezer. I had completely forgotten to take anything out to thaw for Sunday dinner. Ugh. I had no clue what to make. So I'm standing there, staring at the freezer, like the ground bison is going to magically just thaw itself with my super laser eyes, when I spotted the bag of Mahi hiding in the bottom drawer. Score! Fish thaws fast, so Mahi it was for dinner.
I had in my mind that I wanted to make a recipe I saw over a Nikki's Coconut Butter, but I don't have any Nikki's. Sad, I know. Also, I really wanted to use macadamias to crust the Mahi, but I was also all out of those. My failure to plan meals this week was really catching up with me. I did have plenty of cashews, however, and since I was feeding this to my kids, I didn't want to waste macadamias on their immature taste buds, those are mommy's treats, know what I'm sayin'? Anyway, somehow, all the stars aligned and I managed to make a kickin' dinner.
Let me interrupt myself for a minute and tell you that I have never purchased tomatillos before. We were at Sprouts on Saturday and when I was grabbing some jalapenos, the lady next to me was snatching up tomatillos like it was the end of the world. I mean, she was frantic people, like I was going to grow an extra set of arms and steal them all from her, like bagging my jalapenos was just a distraction from my real intention of hoarding tomatillos. So I hung around until end-of-the-world lady left and grabbed a few that she so generously left behind. Problem was, I had no idea what I was going to do with them, but that wasn't the point. She made them look so, um, desirable I guess, I just had to get some. Thank freaking goodness I did. Totally sealed the deal on the tastiness of this dinner. I did a quick Google search while I was roasting some veggies for a salsa that I thought would work with the Mahi. I still have frozen peaches leftover from our tree last summer, and I knew I had those tomatillos, so naturally, I searched for a "peach tomatillo salsa". People, make this stuff, you will love it. I only made half of the recipe, since I only purchased 1/2 lb of the tomatillos, and I used a yellow onion since I didn't have any red, but it was so good. Make it!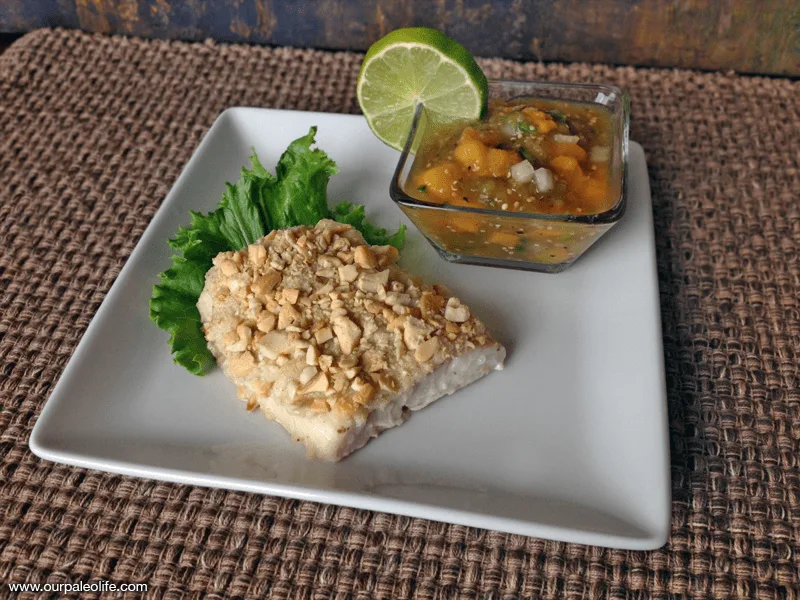 Ok, back to the Mahi. As I said, I don't have any Nikki's Coconut Butter. I've heard that stuff is deliciously addicting, but I'm not ready to spend that much on coconut butter yet. Maybe one day, but I'm not there yet. If I could find it locally, I'd probably get it to avoid the shipping cost. That said, I decided to try my hand at my own flavored coconut butter. The ingredients are simple so I figured I couldn't fail to terribly. I have no idea if it actually tastes like Nikki's, but it was good and I actually really enjoyed eating it by the spoonful, whereas I have not been much of a plain coconut butter eater up to this point. So for now, I'm making my own Cake Batter Coconut Butter.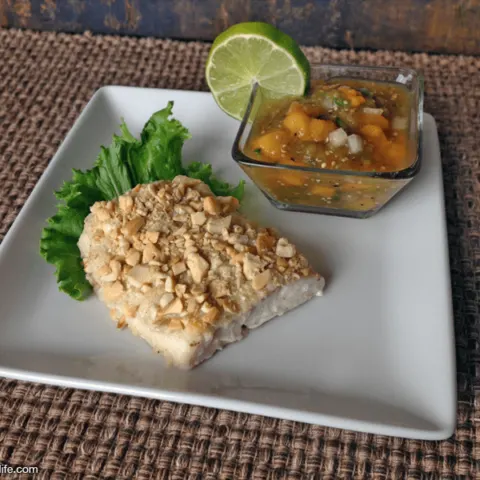 Cashew Crusted Mahi Mahi
Ingredients
For the Fish:
6 (6 oz) Mahi Mahi Filets
Sea Salt, to taste
Fresh Ground Black Pepper, to taste
3/4 cup Roasted Cashews, roughly chopped
For the Coconut Butter Coating:
1/2 cup Coconut Butter, softened or melted
1 Tbsp Raw Honey
1 Tbsp Coconut Oil, softened or melted
1/8 tsp Sea Salt
1 Vanilla Bean, split and scraped
Instructions
Preheat the oven to 350F. Line a baking sheet with parchment paper.
Place the mahi filets on the parchment so they are not touching. Salt and pepper both sides.
Place in the oven and bake for 5 minutes.
While the mahi is cooking, combine the Coconut Butter Coating ingredients in a small bowl and stir until well combined.
Remove mahi from the oven and turn the filets over. Spoon the coconut butter mixture evenly over the 6 mahi filets, using your fingers, if necessary, to cover the top of the fish with the coconut butter.
Divide the chopped cashews evenly among the coconut butter coated fish, pressing them in lightly so they don't fall off.
Place the mahi back in the oven, and bake for an additional 5-10 minutes, depending on the thickness of your filets. Fish should be opaque and flaky.
Remove from oven and serve hot with a side of Peach Tomatillo Salsa.
Nutrition Information
Yield

6
Serving Size

1 (6oz) filet
Amount Per Serving
Calories

241
Total Fat

19g
Saturated Fat

15g
Trans Fat

0g
Unsaturated Fat

2g
Cholesterol

39mg
Sodium

191mg
Carbohydrates

8g
Fiber

4g
Sugar

4g
Protein

12g
Nutrition is calculated by a third party and may not be 100% accurate