Recipe Macros
Tracking your macros is important while trying to remain in Ketosis. Here they are for one serving of this recipe.
Fat: 6g
Protein: 0g
Carbs: 0g (net)
Icons do not reflect ingredients.
We're not one of those families that dips everything in Ranch dressing, but there are some out there (you know who you are). I don't really miss Ranch, I rarely ever ate it, and neither did our kids, except when I overcooked the chicken on occasion and they needed something to choke down that dry white meat.
I never really have dill in the house, so I went out and  bought a big jar of the fresh stuff in the produce department, slightly concerned that it would all go to waste. Now that I've made the dressing, I'm pretty sure I'll make it through the whole jar.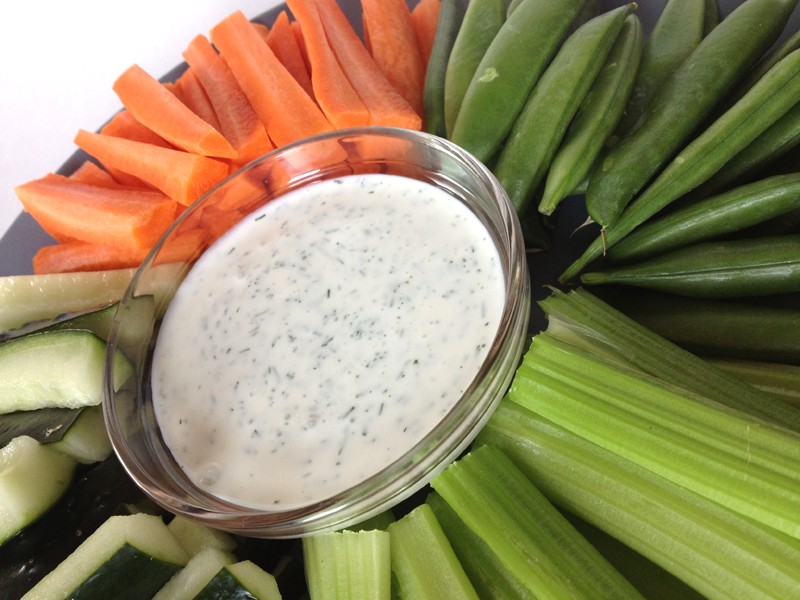 I've used it to dip veggies and all 5 of us really liked it. I also added it to the Bacon Ranch Deviled Eggs and it was great. So maybe I'll actually eat Ranch dressing now that I make it myself and know it's not full of weird ingredients. And it tastes super fresh!
Paleo Ranch Dressing
Print
Instructions
Combine the mayo and coconut milk, whisk together until smooth and there are no lumps. Add apple cider vinegar and whisk to combine.

Crush the garlic clove with a little bit of salt to form a paste. Add to the mayo mixture with some pepper and whisk to combine. Add in the dill and stir to combine.

Refrigerate for at least an hour before using to let thicken up and allow flavors to meld.
Nutrition Facts
Paleo Ranch Dressing
Amount Per Serving (1 Tbsp)
Calories 61
Calories from Fat 54
% Daily Value*
Total Fat 6g 9%
Cholesterol 2mg 1%
Sodium 45mg 2%
Potassium 15mg 0%
* Percent Daily Values are based on a 2000 calorie diet.