We updated this post again in 2020…
It has been 3 years (THREE YEARS? How has it been that long?) since I originally posted this recipe and never took any pictures of them. Every time I make them, I think "I should really take pictures and post them with the recipe" but do I do it? No. Until now.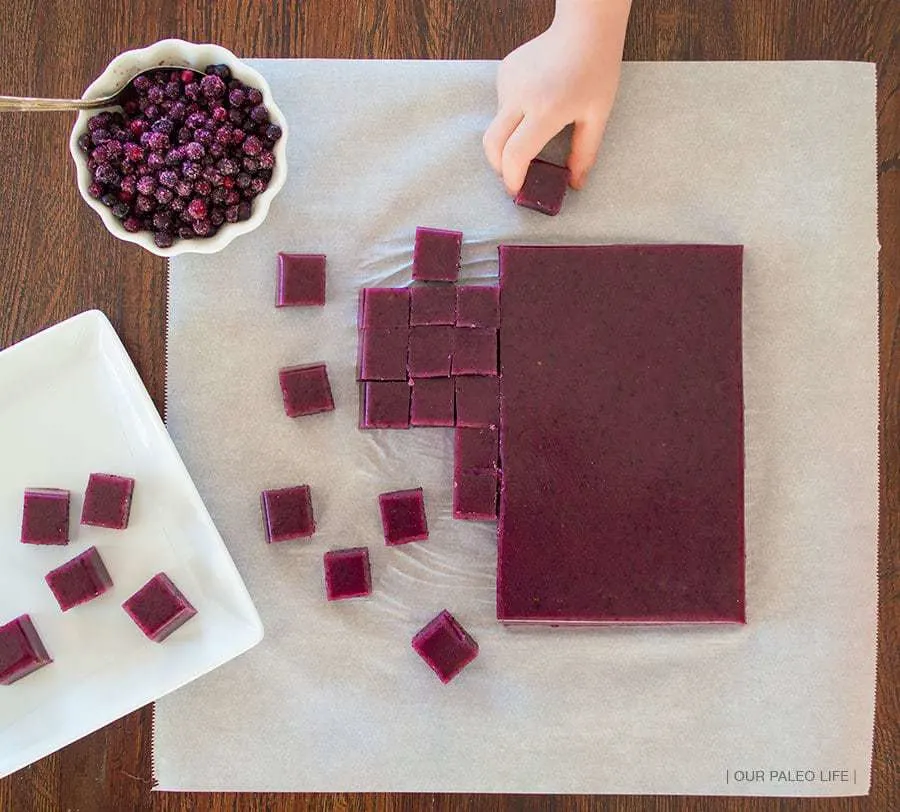 When I originally made these, it was because I had a headcold and was reading about the health benefits of gelatin. Fast forward exactly 3 years + 1 day, and here I am with a headcold (courtesy of close quarters with 6 other jurors over the past 4 days) and the thought to eat more gelatin came to mind.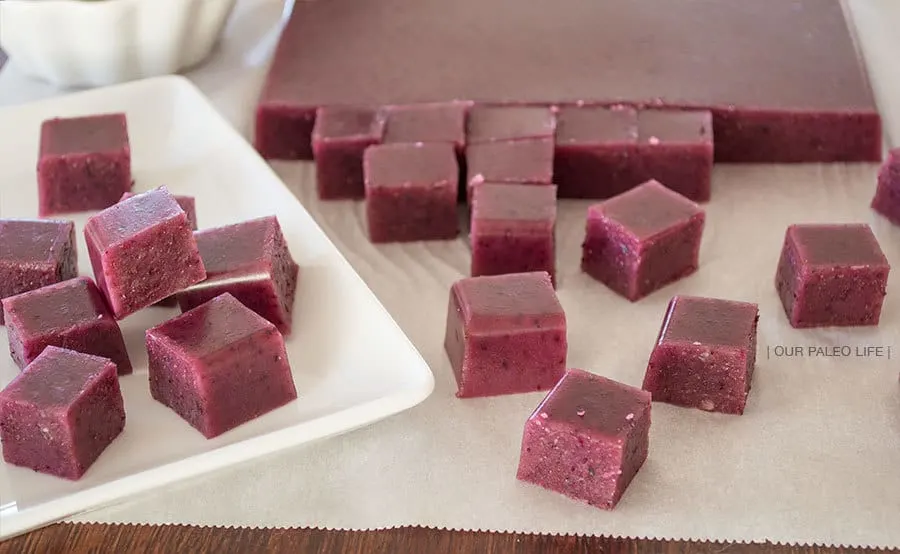 This time, I doubled the recipe and used the 8×8 pan called for in the directions, which gave me these nice, tall cubes. If you're not doubling the recipe like I did here, your cubes will be half the size. For the sake of ease and time, I always cut my gummies in squares rather than cookie cutters or pouring them into molds. Although I did find some really adorable gummy bear molds on Amazon, so I might be rethinking that ease and time thing.
And since I'm often asked what kind of gelatin to use: I always have and always will use Great Lakes Beef Gelatin. Great Lakes is a very trusted brand among the paleo community (and me personally). I have never tried the porcine gelatin, only the beef, so that's all I can recommend because I know it's great and it always works well for me. You should be able to find it locally, but if not, Thrive Market is a great place to get it for a cheaper price than you could find it in stores anyway.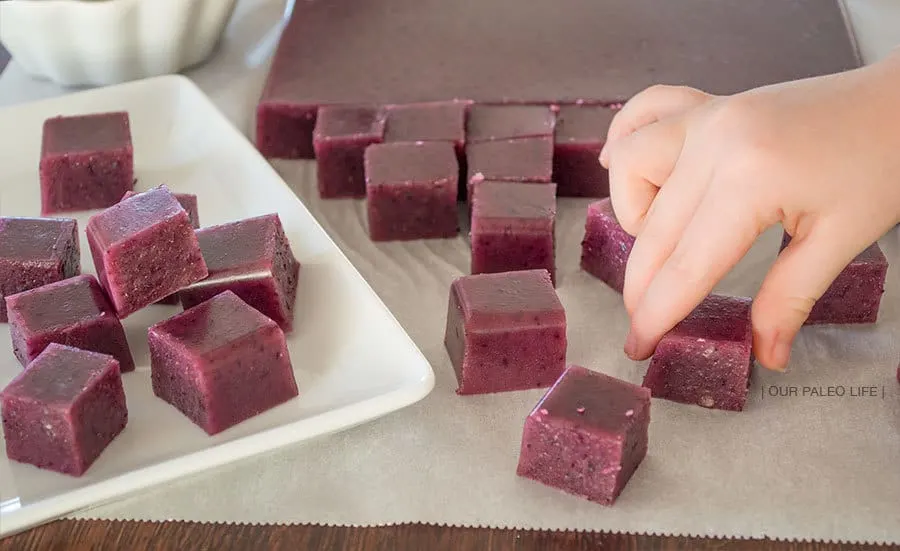 The recipe calls for 1:1 ratio of water to coconut milk, but you can definitely omit the water altogether and use all coconut milk for a creamier gummy. I like it both ways, and it's nice to have the option when I only have a little bit of coconut milk leftover from another recipe (because I rarely ever use a full can at one time).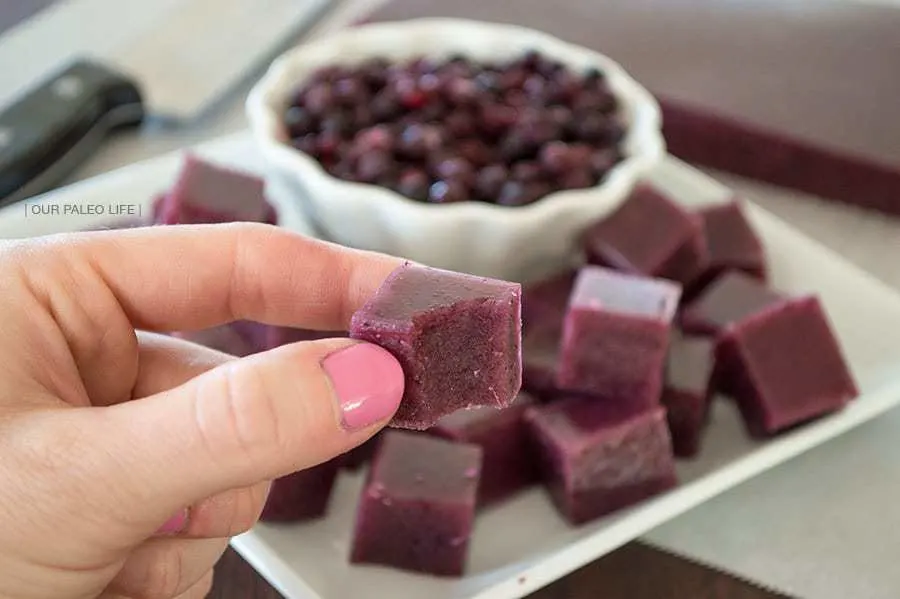 And since these gummies keep well at both room temp or in the fridge, they make really great snacks for kids. School, church, road trips, anywhere you are that you need to keep their mouths full so they stay quiet. You get the idea…
Blueberries & Cream Gummies
Inactive Time:
30 minutes
My kids love these real-fruit, no-sugar gummies and I love that they're getting the benefits from gelatin and real fruit and not the nasty side-effects of corn syrup and artificial colors and flavors.
Ingredients
1 cup Frozen Blueberries, thawed
1-1/2 Tbsp Lemon Juice
1/3 cup Water, omit and double the coconut milk for creamier gummies
1/3 cup Coconut Milk, canned, full-fat
6 Tbsp Great Lakes Beef Gelatin
6 Tbsp Maple Syrup, or Honey
Instructions
Blend blueberries, lemon juice, water, and coconut milk.
In a small pot over low heat, whisk this mixture with the maple syrup. Slowly pour in the gelatin while whisking to avoid any lumps. It may appear like you don't have enough liquid until it melts.
If you're using a mold, transfer your blueberry mixture into a container with a spout and carefully pour it into the mold. Otherwise, just pour it all into an 8x8 square pan (silicone is best, but glass or nonstick will do). There may be a layer of foam on the top, so if there is and you don't want it on there, just skim it off. I'm indifferent and usually just leave it.
Transfer to freezer and let sit for 5-10 minutes, or refrigerate for about 30 minutes.
Remove and pop out your gummies. If you used the 8x8 pan, cut your gummies into shapes with a cookie cutter or just slice into cubes (cubes will give you zero waste). They will keep at room temperature but will last longer if stored in the fridge.
Nutrition Information
Serving Size

1 grams
Amount Per Serving
Unsaturated Fat

0g