Last Updated on April 21, 2022
Original Post 2018 – updated in April of 2020.
I think my favorite time of year (as far as food goes) has got to be apple season. When the honeycrisp apples are overflowing on the shelves at the grocery store and everything is covered in cinnamon. There's just something so warm and comforting and nostalgic about the smell of baked apples.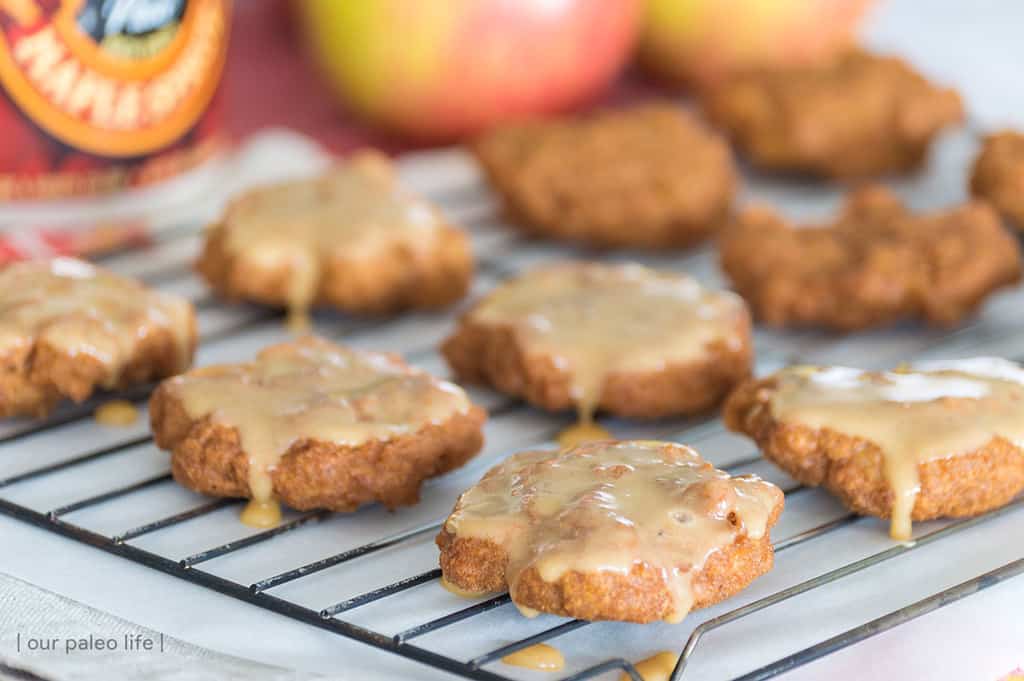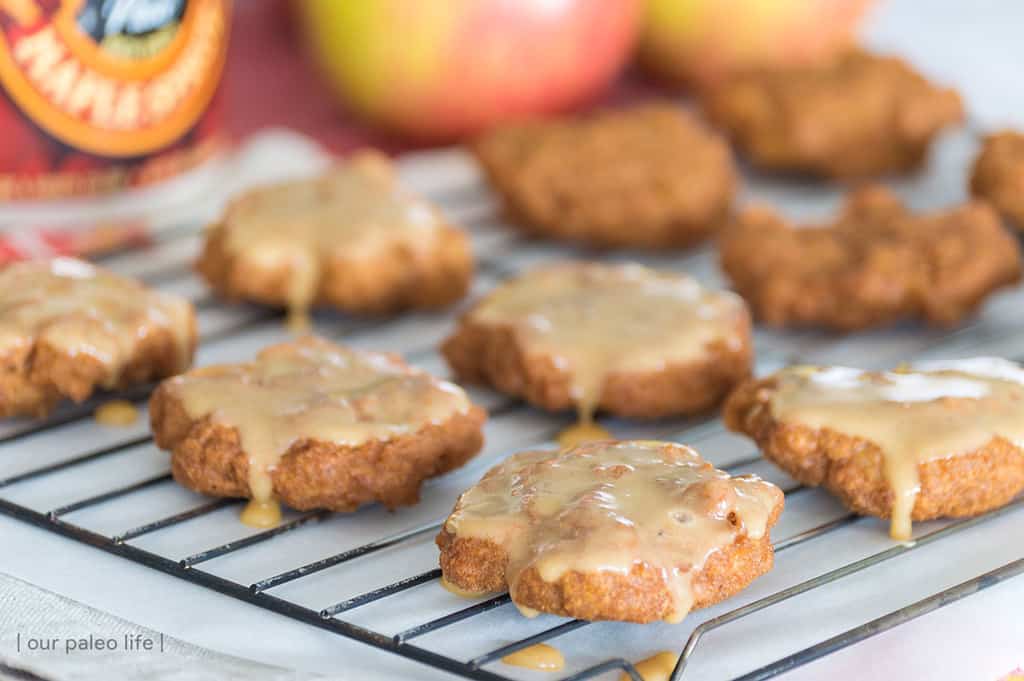 My kids' favorite breakfast side dish (that they don't get often enough, if you ask them) is "Baked" Cinnamon Apples. It's quick and easy for me, delicious to them, and leaves the house smelling nice and autumn-ish in the morning. And although I love me some pumpkin pie, nothing beats a classic lattice-top apple pie with a scoop of vanilla ice cream on top.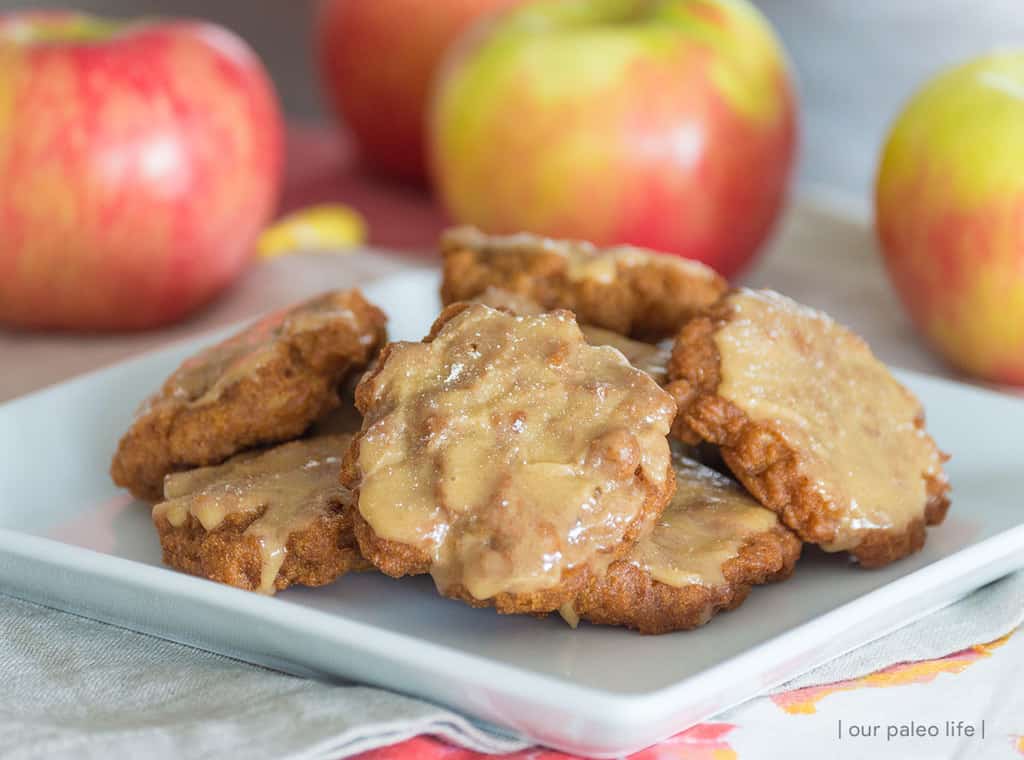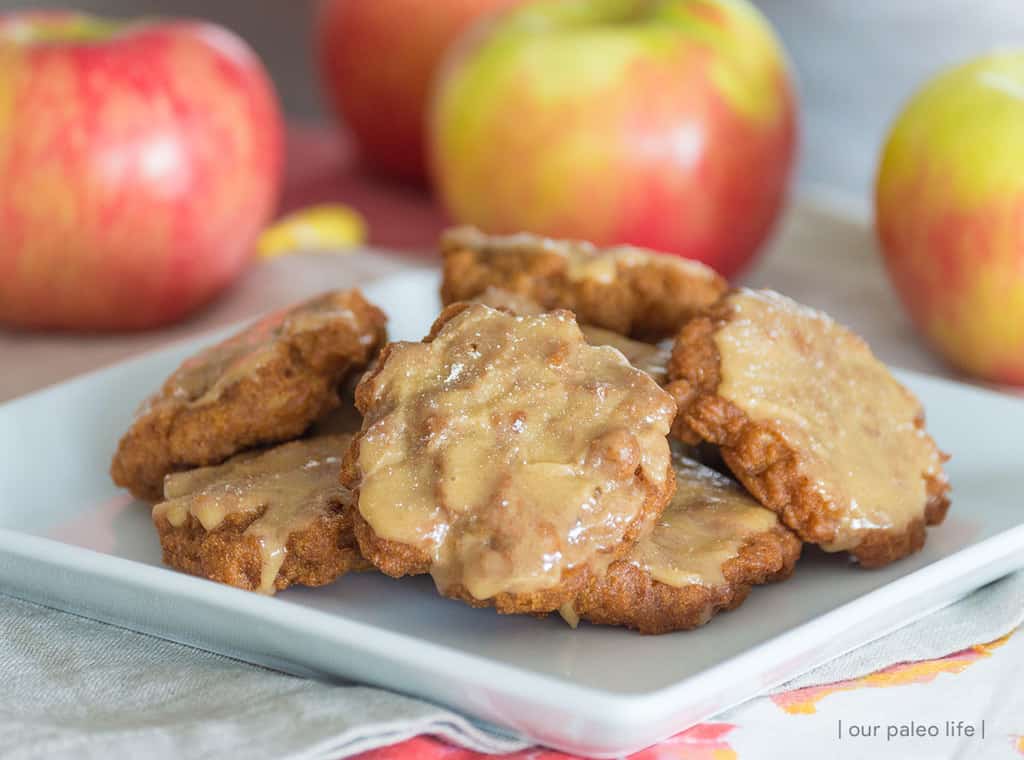 Apple Fritter Recipe
This year, I finally got around to making a recipe that has been on my to-do list for the last 2 years. Sometimes things don't fall in to place, but they finally did and this turned out so perfectly. I just happened to have the perfect amount of Cassava Flour Pancake Mix available, a crisper drawer with some fresh Honeycrisp apples, and a brand new tub of coconut oil in the pantry. It was like the fritter gods were smiling down on me, cheering me on.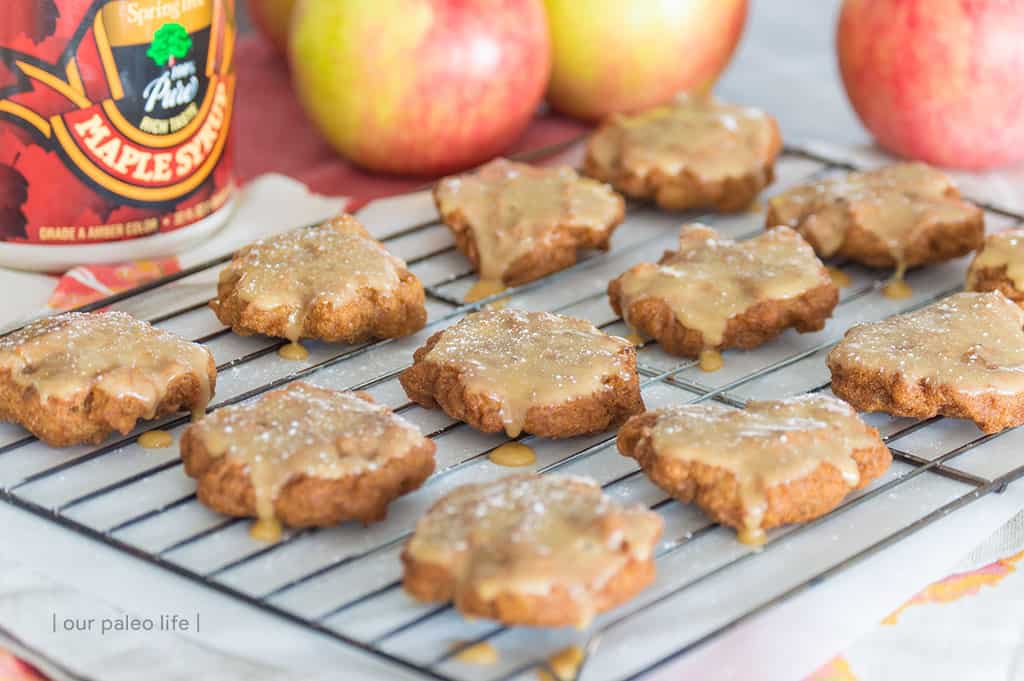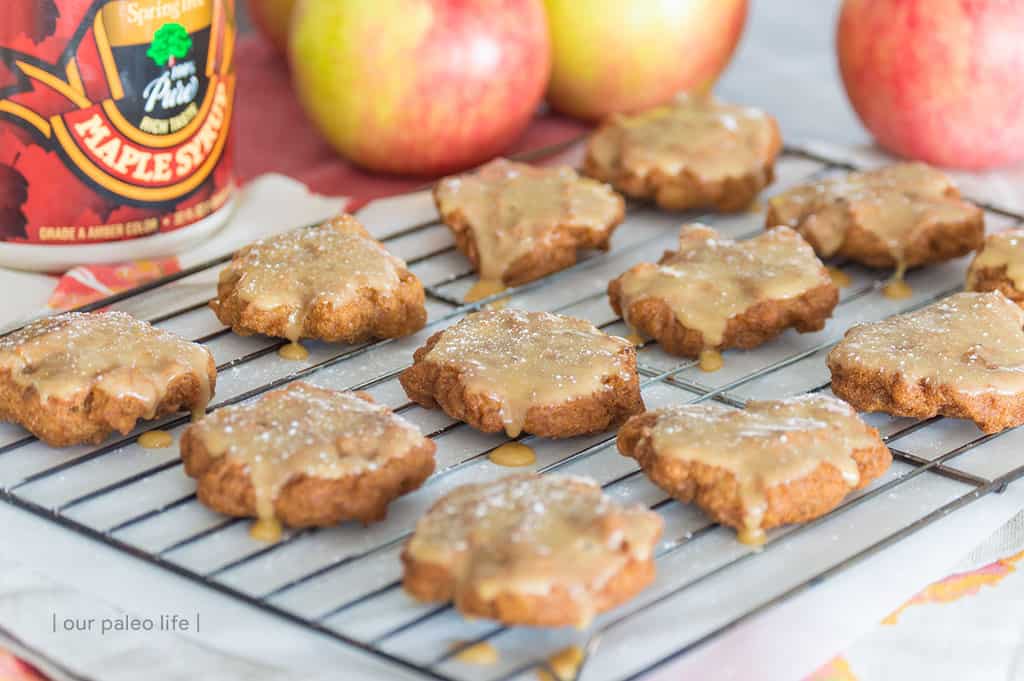 I made a couple batches to get these just right, and let me tell you, there were no complaints from anyone in this house. In the first batch, I made the fritters too small and too round so they weren't perfectly cooked all the way through. The glaze was also too thin. By the third batch, I had cleared out all the little bugs in the recipe and knew I had a winner.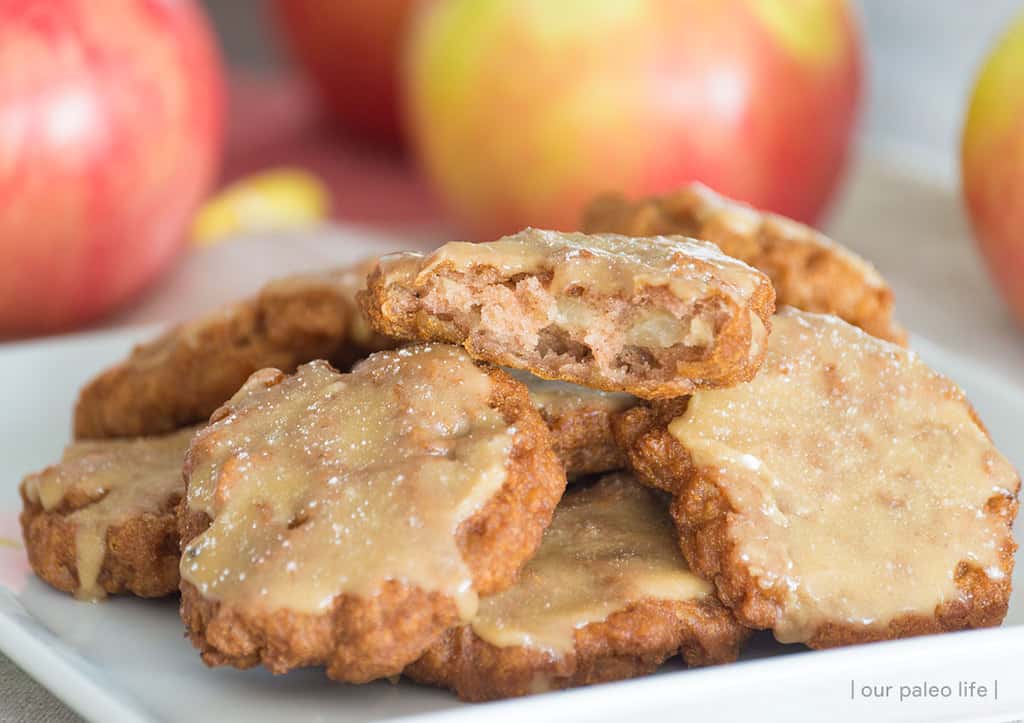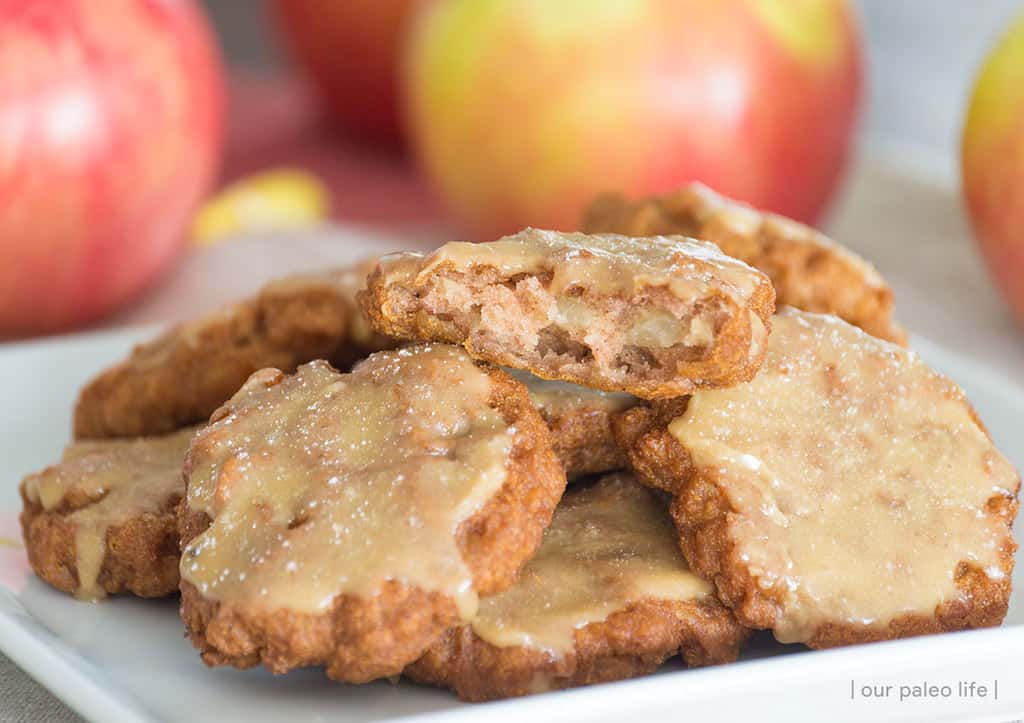 These little fried apple fritters (let's be honest, they're doughnuts…) and then coated in maple-y goodness that becomes one with the fritter and makes this the ultimate autumn dessert (or breakfast, I won't judge). The recipe, as written, makes about 15 fritters. That was definitely not enough for the voracious eaters in this house (only 3 each?! hahahahaha!) so double or triple accordingly based on your needs. They can be made in advance and reheated in the oven to keep them crisp, just don't frost them until you're ready to serve them.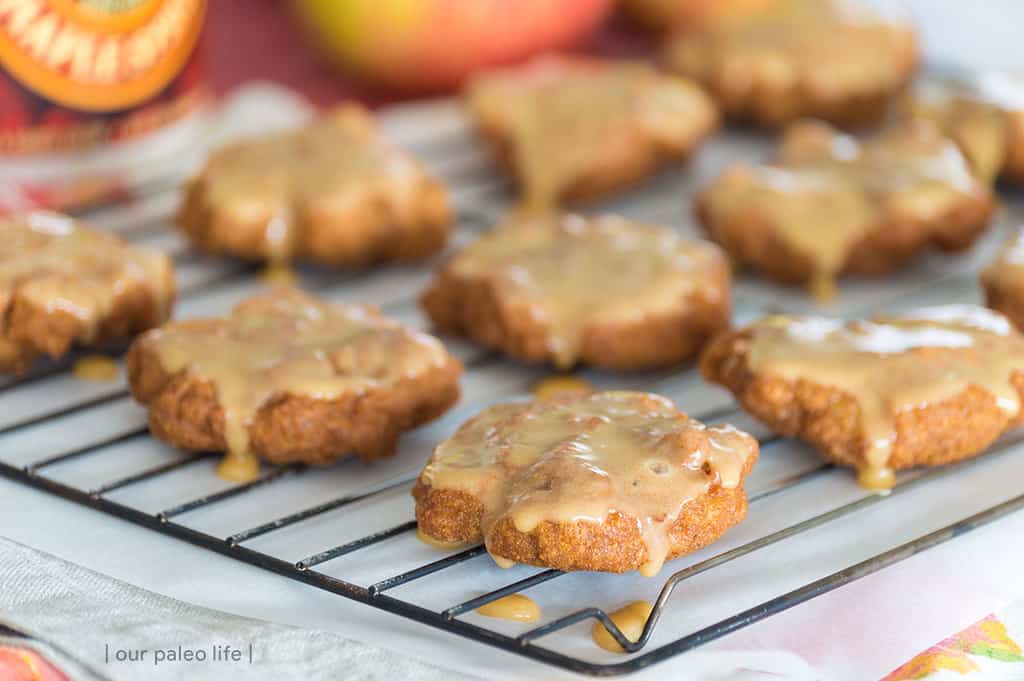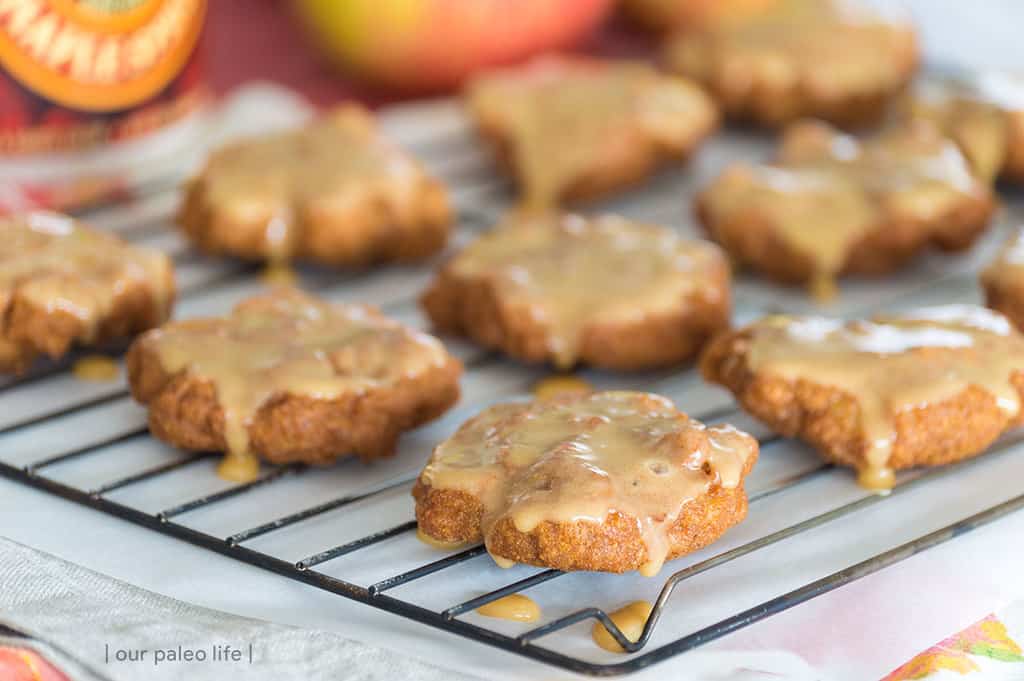 Happy apple season!!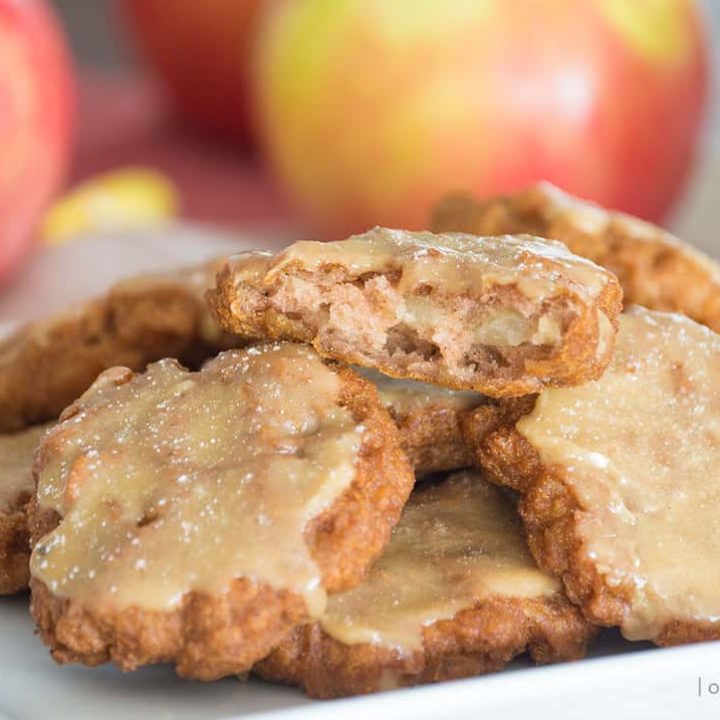 Maple Frosted Apple Fritters
Ingredients
1 large Honeycrisp Apple, or other sweet apple
1 cup (120g) Cassava Flour Pancake Mix
1 teaspoon Ground Cinnamon
1/4 tsp Allspice
1/4 tsp Ground Nutmeg
3/4 cup Dairy-Free Milk
Coconut Oil, for frying
1 cup Powdered Maple Sugar, see notes
1 Tbsp Dairy-Free Milk
Instructions
Fill a deep fryer about 2" with coconut oil and turn on. Our deep fryer only has an on/off setting, and it gets up to about 325°F, which works for this recipe.
While the oil is heating up, peel and core the apple. Dice or chop it pretty small (less than 1/4" pieces). Add the pancake mix and spices and stir to combine and coat all the apples pieces.
Add in the milk and stir until fully combined and there is no dry flour left. You should have a thick batter that you can scoop easily but that will still hold together.
Scoop about 2 tablespoon-sized balls into your hands and flatten into a patty. Gently set into the hot oil and let fry until deep golden brown, flipping halfway through. Be sure it's nice and browned to ensure it's cooked all the way through.
Remove with a slotted spoon and place on a paper towel-lined cooling rack. Repeat until all the batter is fried, place multiple fritters in the fryer at once, but being sure not to overcrowd them.
Combine the powdered maple sugar and 1 tablespoon milk until smooth and slightly thick. Dip the slightly cooled fritters into the glaze and place back on the rack until ready to serve. Best eaten the same day they are prepared.
Notes
To make powdered maple sugar, combine 1 cup of maple sugar and 1 Tbsp arrowroot or tapioca starch in a high-powered blender and blend on high until it's completely powdered. Sift through a fine-mesh strainer to filter out any lumps.
Nutrition Information
Yield

15
Serving Size

1 fritter
Amount Per Serving
Calories

60
Total Fat

1g
Saturated Fat

1g
Unsaturated Fat

0g
Sodium

84mg
Carbohydrates

11g
Sugar

3g
Nutrition is calculated by a third party and may not be 100% accurate