Last Updated on July 24, 2020
Sweet and Sour Chicken Recipe
Takeout dinners are so tempting. You manage to make it through the whole day successfully, then you remember that your kids have activities that evening and you completely forgot to cook dinner and everyone's tummies are grumbling (and their mouths are whining).
Starting a whole meal at that point seems pretty daunting.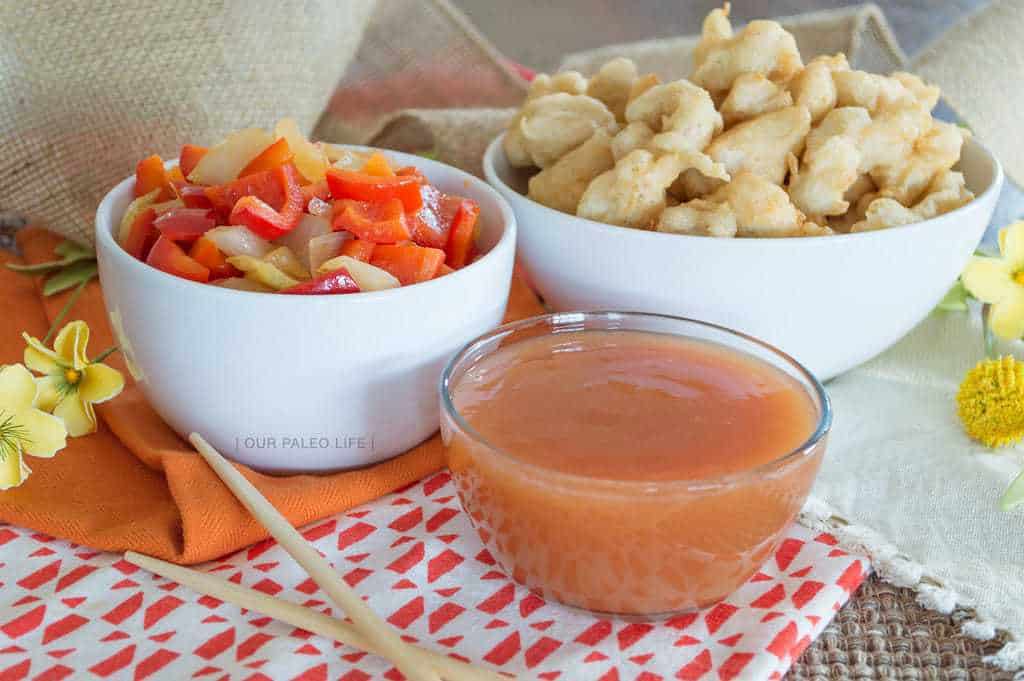 Paleo Takeout Sweet and Sour Chicken
But takeout is no bueno. Aside from the fact that Chinese takeout meals clearly aren't paleo, they also have who-knows-what in them and that's the last thing you want to be eating or feeding to your family.
That's why we love keeping this Paleo Sweet and Sour Chicken on hand. It's grain-free and dairy-free, has clean ingredients, and is easy to make in bulk so you can have enough for a rainy day. The batter is made using our all-time favorite grain-free flour: Otto's Cassava Flour. If you still haven't tried it, do yourself a favor and grab a bag, you won't regret it. It's the closest to "regular" flour we've ever tried and makes delicious cakes too.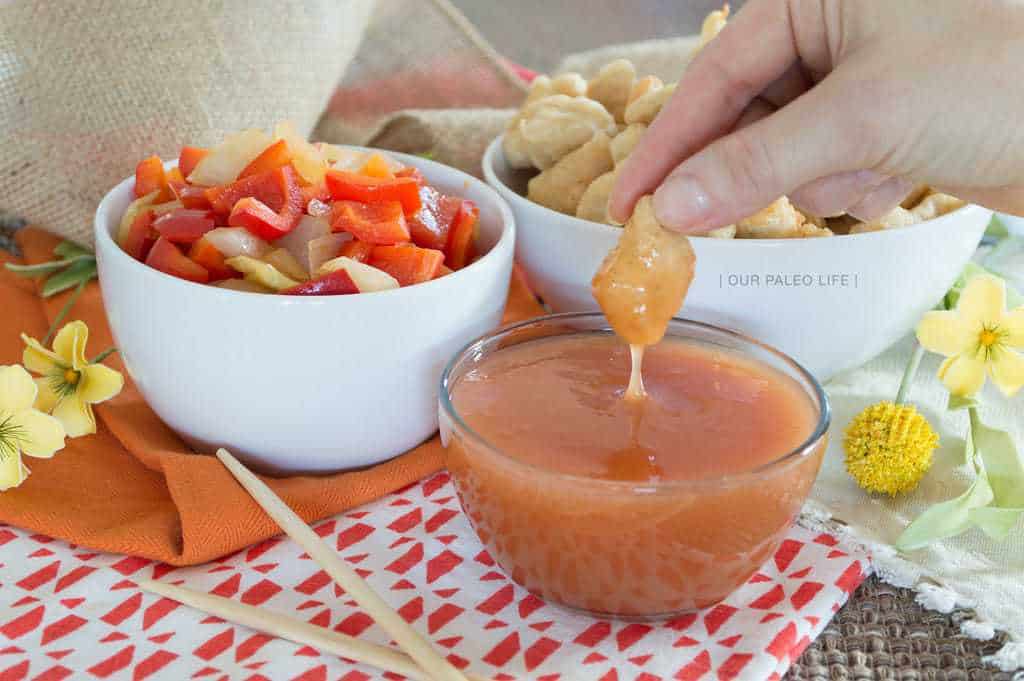 The battered chicken nuggets are delicious on their own with some Honey Mustard dipping sauce, and they are also the same nuggets used in our Orange Chicken recipe (which also makes for excellent leftovers).
Gluten & Dairy Free Takeout Food
Since you're taking the effort to make the nuggets, you might as well make a double, triple, or quadruple batch and keep them in the freezer. We love using our mini Fry Daddy to get the job done. Easy to use, no splatter, easy to store. If you need a larger version, this one is great too.
The sauce stores for a while in the fridge and is easy enough to make quickly if you run out and need some for the extra nuggets you have in the freezer.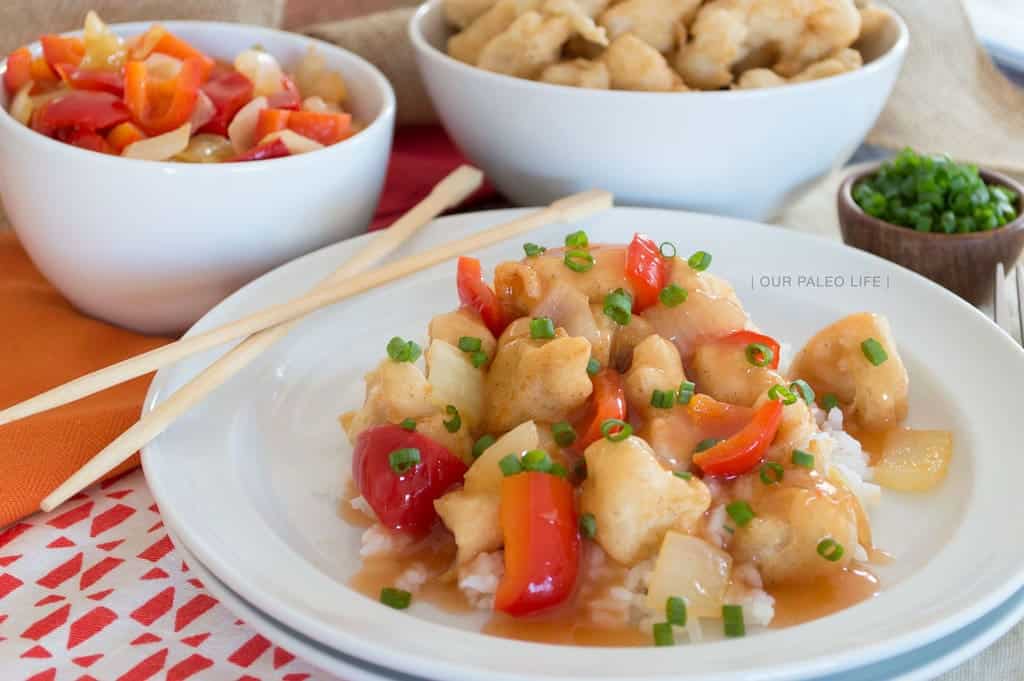 We are not paleo perfectionists, and we do eat rice on occasion (fortunately nobody in our family has any reactions to it), but this paleo Sweet and Sour Chicken is also great served over cauli-rice and a side of steamed broccoli.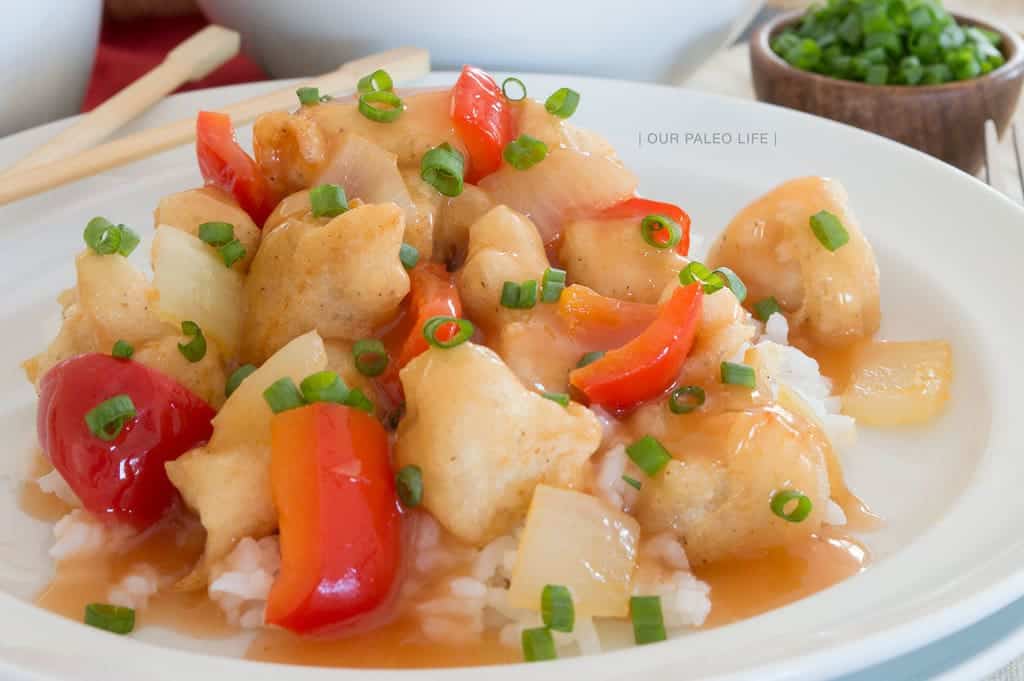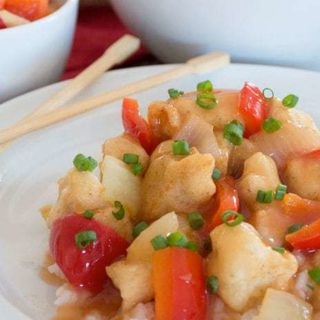 Sweet & Sour Chicken
Ingredients
Chicken
2-3 lbs Boneless Skinless Chicken Breasts or Tenderloins
1-3/4 cups Otto's Cassava Flour, lightly spooned and leveled
1/4 cup Potato Starch
2 Tbsp Arrowroot or Tapioca Starch
1/2 tsp Sea Salt
1/4 tsp Ground Black Pepper
2 Tbsp Avocado Oil or Olive Oil
1 Eggs
2 cups Water
Coconut Oil, for frying
2 Bell Peppers, any color
1 Yellow Onion
Sweet & Sour Sauce
3/4 cups Water, divided
3/4 cup Honey
1/2 cup White Vinegar
1/2 cup Pineapple Chunks, fresh or frozen, not canned
1/4 cup Paleo Balsamic Ketchup
1/4 cup Tapioca Starch
Instructions
Cut the peppers, onions, and chicken into bite-size pieces. Set aside. If using frozen pineapple, thaw and put it in a blender or food processor and puree until smooth. Set aside.
In a medium saucepan over medium-high heat, combine 3/4 cup of the water, honey, vinegar, pureed pineapple and juice, and ketchup. Bring to a boil and then turn off the heat.
In a separate small bowl, combine the 1/4 cup tapioca starch and the remaining 1/4 cup cold water and stir to combine. Slowly pour into the sauce, stirring until the mixture thickens. Set aside.
While the sauce is coming to a boil, in a large skillet, saute the peppers over medium heat until they are just slightly tender, but still crunchy. Remove and set aside.
In a large bowl, combine cassava flour, potato starch, arrowroot starch, salt, pepper, oil, and egg. Add the water 1/2 cup at a time and stir to fully mix the batter until smooth. It should be thick enough to coat the chicken, not thin and runny. You may not need all the water.
Add the chicken pieces to the batter in the bowl and stir to coat all the pieces.
In the same skillet you used for the veggies, heat 1" of coconut oil over medium-high heat (about 360°F if you want to be precise). Time to get messy. Using your fingers, add the coated chicken pieces (one at a time) and cook in small batches, making sure not to overcrowd the skillet. Cook about 4-5 minutes, turning once, until golden brown. Remove chicken from oil and drain on paper towels.
Combine cooked peppers, onions, and chicken in a large serving bowl or platter, and pour the warm sweet and sour sauce over the top, stirring slightly to coat all pieces.
Serve over white rice (this is not paleo) or riced cauliflower.
Make In Advance
To make this meal in advance, cook all the chicken as directed. Line a baking sheet with parchment paper and set the cooked chicken pieces in a single layer. Freeze until solid and then transfer to an air-tight bag and freeze up to 6 months. Alternately, refrigerate up to 1 week in an airtight container.
Cook the sauce as directed. Store the sauce in a glass jar in the fridge until ready to use, do not pour over chicken until ready to eat. To reheat the sauce, microwave on high for about 1 minute and stir to combine (it might separate a little), or heat in a saucepan over medium heat until not quite boiling. Whisk to keep smooth.
To reheat:
(from frozen) Preheat oven to 425°F, place on a parchment- or foil-lined baking sheet, and bake for 12-14 minutes, flipping halfway through..
(from thawed) Preheat oven to 400°F, place on a parchment- or foil-lined baking sheet, and bake for 8-10 minutes, flipping halfway through.