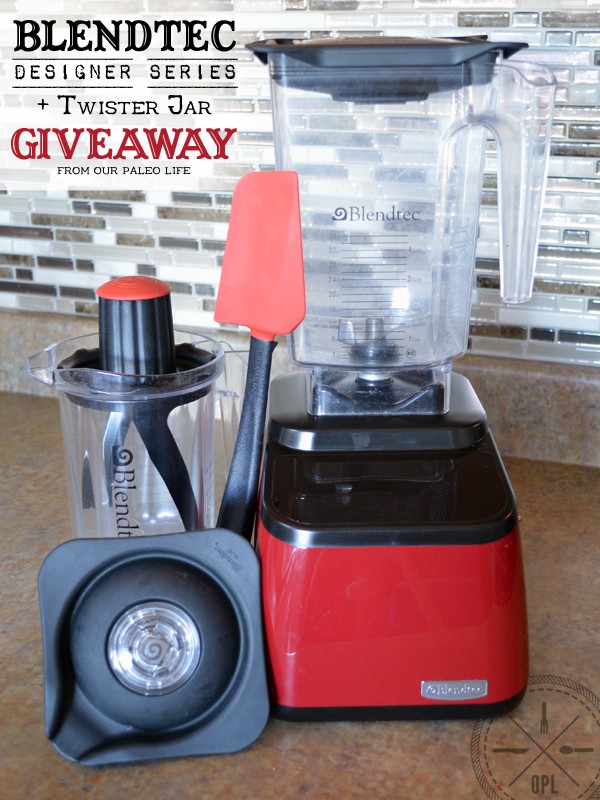 Last winter, I started thinking it was time to purchase a new blender. In the 10 years since my husband and I got our first blender as a wedding gift, we had been through about 4-5 blenders. I kept hearing about the awesome Blendtec blenders but also had friends who swore by another few brands. My husband is all about researching so he read all that he could about the different types of high-powered blenders. Then we got to experience the Blendtec at a friend's house one evening and that sealed the deal for us.
On January 22, 2013, we became the proud parents to a gorgeous red Blendtec. We decided the Designer Series was the best fit for us, what with the sleek-looking touch screen and all. We started off with just the Wildside Jar, and then eventually got the Twister Jar as well. I started off making juices and smoothies, with a few other random things here and there. But as the year has gone on, I have been making less and less smoothies and using it for so many other blender recipes instead. That's the beauty of this blender, it's not just a smoothie machine on steroids, it is capable of so much more than just smoothies and milkshakes. I really dislike having appliances on my kitchen counters, I keep them all in cabinets and take them out when I need them. The only 2 appliances that never leave the counter are the toaster oven and our Blendtec. Yeah, I use it that much. Plus it's super pretty, so I don't want to hide it away.
Maybe you've been on the fence about which blender to buy, and you want to know what's so great about the Blendtec. Well, let me help you out:
Why I love my Designer Series Blendtec with Wildside Jar: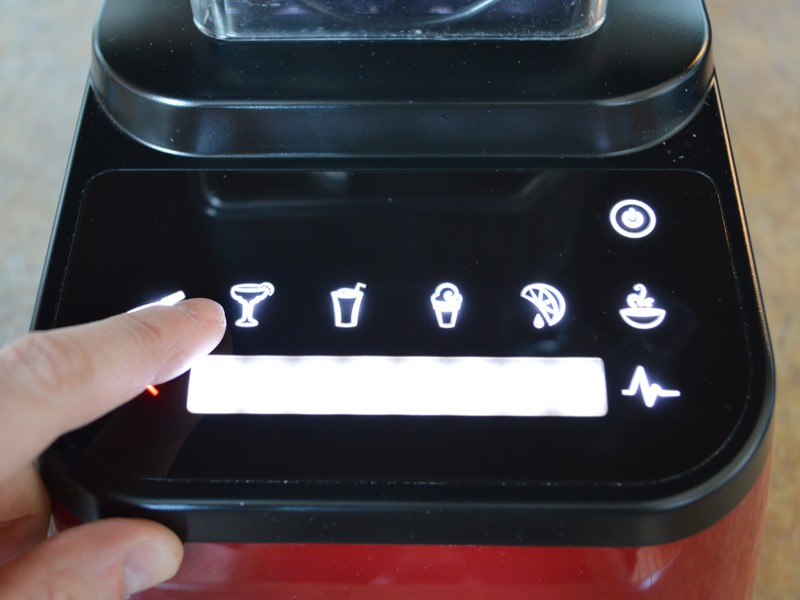 The touch screen. I love that I can look at the nifty little icons and go "Hmm, I'm making soup, so I'll just hit the Soup button" and I have soup! Oh, did I mention that you can make hot soup in the Blendtec? You totally can and it's awesome! And on the off chance you make a mess (like I did with my Almond Milk one day), you can just wipe it clean. Because there are no buttons, knobs, or dials, just a sleek, flat screen, you can wipe off any messes with no problem.
Pre-Programmed Cycles. I'm pretty forgetful, I'm always burning oil while heating up a pan because I walk away. The best part about the pre-programmed settings on the Blendtec is that I can just push a button, walk away, and the blender will stop when the cycle is over. And the food is perfectly blended every. Single. Time. And since there's a cycle for everything, it removes a lot of the confusion.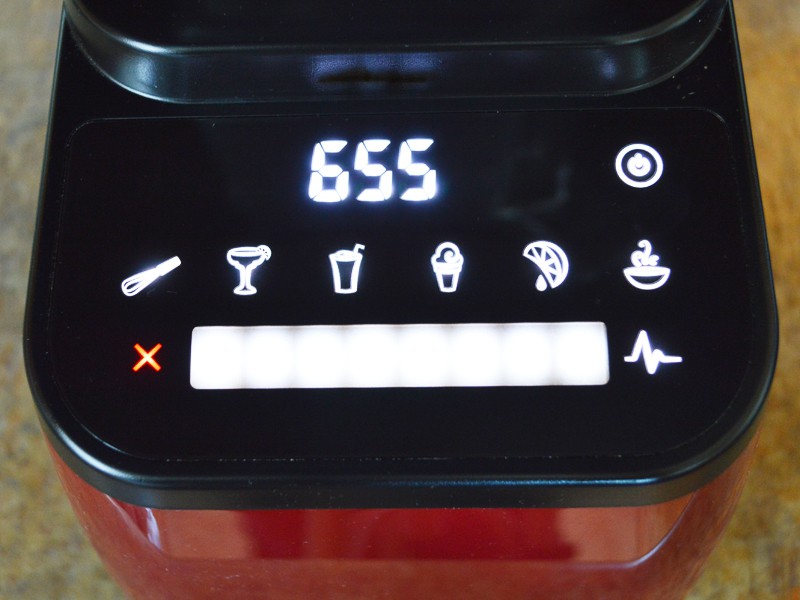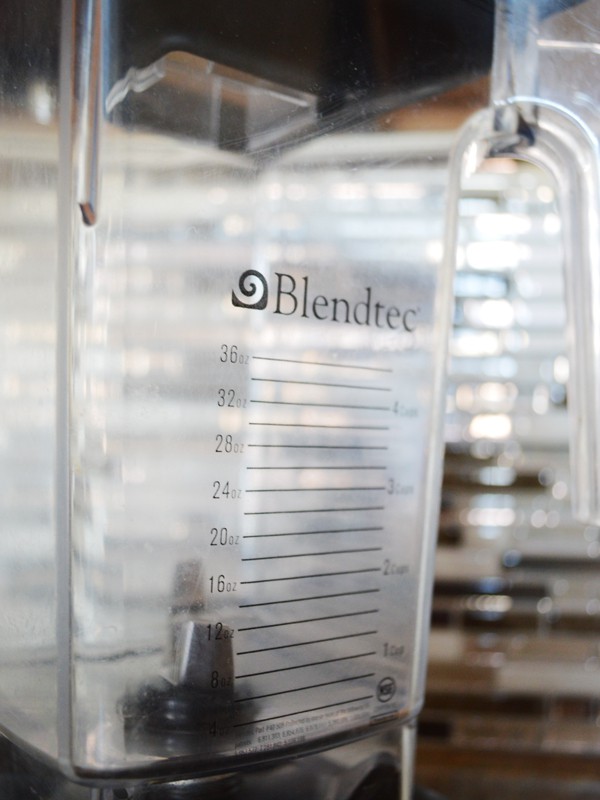 The 90 fl oz capacity Wildside Jar. I love that I can make an entire batch of soup or smoothies for my family of 5 in one cycle. I have never had to do a double batch of anything to make enough food for my family, which is really important to me. Who wants to be making more food while everyone else is already enjoying theirs? Not this hungry girl. The Wildside Jar size is also perfect for making a batch Paleo Lime Mayo. All I have to do is put a funnel on top in place of the clear lid and I get a perfect mayo and a not-oil-splattered me. I definitely use the Wildside Jar more than anything because it's so versatile and is just perfect for our family.
Easy cleanup. I have a slight phobia of blender and food processor blades. I hate cleaning them because I am always cutting or burning myself on something and that's just a recipe for disaster. Luckily, there have been no incidents requiring stitches, but I tempted fate many times. The Blendtec jars don't have sharp blades. Instead of chopping the food, it crushes it. In addition to dull blades, the blades don't even come out, they are permanently attached, so no fumbling with them or possibly losing or breaking them, or cutting yourself. Just put a little hot water in the jar, a squirt of dish soap, pop the lid back on, and blend it on high for a bit and you have a clean jar. Easy peasy!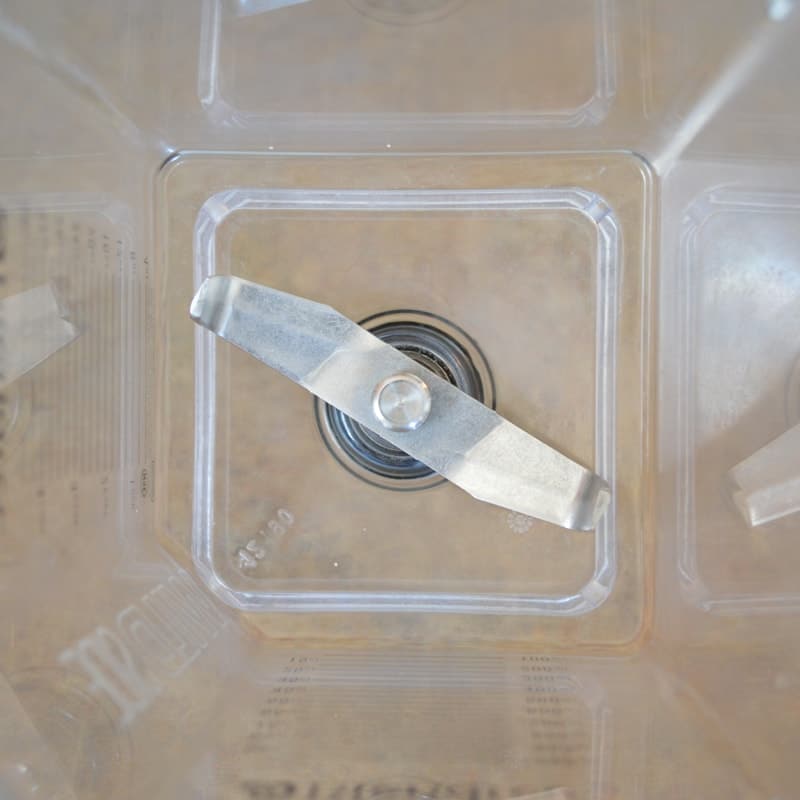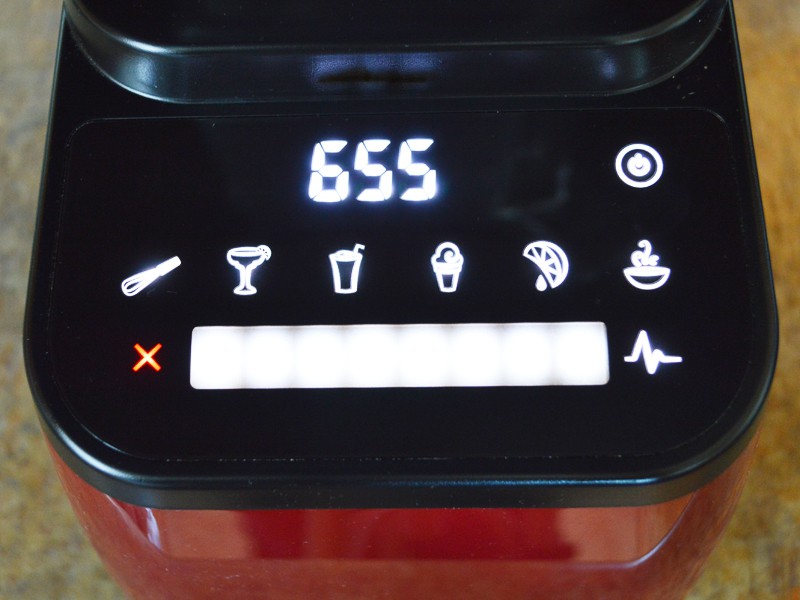 The super powerful motor. I'll be honest, I don't know what all the techie stuff means, but I do know that when I turn this thing on, it's goes into beast mode and does it with grace. If I were to leave my food processor on for any longer than a minute or two, it would smell like it was about to go up in flames. The Blendtec is much more powerful than the food processor yet doesn't overheat or get that burnt smell. It can run 90 seconds on the 'Soup' cycle and never once break a sweat. This thing is like the Lamborghini of blenders. Lamborghini's are still cool, right?
Why I love my Twister Jar: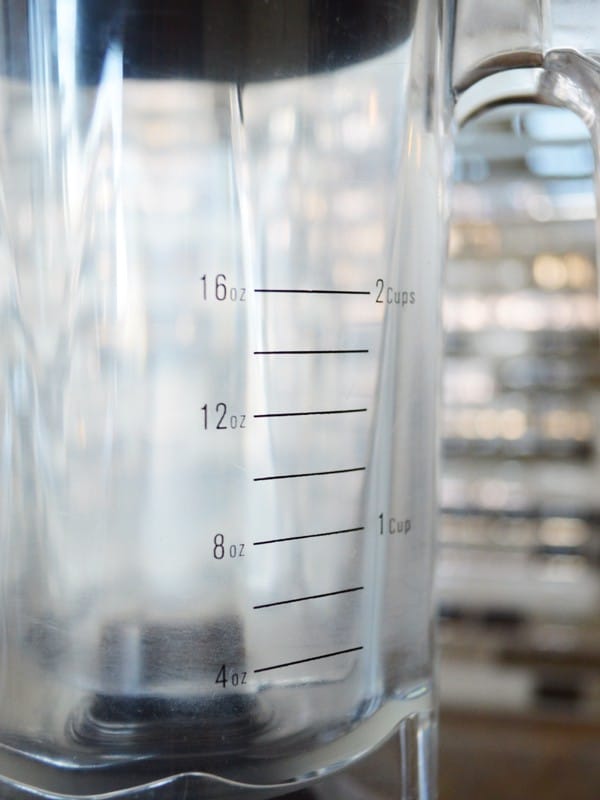 Small capacity. Quite the opposite of the Wildside Jar, the Twister Jar is tiny in comparison and perfect for making nut butters, Banana Ice Cream, and brownie batter. I also use it when I'm feeling greedy and make myself a single serving smoothie. Another excellent use I recently discovered is using it as a spice or chia seed grinder. The smaller capacity allows all the small pieces to get ground up without getting stuck in a corner. The only downfall to grinding spices is that the jar will turn a bit foggy-looking, but it's only an aesthetic issue and worth it to me because I don't have to get an extra appliance just for making my own spices.
The Twister lid. While the small capacity is great for thicker blends like almond butter, it still wouldn't work just right without the Twister lid. This lid is different than the Mini Gripper lid (that also comes with the Twister jar) in that it is not a liquid-tight seal. The lid sits on top of the jar and you manually twist it when the contents of the jar need a little coaxing back to the center of the jar to complete the blend cycle. This prevents all the stopping-and-scraping I mentioned early with the Wildside Jar and makes the process move along at a fraction of the time it would take in any other jar. This jar alone has replaced my need for a food processor.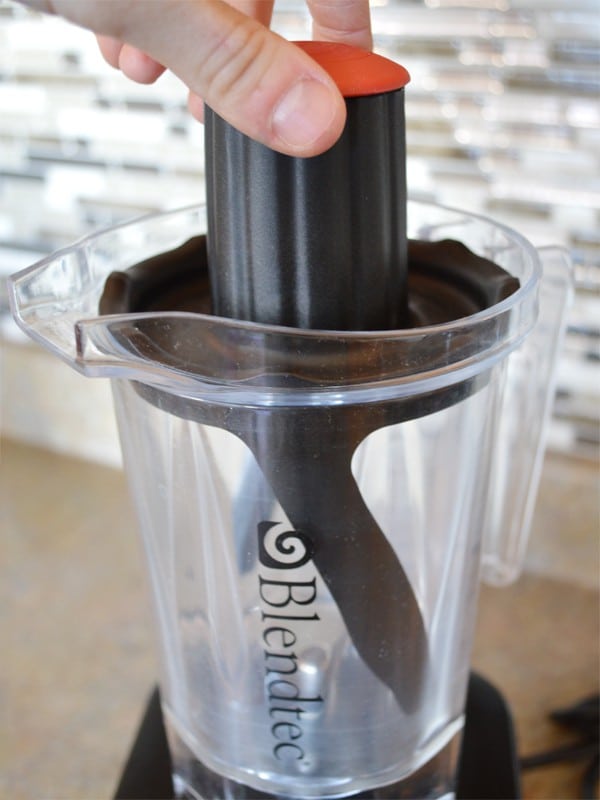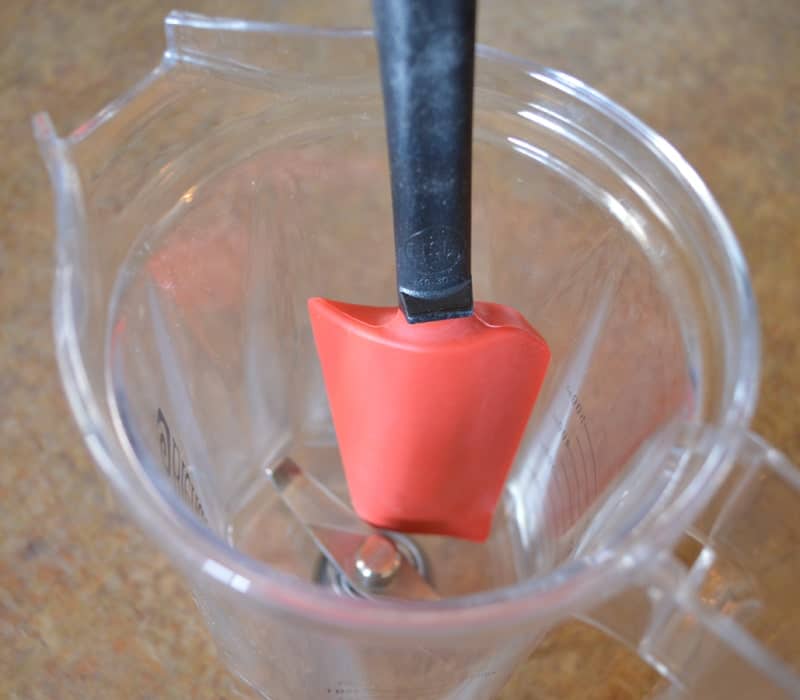 The included spatula. I know, that doesn't sound like a great selling point, but this spatula was created just for this blender and has all the right corners and curves to get all the food out of the jar. Or at the very least, it allows you to scrape the jar clean and then lick the spatula. Whatever floats your boat.
Only a portion of what I use my Blendtec to make is on this website, I use it nearly every day. In the last 11 months, I have put nearly 700 uses on it. I know this because every time I turn the blender power on, it lights up with the number of uses. A fun little reminder of how much I love it. So according to that number, I use my blender an average of 2-3 times per day. I would say I got my money's worth a few months ago, but the good news is that this thing will just keep on ticking. While the jars each have a 3-year warranty, the blender itself has a 7-year warranty. Considering how much I've used it this year and it hasn't had a single problem, I'm really looking forward to the next 6 years with my best friend in the kitchen.
So what do I make with my Blendtec? Here are a few recipes that have been made easier by the Blendtec Designer Series blender.
And now that you're really wishing you had this gorgeous machine on your kitchen counter, how would feel about the opportunity to win one of these bad boys? The awesome folks over at Blendtec are about to make Christmas a little brighter for one Our Paleo Life reader. Go ahead and enter the giveaway using the widget below for your chance to win the following:
This giveaway is open to all US and Canadian residents aged 18 years and up. The giveaway ends on 17 December 2013 at 8:00pm MST. Winner will be chosen and contacted by email within 48 hours of the giveaway closing. Winner must reply within 48 hours of the email being sent to claim their prize or the entry is void and a new winner will be chosen.
** This product review is my own personal opinion, I was not compensated for it.
I own a Blendtec and simply wanted to share my experience with it.