If you're like me, you love receiving snail mail. I'm not talking about bills, I'm talking about the fun stuff: letters, magazines, catalogs, announcements, and packages. So imagine my excitement when I received a box full of colorful snacks from Well Food Company this week! It was like an early paleo Christmas.
Before I get into the actual product review, I want to tell you a little about this company and the amazing people behind it. John and Kate Welbourn are the husband wife team behind the snacks. John Welbourn is actually somewhat famous. He is the creator and founder of CrossFit Football, as well as playing professional football in the NFL from 1999-2008. John and Kate have twin girls and vowed they would never sell any food product they did not feel comfortable feeding their own children. If that's not a testament to the quality of their products, I don't know what is.
And soon, they will be working on a few new nut-free recipes for a cookie and chocolate protein bar (as well as some new jerky flavors). How exciting is that?!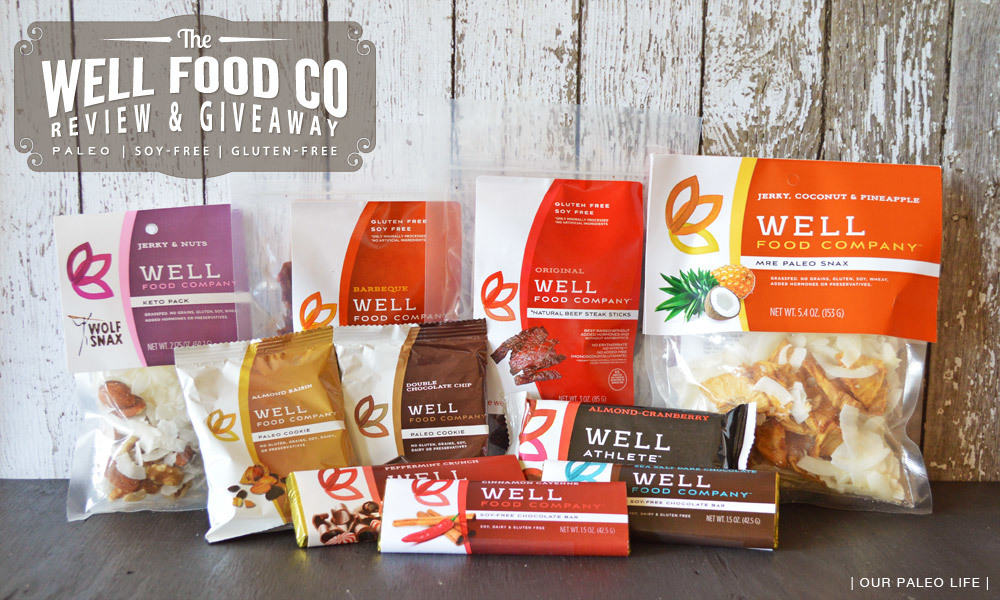 Now, on to the amazing food we got to try out this week. I was really impressed at the large variety of food, not just bars or fruits or meats, but everything! The packaging was pretty (that always draws me in, I'm a sucker for pretty labels), and everything was pretty much ready to toss in a backpack for a day hike or camping. That's kind of a big deal for me, since most of the store-bought snacks we eat are on hikes or camping trips.
All of the food from Well Food Company is:
And if you needed any more convincing, John Welbourn and Robb Wolf handpick the ingredients that go into these products to make sure they are the best and that they're "legal" for us paleo folks.
So what are these delicious snacks and just how do they taste? Let's go through them one-by-one: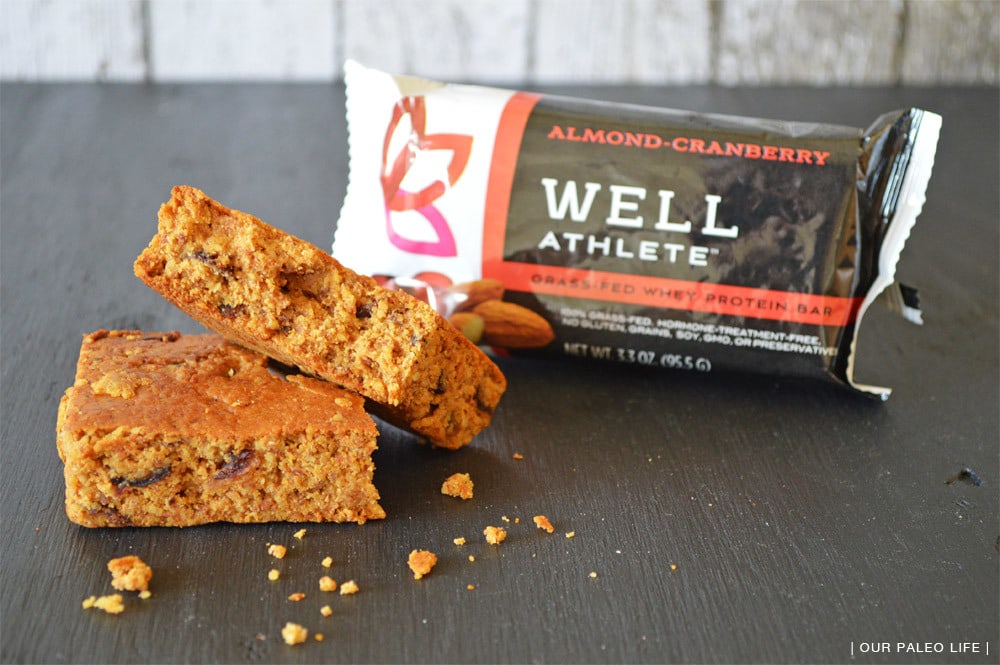 This was the first item we tried. I'll be honest, we were a bit skeptical. My husband is not a fan of almond meal foods, and since the second ingredient in this bar was almond meal, he wasn't prepared to be impressed. But he was wrong. We were both so surprised at just how good this bar was. It wasn't super dense like most almond meal bars tend to be, and it didn't have that gritty almond meal texture we were expecting. It was just right.
Also, it was pretty big. This bar is the perfect post-workout food. It's not some rinky-dink thing that you would need 4 of to feel like it made a dent in your hunger, this is the real deal. And though I'm a huge fan of cranberries, what I really love about this was the cinnamon. It's the overlying flavor in this bar and I loved that!
One note about the paleo purists, though. There is grass-fed whey protein in this bar. If you have any aversion to dairy, you should be aware of this.
From Well Food Co's website: Proserum® is derived from cows that are Grassfed year-round on natural pastures that are pesticide and chemical-free. It is hormone-treatment-free and GMO-free. Proserum® is minimally processed to best maintain the full range of fragile immune-modulating and regenerative components naturally present in fresh raw milk. Proserum® is a registered trademark of Wisdom Proteins, Inc.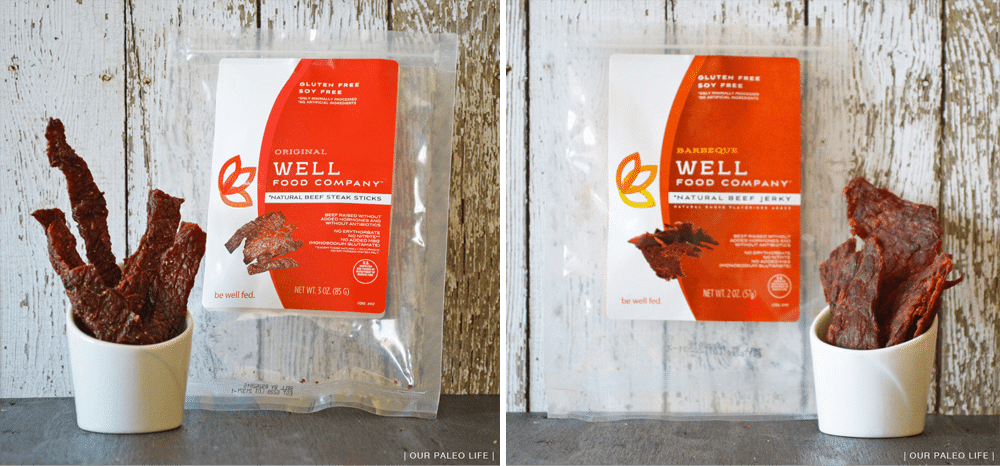 Beef jerky is a big thing around here. I'm pretty picky about dried meat products, and they have to be just right in order for me to like them. The problem I usually have is that the jerky is too dry, too chewy, or too stringy/gristley (you know what I'm talking about). This jerky had none of those issues.
The Beef Steak Sticks are not a thin jerky strip, but are thicker sticks of jerky. The pepper flavor was spot on, just enough heat for my not-spicy-loving mouth, but hot enough that my husband really enjoyed them.
The BBQ Beef Jerky had the most fantastic jerky flavor I've ever tasted. It was sweet at first bite, but the aftertaste had a little BBQ-esque zing to it. I really have no idea how else to describe it, but it was great, trust me.
Note: Evaporated Cane Sugar is used in this jerky. That doesn't bother me, since it's not a huge part of my diet, just a small amount in occasional snacks, but I still wanted to mention it.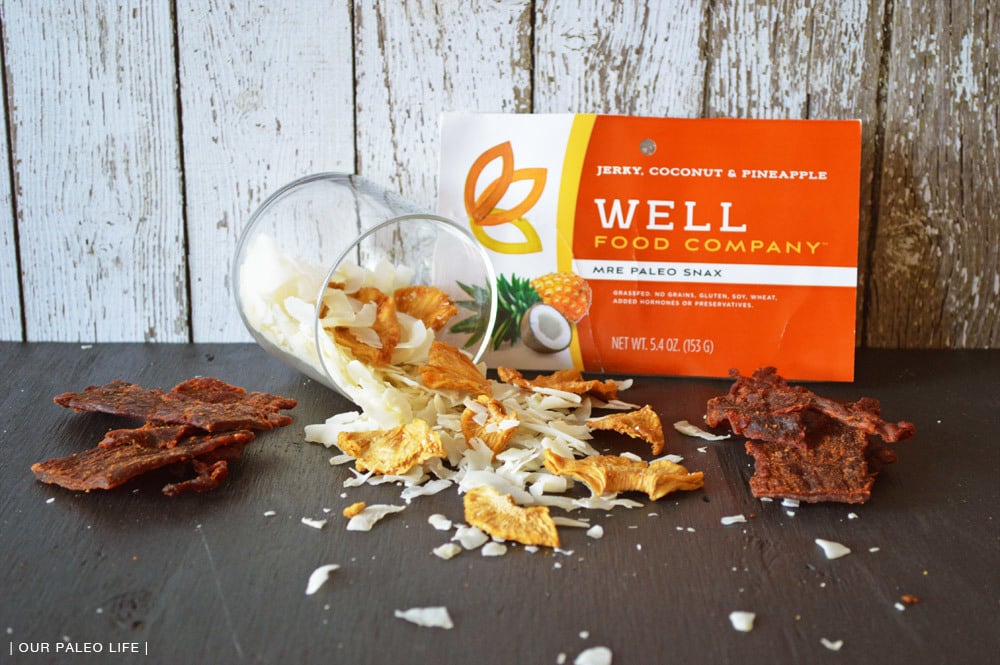 Oh man, I was so excited to try this one. Dried pineapple is high on my list of top 10 foods. I'm not talking about those gross gummy sugar-coated things, I'm talking about real pineapple and that's exactly what this stuff is. It's unsulphured so it doesn't have that fake yellow color and it tastes exactly like a real pineapple should.
Pair that delicious pineapple with some crunchy unsweetened coconut flakes and some of their BBQ Beef Jerky, and you have the perfect hunger-busting snack. Not gonna lie, I ate the whole thing mid-day while I was working at the computer and didn't feel the least bit of guilt about it. Delicious and guilt-less for the win!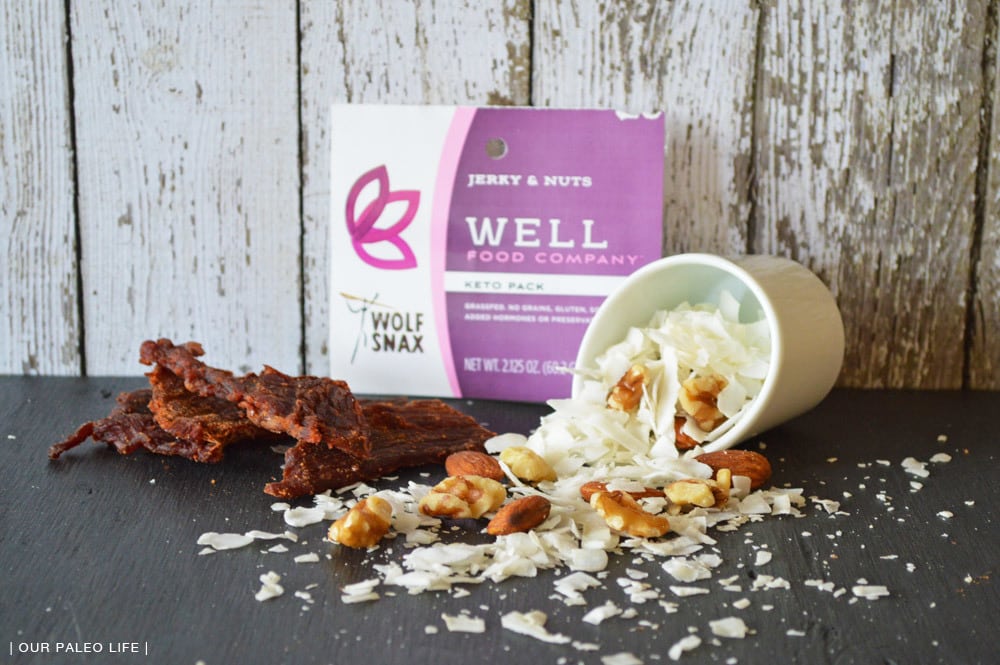 The Keto Pack is a little different than the Paleo Snax because there is no dried fruit. It is simply almonds, walnuts, unsweetened coconut flakes, and more of that delicious BBQ Beef Jerky. This is perfect for when you need a low-carb snack between meals. I love that it's packaged so perfectly to grab and eat on the go.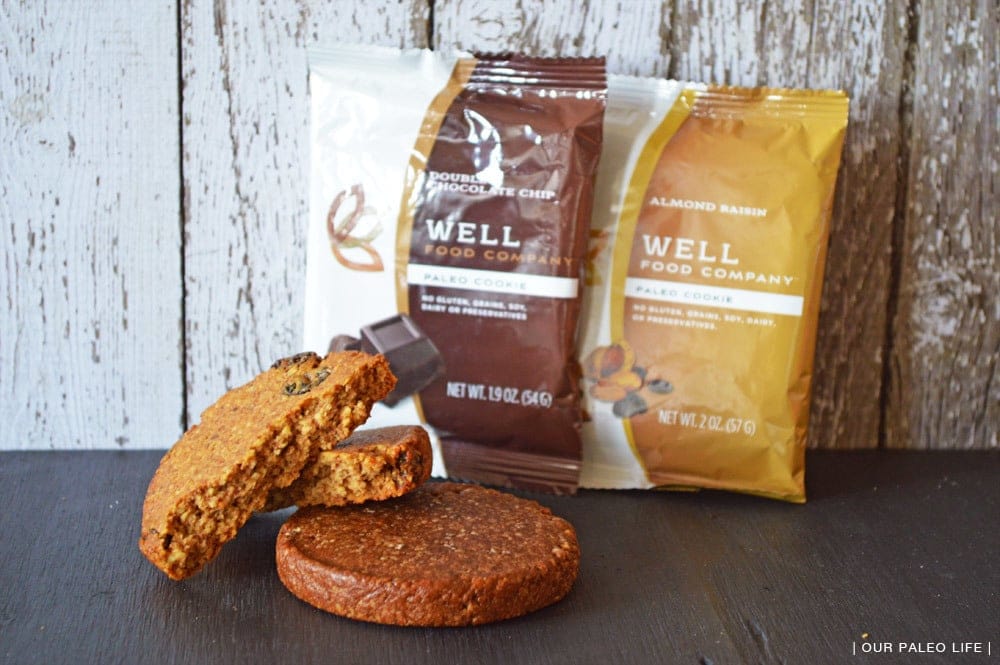 These cookies are made primarily with almond meal. Once again, I was expecting to be let down. While they were a bit more dense than the Protein Bar, I was still pleasantly surprised. There was a nice chew to them, and the flavor in both varieties was great.
The Almond Raisin had a strong cinnamon flavor, and I seriously have a deep-seated love for cinnamon. I know some people hate raisins in cookies, but I don't understand them. I think they're good, so the addition of raisins here made me pretty happy. It rounded the cookie out and reminded me of the classic oatmeal raisin cookies I used to eat (pre-paleo).
The Double Chocolate Chip was perfectly chocolatey. Every bits had creamy bits of chocolate chips that melted in my mouth and added to the great chocolate flavor. I had to share the cookies with my husband (he had to taste them too, of course), and when I finished my half, I looked over with disappointment when I realized there was no more. The chocolate was definitely my favorite.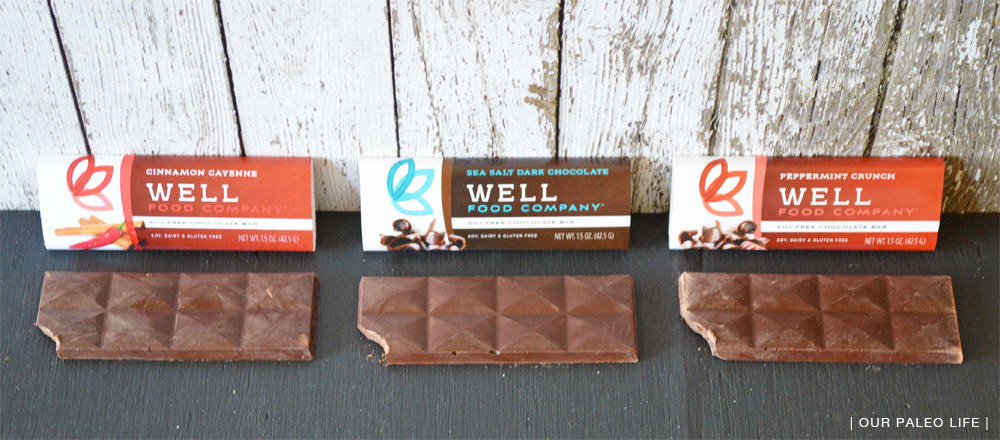 This chocolate is dark, like 85% dark, so if you're used to a sweeter chocolate, this might be a little different than what you're used to. Our family is very used to dark chocolate, even our kids, and this was a little less sweet than what I'm used to, very cacao-tasting.
We tried the Sea Salt, Cinnamon & Cayenne, and Peppermint Crunch flavors. I loved the bits of sea salt in the chocolate, that's my favorite addition to any chocolate. Our kids really like the Peppermint Crunch bar and kept asking for more. I didn't feel the least bit bad about indulging them because the ingredients are so simple and clean. The Cinnamon & Cayenne flavor had just a little kick of spicy to it which was nice.
Overall, we are crazy impressed with this company, both the people and the food. We will, without a doubt, be purchasing more of these products (can you tell I'm in love with the jerky, and those protein bars are the best!) and taking them with us on all of our Colorado adventures.
I imagine you're wishing you had some of these snacks to munch on right about now, and I don't blame you. So how about we get on with the giveaway so you can have your very own chance to receive your own early paleo Christmas box.
Well Food Company has generously donated an entire Ultimate Paleo Travel Package (AKA the 72-Hour Survival Package) to one of my readers! That's $105 worth of this amazing food, all for you! All you have to do is enter in the Rafflecopter widget below for your chance to win.
The 72-Hour Survival Package includes:
1 – Paleo Steak Sticks (Original) = 240 Cal per package
1 – Paleo Snax – Pineapple Coconut – Sm = 581 cal per package
1 – Wolf Snax – Keto Pack – Sm = 269  cal per package
1 – Grassfed Whey Protein Bar = 430 Cal per package
1 – Paleo Cookie (Double Choc. Chip) = 280 Cal per cookie
1 – Soy Free Dark Chocolate Bar = 279 Cal per bar
= 2079 Calories per person per day * 3 days = 6237 total calories
+ a Well Food Co Recycled Tote Bag
*Note – This giveaway is open to US residents age 18 or older.
Well Food Company is offering a 20% discount to all Our Paleo Life readers.
Go to shop.wellfoodco.com and enter code OPL0714 at checkout.
Coupon code expires July 31, 2014 so hurry over and order this week.
The coupon has been extended through August 16, 2014!
Make sure you have an account & are logged in to use the coupon.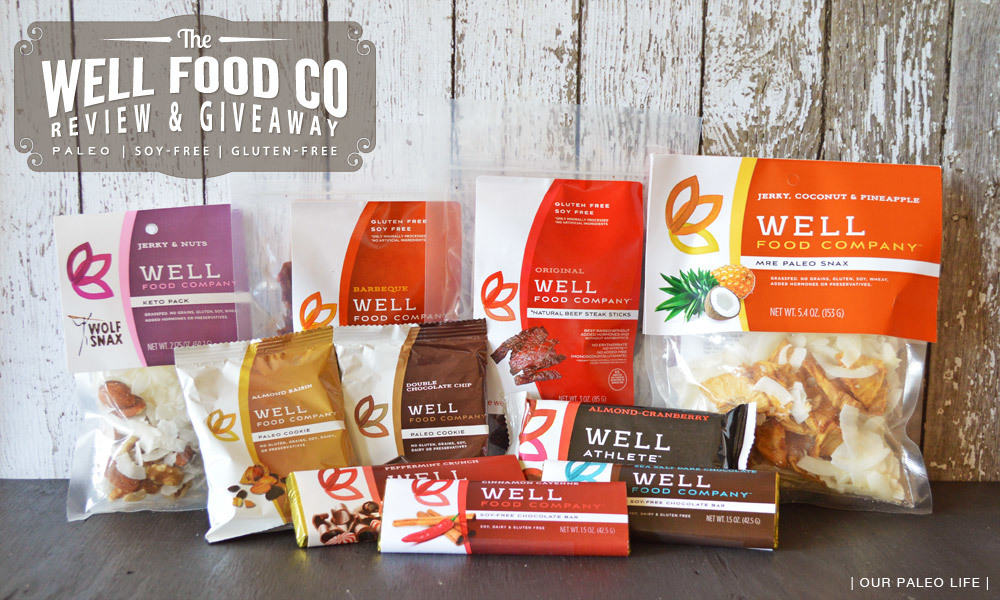 * This review is my honest opinion of the products provided.
** Do you have paleo treats that you'd like the Our Paleo Life family to review. Let us know!