This cocoa is a bit rich, so you might want to cut back on the cocoa if you're not a chocoholic. Also, the grass-fed gelatin isn't required to make this recipe a success, it just helps thicken it a bit (since I prefer almond milk over the thicker option of coconut milk), and it also adds some protein and lots of other good-for-you stuff. It's a secret super-food 🙂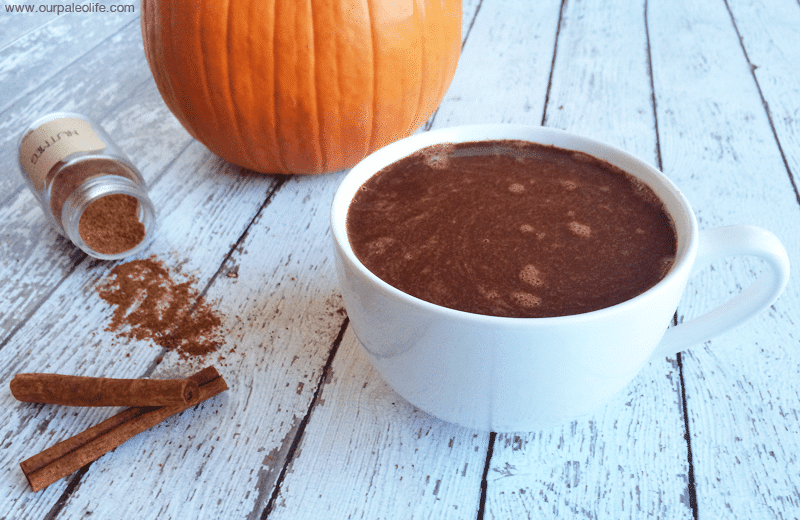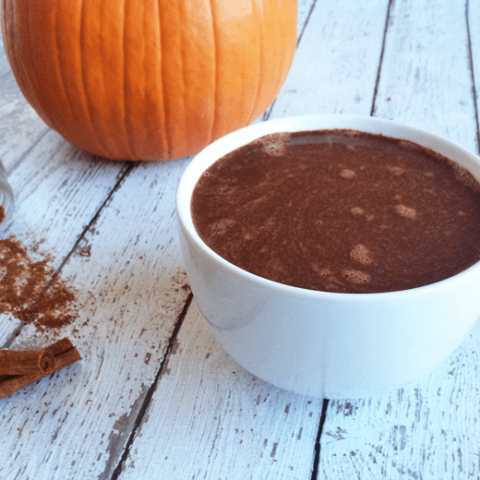 Pumpkin Spice Hot Cocoa
The original recipe called for 4 Tbsp Cocoa Powder. After retesting, 3 is plenty (unless you like a really strong cocoa)
Ingredients
2 cups Unsweetened Almond Milk
1 tsp Tahitian Vanilla Extract
5 Tbsp Honey
3 Tbsp Cocoa Powder
1 tsp Pumpkin Pie Spice
1 tsp Grass-Fed Gelatin
1/8 tsp Sea Salt
Instructions
Combine the cocoa powder, pumpkin pie spice, gelatin, and salt in a small bowl. Set aside.
In a medium saucepan, heat the almond milk and vanilla over medium heat until scalding (not quite boiling).
When the milk is heated, add the honey and whisk until combined.
While whisking constantly, slowly pour in the cocoa powder mixture. Never stop whisking. If you do, you'll wind up with grody lumps.
After you've poured in all the cocoa powder, continue whisking just a little longer to ensure it's all mixed and no lumps remain.
Serve hot, topped with paleo marshmallows.
Nutrition Information
Yield

2
Amount Per Serving
Calories

233
Total Fat

3g
Saturated Fat

0g
Trans Fat

0g
Unsaturated Fat

2g
Cholesterol

0mg
Sodium

147mg
Carbohydrates

50g
Fiber

2g
Sugar

44g
Protein

4g