You know what I love? Crock pots. I love crock pots. I got mine a decade ago as my very first engagement gift from my grandma. When I got it, I thought, "Well isn't that nice, but I'll probably never use it". I was so naive. Crock pots are freaking awesome. You just throw a bunch of food in it and 8 hours later, dinner! And now that I'm a mom of 3, and my brain is basically fried and utterly useless, it's cool that I don't have to worry about forgetting to make dinner at 5pm because I remembered to do it a 8am and look like a super prepared mom. Win win, people.
I am starting to understand that pretty much anything can be made in a slowcooker. As is obvious from this post, right? Rotisserie-ish chicken in a crock pot? Yes, please. Now, I suck because I can't remember where I first saw this idea, so I can't give credit where credit is due, just know this wasn't originally my idea.
So, the secret is to get the chicken up off the bottom of the slowcooker. You don't really want it sitting in all those juices getting soggy and gross. So what you do is take 4 squares of tin foil, ball them up kind of loosely, and place them in the bottom of the slowcooker. I like to squish them down a little after I put them in so that the tops of all 4 are somewhat even so the chicken sits nicely in there.
After you've got your foil in there, plop your nasty raw chicken on top. Sometimes, I'll cut slits in the breasts and legs and shove some garlic cloves between the meat and skin. Then I like to give mine a light spritz of olive oil with my Misto. After that, I put whatever combo of spices on top and rub it in all over. My favorite is the Anything Dry Rub, but use what you like if that doesn't float your boat. Cover up your slowcooker, set it on High for 4-5 hours or Low for 6-8 hours. If you have a baster, suck up some of the juices in the bottom of the crock pot and pour it on the chicken every now and then. It makes it much yummier.
The difference between a oven-roasted chicken and a crock pot chicken is that the skin doesn't get crispy. I'm not a skin-eater, myself, but if you like a crispy skin, you could stick it under the broiler for a few minutes after you take it out of the crock pot. It might be a feat, though, because the slowcooked chicken will be very tender and just might fall off the bone, so lift with care.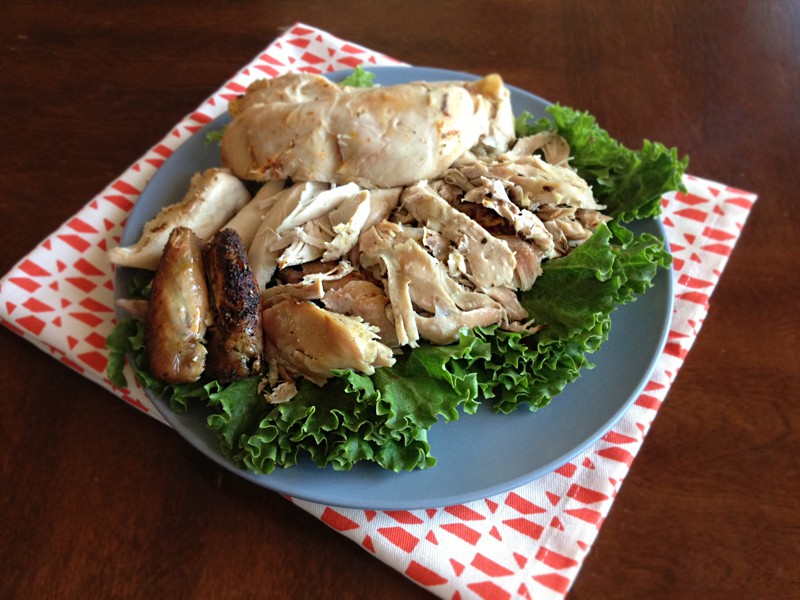 I tried to take the whole chicken out of the crock pot to take a pretty picture, but it literally started falling apart, I didn't even have to cut it. Look at that whole plate of chicken! I had that thing carved (and by carved, I mean I pulled the pieces off with my fingers) in less than 3 minutes.
So stick a chicken in the crock pot and look awesome.