Recipe Macros
Tracking your macros is important while trying to remain in Ketosis. Here they are for one serving of this recipe.
Fat: 4g
Protein: 21g
Carbs: 18g (net)
Icons do not reflect ingredients.
Teriyaki anything is great. But what's even better than that is easy food. Even better than that? Delicious easy food. And that's what this is. There's minimal stirring and no chopping. Just check on it every once in a while and you're good to go.
This is one of those dishes that is perfect to bring to a new mom or someone who needs an extra hand. An easy, delicious way to provide service.
I kinda want to write more so this post isn't so short, but I really don't have anything else to say. I could whine about being sore from the gym, but if Rob is tired of hearing it, you probably don't want to hear about it either. And since that's the only thing currently on my mind, I will say nothing more and just give you this recipe instead. Win win.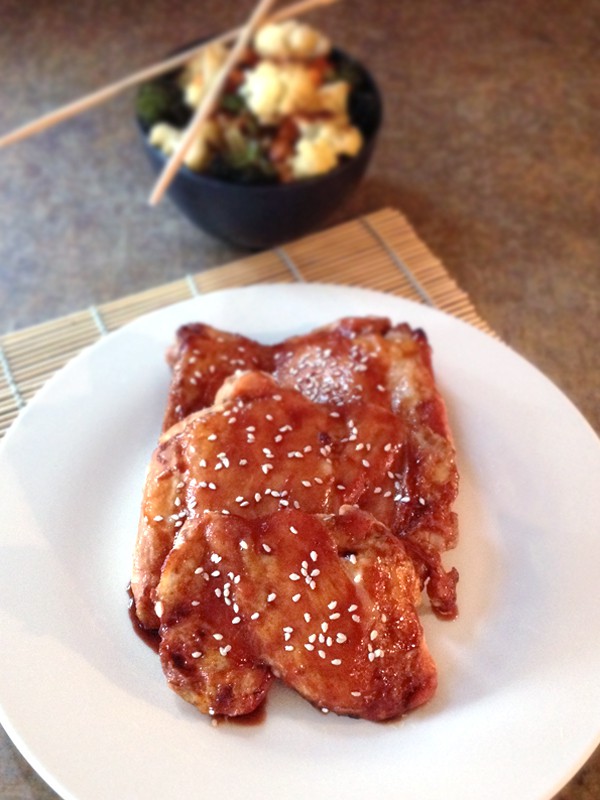 Baked Teriyaki Chicken
Print
Instructions
Preheat the oven to 425F.

In a small saucepan over medium-low heat, combine everything except the chicken. Let simmer, stirring occasionally, until the sauce thickens slightly and bubbles.

Place chicken thighs in a 9×13 baking dish lightly greased with coconut oil or olive oil. I open the thighs so they cook quicker, but that also takes up more room so I can only fit 9 in the dish.

Brush chicken with the teriyaki sauce. Turn chicken over and brush again.

Bake in the preheated oven for 20 minutes, brushing with sauce every 10 minutes.

Turn chicken over and bake for an additional 20 minutes, brushing with sauce every 10 minutes.

Make sure the internal chicken temp is 165If your chicken thighs are large, you may need to cook them longer.

Serve hot.
Recipe Notes
Nutrition Facts are based on 9 chicken thighs (9 servings)
Nutrition Facts
Baked Teriyaki Chicken
Amount Per Serving (1 thigh)
Calories 207
Calories from Fat 36
% Daily Value*
Total Fat 4g 6%
Cholesterol 107mg 36%
Sodium 403mg 17%
Potassium 291mg 8%
Total Carbohydrates 18g 6%
Protein 21g 42%
* Percent Daily Values are based on a 2000 calorie diet.