Simple, delicious, and loaded the right flavor profile and texture, this Berries and Cream Keto dessert is sure to be a family favorite.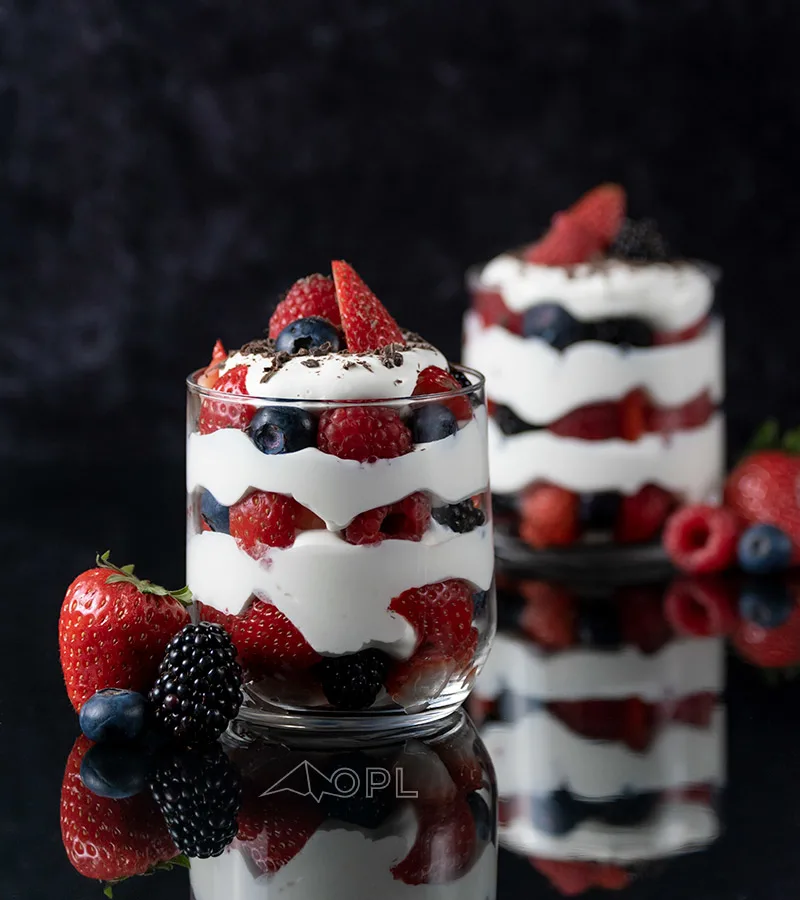 No Sugar Added Berries and Cream
Berries are a great source of antioxidants, fiber, and vitamins. They are also low in calories and sugar. Berries can be eaten raw or cooked with other fruits to make delicious desserts or jams. In this recipe, there's no cooking needed.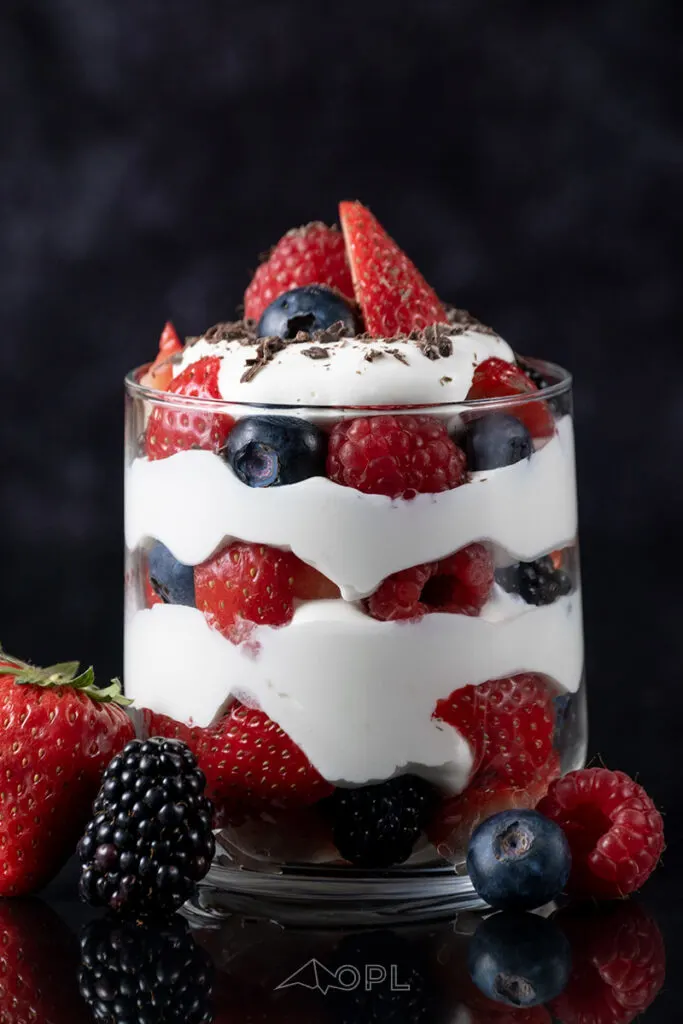 Nutrition Facts About Berries
A great option on the Keto Diet, berries are nutritious and delicious. Here are a few facts:
Blueberries

Fresh blueberries are a popular summer treat, they have a sweet flavor, they're succulent and nutritious, so it's not surprising that a lot of people like to eat them.
The anthocyanin in blueberries gives them both their color and many of their health benefits.
Blueberries are an all-natural food and are full of many health benefits. These include improved heart health, strong bones, healthy skin, better blood pressure levels, help with diabetes issues and cancer prevention. Eating blueberries is also shown to have a positive effect on mental health
One cup of blueberries provides 24% of a person's recommended daily allowance for vitamin C.
How Many Calories in Blueberries?
A half-cup serving of blueberries contains:
Calories: 42
Protein: 1 gram
Fat: Less than 1 gram
Carbohydrates: 11 grams
Fiber: 2 grams
Sugar: 7 grams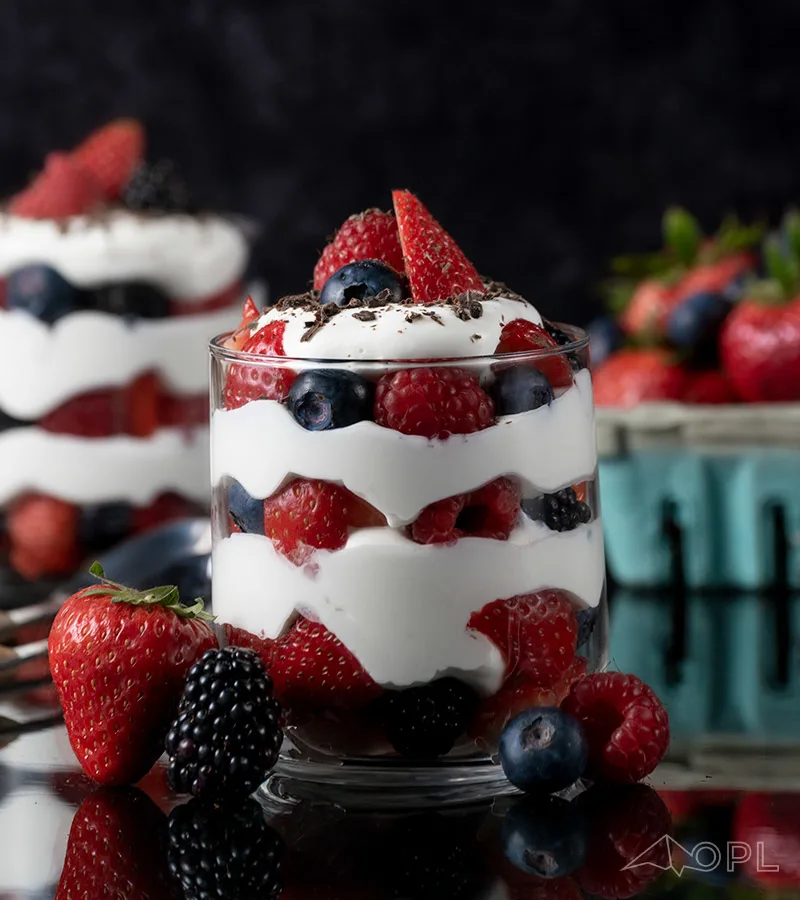 Raspberries

Raspberries are one of the most nutritious foods out there and they pack a lot in a small space. They provide potassium which is needed to maintain healthy heart function and can also help lower blood pressure.
The omega-3 fatty acids in raspberries can help prevent stroke and heart disease. They also contain a mineral called manganese, which is responsible for healthy bones and skin, as well as regulating blood sugar.
Raspberries are a delicious fruit that contain Vitamin C in the form of ascorbic acid. Ascorbic acid is vital for producing collage. With age, you can lose your natural production of collagen which causes wrinkles and sagging skin.
How Many Calories in Raspberries?
Half Cup of fresh raspberries (61g) provides 32 calories, .75g of protein, 7g of carbohydrates, 0.4g of fat and 7mg of vitamin C
Calories: 32
Fat: 0.4g
Sodium: 0mg
Carbohydrates: 7g
Fiber: 4g
Sugars: 2g
Protein: .75g
Vitamin C: 16mg
Magnesium: 13mg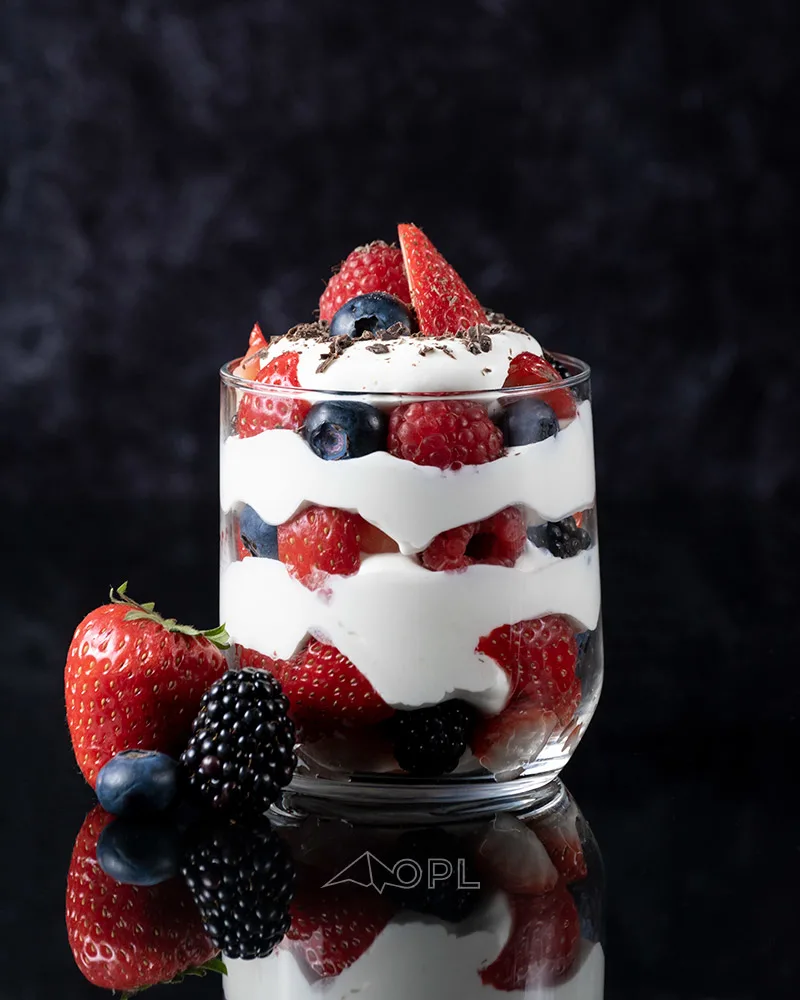 Strawberries

Strawberries are full of vitamins and minerals and have high levels of antioxidants. They are among the top 20 fruits in antioxidants and provide a good amount of manganese and potassium. Just one serving – about eight strawberries – provides more vitamin C than an orange.
How Many Calories in Strawberries?
1/2 cup, halves (75g )
Calories 25.
Total Fat 0.5g
Cholesterol 0mg
Sodium .75mg
Potassium 115mg
Total Carbohydrates 6g
Blackberries

Blackberries have many health perks. They're full of vitamins and minerals, like C, K, and manganese. Research suggests the berry may help with brain health.
Just one cup of blackberries provides half the recommended daily dose of vitamin C. This nutrient is integral to collagen formation in bones, connective tissue, and blood vessels.
Nutrition Facts for Blackberries
A half cup of blackberries (75g) provides 31 calories, 1g of protein, 6.5g of carbohydrates, and 0.3g of fat.
Calories: 31
Fat: 0.3g
Sodium: .5mg
Carbohydrates: 6.5g
Fiber: 3.8g
Sugars: 3.5g
Protein: 1g​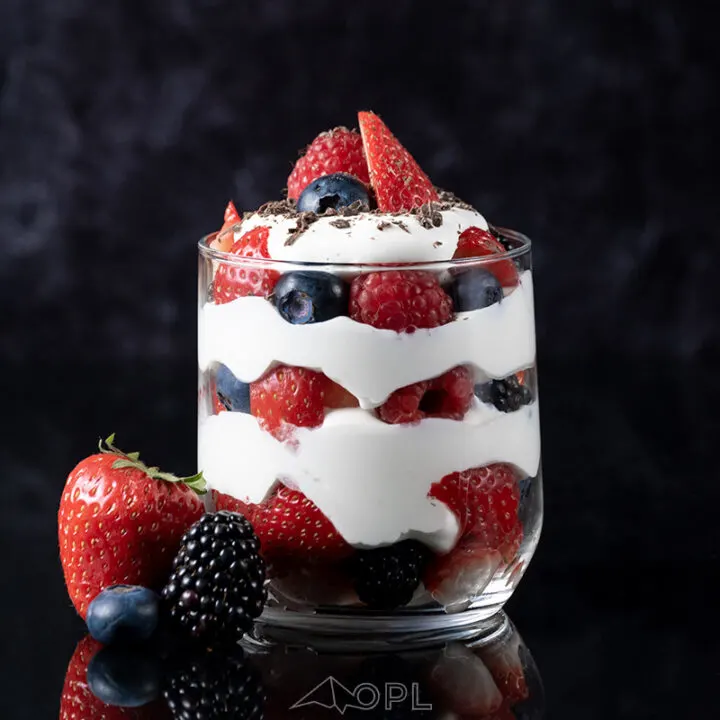 Sugar-Free Berries & Cream
Ingredients
1/2 pint Blueberries
1/2 pint Blackberries
1/2 pint Raspberries
1/2 lb Strawberries
1 cup Heavy Cream
1 Tbsp Allulose (optional)
Instructions
PREPARATION
Combine the heavy cream and allulose, if using, and whip to soft peaks. Set aside. There are 3 options to accomplish this:
a) PREFERRED: Using a whisk attachment on an immersion blender, whisk in a tall glass or cup (the taller the better to prevent splattering);
b) In a bowl using the beater/whisk attachments on a hand- or stand-mixer;
c) NOT RECOMMENDED: By hand, with a regular whisk (this takes a LONG time and will wear out your arm very quickly)
Remove the leaves from the strawberries, cut into quarters, then cut the quarters in half. If the blackberries and raspberries are large, cut them in half.
ASSEMBLY OPTIONS
Option 1: Simply mix it all together and divide evenly between 3 serving glasses.
Option 2: Evenly divide the beerries between 3 serving glasses, layering with equal amounts of whipped cream per glass.
SERVING
Using a cheese grater or vegetable peeler, grate the dark chocolate over the top of the berries & cream.
Serve right away or store tightly covered in the fridge for up to 3 days. Any longer and the whipped cream will deflate and become runny.
Nutrition Information
Yield

3
Serving Size

1
Amount Per Serving
Calories

370
Total Fat

30g
Saturated Fat

18g
Trans Fat

1g
Unsaturated Fat

9g
Cholesterol

90mg
Sodium

24mg
Carbohydrates

20g
Net Carbohydrates

10g
Fiber

10g
Sugar

10g
Protein

4g
Pin this recipe: