These simple and incredibly delicious cheese crisps are exactly the Keto Chips you've been hoping for. Bonus: no skills necessary.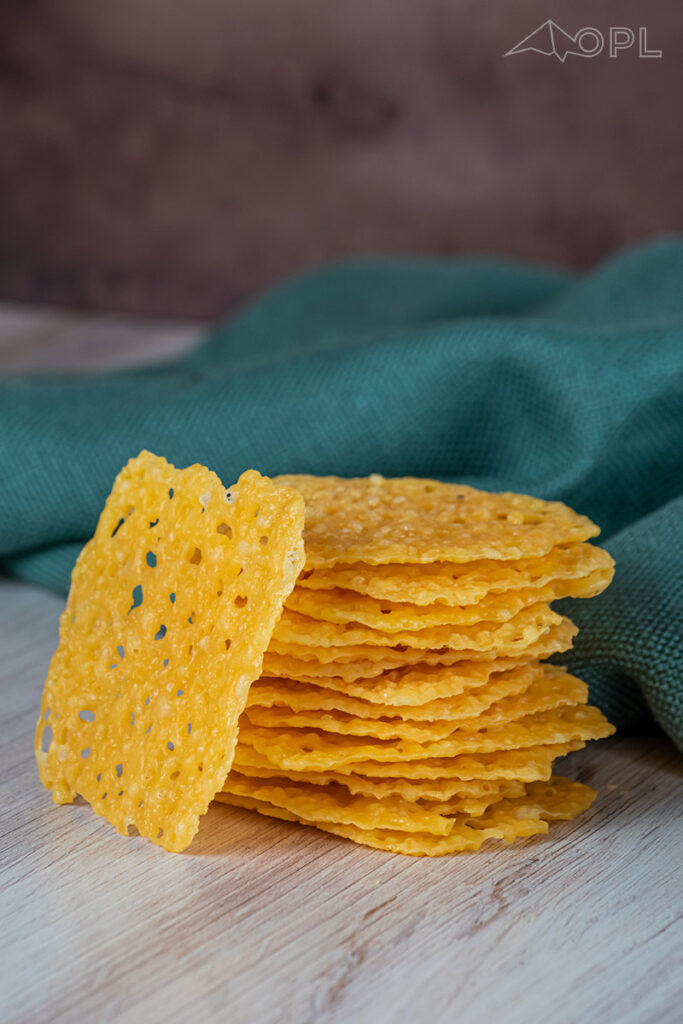 Crunchy Keto Snacks
A common concern when "going Keto" is: "What can I have that's crunchy?" If you miss eating potato chips or crackers, there are a few options to fill the void.
Keto Approved Crunchy Options
Pork Rinds
Protein Chips
Protein Puffs
Pepperoni Chips
Nuts
Cheese Chips (this easy recipe)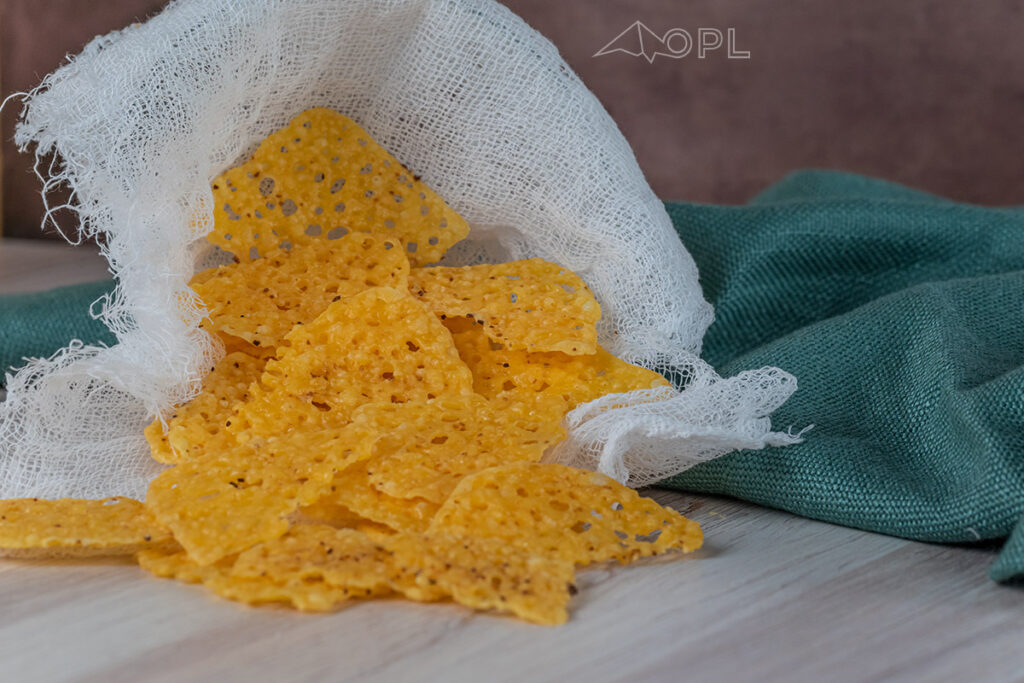 Cheddar Cheese Keto Crisps
Cheddar cheese is a good source of calcium—one of the most important nutrients for promoting bone health. People who maintain a healthy diet and lifestyle can enjoy cheddar cheese as part of their balanced diet.
What about saturated fat?
You've probably heard that you need to limit the amount of saturated fat you consume. The question is: why? We've written an extensive blog post on the history of why saturated fat has been vilified. It's a very interesting read with some very well known historical figures. Check it out: The History of Saturated Fat in America
Cheddar cheese (along with many other "Keto Approved" ingredients) is high in saturated fat but you don't need to see it as an obstacle to obtaining your goals. Fat is an energy lever and you need it (especially) as you replace carbs with protein and fat.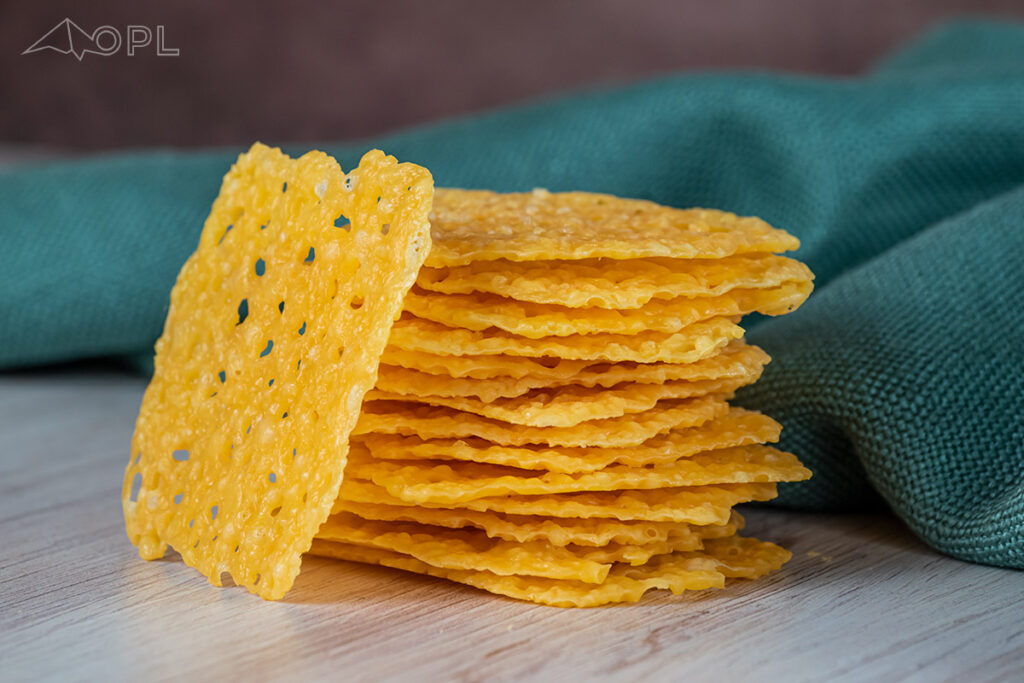 Favorite Keto Combo
Sometimes you come across the perfect combination of texture and flavor. Here's one of our favorites"
Incredible Keto Snack Combo
I love these cheese crisps with Macadamia nuts. It only take a small amount of both to feel satisfied and full.
Keto Cheese Crips + Macadamia Nuts = Perfect Keto Snack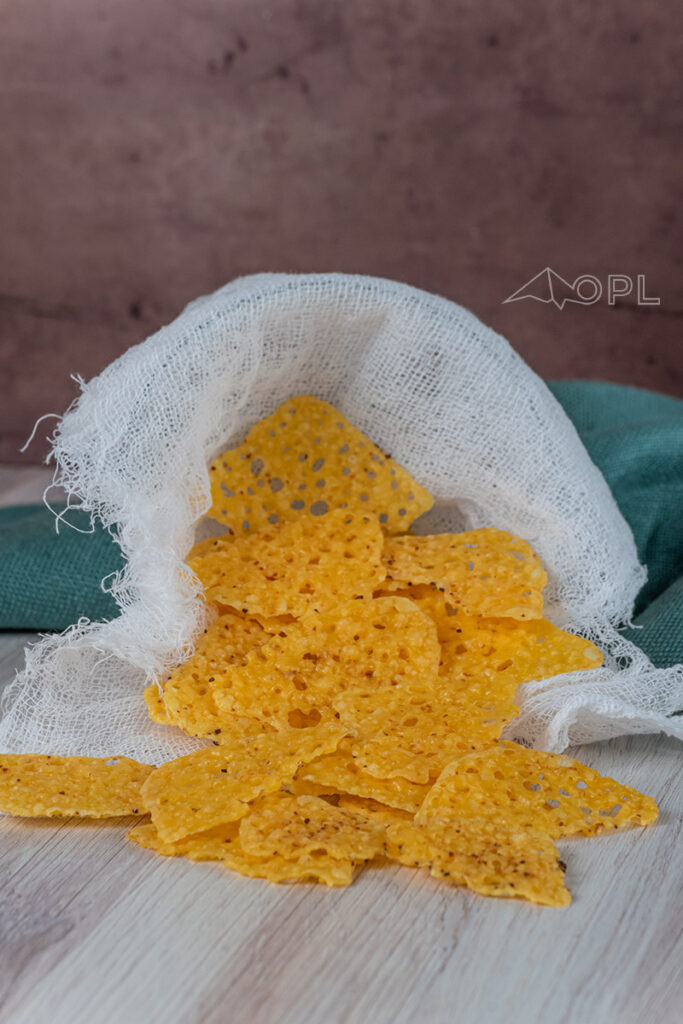 When eating high fat, keep in mind, there are more calories in one gram of fat than in one gram of protein / carbs.
Calories Per Gram
Fat: 9 calories | Protein: 4 calories | Carbohydrate: 4 calories
With this in mind: practice portion control by adding what you want to eat in a bowl (don't eat from the package).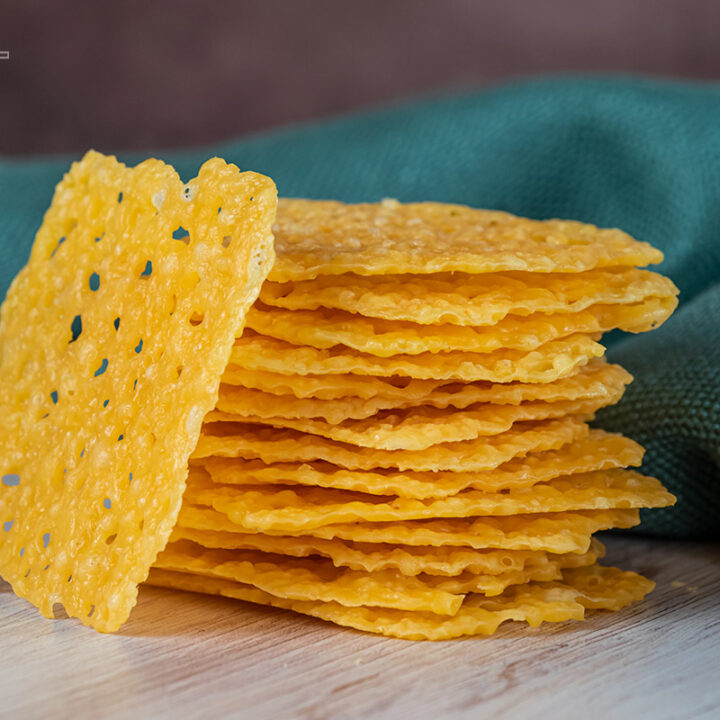 One Ingredient Cheese Crisps
Ingredients
Real Cheese Slices (we prefer Tillamook Medium Cheddar), see notes
Instructions
Preheat oven to 350°F. Line a baking sheet with parchment (not wax) paper. Set aside.
Cut cheese slices into your desired shape. They will spread as they melt and cook so nothing too fancy here, just squares or triangles will do.
Arrange the cheese shapes on the parchment paper with at least 1/2" spacing between each piece, preferrably a llittle more. Season with Savory Salt, if desired.
Bake in the preheated oven for 12-14 minutes, or until bubbly with lots of lace-looking holes. Remove from oven and let cool until until firm enough to remove without bending. Place cheese crisps on a paper towel to drain any excess oil and to finish cooling ocmpletely.
Once cooled, keep stored in a tightly-sealed container at room temp for up to 2 weeks. If you live in a humid climate or the container is not properly sealed, the crisps may get soft over time.