Last Updated on July 9, 2020
Cheeseburger Sloppy Joe Recipe
Sloppy Joes, the ultimate mom-doesn't-care dinner. I grew up really disliking sloppy joes for no particular reason. It's not that they didn't taste good, I just didn't like them. For that reason, I often forget to make them, even though my family (myself included) really likes them now.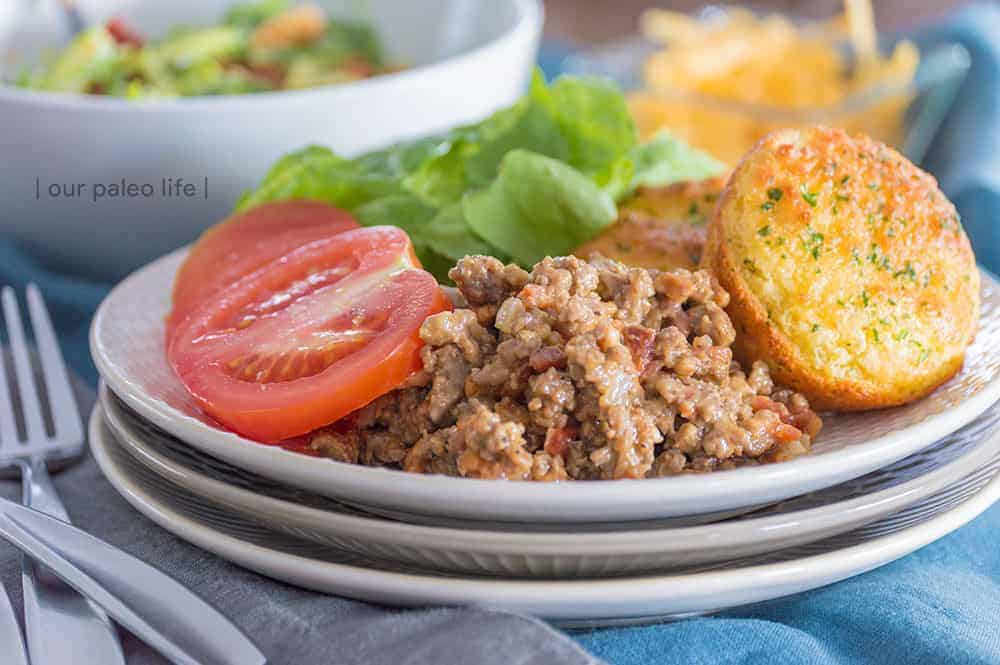 We actually really like them on Paleo Waffles, but since making the transition to a low-carb lifestyle, we haven't had them lately. Everyone in our family really loves cheeseburgers (a lot), so the idea of combining our favorite food with an easy-to-make dinner made a lot of sense to me.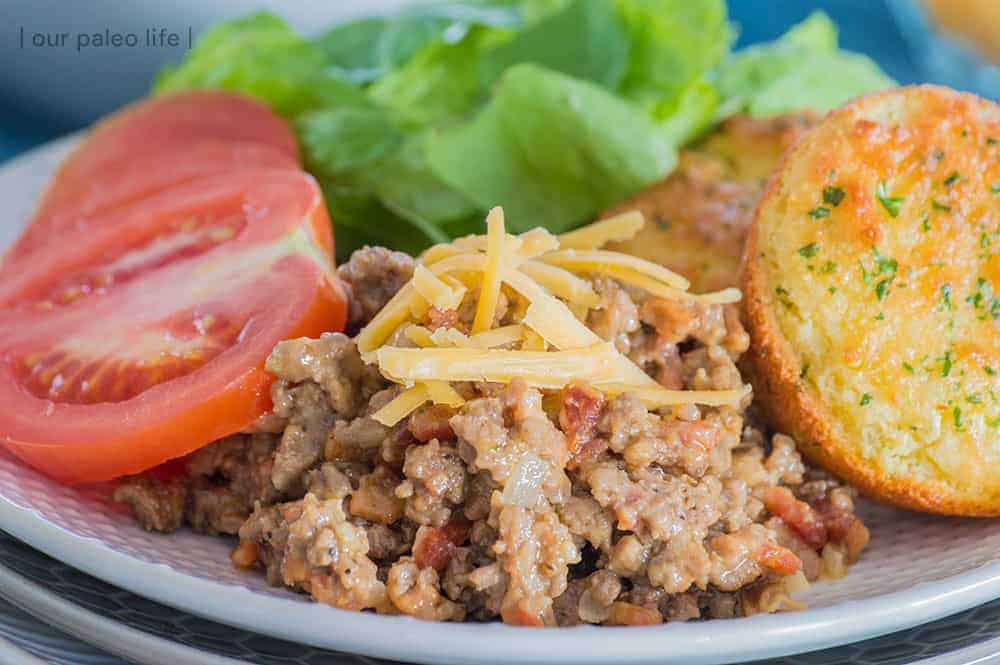 Sloppy Joes for Dinner!
Turns out, the combo of sloppy joes and cheeseburgers is a winner! And we also found that this meal is best served with Low Carb Cheddar Garlic Biscuits. So good! Add some chopped romaine and a slather of mayo on your biscuit and this is the perfect comfort food.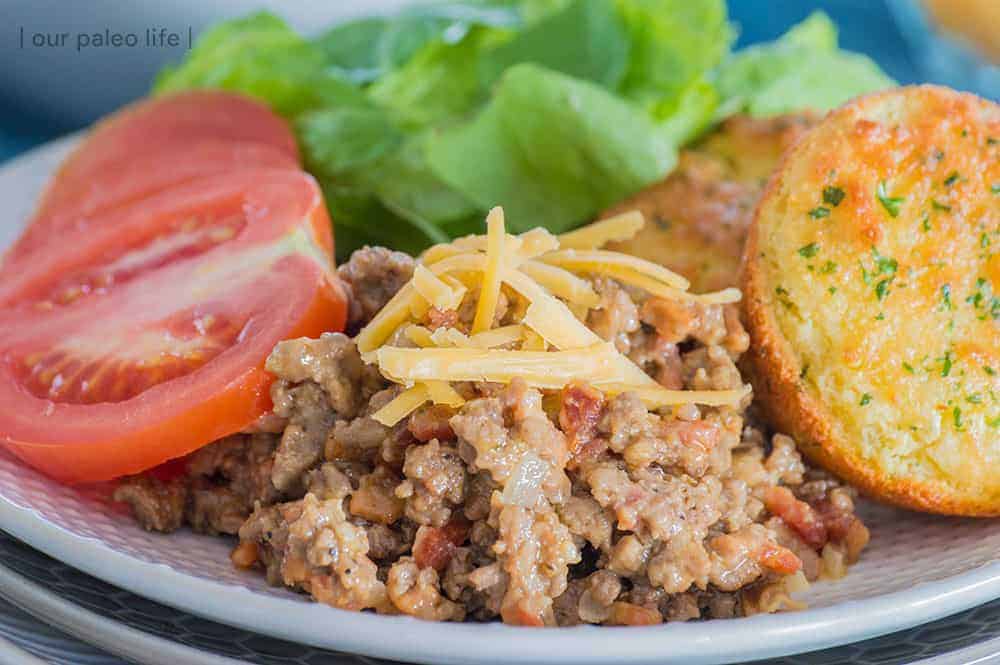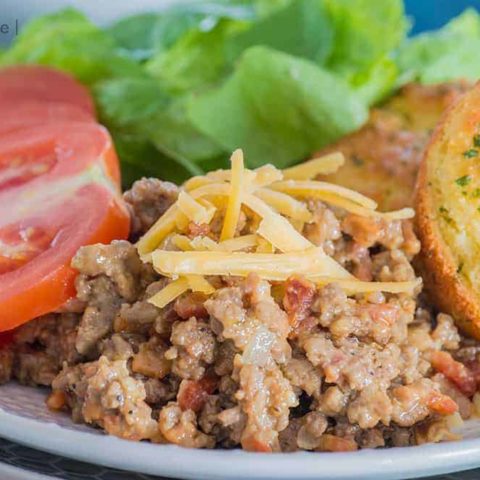 Cheeseburger Sloppy Joes
Ingredients
12 slices Thick-Cut Bacon
2 lbs Ground Beef
2 Tbsp Grass-Fed Butter
1 large Yellow Onion, diced
4 cloves Garlic, minced
1 tsp Salt
1 tsp Ground Black Pepper
2 Plum Tomatoes, chopped
2 tsp Yellow Mustard
1/2 cup Beef Stock/Broth
2 Tbsp Heavy Cream
10 oz Sharp Cheddar Cheese, shredded
Serving Suggestions
1 batch Low-Carb Cheddar Garlic Biscuits, for low-carb option
1 batch Paleo Waffles, if not low carb
Romain Lettuce, chopped
Paleo Lime Mayo
Instructions
Line a large rimmed baking sheet with foil and place the bacon in a single layer on it. Put in the cold oven, turn it on to 400°F, and set the tier for 20 minutes. Remove the bacon when it is cooked and crispy (but not overcooked) and drain on paper towels. Dice into small bits when cool enough to handle.
While the bacon is cooking, brown the ground beef in a large skillet. When completely browned, drain any excess grease.
While the beef is browning, melt the butter in a small skillet. Add the onions and garlic and saute until translucent, browned, and fragrant.
With the burner still turned on to medium heat, add the cooked onions/garlic, salt, pepper, chopped tomatoes, and mustard to the ground beef. Stir to combine everything evenly. Add the beef stock and cream and stir. Allow to gently simmer for about 3-5 minutes to allow the mixture to thicken slightly (there will still be liquid in the pan).
Add the diced bacon and the shredded cheese to the skillet. Stir to mix everything together and to allow the cheese to melt into the mixture.
Serve hot over Paleo Waffles (if not low carb) or Low-Carb Cheddar Garlic Biscuits. Spread a little mayo on the waffle or biscuit, add a little chopped romaine, and put sloppy joes on top.
Notes
Nutrition Facts do not include biscuits or waffles
Nutrition Information
Yield

8
Amount Per Serving
Calories

709
Total Fat

60g
Saturated Fat

26g
Unsaturated Fat

0g
Cholesterol

166mg
Sodium

1042mg
Carbohydrates

4g
Sugar

1g
Protein

35g
Nutrition is calculated by a third party and may not be 100% accurate