'Tis the season of dinner parties and cocktails, so if you're in need of something that family and friends of all ages can drink, this is it.
Yesterday, I posted a recipe for Homemade Cranberry Juice. After the first time I made it, I immediately wanted to make a fancy pants drink with it. I mean, who doesn't want some festive concoction with actual garnishes on the glass? It's those little things that make the holidays more holiday-ish, you know?

We are non-drinkers in this house. If there's a celebration, party, or other event, we're passing on the adult beverages. At our wedding, we had about 30 bottles of Martinelli's Sparkling Apple Juice in place of champagne. So when it comes to holiday drinks, I have a hard time finding some that aren't loaded with liquor. The non-alcoholic base for this drink is, of course, Sparkling Martinelli's, which I love because it's just fizzy apple juice. You could certainly replace the Martinelli's with anything you wanted, just make sure it's pure juice with no added sugars or weird stuff. I also think that GT's Cranberry Kombucha would be great, though a little less sweet.
As soon as I was done taking the photos for this recipe, my kids snatched up those festive glasses full of "soda" and guzzled it down, even eating the cranberries. Which I wouldn't do, but more power to them. They always have been a little odd. I think they get it from their dad…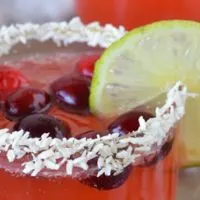 Non-Alcoholic Cranberry Lime Spritzer
Not all holiday treats are kid-friendly, so make them (or yourself, for that matter) a little something special without the alcohol and added sugars. Homemade cranberry juice lets you control the ingredients and sweetness.
Ingredients
4 cups Sparkling Apple Juice, like Martinelli's, divided
1 cup Homemade Cranberry Juice, divided
¼ cup Fresh Squeezed Lime Juice, divided
Frozen Cranberries and Lime Wedges, optional, for garnish
Honey and Unsweetened Shredded Coconut, optional, for garnish
Instructions
Pour a small amount of honey onto a small dish. Pour a small amount of coconut onto another small dish.
Dip the rim of each glass into the honey and then into the coconut. Set the glasses in the refrigerator until you're ready to serve the spritzer.
Pour 1 Tbsp of lime juice and ¼ cup of cranberry juice in each glass.
Top with 1 cup of sparkling apple juice in each glass.
Serve with a lime wedge and some frozen cranberries to keep your beverage cold.
Nutrition Information
Yield

4
Serving Size

1 1/4 cups
Amount Per Serving
Calories

213
Total Fat

4g
Saturated Fat

3g
Trans Fat

0g
Unsaturated Fat

0g
Cholesterol

0mg
Sodium

17mg
Carbohydrates

46g
Fiber

3g
Sugar

36g
Protein

1g
Nutrition is calculated by a third party and may not be 100% accurate