Almost as long as I've been married, crème brulée has been a Christmas tradition. As fancy as it looks, it's actually surprisingly easy to make, though it's the wait time that's the killer, especially for someone as impatient as me.
When eating paleo, crème brulée made with dairy and sugar simply isn't an option, but coconut milk and honey is the perfect replacement. I was able to convert my old favorite recipe 1:1 and it still came out perfect. And in place of the turbinado sugar for the topping, use maple sugar instead, which I actually like better! Maple sugar is just maple syrup that has been dried and granulated.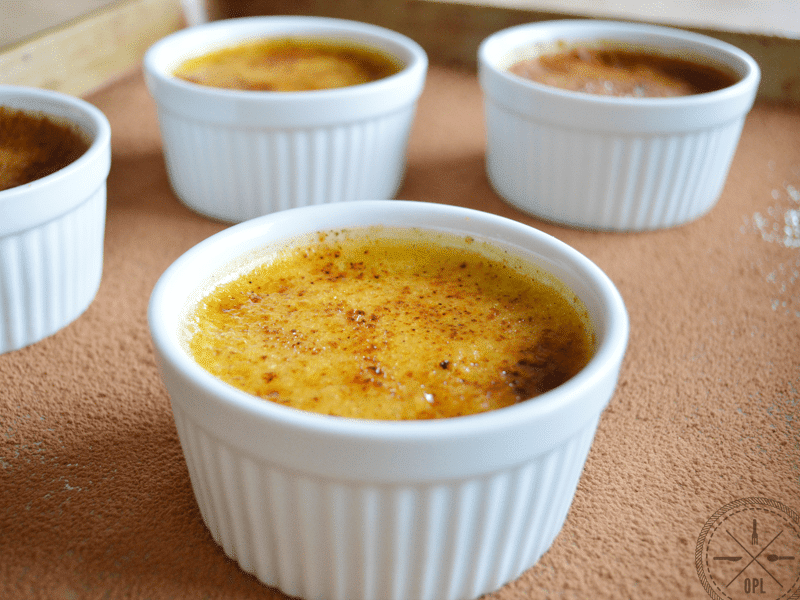 Although the custard-y deliciousness inside the ramekin is amazing, I think my favorite part about a crème brulée is using my spoon to crack through the caramelized topping and crunching down on that crunchy/creamy combination. So much perfection.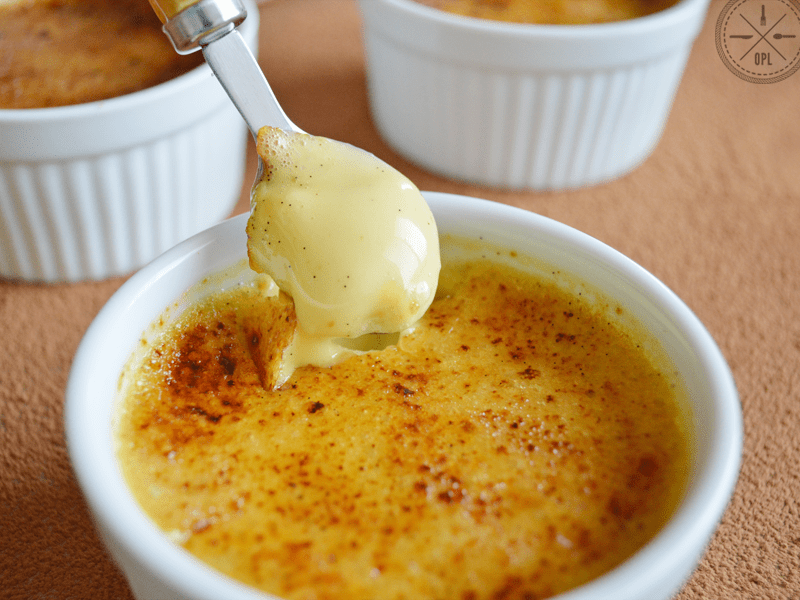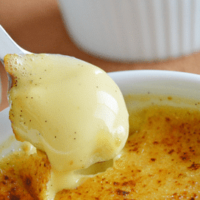 Paleo Crème Brulée
Total Time:
6 hours
55 minutes
Coconut milk replaces dairy in this classic dessert recipe. No worries about gut issues while enjoying your favorite treat. And rather than white sugar as a caramelized topping, use maple sugar instead.
Ingredients
1 cup Full-Fat Coconut Milk, canned
2 Tbsp Mild Honey
½ pinch Sea Salt
1 Vanilla Bean, split and scraped, reserve bean
2 Egg Yolks
Maple Sugar, or Fine Organic Cane Sugar
Instructions
Preheat oven to 300°F. Line the bottom of a large baking pan with a damp kitchen towel. Bring a large pot of water to a boil.
While water is boiling, combine coconut milk, honey, salt, vanilla seeds, and vanilla bean in a saucepan over medium heat. Stir occasionally, 4-5 minutes, until steam rises, but do not bring to a boil. Discard vanilla bean.
In the blender (I use the Twister Jar on my Blendtec), add the egg yolks and blend on Low speed for a few seconds. SLOWLY pour hot cream mixture through the hole in the lid of the blender into the yolks, in a very thin stream, blending constantly until all of the milk mixture is incorporated. Go super slow so you don't wind up with scrambled eggs. This may take a minute or two to incorporate all the coconut milk mixture.
If you don't have a blender, just whisk the eggs in a large bowl and slowly pour in the milk mixture while constantly whisking the eggs.
Pour the custard into ramekins (size doesn't matter, cook time will depend on ramekin size).
Place the ramekins on the towel in the baking dish, and place the baking dish on the center oven rack. Carefully pour the boiling water into the baking dish halfway up the sides of the ramekins, making sure not to get any water into the custard.
Bake 45-50 minutes. If you're using the wide, shallow ramekins, you may need a shorter baking time, closer to 30 minutes. Remove from oven when the custard is slightly firm, and still a little jiggly in the center.
Let cool for about an hour on a wire rack, then cover with plastic wrap and chill 4-6 hours, or overnight.
When ready to serve, blot any moisture off the surface and sprinkle a thin layer of sugar on top of each ramekin (I never measure, just not too thick). Using a kitchen torch, lightly brown and caramelize the tops. If you don't have a kitchen torch, place under the broiler for a few minutes, though this method doesn't work nearly as well. Put the ramekins in the freezer for about 5 minutes after torching to get them cool again.
Serve immediately. If desired, garnish with fresh berries.
Nutrition Information
Yield

4
Serving Size

1 ramekin
Amount Per Serving
Calories

234
Total Fat

15g
Saturated Fat

12g
Trans Fat

0g
Unsaturated Fat

2g
Cholesterol

92mg
Sodium

29mg
Carbohydrates

22g
Fiber

3g
Sugar

11g
Protein

6g