We're big fans of herbal tea around here, especially in the cold winter months. Everyone, even the kiddos, will down a cup or two throughout the day to stay warm and reap some healthy benefits. And although I have a kitchen drawer dedicated to our favorites flavors and varieties that is stuffed to the edges, it looks like it's time to make room for something new.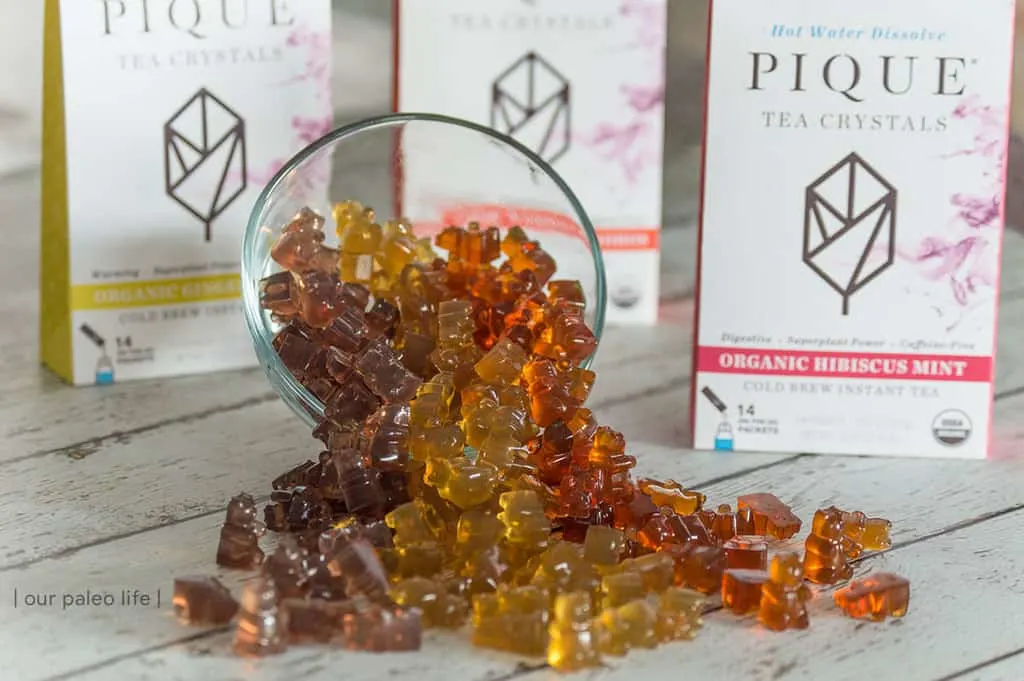 I've been eyeing Pique Tea Crystals for a while, but we only drink herbal tea and all I could find locally was black and green tea. After some time, I was able to get my hands on the Hibiscus Mint, Vanilla Rooibos, and Ginger Citrus herbal teas and could not wait to try them. The thing I love is that you can dissolve the crystals in cold water (just the Hibiscus Mint needs to be hot water, actually), which means that I don't have to wait for cold weather to enjoy the benefits of these teas.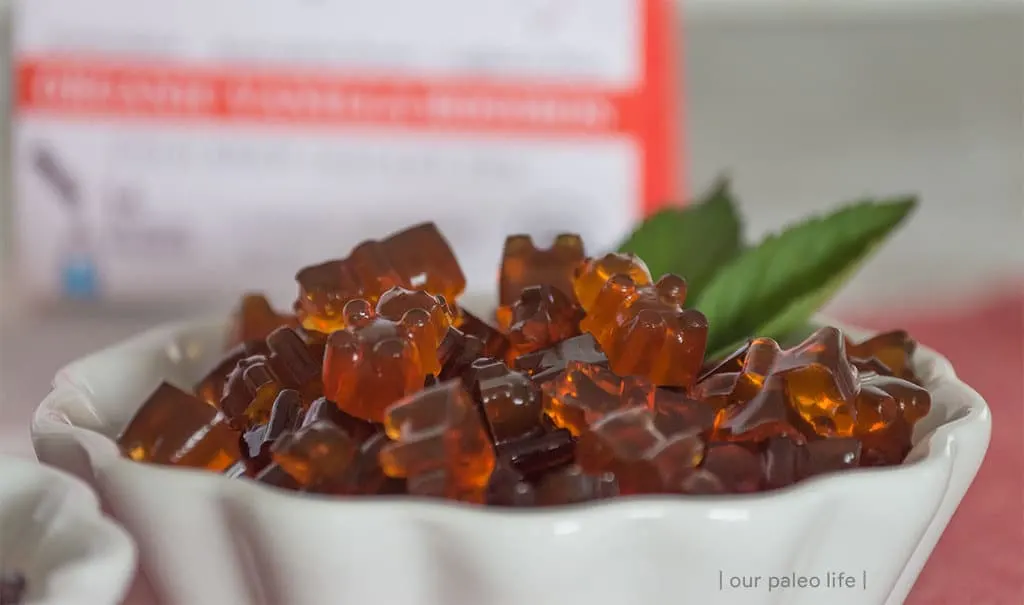 Simple Gummy Bear Recipe
And although I love sipping on these cold teas during the summer, I wanted another way to reap the benefits (you can read all about what makes Pique so great right here). Since my kids have been requesting gummy bears all summer, I decided this was the perfect excuse to get out those super cute molds and get to work. I wanted this to be a simple recipe, not a ton of ingredients or time, but beneficial and tasty for everyone.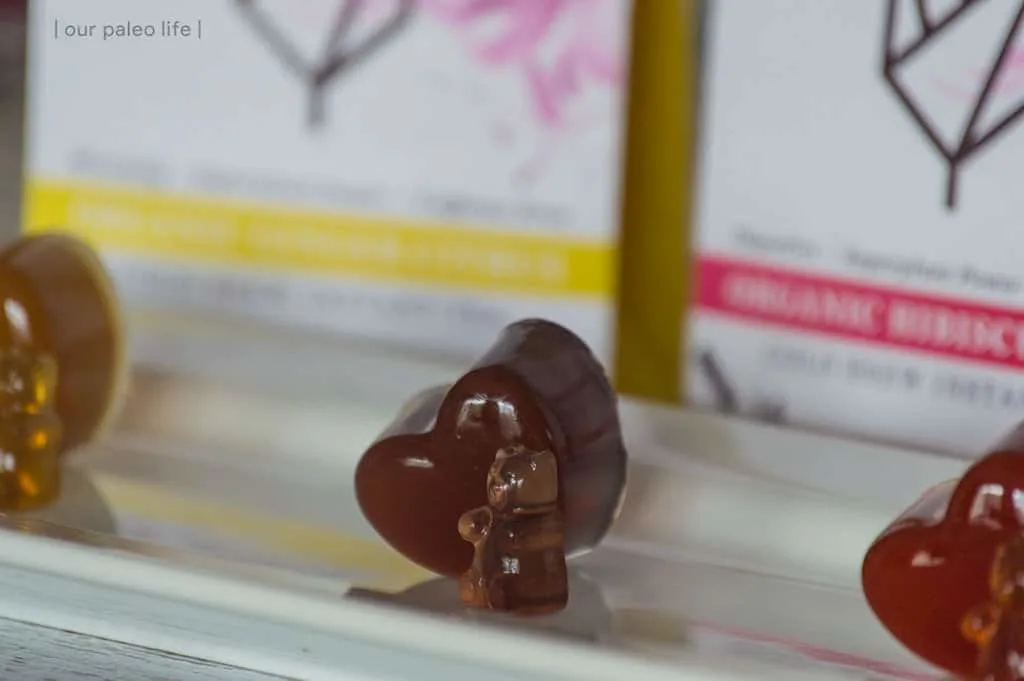 I will readily admit that gummy bear molds are time-consuming, much more so than molds 10 times their size. So while I did make 4 molds worth of bears, I used the rest of the gelatin mixture and poured it into larger molds (which the kids loved equally as much, if not more so).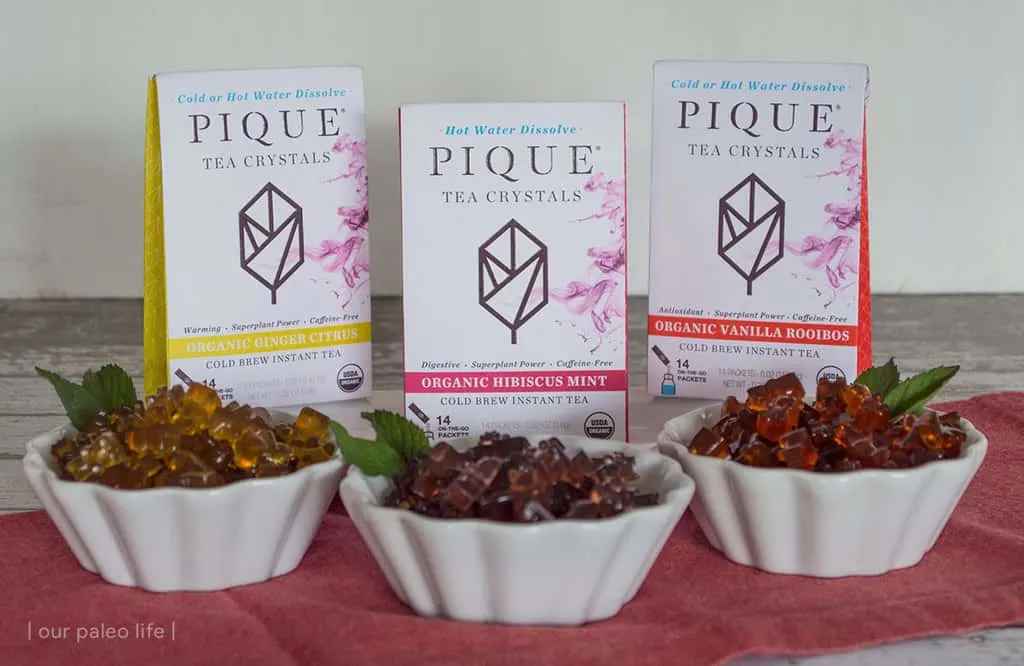 Healthy Gummies
You can definitely get more flavor out of the gummies in the larger molds, obviously, since you've got a larger piece to eat. But there really is nothing cuter than a bowl full of little gummy bears, and it's a fun way for kids to eat their food too.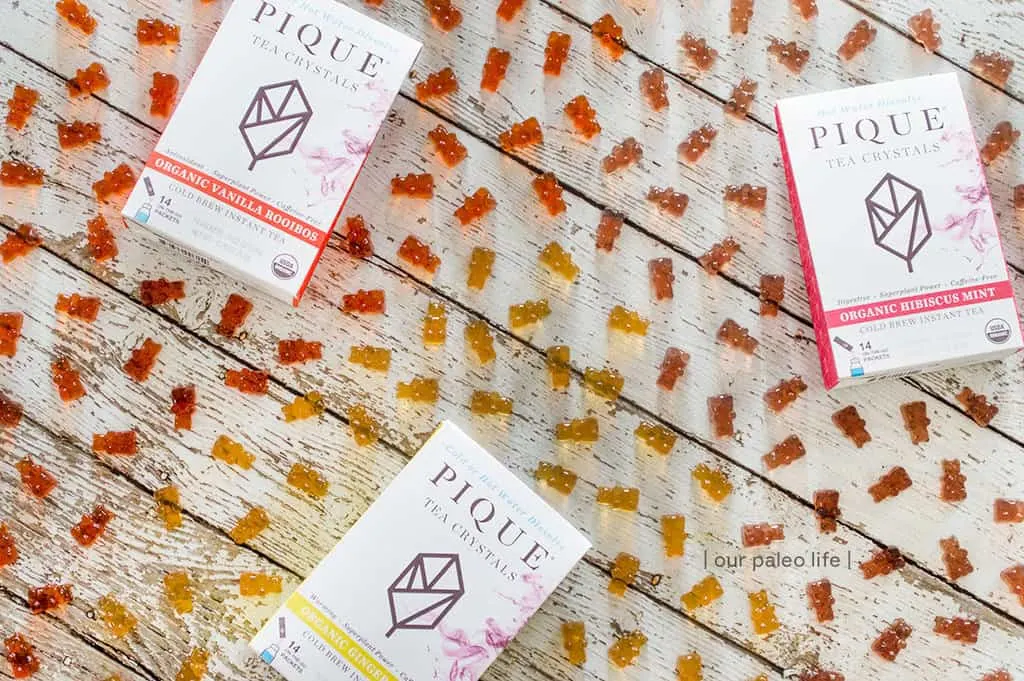 Slow and Steady
The only tricky part to this recipe is incorporating all of the gelatin. The water to gelatin ration is 3:1, and getting all of that powdered gelatin to soften so it mixes in smoothly can only be accomplished if you work slow and steady. Don't be tempted to dump all the gelatin in the water and expect perfect results.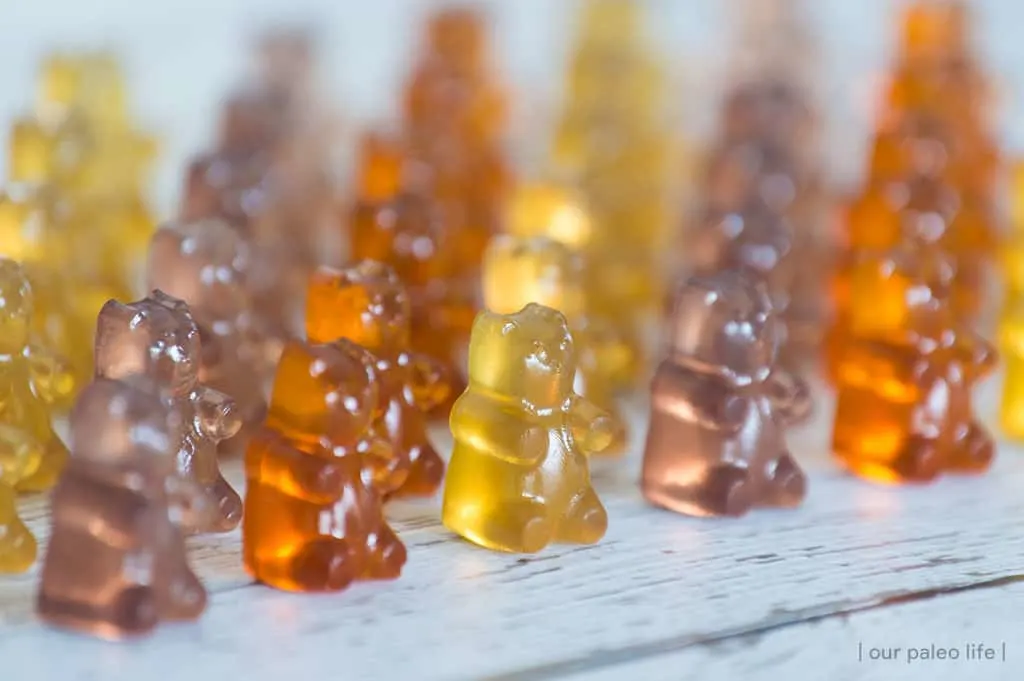 And definitely, definitely, play with your food on this one. Line up those cutie bears, make some stop-action films (the kids loved doing that, including biting off the bears' heads, because I have weird kids), and organize them in rainbow order. Whatever floats your boat. But if you're going to put in the time to fill all those tiny little bear molds, you should at least have some fun with the end results.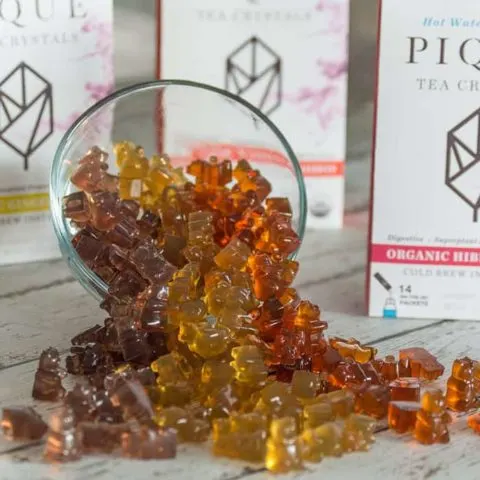 Herbal Tea Gummy Bears
Chilling Time:
20 minutes
Ingredients
1 cup Water, Cold
2-4 sachets Pique Tea Crystals, any flavor, see notes
1/3 cup Grass-Fed Beef Gelatin
up to 1/4 cup Honey, optional, see notes
Instructions
Add the cold water in a wide, shallow bowl, this will help distribute the gelatin a little better. Gently and slowly sprinkle the gelatin over the entire surface of the water, adding more as the first layers soften. Continue until all the gelatin is in the water. Let sit for about 3 minutes.
Place the bowl over a small saucepan that has an inch of water in it. Turn the heat up to medium and bring the water to a simmer. Heat the gelatin & water until the gelatin fully dissolves, stirring occasionally.
Add in the Pique tea crystals and stir to dissolve. Only heat the gelatin water enough to melt the gelatin, do not bring it to a boil or let it get over 170°F. Remove the bowl from heat.
Add in 2 tablespoons of honey and stir completely until dissolved. Taste, and add more honey if needed. Using a dropper (I use a turkey baster, which isn't as effective but it gets the job done), fill the gummy bear molds, or larger shaped molds, if desired.
Transfer molds to the fridge and let chill for about 20 minutes or more, until the gummies have solidified. Remove the gummies from the molds and keep them in an airtight container in a cool place. The gummies will soften and lose their shape at temperatures over 80-85°F.
Notes
You will definitely get more flavor, color, and benefits if you use 4 sachets of Pique, but we've tested this using just 2 sachets and have gotten tasty results as well, so the amount you use is completely up to you.
We've used anywhere from 2 tablespoons to 1/4 cup of honey per batch. My kids prefer a little less honey. You can start with 2 tablespoons, taste, then add more if you think it's needed.
I can't say how many gummy bears this makes, since I always do half bears/half larger molds when I make this.