When we attended Paleo f(x) for the first time in 2017, we were introduced to a lot of wonderful new foods. Some were so new, we couldn't find them locally just yet. Others had been around a while but were still new to us. One of our absolute favorite finds that year was Siete Foods.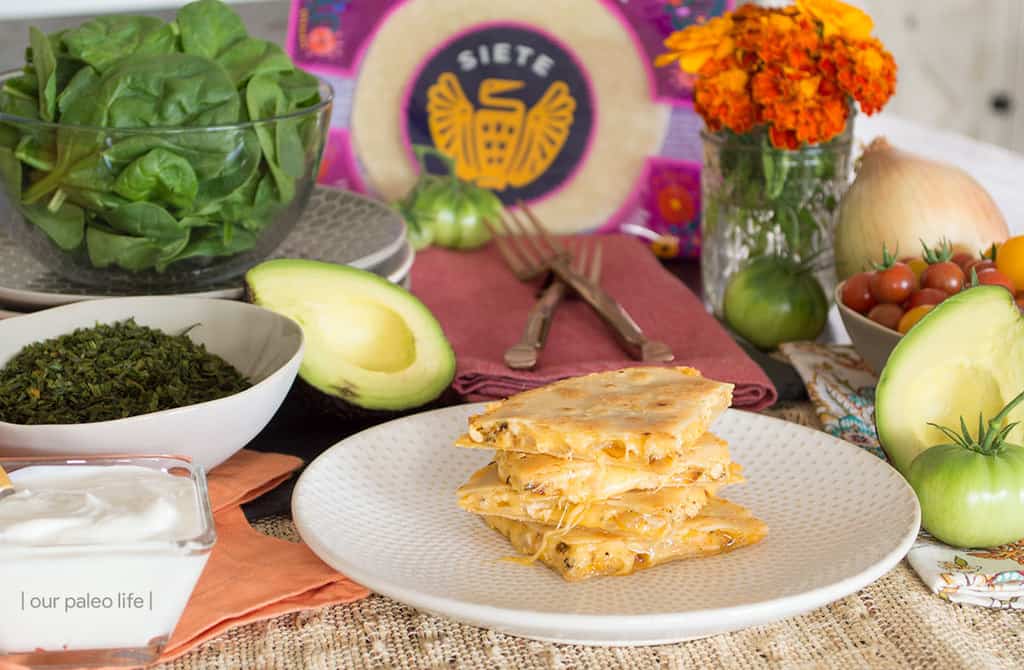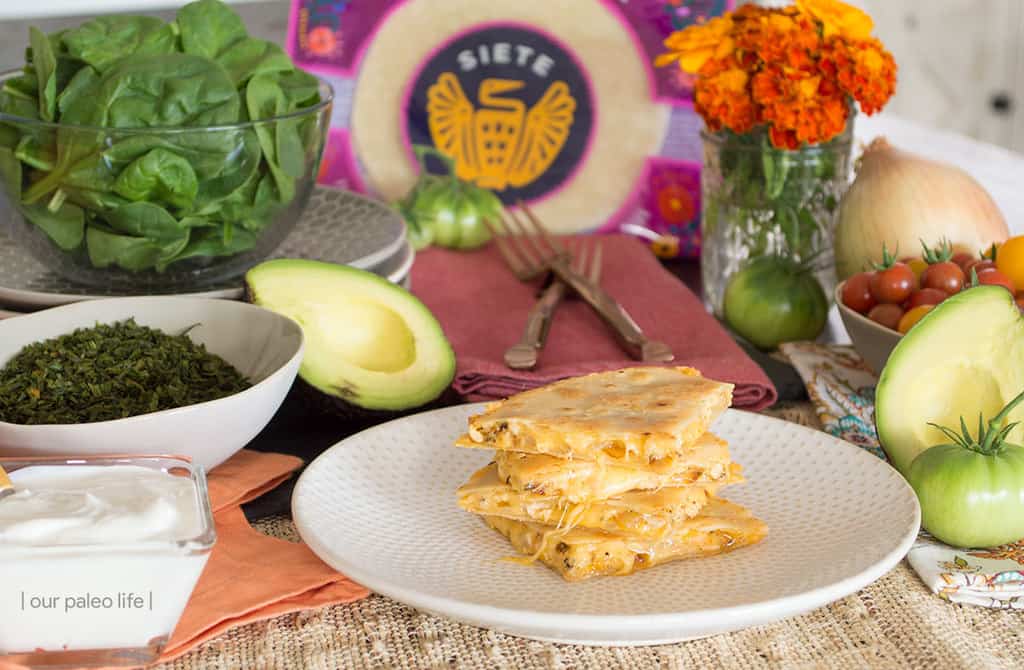 They were sampling their tortilla chips and I instantly fell in love with the Lime flavor. I'm not ashamed to admit I walked by their booth more than a few times to get a couple more each time. Luckily, we were able to get our hands on both their chips and tortillas when we came back home to Colorado and have been hooked ever since.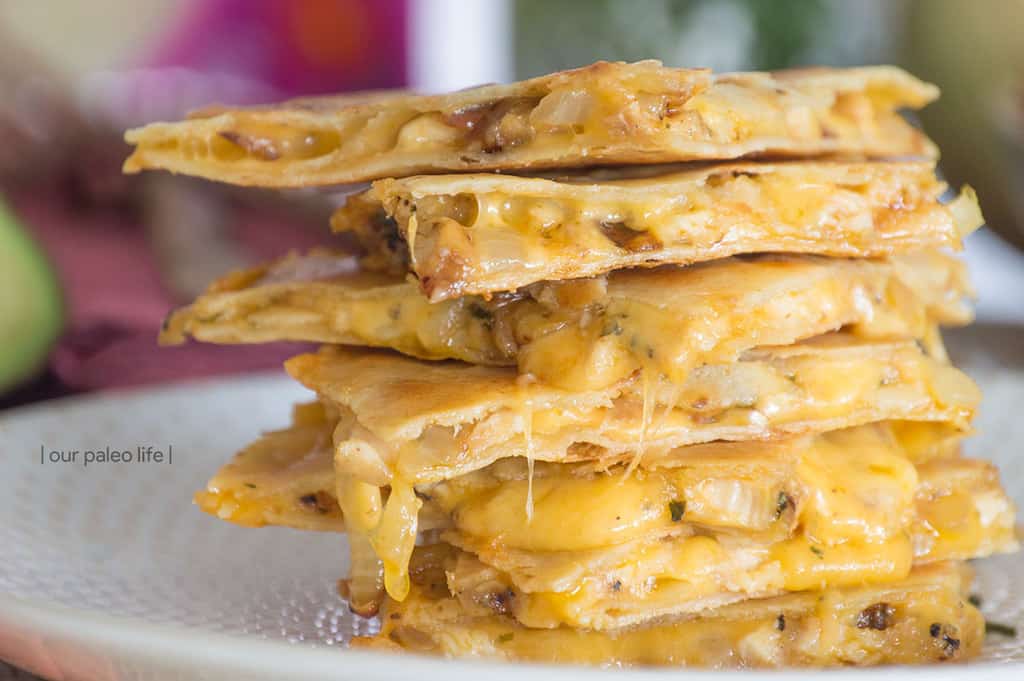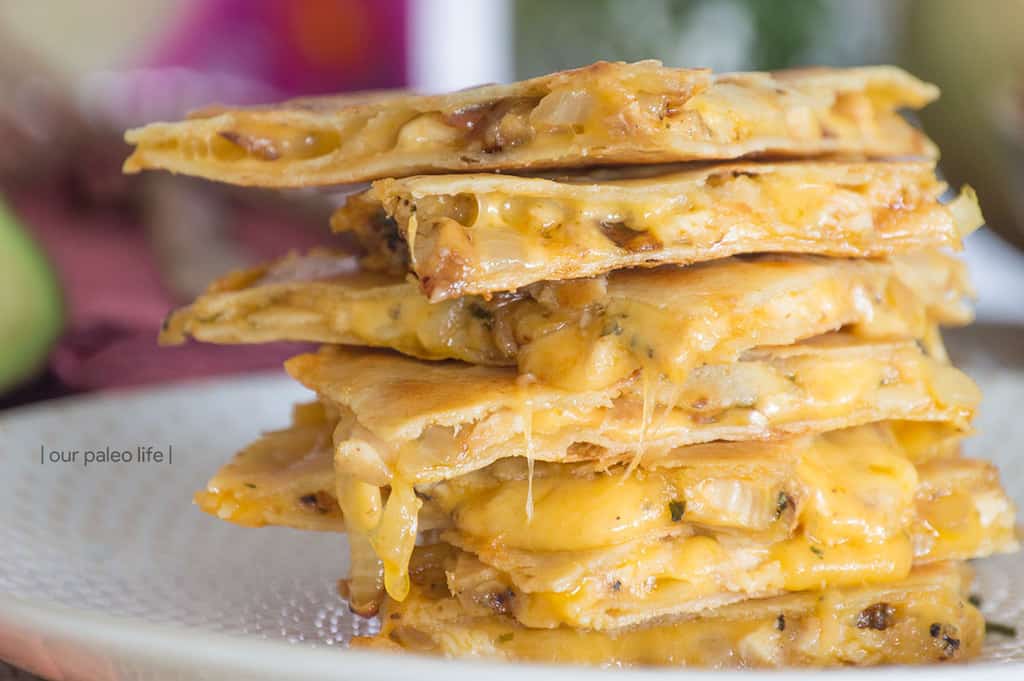 Primal Quesadillas
Since we do cyclical keto, we do allow ourselves periods of higher-than-normal carbs, and during those times, I like to treat myself with an old favorite: cheesy quesadillas. I lived on quesadillas when I was in high school. Super easy to make, super delicious, super quick. And now it's back, but with chicken and sautéed onions because it makes me feel a little more grown up.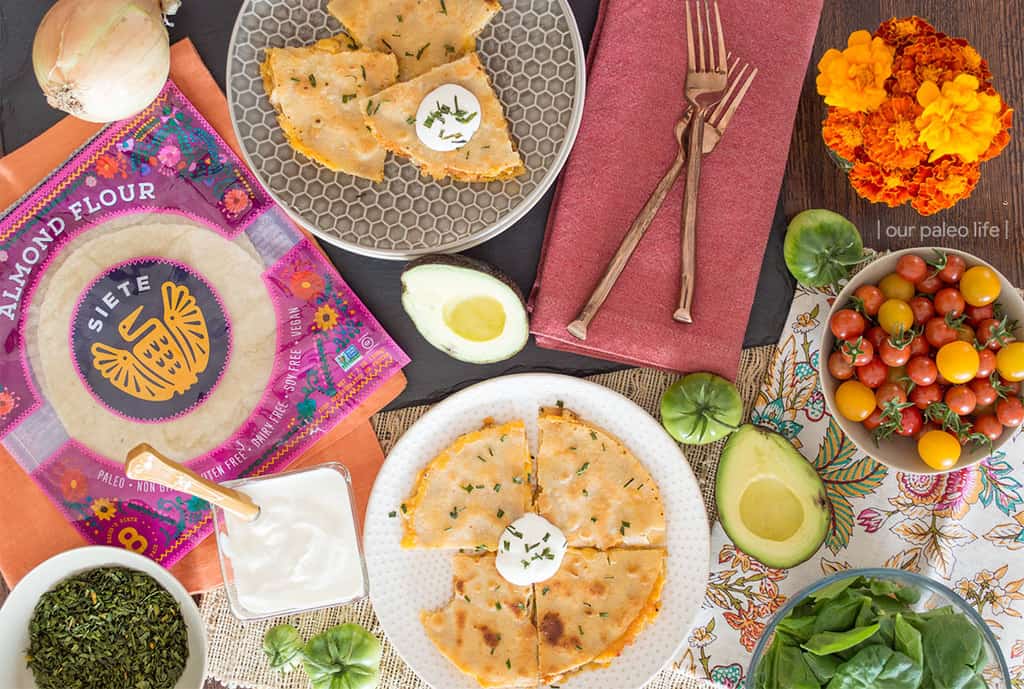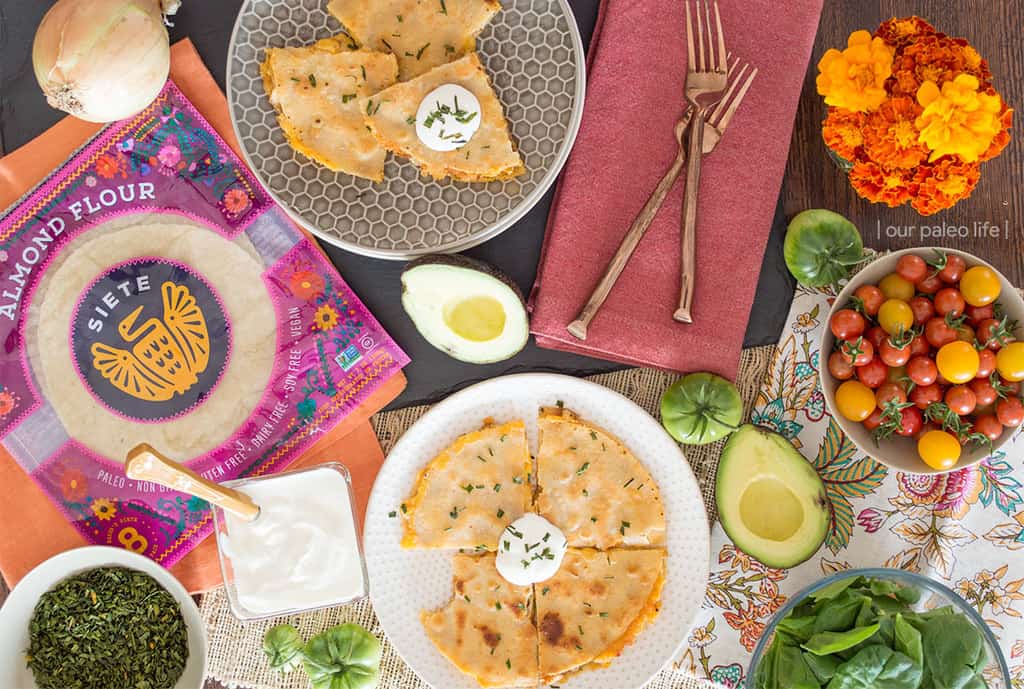 Although I tend to make quesadillas with Siete's tortillas, I also spread some nut butter, honey, and sliced bananas on them and roll it up for an after-school snack for the kids. That always goes over really well (no surprise). And of course, they make great taco/burrito shells too.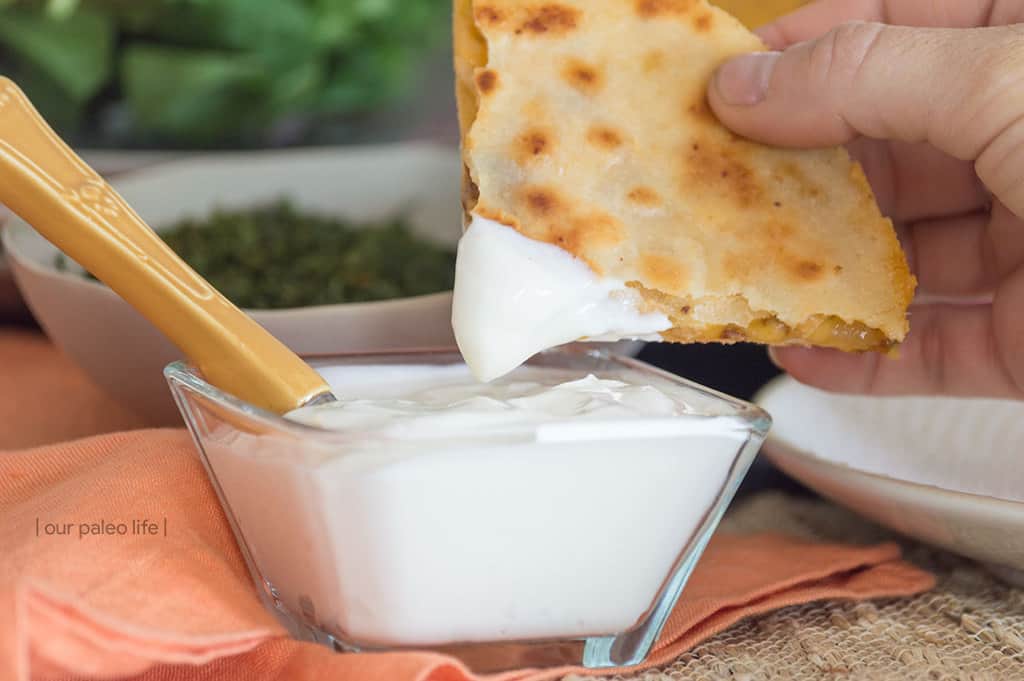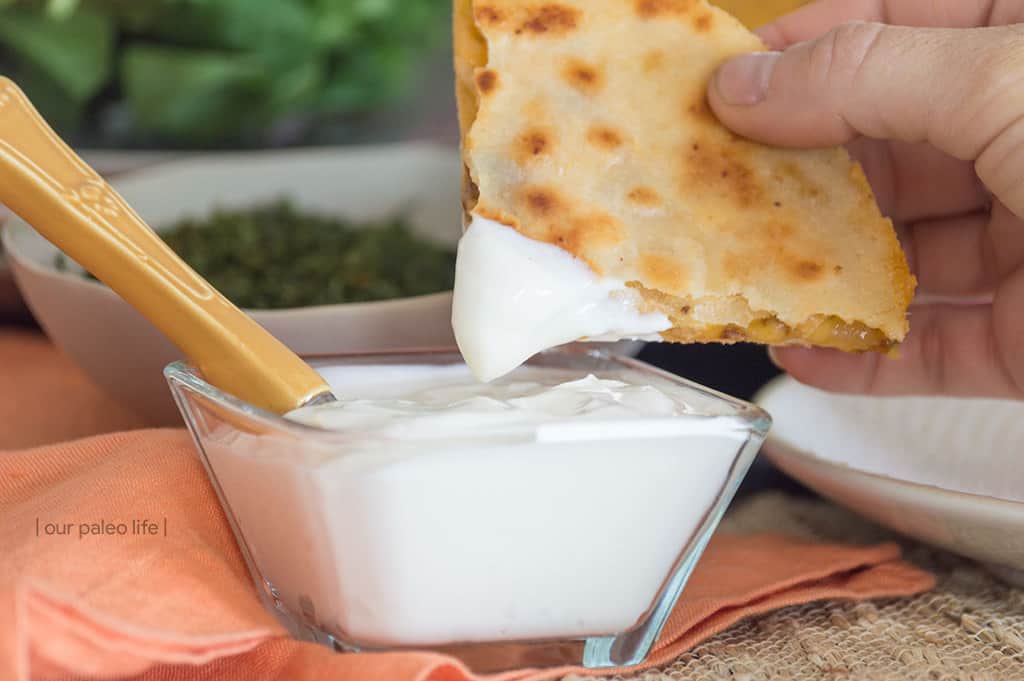 If you don't have any leftover Pan-Fried Chicken Tenders to make these, feel free to use any meat you've got in the fridge. I'm not opposed to putting bacon in these, and ham is always delicious. But leftover red meat of any kind would put this over-the-top delicious. So just go with what you have and enjoy some grain-free quesadillas in your life!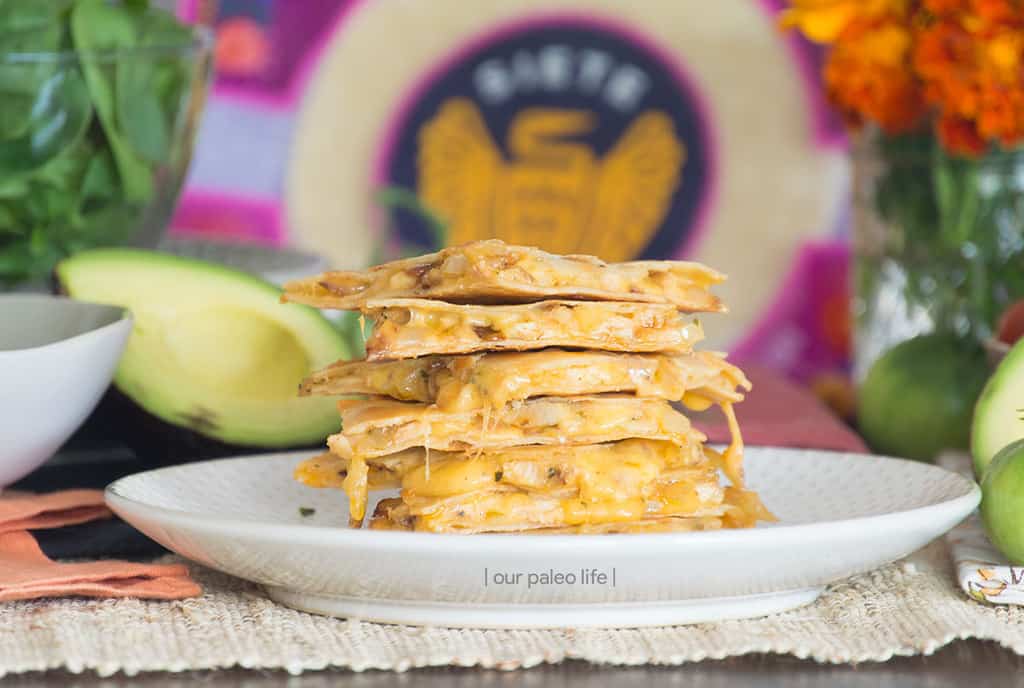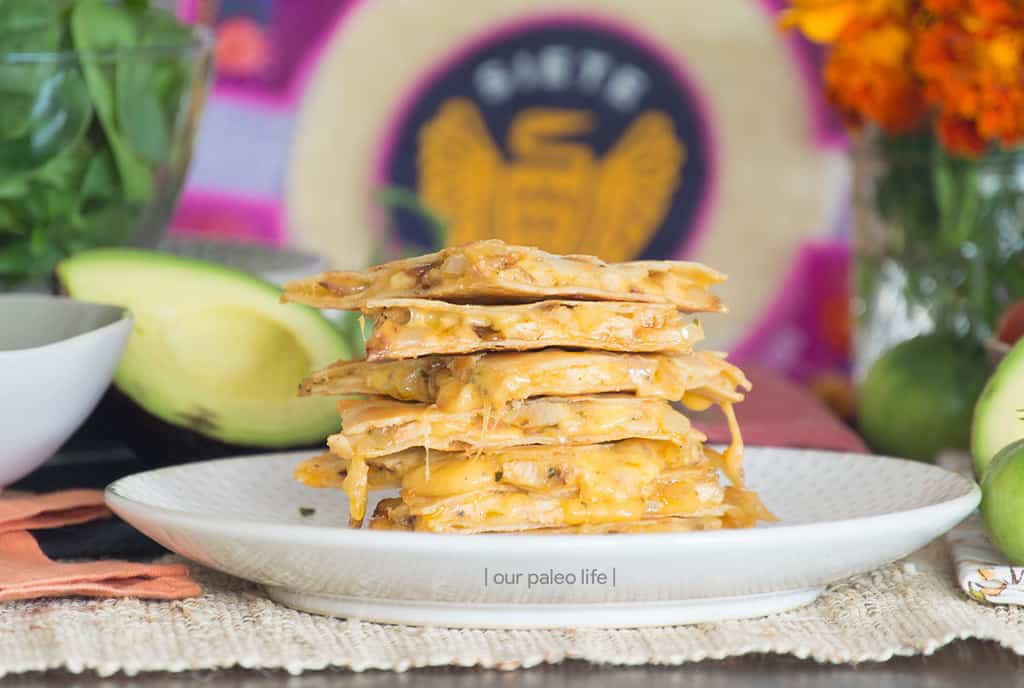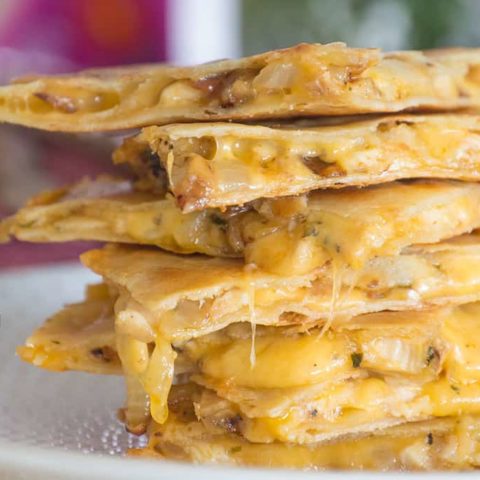 Grain-Free Chicken Quesadillas
Ingredients
1 Tbsp Grass-Fed Butter, or Ghee (plus more for tortillas)
1 Yellow Onion
8 Siete Grain-Free Tortillas, any variety
2-3 Leftover Pan-Fried Chicken Tenders, click for recipe
1-2 cups Fresh-Shredded Cheddar Cheese
Sour Cream, to serve, optional
Salsa or Tomatoes, to serve, optional
Fresh Chives, to serve, optional
Instructions
Halve and thinly slice the onions. Melt 1 tablespoon of butter in a skillet over medium-high heat and add the onions. Sauté, stirring occasionally, until onions are translucent, browned, and fragrant. Remove onions from skillet and set aside. Wipe out the skillet so it's ready for the tortillas.
Chop the leftover chicken tenders into small, bite-size pieces. Set aside. Place the skillet over medium heat and let it heat up while you prepare the tortillas.
Spread a very thin layer of softened butter on one side of each tortilla. Place one tortilla, butter side down, on the warm skillet. Add enough shredded cheese to cover the tortilla, spread on some sauteed onions, and sprinkle on some of the chopped chicken pieces. Top with some more shredded cheese, and another tortilla, butter side up.
Let cook, undisturbed, in the skillet for about 3 minutes, or until the bottom tortilla is crispy and browned. Using a large spatula, flip the quesadilla and cook the other side for an additional 2 minutes or so, until browned.
Remove from skillet and cut into 4 triangles. Serve hot with diced tomatoes, chopped chives, and sour cream (optional). Repeat with remaining ingredients to make 3 more quesadillas.
Nutrition Information
Yield

4
Serving Size

1 quesadilla
Amount Per Serving
Calories

430
Total Fat

31g
Saturated Fat

16g
Trans Fat

1g
Unsaturated Fat

12g
Cholesterol

86mg
Sodium

740mg
Carbohydrates

18g
Fiber

2g
Sugar

3g
Protein

20g