Keto Onion Rings
We recently attended KetoCon and had the privilege of hearing a presentation by Alison Gannett. As a 5-year cancer survivor with a deep knowledge of science and how the body works, she is an incredible wealth of information on how to feed our bodies but starve anything bad that may be brewing in there.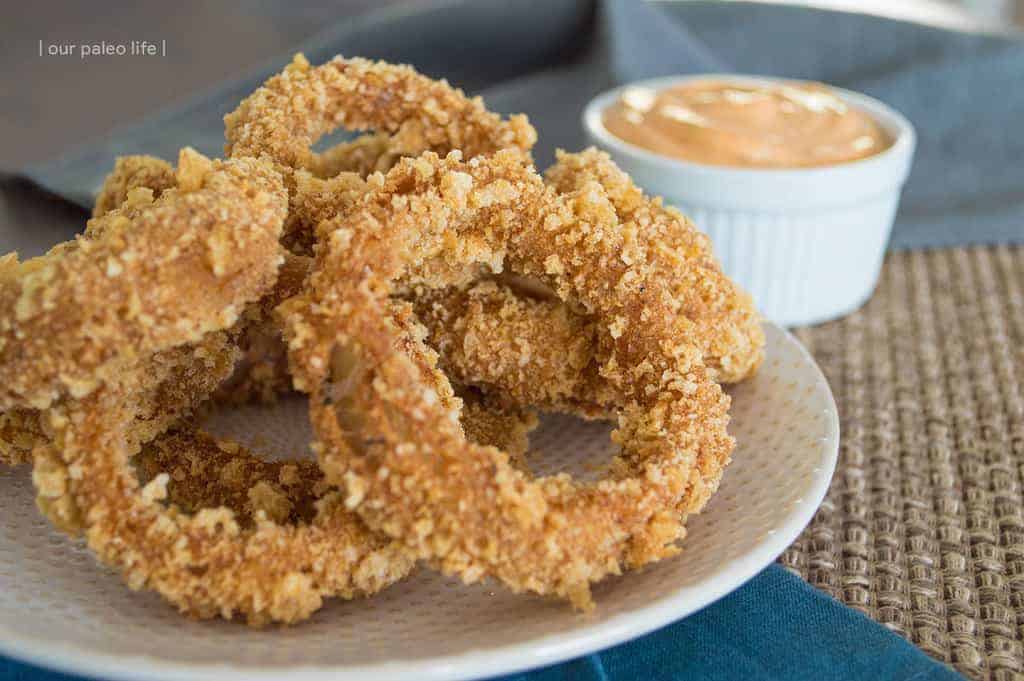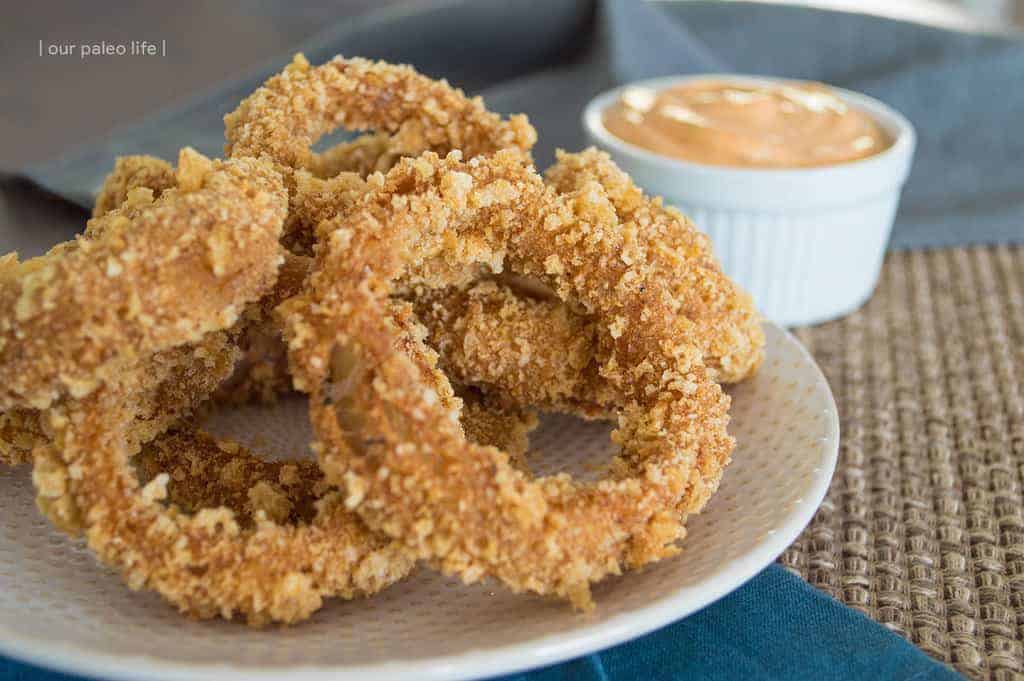 One of the things she mentioned, in regards to getting enough fat in your diet each day, was that she deeps fries food for every meal, which can help with your keto snacks options as well. Such a simple concept as deep fry, but it caught us by surprise and we were like "yeah, that totally makes sense". By deep-frying our foods in a healthy fat like coconut oil or avocado oil, we're infusing our food with more fat than they would have on their own, or even by simply pan-frying. Plus, it's yummy!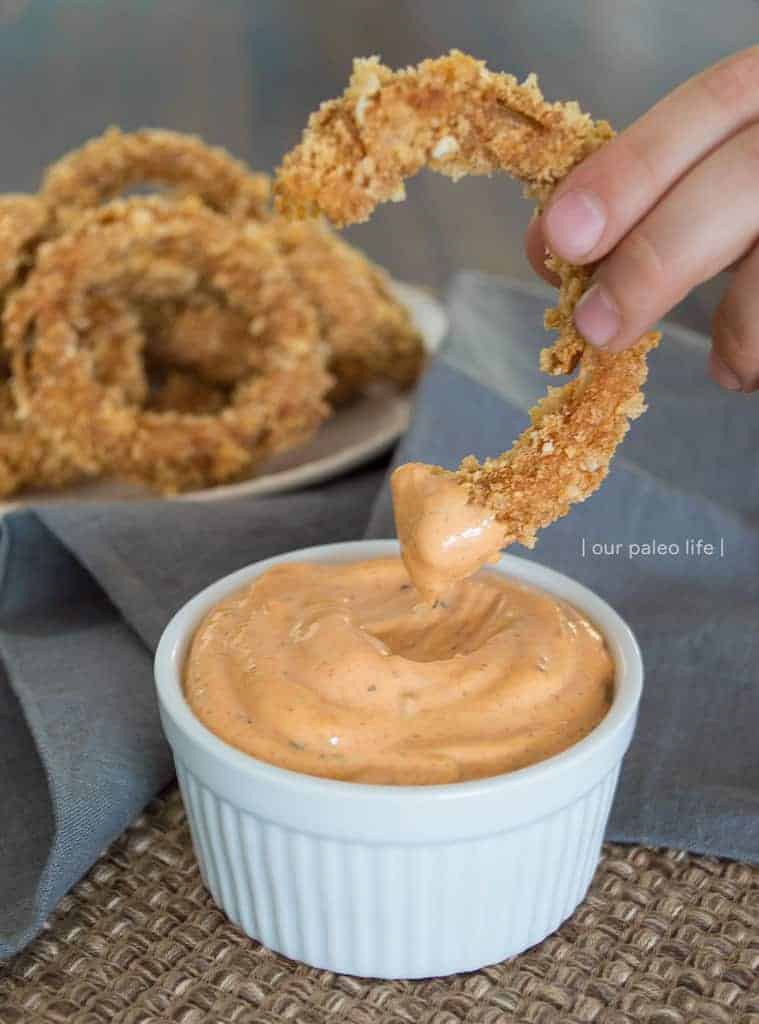 This opened up a new world of food and keto snacks for us (fried of course), including a new recipe for keto fried onions. We have a Fry Daddy Deep Fryer, but I usually only pull it out to make Orange Chicken Nuggets, which are far from low-carb but delicious and crunchy. I discovered that replacing flour or breadcrumbs with pork panko is actually even better because the crunchy texture you get with it is so fantastic.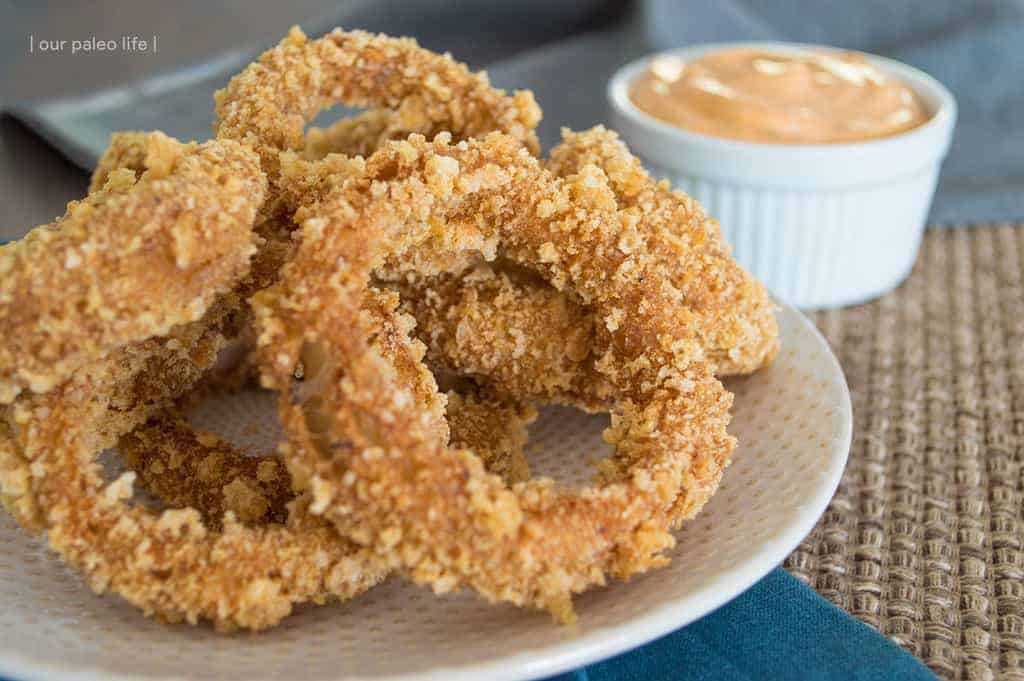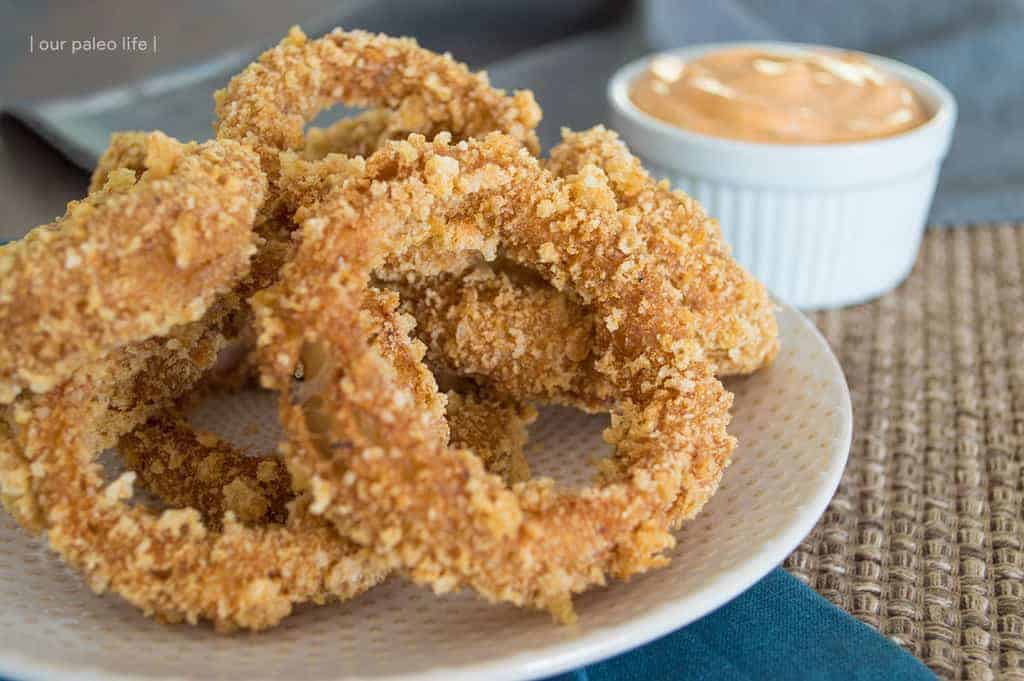 These keto onion rings are way better than the frozen onion rings and have a great crunch and delicious flavor on their own, but you must be sure to make the Spicy Mayo Dip to go with them for a true restaurant quality side dish, or even as keto snacks. With only some onion slices and ingredients to make it breaded, you can make absolutely delicious crunchy onion rings. The foods we grew up thinking were "bad" for us is good again, like this crispy onion rings. So splurge on those deep fried onion rings and coconut shrimp and feel good about it.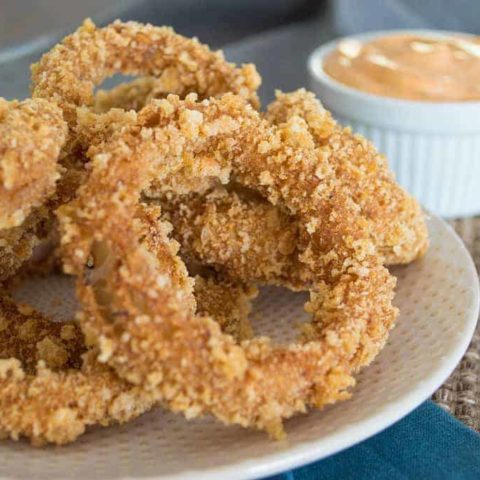 Low-Carb Onion Rings with Spicy Mayo Dip
Ingredients
Onion Rings
2 Sweet or Yellow Onions
2 cups Pork Panko
1 cup Almond Flour
1 tsp Real Salt
1 tsp Smoked Paprika
1/2 tsp Ground Black Pepper
1/2 tsp Galic Powder
1/4 tsp Allspice
3-4 large Eggs
Coconut or Avocado Oil, for frying
Spicy Mayo Dipping Sauce
1 cup Paleo Lime Mayo
1 Tbsp Paleo Balsamic Ketchup
1/2 tsp Smoked Paprika
1/2 tsp Dried Basil
1/2 tsp Cayenne Pepper, or more to taste
1/4 tsp Real Salt
1/8 tsp Ground Black Pepper
Instructions
Spicy Mayo Dipping Sauce
Combine all dip ingredients in a bowl and place in the fridge until ready to use. Best if prepared at least an hour in advance for best flavor.
Onion Rings
Put the pork panko in a shallow bowl. In a second shallow bowl, combine the almond flour, salt, and pepper and stir to combine. In a third shallow bowl, add the egg and whisk until smooth. Set all three bowls aside.
In a deep fryer (we use this small Fry Daddy), add about 2-3 inches of coconut oil (no more than the max fill line on your deep fryer). Turn on the fryer and let the oil come to heat (between 350°F - 375°F).
While the oil is heating up, slice the onion into 1/2" discs. Remove the outer skin and separate the rings, being careful to keep them from breaking so the rings stay intact.
Take an onion ring and dip it in the almond flour bowl, coating it. Then dip it in the egg, then back in the almond flour, then back in the egg, and finally coating it completely in the pork pork panko. Set aside on a plate and repeat until all onion rings have been coated.
Once the oil is hot and all the onions are coated, place 3-4 rings in the deep fryer at a time (add more or less depending on the size of your fryer). Fry for about 2-4 minutes, or until they are golden brown and crispy. Remove from oil with a slotted spoon and cool on a paper towel (to preserve as much oil as possible, cool directly on a plate instead to keep the oil from soaking into the paper towel). Repeat until all onion rings have been cooked.
Serve right away with the Spicy Mayo Dipping Sauce. Leftovers can be stored in an airtight container in the fridge for up to a week on in the freezer for up to 6 months. Reheat in the oven at 375°F until crispy (about 10 minutes or so).
Nutrition Information
Yield

10
Amount Per Serving
Calories

540
Total Fat

53g
Saturated Fat

9g
Unsaturated Fat

0g
Cholesterol

58mg
Sodium

549mg
Carbohydrates

7g
Fiber

3g
Sugar

2g
Protein

8g
Nutrition is calculated by a third party and may not be 100% accurate