Oh man, this past week has made me extremely aware (more than usual, somehow) that food prep is so incredibly important on a Whole30. I mean, I always knew this, I practice it often, but something about this past week has just hammered it home.
Now that the holidays are over, traveling has come to an end, and things are evening out at work, I'm trying to get back into the routine of getting to the gym on a more regular basis. What this means is that I now remember the importance of having something to eat as soon as I get home. Surprisingly, protein is easier for me to whip up and carbs usually take much longer, but I need to get those carbs in quickly.
Enter the crock pot. I'm telling you, this thing is fantastic. I try to remember to use it often, because it really is great at saving my butt on crazy days. But it's also so great for food prep. And now, I'm able to make a week's worth of sweet potatoes while I sleep! Not even joking.
I'm not even sure this qualifies as a recipe, more of a detailed tip, but I've written it out anyway. And you'll see that the first step is to line your slowcooker with foil (see the pic below). While this is optional (it won't affect how your potatoes turn out) you really shouldn't skip it. I skipped it once, never again. No matter how tightly you wrap those potatoes in foil, you are going to experience some "seepage". Juices will leak out and burn to the bottom of the crock. If you're a fan of scrubbing burnt on food, then skip the foil, otherwise, just do it.
And when I said I cook these in my sleep, I'm totally serious. I set the crock pot for 8 hours and go to bed. When I wake up, the crock pot is on WARM (I love that it does that when it's done cooking) and I've got a bunch of "baked" potatoes, ready to eat.
Another helpful little tidbit: this makes school lunches much easier to prepare as well. I just scoop out half a potato, mash it and mix in a little cinnamon, and plop it into one of the lunch container compartments. The kids love when they get sweet potatoes, like it's dessert, and having a bunch in the fridge makes it possible.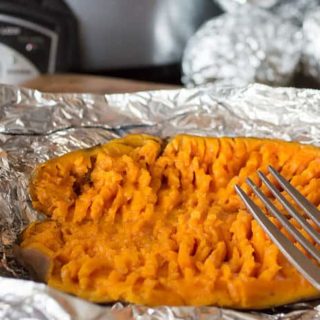 Slowcooker Sweet Potatoes
Total Time:
8 hours
5 minutes
Slowcooked sweet potatoes are the easiest way to prepare a lot of "baked" potatoes at one time without heating up your entire kitchen. This is a great way to have an easy source of carbs on hand right after a workout or for surprise dinner guests.
Ingredients
8 Sweet Potatoes, or as many will fit in your slowcooker
Tin Foil
Instructions
Take a large piece of foil and line the slowcooker, coming up the sides. This is optional, but helps to keep any leaks from burning onto the bottom, which are a pain to clean off.
Rinse the potatoes and pat dry. Pierce potatoes with a fork all around.
Wrap each potato in a square of foil, sealing tightly. Arrange wrapped potatoes in the slowcooker as best as they will fit.
Place lid on the slowcooker and cook on LOW for 6-8 hours. Remove when the potatoes feel soft when you poke them (they'll be hot so use a wooden spoon to poke).
Remove and keep wrapped.
Refrigerate wrapped potatoes until ready to use. Eat within one week.
Nutrition Information:
Yield:

8
Serving Size:

1 potato
Amount Per Serving:
Calories:

103
Total Fat:

0g
Saturated Fat:

0g
Trans Fat:

0g
Unsaturated Fat:

0g
Cholesterol:

0mg
Sodium:

41mg
Carbohydrates:

24g
Fiber:

4g
Sugar:

7g
Protein:

2g
Nutrition is calculated by a third party and may not be 100% accurate