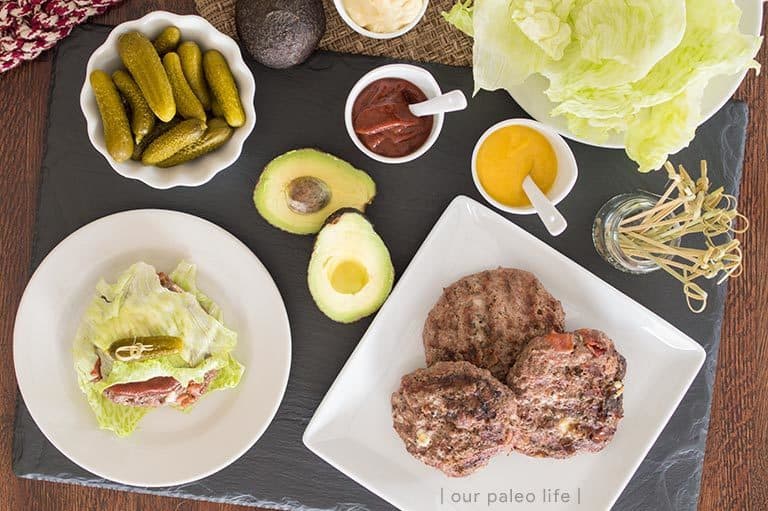 Blue Cheese Stuffed Burger Recipe
With little bits of bacon and blue cheese crumbles, this KETO approved cheeseburger is where it's at. One of the toughest aspects of staying consistent when you start a Keto diet is finding meals that remind you of what you really love. And if you're anything like us, a really good cheeseburger hits the spot.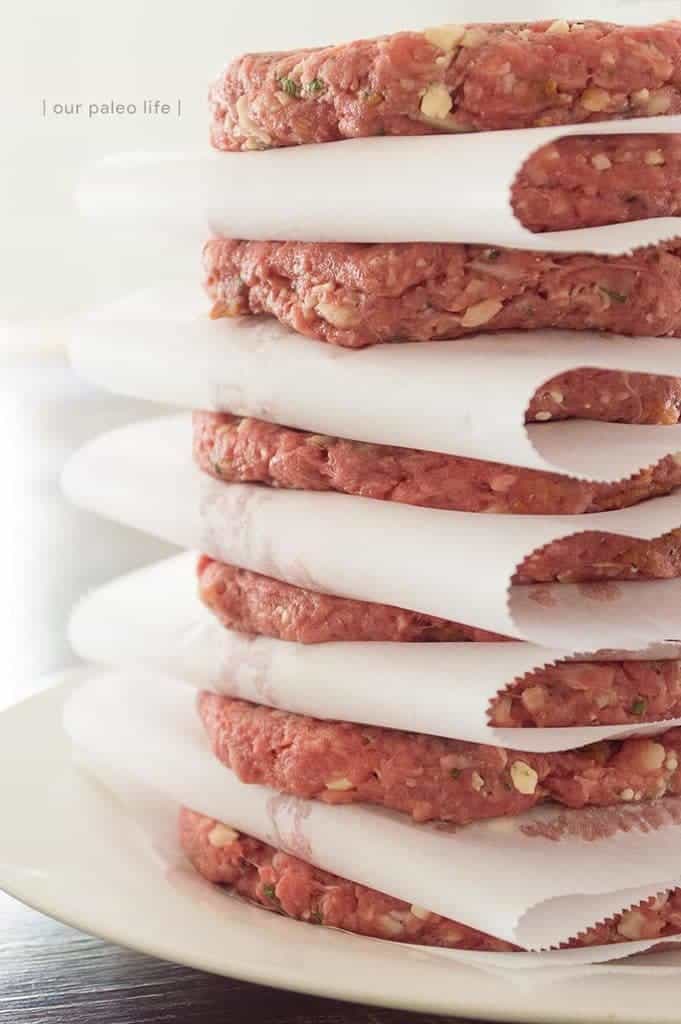 Just for fun, a little history on the almighty burger:
Why is it called a hamburger?
It's beef, not ham… what gives! Sometimes it's hard to pinpoint why something is the way it is. It's thought that the standard American hamburger got its name from the "Hamburg Steak" or more professionally named, "Hamburg Style Beef". The Hamburg Steak appeared in the United States from the German city of Hamburg in the what is guessed to be the late 19th century. And the best part? It was just chopped meat eaten raw. Perfect! How's that for making sense?
And one more fun fact: the first burger chain was White Castle. Mmmmm…not.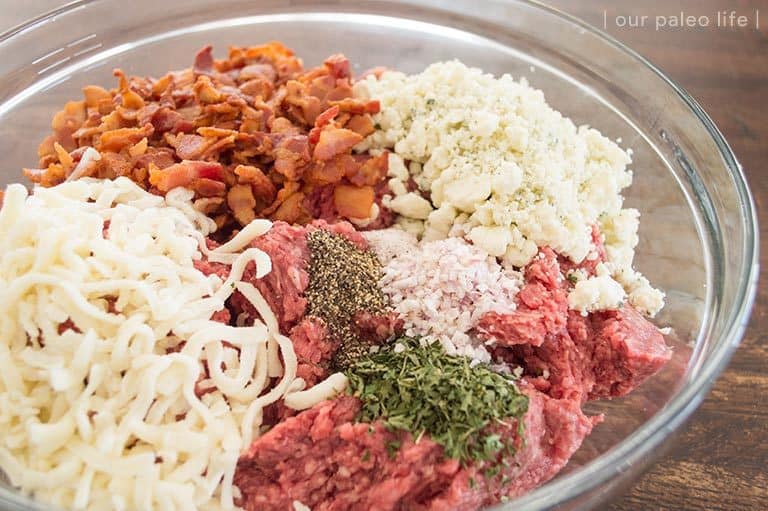 The first time I ate a burger without a bun, I was kind of sad. The bun was half the fun (or so I thought). Turns out, I just wasn't eating really great burgers. The bun is just a mode of transportation that really isn't needed. Nowadays, I prefer to wrap a burger in a crispy lettuce leaf or simply cut it up in a bowl and eat it like a burger salad.
Looking back through all my favorite burgers (both homemade and restaurant-style), they all seem to have one ingredient in common: bacon.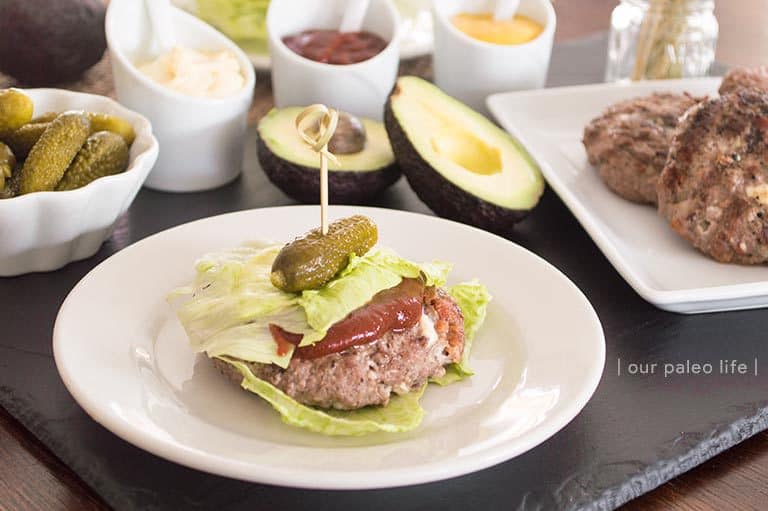 What I had never made before was a burger with cheese mixed right into it and I'm so glad that has changed. This Bacon & Blue burger has a combination of blue cheese and shredded mozzarella for the perfect cheesy experience. Top with your favorite burger sides. We love baby dill pickles, lettuce, Paleo Balsamic Ketchup, Paleo Lime Mayo, and avocados (of course).
PS: If you love the SlatePlate used in my photos, you can grab your own here (not an affiliate, I just love a good plate!)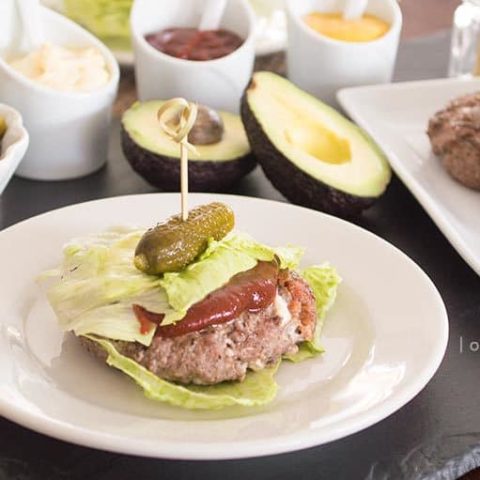 Bacon & Blue Burgers
No need for a bun on these flavor-packed burgers. Blue cheese and bacon combine to make one of the best burgers you'll ever have.
Ingredients
Burgers
1 pound Ground Beef, as lean as possible
1/2 lb Bacon, pan-fried and crumbled
1 cup Crumbled Blue Cheese
1/2 cup Shredded Mozzarella
1/2 Tbsp Dried Parsley
¼ tsp Salt
½ tsp Ground Black Pepper
1/2 Tbsp Red Onions, freeze-dried or fresh
Optional Toppings
Paleo Balsamic Ketchup
Paleo Lime Mayo
Yellow Mustard
Tomatoes
Avocado Slices
Baby Dill Pickles
Iceberg Lettuce
Instructions
In a large bowl, combine all the ingredients and mix very well (using your clean hands is the best way to do this).
Using a 1/3 cup measuring cup, scoop out the beef mixture and then press into burgers (in uniform thickness). Place between sheets of parchment paper to prevent them from sticking together and to make it easier to quickly transfer from the plate to the grill.
Preheat your grill to high heat and make sure the grate is clean. Put the burgers on the grates, close the lid, and cook for 3-5 minutes. Flip the burgers, close the lid, and cook for about 3-4 more minutes. Cook for less time for a more medium-rare burger, more time for a medium-done burger.
Serve right away with your choice of toppings.
Notes
Nutritional Facts do not include toppings, only the burger.
Nutrition Information
Yield

6
Serving Size

1 burger
Amount Per Serving
Calories

400
Total Fat

31g
Saturated Fat

13g
Unsaturated Fat

0g
Cholesterol

98mg
Sodium

770mg
Carbohydrates

1g
Protein

26g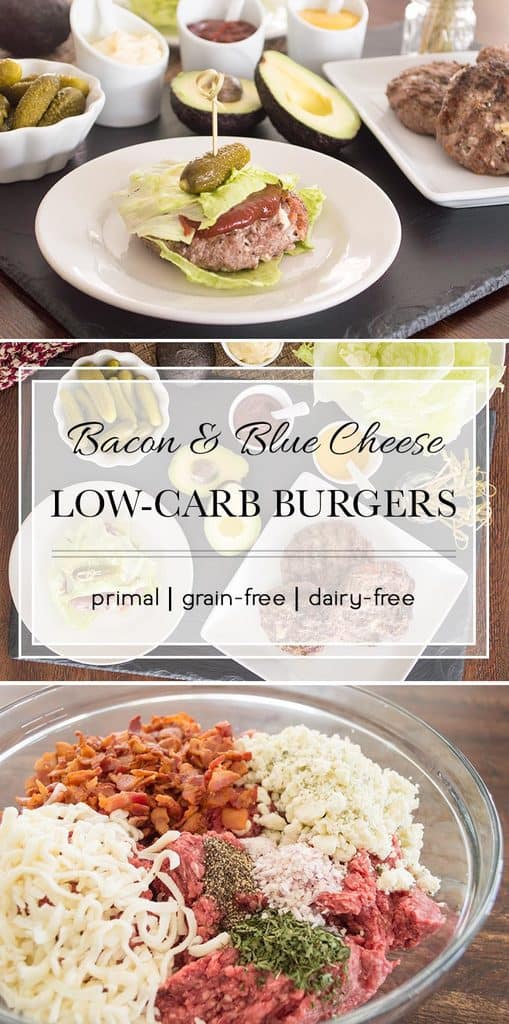 Save
Save
Save