Last Updated on January 23, 2022
One-pot meals are my favorite thing. One-pot meals that come together in under 30 minutes? Even better!
This stir-fry recipe has a super flavorful sauce, and you can adjust the spiciness to your liking. For me, who can't handle even a hint of heat, the 1/4 tsp of crushed red pepper flakes works to add great flavor, but not much heat. Like it spicy? Increase the red pepper flakes.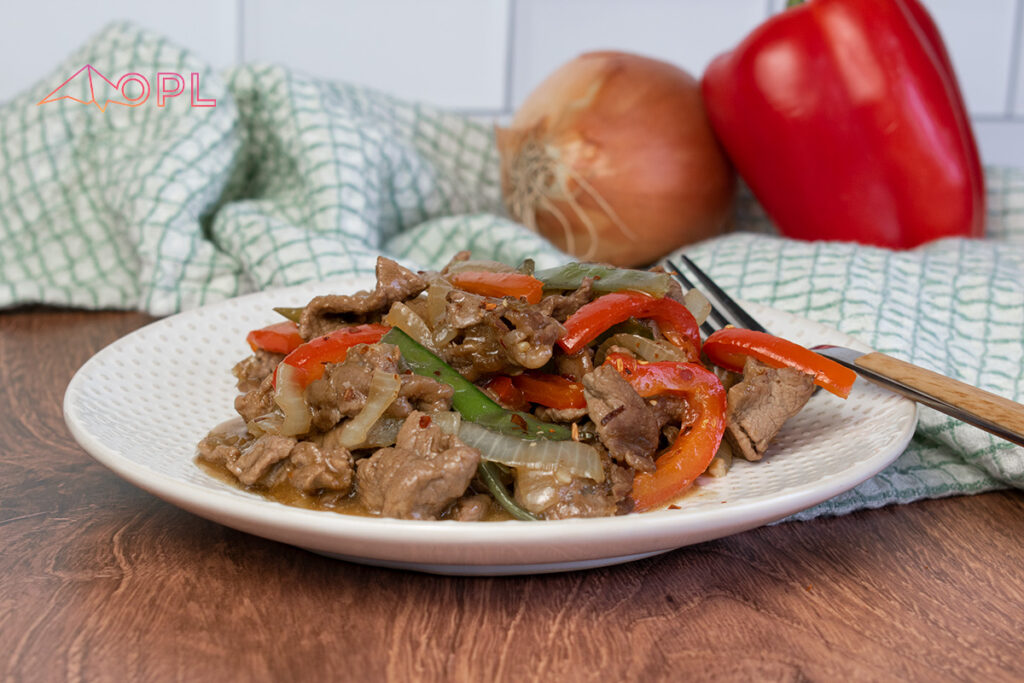 Paleo Beef Stir Fry Recipe
One way to cut down on the already low prep time is to buy the beef already sliced. Costco sometimes has thinly sliced beef, though the slices are wide so I will still cut them into narrow strips. You can also buy already cut-up beef that is meant for stir-fry. Pick a cut of beef that you know you like. I'm not a fan of flank steak because it's not tender enough. Sirloin is our cut of choice.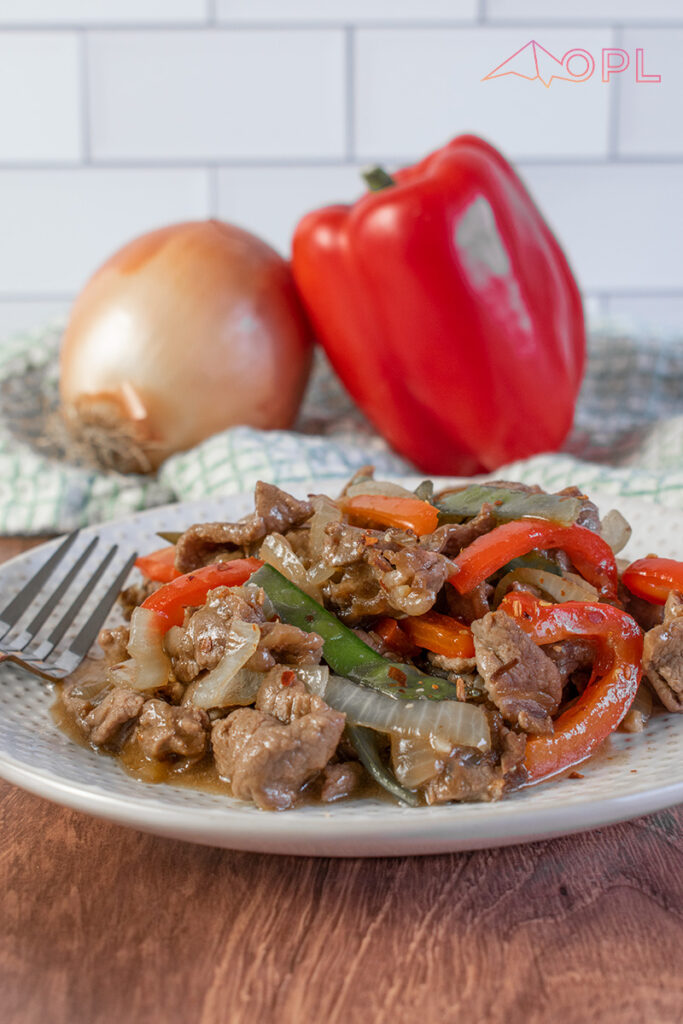 Prepping the Veggies
Also, as a general cooking tip, I like to prep veggies at the beginning of the week. Having bags of pre-sliced peppers and onions makes it really simple to add veggies to any dish all week long.
Although it's highly unlikely you'll have leftovers (yes, it's that good!), this stir-fry can be stored in the fridge all week and be reheated in a little extra oil in a skillet. Just as good as the day it was made.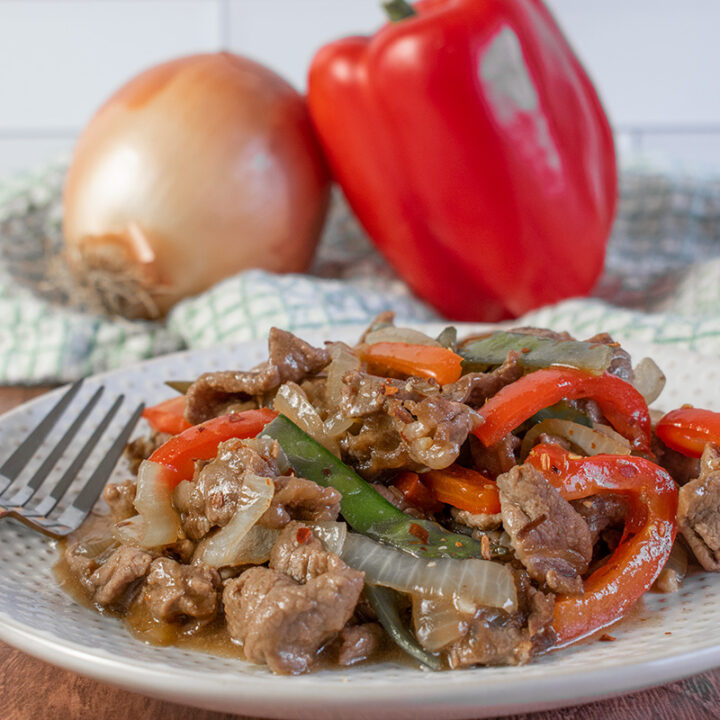 Beef Stir Fry (gluten-free)
Ingredients
Sauce
1 Tbsp Water
1 Tbsp Arrowroot Starch
1/2 cup Chicken Broth
1/3 cup Coconut Aminos
2 Tbsp Honey
2 tsp Toasted Sesame Oil
1/2 tsp Ground Ginger
4 cloves Garlic, minced
1/4 tsp Crushed Red Pepper Flakes (more if you like it spicy)
Meat & Veggies
1 Yellow Onion
1 Red Bell Pepper
1/2 cup Snow Peas
1 lb Sirloin Steak
3 Tbsp Avocado Oil, divided
Instructions
Sauce
In a small bowl, combine the 1 Tbsp water and arrowroot starch, and stir to combine. Set aside.
In another bowl, combine the remaining sauce ingredients and whisk until the honey dissolves. Set aside.
Meat & Veggies
Cut the bell pepper into sections, remove the seeds, and thinly slice. Peel and quarter the onion, and thinly slice. Cut the snow peas in half lengthwise, rotate 90 degrees, and cut in half again.
Slice the beef very thinly, no more than 1/8" thick. This works best if the beef is partially frozen, but can be done even if it's thawed.
Heat a large wok or skillet over medium heat. When hot, add 1.5 Tbsp of the avocado oil. Add the veggies and saute, stirring occasionally, until they are crisp-tender.
Remove veggies and add the remaining avocado oil and the sliced beef. Cook, stirring occasionally, until browned on both sides.
Add the veggies and sauce to the skillet, and increase heat to medium-high. Pour in the arrowroot mixture and stir to combine. Bring to a boil and let thicken to your liking.
Remove froom heat and divide between 4 bowls. Enjoy right away.
Leftovers can be stored in the fridge for up to a week and reheated in a skillet with a little extra oil.
Nutrition Information
Yield

4
Amount Per Serving
Calories

471
Total Fat

29g
Saturated Fat

8g
Trans Fat

0g
Unsaturated Fat

18g
Cholesterol

105mg
Sodium

537mg
Carbohydrates

18g
Fiber

1g
Sugar

16g
Protein

32g