Make crunchy, delicious, and super healthy Keto granola at home. This chocolate cinnamon Keto granola recipe is easy and so incredibly tasty.
A Better (Sugar Free) Option
Remember when we were taught that breakfast was the "most important meal of the day" and then we were fed sugary cereals loaded with artificial colors and flavors? Yeah, thank goodness for ever-evolving knowledge that lets us know those weren't really smart choices.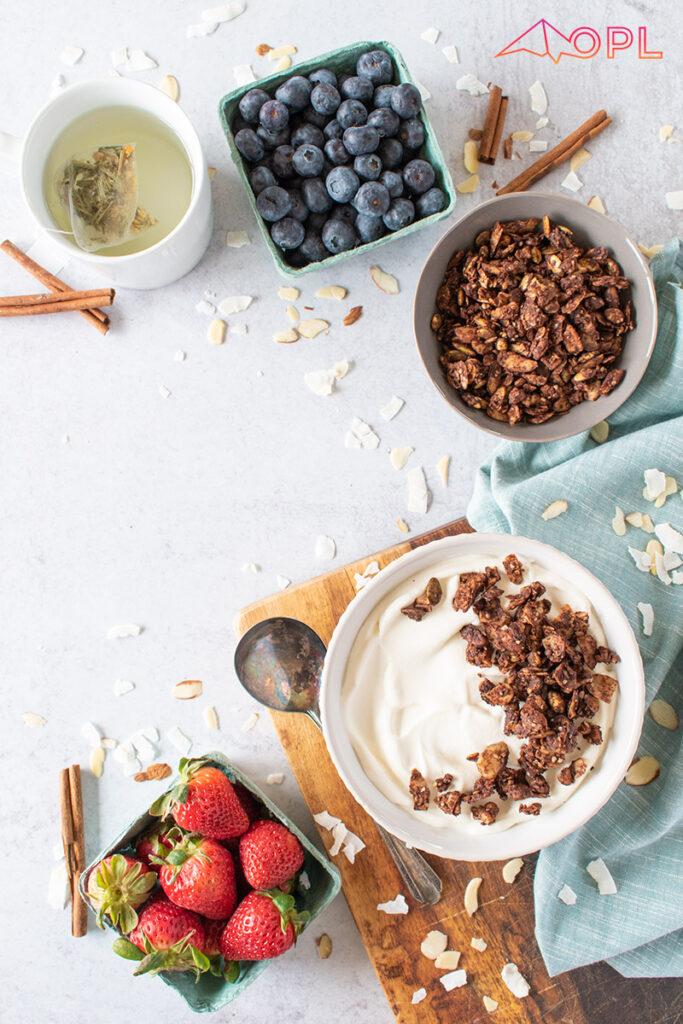 Keto Granola
Granola is like the grown-up version of breakfast cereal. It's great in a bowl of milk, but it's also perfect on yogurt, ice cream, or simply by the handful. And while traditional granola is made with oats and sugar, this keto-friendly granola is made with nuts, coconut, and hemp hearts.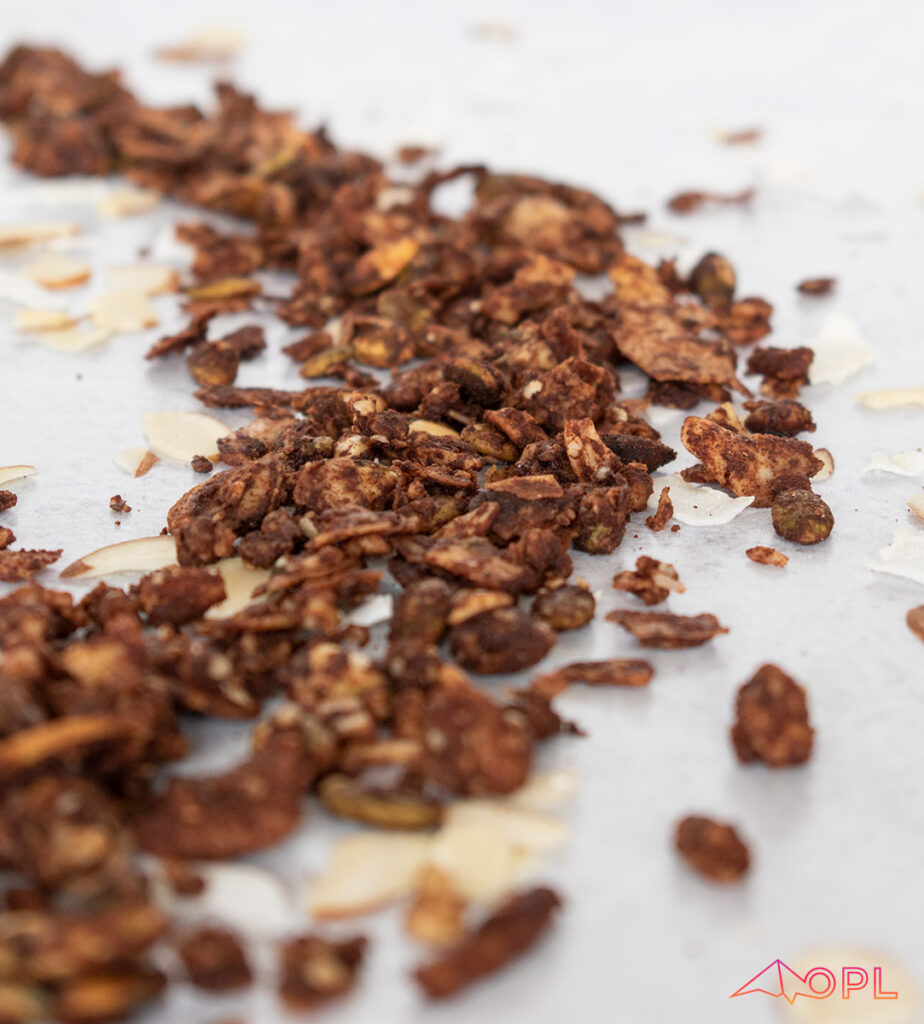 Granola with Hemp Hearts
What exactly are hemp hearts? They're the tiny little interiors of a shelled hemp seed. They're soft and have a slightly nutty flavor and aroma. And they're also pretty good for you. They're rich in both Omega-3 and Omega-6 fatty acids, as well as magnesium, potassium, calcium, iron, and zinc.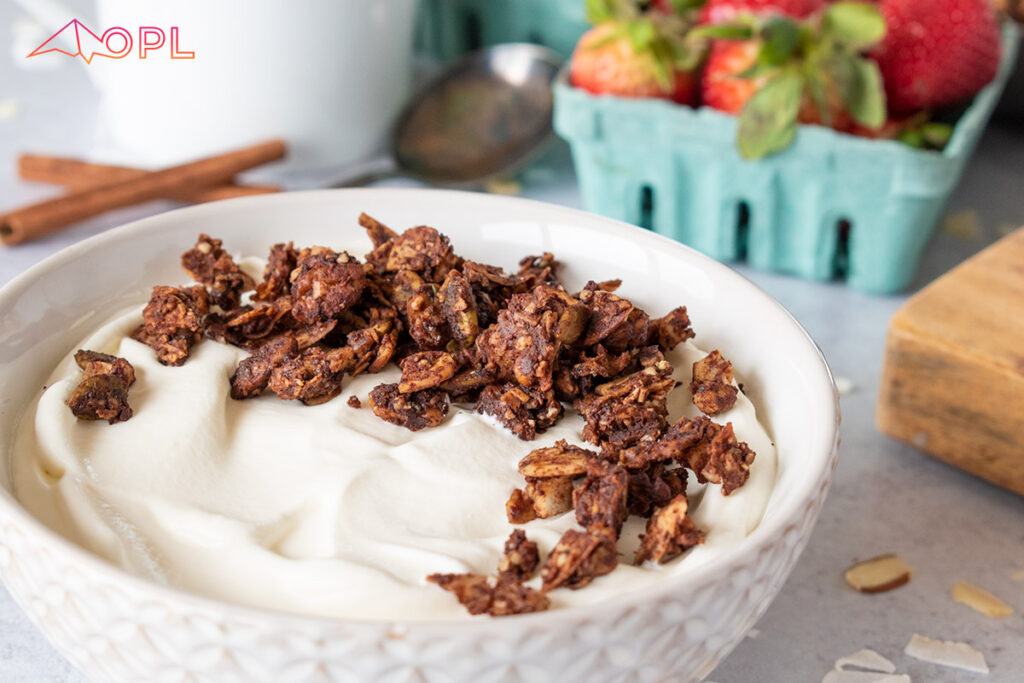 This is the exact same granola that we make at cardnl, our keto and diabetic-friendly bakery in Fort Collins, CO. It's not overly sweet, has the perfect amount of crunch, and has a hint of cinnamon to compliment the cocoa. In addition to the serving suggestions above, we also like to use this granola as a base for trail mix.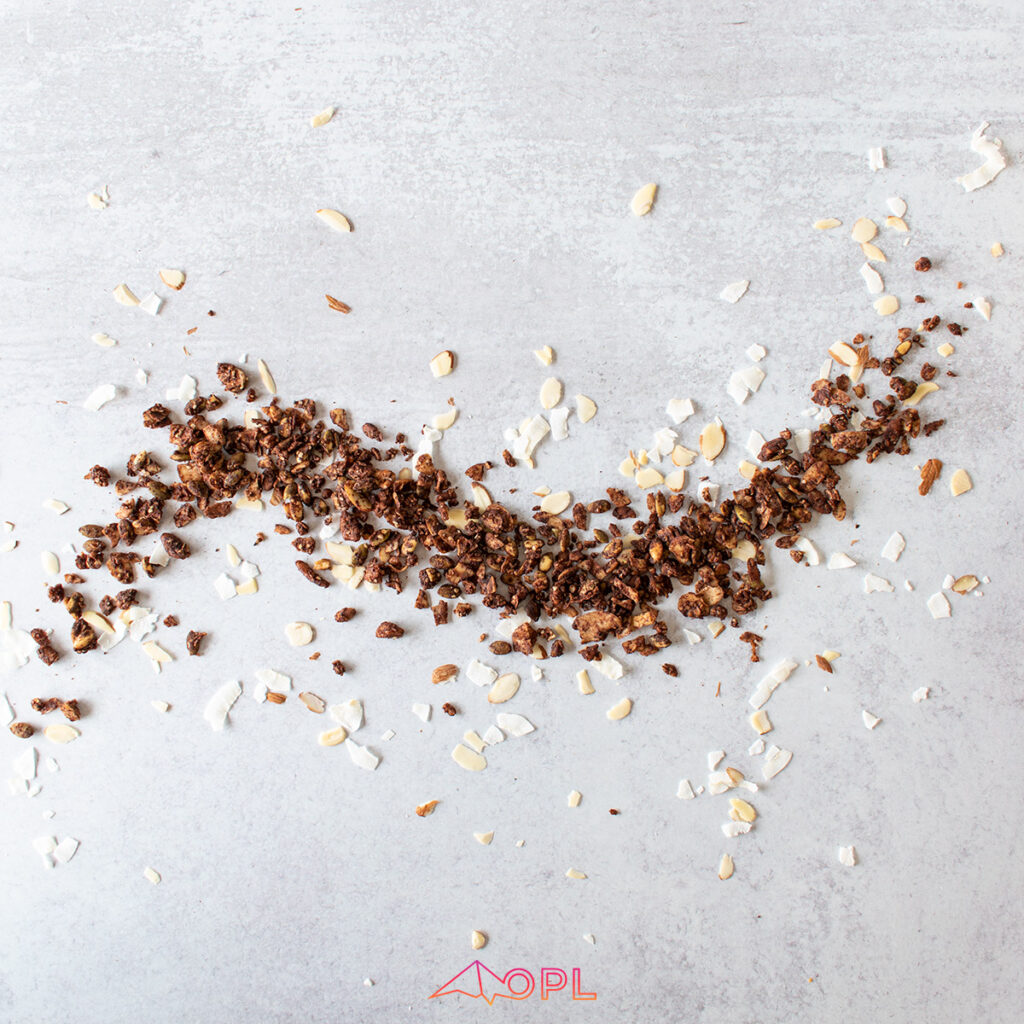 Keto Trail Mix
My favorite granola add-ins are chocolate chips, sliced almonds, coconut, and a crunchy cereal (like Catalina Crunch). Simple, but very satisfying.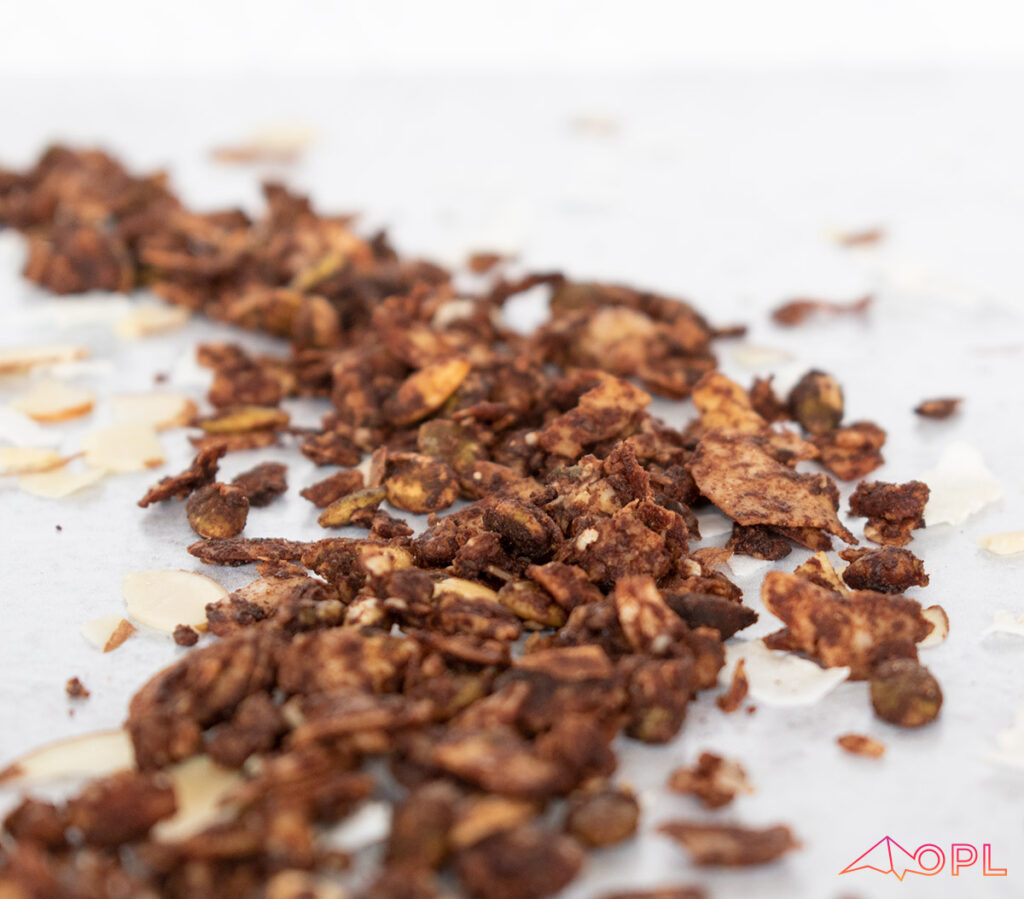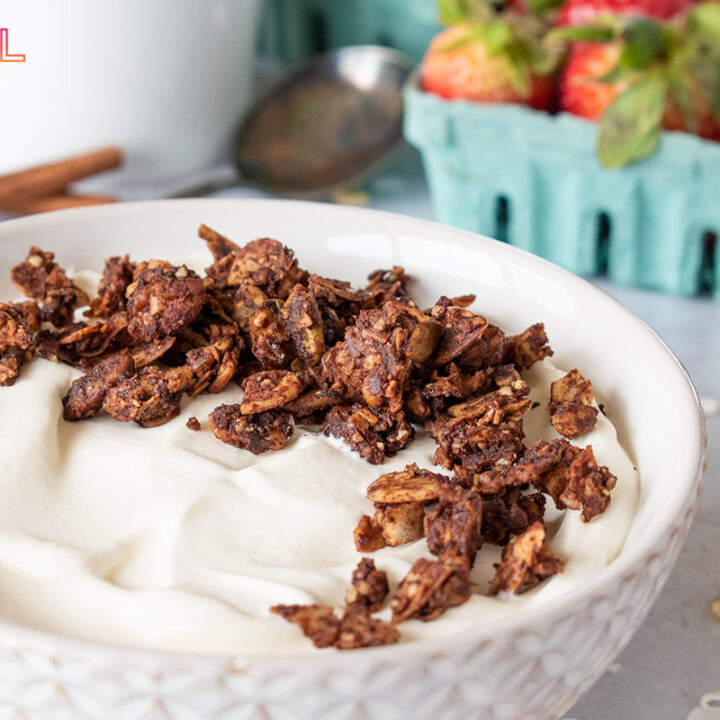 Chocolate Cinnamon Keto Granola
Ingredients
2 Egg Whites
1 cup Pecans, chopped
1/2 cup Sliced Almonds
1/2 cup Pumpkin Seeds, unsalted
1/4 cup Shredded Coconut
1/2 cup Coconut Flakes
2 Tbsp Hemp Hearts
1/4 cup Natural Cocoa Powder
3 Tbsp Butter or Coconut Oil, melted
1 1/2 tsp Vanilla Extract
Instructions
Preheat oven to 350°F. Line a rimmed baking sheet with parchment paper and set aside.
Using a stand or hand mixer, whip the egg whites with the whisk attachment until fluffy and they form stiff peaks. Set aside.
Combine all remaining ingredients in a large mixing bowl and stir to combine well. If you don't mind getting dirty, your very clean hands will work great for this, otherwise, I like to use a wooden spoon or silicone spatula.
Add in the egg whites and gently stir it all to coat everything evenly.
Spread the granola mixture in a single thin layer on your prepared baking sheet. Bake in the preheated oven for 10 minutes.
Stir granola, making sure to incorporate the edges into the middle so they don't overbake. Bake for another 5 minutes and check. If it's looking a little browned, go ahead and remove it from the oven. If not, bake another 2 minutes and check again. Remove when lightlyo browned on the edges.
Let cool competely on a wire rack before removing from the pan. It will get crunchier as it cools. Store in an airtight container at room temp for up to a month.
Notes
All ovens vary, so keep an eye on your granola after the 10 minute mark to be sure it doesn't overbake and burn.
Nutrition Information
Yield

13
Serving Size

1/2 cup
Amount Per Serving
Calories

205
Total Fat

19g
Saturated Fat

5g
Trans Fat

0g
Sodium

67mg
Carbohydrates

12g
Net Carbohydrates

2.5g
Fiber

3.5g
Sugar

1g
Sugar Alcohols

6g
Protein

5g