Guess what's fast approaching? The dreaded sugar- and gluten-filled holidays. I had not yet made the paleo transition last holiday season, so this will be my very first Thanksgiving and Christmas where I will forego cooking and baking the traditional meals of my past. BUT, I love my traditional foods, you know? I am pretty well known for my sugar-filled, marshmallow-smothered sweet potato casserole that I can't believe even passes as a side dish instead of a dessert! The foods that usually fall into the"Kendra is bringing" category include: the aforementioned sweet potato casserole, corn bread casserole, and cranberry relish.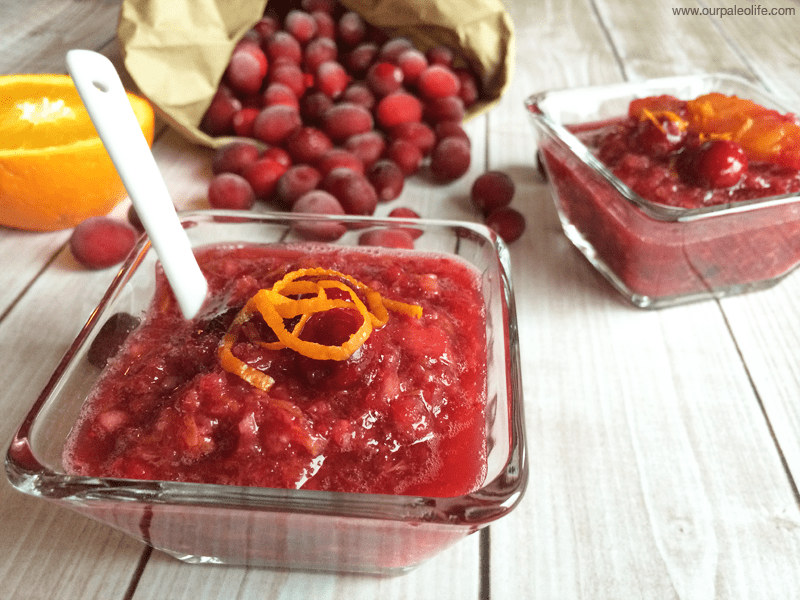 So I don't really want to give up those foods, they're my yummies. So to the best of my ability, I will be recreating my favorites in the most paleo way possible, though some may wind up falling in the primal category if I decide I just can't part with my dairy, but we'll see…
First up in holiday-recipe-paleo-transition is the cranberry relish. This one is pretty easy to convert, since almost everything was paleo already. My original recipe called for a metric ton of sugar and boxed Jell-O mix, so that had to go. Looking back, I seriously don't know how we ate that artificially sweet stuff and why on earth we'd want to ruin all that delicious fruit with artificial flavors. Straight up craziness! So a simple sub of local raw honey and grass-fed gelatin, and not only do we have a clean and delicious recipe, but added benefits from the gelatin and honey. Score!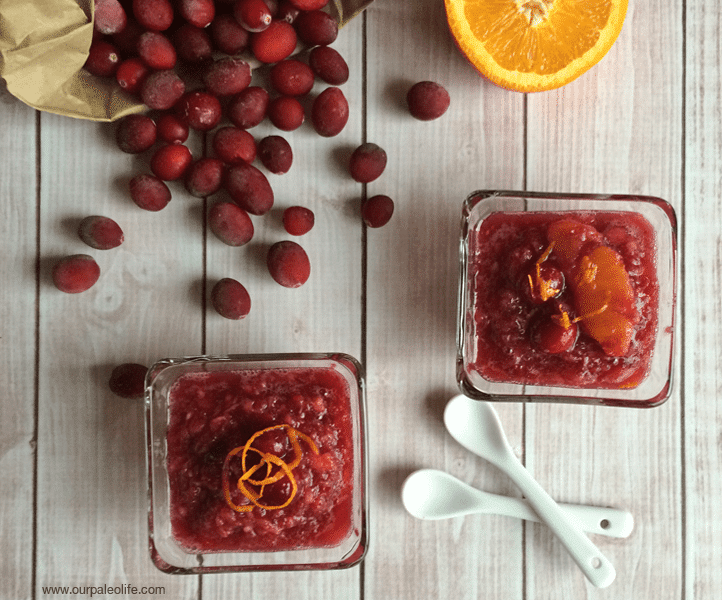 I will admit that there is one problem with this side dish. Maybe it's just me, but I'm going to pretend that everyone does this so I don't feel as bad. I always forget this stuff in the fridge and only remember after everyone is way too stuffed after Thanksgiving dinner to even eat any. Which I guess is a good thing, since there are a ton of leftovers for me the whole next week.
And one more thing that I'll tease you with. I find that chopping the fruit is way easier in the Blendtec, saves my hands and is easier to clean than the food processor or manual chopper. But you might be thinking "Well, Kendra, that's cool and all but I don't have a Blendtec." Well, stay tuned, because you just might have the chance to not say those words. Oh the suspense!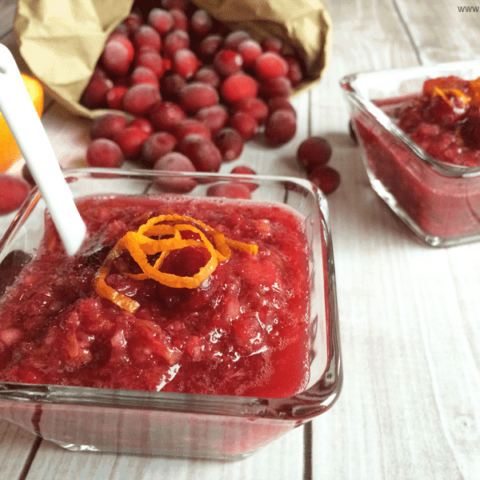 Cranberry Relish
Total Time:
6 hours
10 minutes
Ingredients
2 Sweet Apples, cored and chopped
4 Navel Oranges Oranges, peeled and chopped
2 cups Cranberries, chopped
1 cup Fresh or Frozen Pineapple, thawed and chopped
1 cup Pecans, optional, chopped
4-6 Tbsp Grass-Fed Gelatin*, use less for a thinner relish, more for a thicker relish
2 cups Unsweetened Cranberry Juice, room temperature
2/3 cup Raw Honey, orange honey, if you have it available
Instructions
Chop all fruit in a high-powered blender (like the Blendtec) or by hand. Set aside.
Pour the cranberry juice into a 2 quart bowl. Add in the honey and whisk to combine, until the honey is dissolved.
Sprinkle the gelatin onto the surface of the juice and let it sit for a minute to soften. Whisk the gelatin until dissolved in the juice.
Add the apples, oranges, cranberries, pineapple, and pecans to the juice. Stir to evenly mix everything.
Cover and refrigerate 6 hours or overnight, until firm. Serve cold. Garnish with more pecans, if desired.
Notes
* The picture in this recipe was made with only 4 tablespoons of gelatin, so it's a bit runny. Use up to 6 tablespoons if you want your relish to be more jelly-like.