My grandma was not a cook, her mom was not a cook, and for a while, my mom was not a cook either. So I shouldn't have been drawn to the fine art of food, but luckily for my husband, I was. When I was a kid, I always remembered that even though she didn't cook, my grandma always supplied the chicken salad for any gathering. It was my favorite and I looked forward to that chicken salad every time. For a while, I just assumed she bought it, given the whole not-a-cook thing, but when I was finally old enough to be curious about the recipe, she told me she did, in fact, make the chicken salad herself.
Since then, I have always made that exact same chicken salad. There isn't really anything non-paleo about it, with the exception of the mayo, since I always used store-bought stuff in the past and that stuff is no bueno. So I started using Paleo Lime Mayo instead, and it brought the flavor to a whole different level! There was no artificial sweet taste from the store-bought stuff, and the real flavor of the food was much more prominent and fantastic. I thought I had perfected the chicken salad.
That was, until one day, when Rob suggested I add Kalamata olives to it. At first I was all "Ew, no, that would be weird" and he was all "Just try it" so I did. Now, he may not know where anything but the forks and plates are in the kitchen (ok, maybe the cups, too), but that dude had a brilliant idea. I always put a little salt in the chicken salad, but no more. The olives add the saltiness I love and a really awesome flavor. I seriously don't think I can add anything else to this stuff to make it more delicious. It has met the flavor threshold.
I tend to send chicken- or tuna-salad to school for the kids' lunches a lot. It's easy and they like it so there are seldom leftovers that find their way home. One day, my daughter came home from school, asking me to send her with a double portion of the chicken salad. I asked why and she told me that if she didn't, the vice principal said she would eat my daughter's lunch because it looked so good. After the same silly charade went on for about week, I finally put a recipe card with the chicken salad recipe on it in my daughter's lunch box to give to the vice principal. I believe it's against district policy for homemade stuff to be given to anyone but your own kid and figured this was the next best thing.
So, the moral of the story is: this stuff is loved (and desired) by both children and adults. Win win!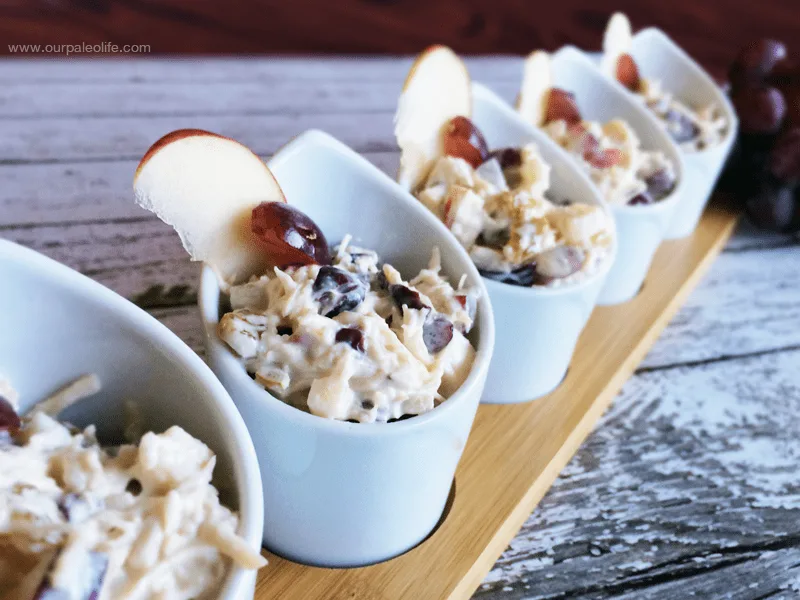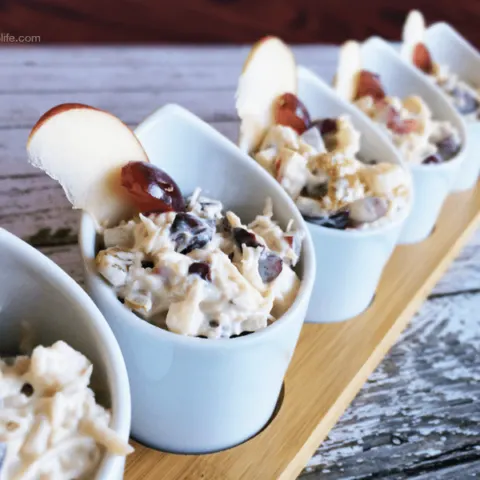 The Perfect Chicken Salad
Ingredients
2 cans Shredded Chicken, or 2-1/2 cups shredded chicken (drain water from cans)
1/2 cup Paleo Lime Mayo, plus more, just in case
1 Sweet Apple, we love Gala, chopped
2-3 Dill Pickle Spears, chopped
1/4 cup Pitted Kalamata Olives, chopped
1/4 cup Raisins or Apple-Sweetened Dried Cranberries, golden or regular
1/2 cup Grapes, any color, quartered then halved
Salt, to taste (go light, the olives add saltiness)
Ground Black Pepper, to taste
Instructions
Combine all ingredients (except salt) in a large bowl and mix. If the salad is too dry add some more mayo.
Taste the chicken salad once you get the right amount of mayo mixed in. If you want more salt, add a little sea salt. Sometimes the kalamata olives add enough salt that you won't need any.
Store in an airtight container in the refrigerator and eat within 3 days.
Nutrition Information
Yield

4
Amount Per Serving
Calories

396
Total Fat

28g
Saturated Fat

4g
Unsaturated Fat

0g
Cholesterol

79mg
Sodium

561mg
Carbohydrates

17g
Fiber

2g
Sugar

8g
Protein

20g
Nutrition is calculated by a third party and may not be 100% accurate