I love smoothies. Love them! And nearly every variety of smoothie I make is some shade of green. I usually just throw stuff in the blender and don't measure. This isn't any different, but it's my favorite green smoothie so I will attempt to offer some direction on how to replicate it. Hopefully.
Oh, and if you have extra, like it won't all fit in your cups or something, pour it into popsicle molds for the kiddies on a warm day (or even cold days, if it's my kids). It makes delicious popsicles. I do this with all our smoothies and the kids always have healthy frozen treats. Win win.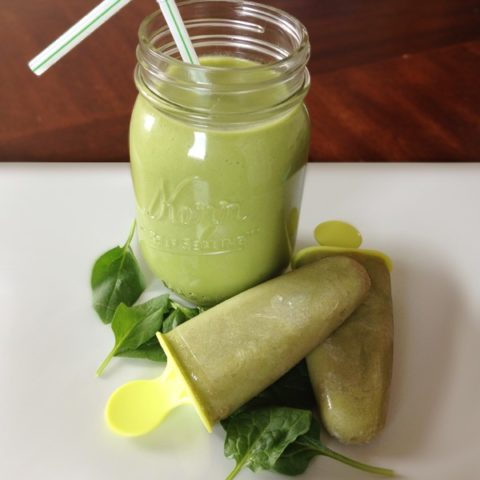 Green Pineapple Smoothie
Ingredients
2 Bananas, peeled
2 large handfuls fresh Spinach
1/2 can Crushed Pineapple, not drained
3/4 cup Frozen Peaches
Canned Coconut Milk
Instructions
Put all ingredients except coconut milk in your blender (we use a Blendtec) in the order listed.
Pour in the coconut milk until it's about 3/4 as full as the rest of your ingredients. Leave it out in case you need to add more during the blending process.
If you've got a Blendtec, push the smoothie button. If not, just blend on high until you have a smoothie.
Enjoy the heck out of it and pretend you're on a beach or something. If you like beaches. I don't.